Although she's never lived full-time in Kelowna, Nicolle Gomez de Sousa considers the city her home away from home, visiting as much as possible for work and for holidays with her family, which includes her husband and two children.
As Tourism Kelowna's Calgary-based Business Development Consultant, Nicolle uses her passion for Kelowna and the Central Okanagan to inspire planners and attract meetings and conferences to the region. Nicolle connects event planners and Kelowna-based vendors and businesses, ensuring "event objectives are met while making meaningful contributions to the community and visitor economy."
"I love finding solutions," adds Nicolle. "Each event and each client is like a puzzle...I am trying to fit each puzzle piece together to form a masterpiece."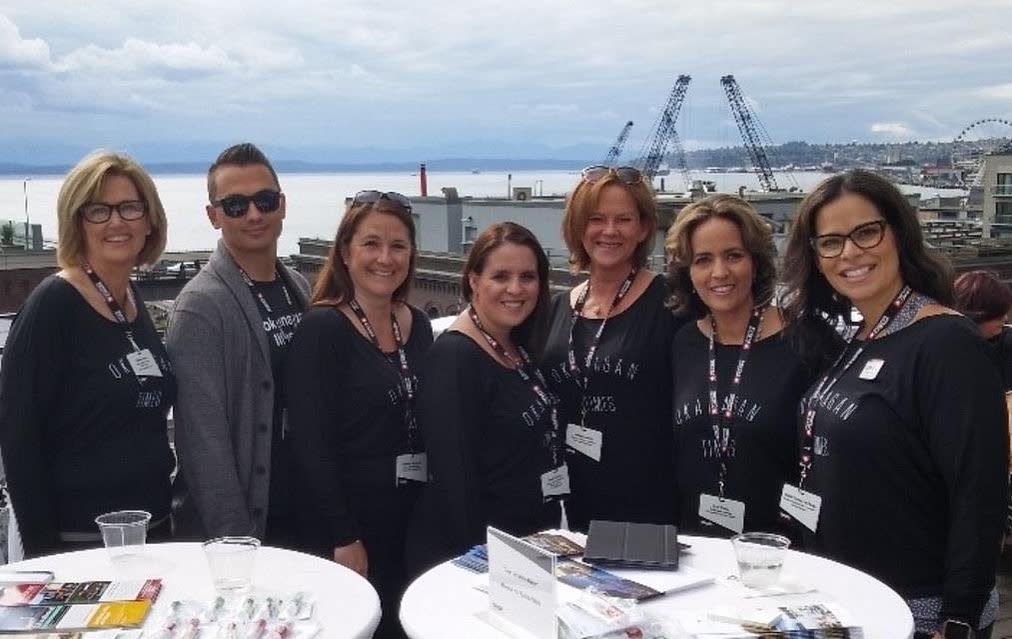 Nicolle Gomez de Sousa (far right) with Meetings & Conferences Program partners at a client event in Seattle. 
Meeting and event planners in Western Canada and Washington State can connect with Nicolle to participate in familiarization tours and to receive bid preparation assistance or hosting consultation. Kelowna-based tourism businesses and partners in Tourism Kelowna's meetings and conferences program can reach out to Nicolle for guidance in promoting the region and supporting planners through the event planning and execution stages.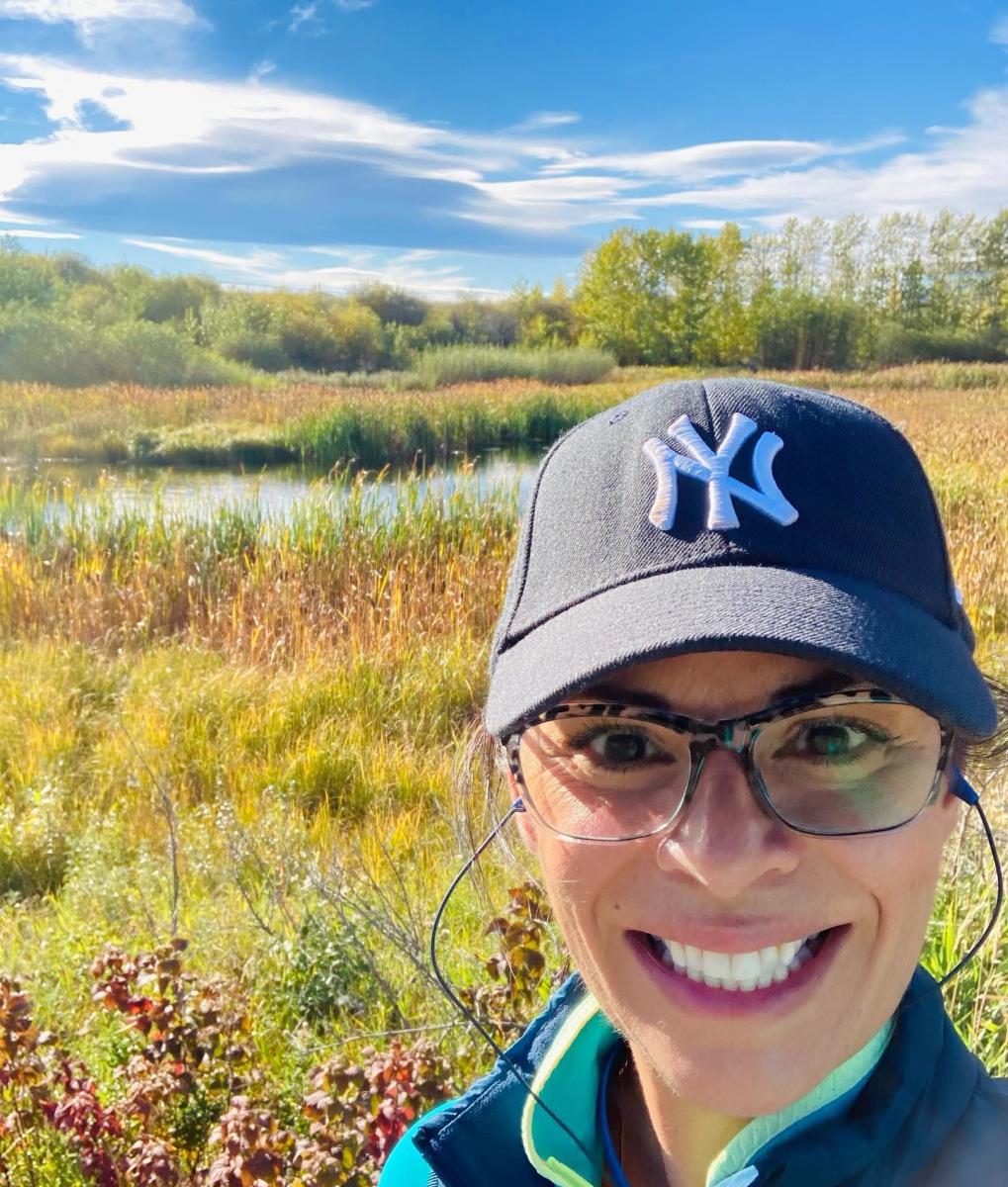 When she's not busy building relationships and promoting Kelowna, Nicolle spends time adventuring with her family in and around Calgary and the surrounding mountains. It's no surprise that Nicolle's perfect day in Kelowna would involve exploring the region's outdoor playground:
"A perfect day in Kelowna would be spent hiking, going to orchards, perhaps horseback riding, and finishing the day with a beautiful meal at a local winery while enjoying the sunset over Okanagan Lake."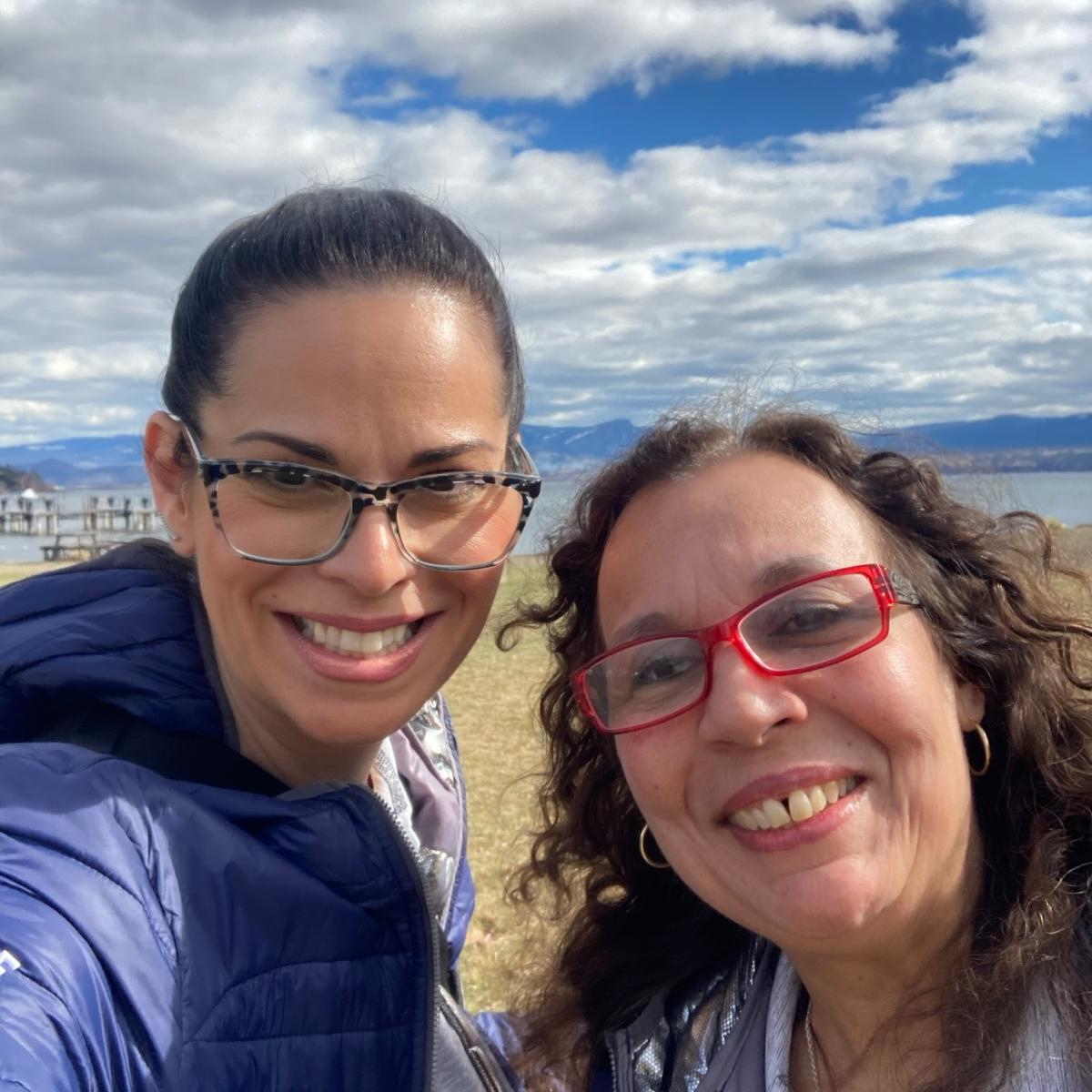 Tourism Kelowna's Business Development Consultants, Nicolle Gomez de Sousa (left) and Pat Gappmayr (right), attending a familiarization tour in Kelowna (2022). 
Read on to learn more about Nicolle and for some of her Kelowna recommendations!
WHAT'S SOMETHING THAT HAS SURPRISED YOU ABOUT WORKING IN TOURISM?
The tourism industry is very demanding, but the satisfaction I get when delivering exceptional service makes it all worth it. 
WHAT ARE YOUR TOP 3 RECOMMENDATIONS FOR THINGS TO DO/SEE/EAT WHILE EXPLORING KELOWNA AND ITS SURROUNDING COMMUNITIES?
I never leave Kelowna without visiting the BC Tree Fruits Market—they always have a wonderful assortment of the freshest produce.
I recommend enjoying the peach soda at Farming Karma's tasting room; it's so refreshing and delightful.
And last but not least, EVERYONE who visits Kelowna needs to explore the new KF Aerospace Centre for Excellence. The views are incredible and you can learn so much about the aerospace industry, its connection to Kelowna, and various aircraft. It really is a legacy project the whole country can be proud of. 
WHAT'S YOUR FAVOURITE TRAVEL MEMORY?
My favourite travel memory is when my parents sent me to Nice, France, for a summer when I was in high school to study visual art. I did not know a single person and made the trip alone, having never travelled to Europe before. I quickly made friends and had an epic summer enjoying all the French Riviera has to offer. Fun fact: my parents were very disappointed that I returned home with only one small painting I had painted as a result of my summer over there. They thought I would have come home with an entire collection of artwork, but I was too busy enjoying the art to actually create any myself.
WHAT'S ONE FUN FACT ABOUT YOURSELF THAT PEOPLE MAY NOT KNOW?
I was sort of a nomad as a child. I moved with my family at least once per year and sometimes as often as 3 times in one school year. Moving to Calgary was my 26th move.