Four years ago—on April 1, 2018, to be exact—Carla Bechard arrived in Kelowna after packing up and making the move from her home province of Saskatchewan.
"One of my best friends lived in Kelowna for a few years and she kept trying to convince me to come here," says Carla. "I was lucky enough to apply for a job in tourism here and get it, so made the leap."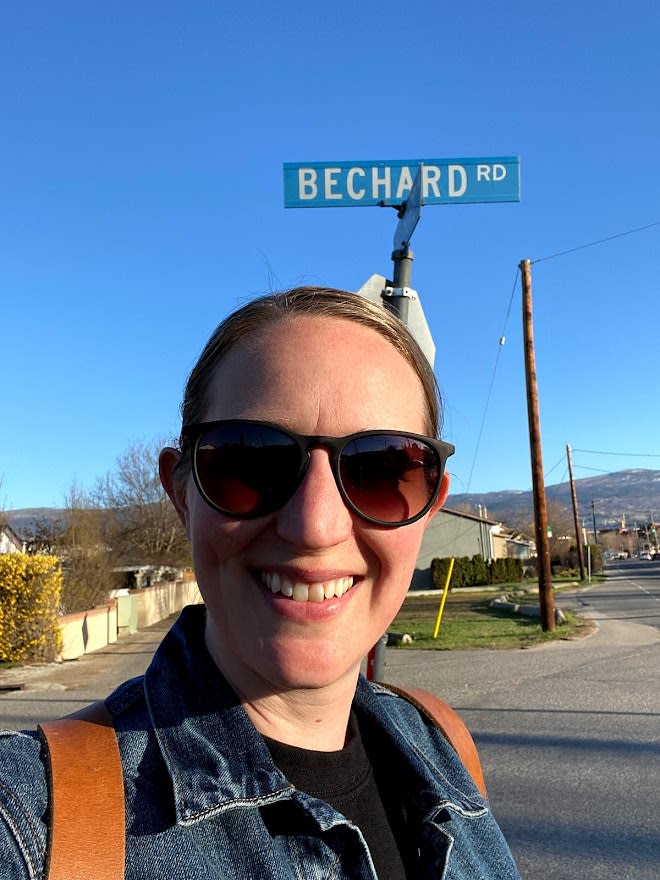 Carla discovers Bechard Road in Kelowna
Carla joined the Tourism Kelowna team in June 2019, overseeing the organization's work with travel media and influencers. Carla's outgoing personality, extensive industry experience, and love of sharing Kelowna's stories made her transition into the role seamless. 
While media trips were on hold throughout the pandemic, Carla jumped in to assist the Marketing & Communications team with content creation, social media, and partner programs. She continued to assist partner organizations, like Destination BC, with media coordination and maintained contact with travel media to keep them updated on all the new and exciting things that were happening in the region. 
Travel media and influencers can contact Carla to:
Inquire about and/or set up media visits to Kelowna.
Request images or content for publication.
Discuss new and noteworthy happenings in Kelowna and area.
Additionally, Tourism Kelowna stakeholders should connect with Carla to share information about their business, products, or services, particularly new or unique offerings, which may appeal to the media.
When she's not busy sharing her love of Kelowna with others, you'll find Carla visiting her favourite Kelowna spots—wineries, breweries, and hiking trails are high on the list—and discovering new favourites, usually with her pup, Red, in tow. While she's been with Tourism Kelowna for 3 years, Carla notes that it has "gone by in the blink of an eye...I still feel like the newbie, sometimes!"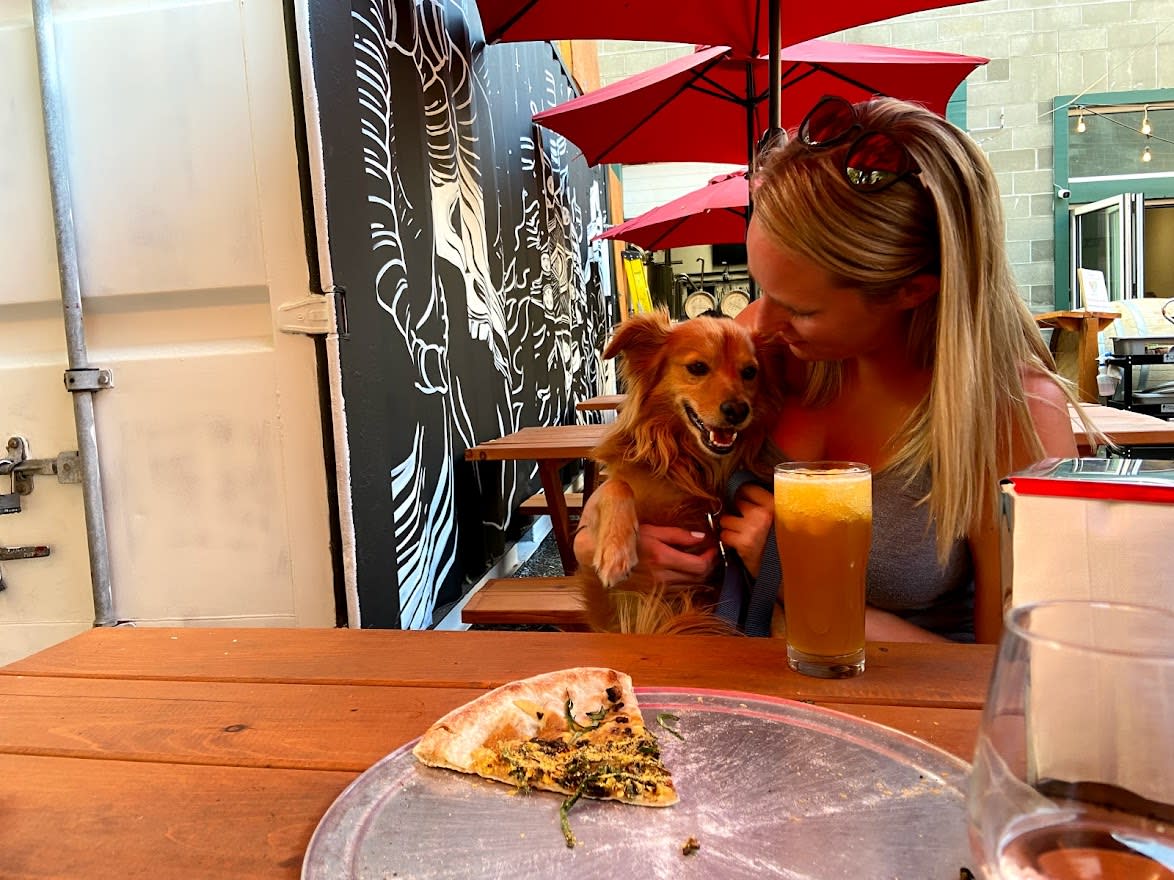 Carla and her trusty companion, Redford, taking advantage of the dog-friendly patio at Jackknife Brewing.
Read on to learn more about Carla and for some of her Kelowna recommendations!
WHAT'S THE MOST EXCITING/REWARDING/IMPORTANT PART OF YOUR JOB?
I love connecting journalists and influencers with the passionate community here, then seeing how they share what they have learned and how they talk about who they have met. 
WHAT'S SOMETHING THAT HAS SURPRISED YOU ABOUT WORKING IN TOURISM?
Not necessarily surprising, but I love how passionate everyone is and excited to share their story or their favourite things to see/do in and around Kelowna. We're lucky to have so many locally-owned and -operated businesses that work in the industry because they love it, and it shows.
WHAT ARE YOUR TOP 3 RECOMMENDATIONS FOR THINGS TO DO/SEE/EAT WHILE EXPLORING KELOWNA AND ITS SURROUNDING COMMUNITIES? 
Go for a hike! I love the view from Spion Kop in Lake Country.
Take a self-guided craft beer tour in the north end. All of the breweries have an interesting story and unique characteristics—you won't go wrong with a stop at any of them.
Wine touring, of course! I love going in the fall when the grapes are being harvested and the tasting rooms are a bit quieter.
What's the Best Thing You've Ever Eaten in Kelowna?
This is a tough one for me to answer, as I've had a lot of amazing meals. The pizza at Jackknife Brewing is ALWAYS on the top of my list. The short ribs at Krafty Kitchen + Bar are also a standout. I was also lucky enough to try the tomahawk steak at The Modest Butcher for a birthday celebration once – definitely a delicious meal, along with great service/experience. 
WHAT'S YOUR IDEA OF A PERFECT DAY IN THE CENTRAL OKANAGAN?
Going for an early morning walk with my dog (Redford, a.k.a. Red, Fredford) along Abbott Street and into downtown to get a coffee from Sprout Bread or Bean Scene Coffee Works. Then lunch on a sunny patio while sipping on a crisp rose.  If it's summer and hot, a trip to the beach is a must! Probably bike around to a brewery or two and end with pizza at Jackknife! 😊 
WHAT'S YOUR FAVOURITE TRAVEL MEMORY? 
Two immediately come to mind: tasting fresh, locally made limoncello at a homestay on the Amalfi Coast and road-tripping around Iceland trying to see as many waterfalls as possible and visiting hot springs.