It's safe to say that 2017 has been a challenging year for our destination. What's important to note is that throughout the weather-related challenges, local businesses have remained open and continued to provide great experiences for visitors from far and wide. Tourism Kelowna continued to market our destination throughout the summer, and we have extended paid marketing tactics into the autumn.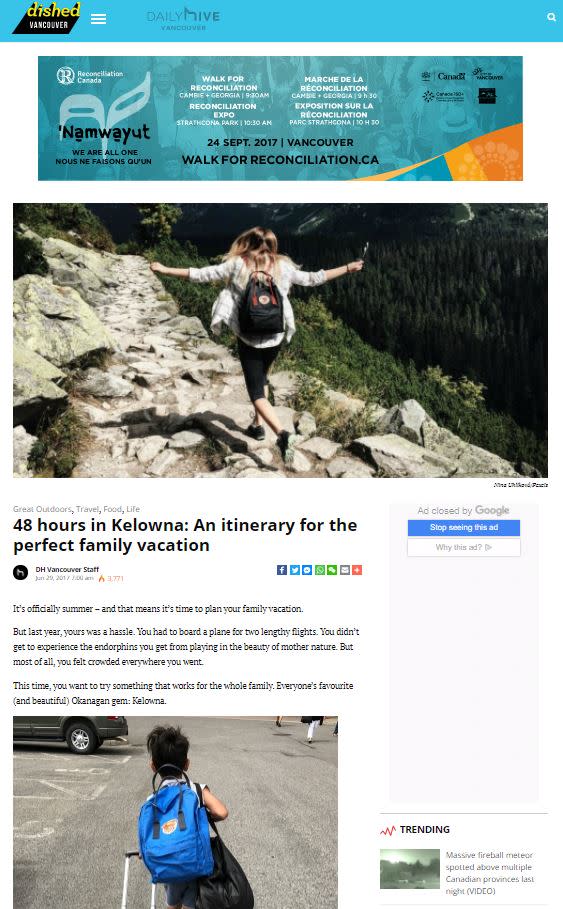 Over the summer, Tourism Kelowna "boosted" content that showed our destination was not only open for business, but providing incredible summer vacation experiences. (Boosting content pushes specific information, or posts, further into people's social media content streams). We also worked with targeted media to host writers that created four specific, tailored content pieces. A full campaign evaluation report is available on the Tourism Kelowna Extranet page. These were additional tactics added on to our comprehensive annual paid advertising program that launched in early 2017.
Heading into autumn, Tourism Kelowna has added an additional paid campaign through online travel agency partners to keep Kelowna top of mind. Our digital advertising will be extended through to the end of September, geo-targeted to our primary markets, and our investment has been matched dollar for dollar to double our advertising value.
We have several media visits from national and international travel writers occurring well into mid-October covering our active, urban and golf experiences and highlighting local flavours to tempt wine and food lovers. In addition, we will continue to publish and boost content on our social media channels and #exploreKelowna blog to provide additional suggestions and local tips for visitors to enjoy.
These additional efforts, in addition to our ongoing work to aggressively market the destination, will promote visitation in the fall.
If you have any questions about Tourism Kelowna's marketing and communication plan or activities, please contact Chris Shauf, Director of Marketing & Communication at chris.shauf@tourismkelowna.com or (250) 861-1515 ext 203.