Across the globe, Pride Month is celebrated in June—Kelowna Pride Week also takes place at the beginning of the month—making now the perfect time to consider your business practices and assess if you're ready to welcome 2SLGBTQIA+ travellers.This important and valuable travel market is made up of highly-educated individuals with disposable income that they want to spend in welcoming destinations and at businesses that align with their values. Below are tips and resources to help ensure your business is welcoming so you can attract a piece of the $12 billion this market spends on travel every year.

1. Feature diversity in your marketing
Travellers want to be able to see themselves in the destinations and businesses they plan to visit. This is important for the 2SLGBTQIA+ market, but also for all other demographics. Make an effort to showcase people from all types of demographics in your website imagery, on social media, and in any print or advertising media you create. If you're a Tourism Kelowna member, you can register for access to our asset library for images and video footage that can be used in your marketing.

2. Educate and train yourself and your employees
While inclusive marketing is an important step, ensuring 2SLGBTQIA+ community members feel welcome and safe when they are at your business is crucial. Diversity, equity, and inclusion (DEI) training is offered by many organizations. Canada's LGBT+ Chamber of Commerce (CGLCC) has created a variety of resources and tools specifically for the tourism industry that can be accessed through their website. Connecting with Kelowna Pride to get involved with local initiatives, events, or training opportunities will also help ensure you and your staff are as prepared as possible to welcome 2SLGBTQIA+  travellers. 

3.  Don't just focus on Pride Month
Posting one Pride-related post to social media in the month of June won't cut it. 2SLGBTQIA+ travellers do their research when planning and booking a vacation. They will review your website and social media channels. If they only see one post that welcomes them, it will appear inauthentic, and they will take their business elsewhere.
Here are some additional things you can do:
Make 2SLGBTQIA+ travellers feel safe, welcome, and accepted by participating in the Rainbow Registered LGBT+ Accreditation Program, launched by CGLCC and Tourism HR Canada.
Create evergreen content—such as unique pages, blog posts, or videos—for your website specific to the 2SLGBTQIA+ travel audience that can be viewed and shared throughout the year.
Plan content into your social media calendar that acknowledges and speaks to this market year-round.

4. Participate in Pride events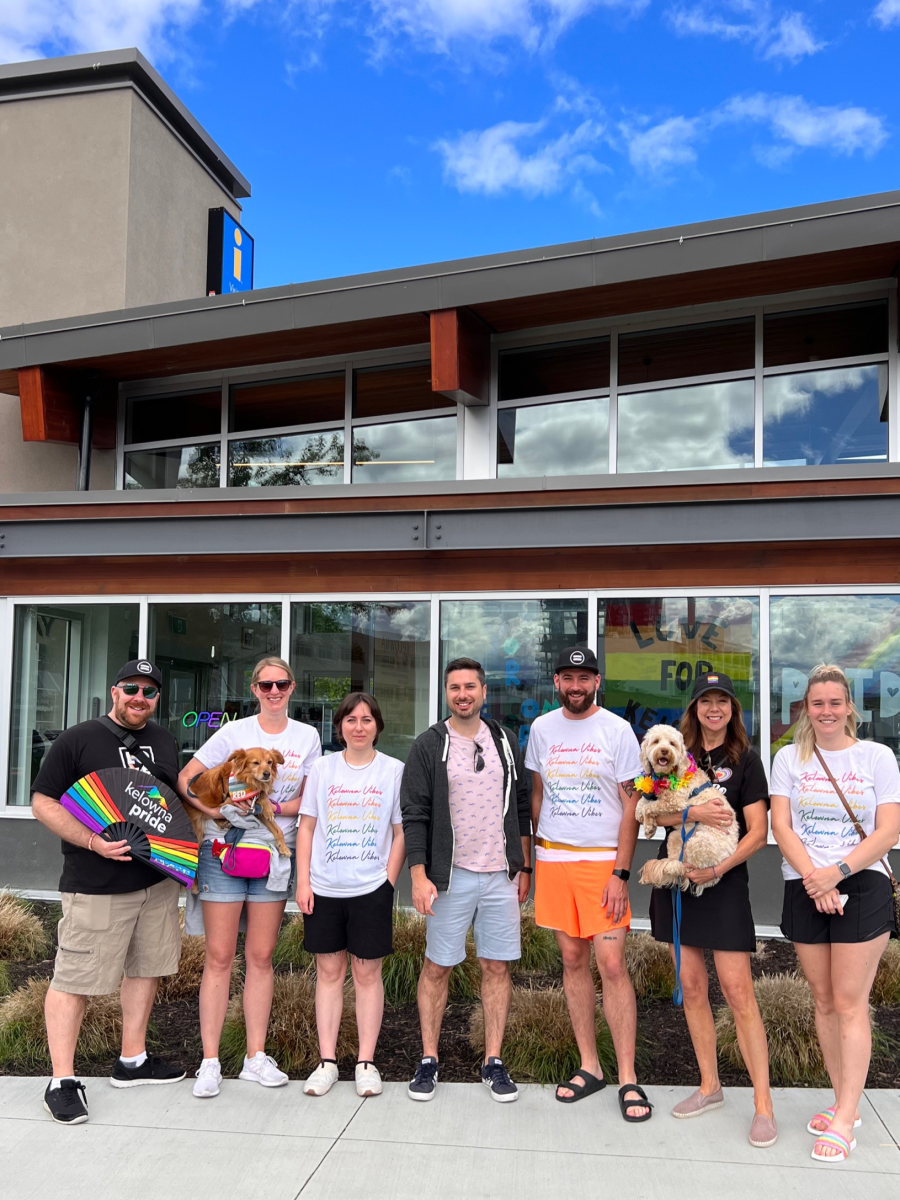 Members of Tourism Kelowna's team are set to join 2SLGBTQIA+ community members and allies at the 2022 Pride March.
Kelowna Pride Week is back with a full slate of activities and events in 2023, including the Pride March and Festival on June 10. If you aren't able to participate in this year's events, reach out to Kelowna Pride about getting involved in next year's Pride Week—or in other events taking place throughout the year—so you can support the local 2SLGBTQIA+ community.

5. Show your pride. Be an ally. Support local
Adding a pride flag to your physical space and on your online channels is an easy way to signify that you're welcoming to 2SLGBTQIA+ visitors and residents. You can also show your pride or allyship by donning apparel or displaying stickers in support of the 2SLGBTQIA+ community, such as Okanagan Lifestyle's Pride collection—100% of proceeds from sales go to local charities empowering youth, including those in the 2SLGBTQIA+ community.
Through a recently signed Memorandum of Understanding, Kelowna Pride and Tourism Kelowna will also be continuing their joint work to support the 2SLGBTQIA+ community, which includes: 
Attracting more visitors from the 2SLGBTQIA+ community to positively impact the local economy year-round.
Increasing participation and support of events that positively contribute to the visitor experience and quality of life of residents.
Working together to educate residents and visitors on 2SLGBTQIA+ issues, as well as the importance of supporting businesses within the community.
Stay tuned for additional opportunities to show your allyship and support our local community and 2SLGBTQIA+ travellers from near and far. 
Header photo captured at the 2019 Pride Festival and March.