Since temporarily closing the doors of the Kelowna Visitor Centre to in-person servicing on March 18, our Visitor Experience team has been busy connecting with local residents and answering visitor inquiries through online chat, telephone, and email, seven days per week.As the Province of British Columbia has commenced its phased restart plan, we have also started a phased re-opening of in-person services at the Kelowna Visitor Centre.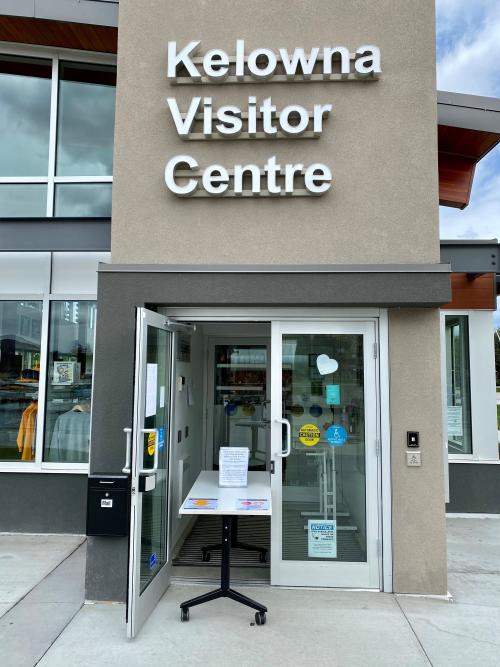 Phase One began on May 12 with the Visitor Experience team offering contactless pickup for brochures, maps, online orders, and other available resources. Until May, 31 this will take place on Tuesdays and Thursdays from 10 a.m. to 4 p.m.
Phase Two is scheduled to begin on Monday, June 1, when the team will begin offering walk up visitor servicing from 10 a.m. to 4 p.m., seven days per week. During this phase, the public will not be allowed within the building to ensure the safety of staff and the public through physical distancing and other safety measures.
Phase Three does not yet have an assigned start date but will happen no earlier than July 1. During this phase, the public will once again be permitted entry into the Visitor Centre building with limited occupancy levels and touch points. Hours of operation will then be expanded to approximately nine hours per day.
Phase Four will be resuming close-to-normal operations, reverting back to regular capacity and touch points; however, this will not occur until the Province announces that it will be entering Phase 4 of BC's Restart Plan meaning that one of the following has occurred: a vaccination, community immunity, or widespread treatment.
Throughout all phases of this plan our servicing methods of online chat, telephone, and email will remain available seven days per week from 10 a.m. to 4 p.m. or longer to match the hours of operation for the Visitor Centre.
Our Kelowna International Airport (YLW) Information Kiosk and Mobile Visitor Services activities will remain closed likely until phase four of the re-opening plan or until such a time that it is safe for our volunteers to return to visitor servicing activities and the number of flights and passengers arriving to YLW increases.
Distribution of Tourism Kelowna collateral materials including the Kelowna Visitor Guide, Outdoor Trails, Wine Trails, and Local Flavours guide will continue by request only at this time. Should your business wish to receive copies of any of these materials, please contact us at info@tourismkelowna.com or 250-861-1515.
Following the guidelines of public health and WorkSafe BC, Tourism Kelowna will be posting its COVID-19 Safety Plan on the Visitor Centre page at tourismkelowna.com prior to June 1. If you have any questions about the services offered by Tourism Kelowna's Visitor Experience team, or the phased reopening plan, please contact me at chris@tourismkelowna.com or 250-861-1515 ext. 207.