On Sunday, June 28, 2020, we will be celebrating two milestones at the Kelowna Visitor Centre—the centre's two-year anniversary as well as the launch of the next phase in our COVID-19 re-opening plan.
Phase 3 of the Kelowna Visitor Centre's plan includes re-opening the building to allow local residents and visitors inside to speak with one of our staff and volunteers, browse information and retail, and use the restrooms. As of June 28, the hours of operation for the Kelowna Visitor Centre and its online servicing will be expanded to 9:30 a.m. to 6:30 p.m. every day.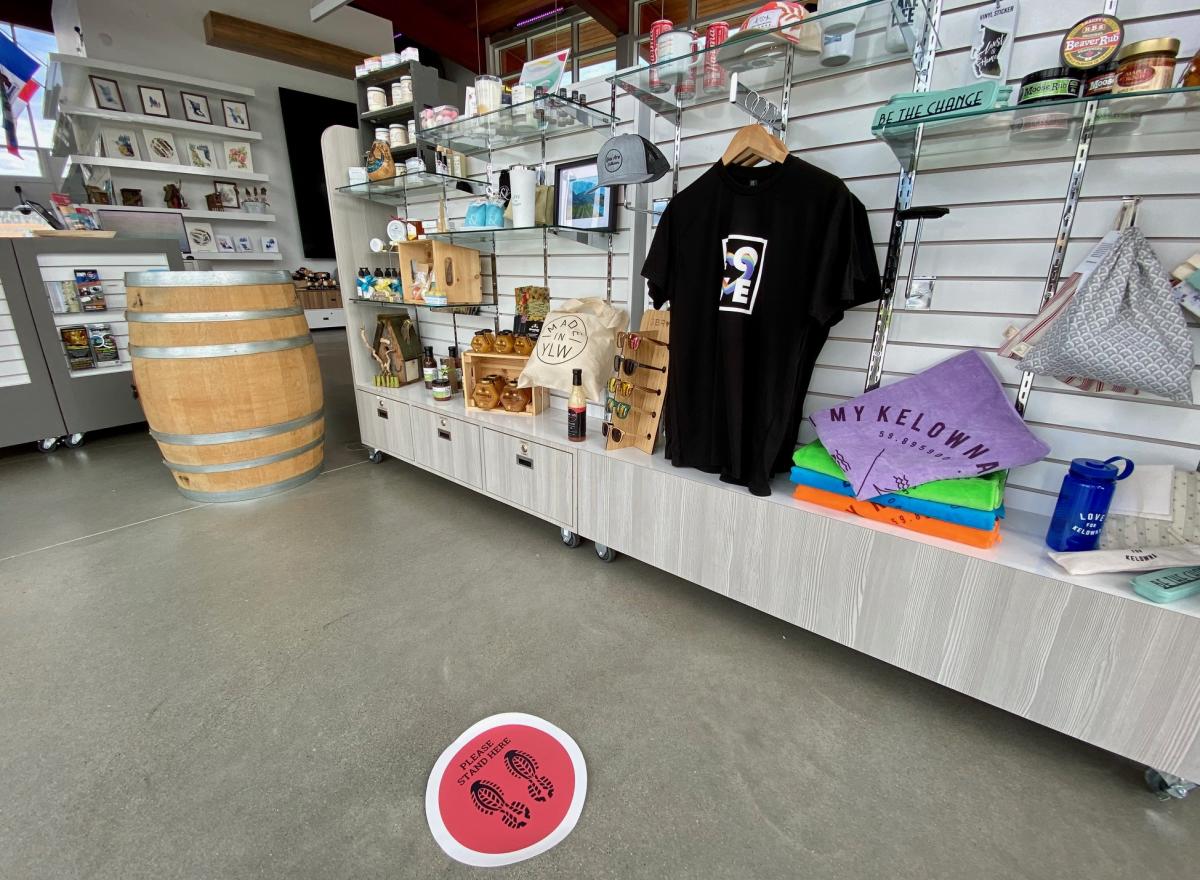 The operations and way we interact with the public will be different than it was prior to the building's temporary closure on March 18. The following are some of the additional health and safety measures that can be expected when visiting:
Physical distancing of 2 meters wherever possible while in the building.
One-way traffic into, throughout, and exiting the building.
Decreased occupancy load.
Enhanced cleaning and sanitizing of all touched surfaces.
All staff will be wearing a mask or face shield to protect the public.
Any member of the public who has a mask with them will be asked to wear it while in the building.
The public is asked to reduce the number of items that are touched while in the building unless the item is going to be taken with them or purchased when exiting.
More personalized one-on-one servicing will be implemented to help visitors and local residents understand changes and enhanced measures being practiced at various public spaces, activities, dining options, etc. This may result in increased wait times to speak with staff and volunteers.
The touchless water bottle filling station will be available; however, the water fountain will not be available.
For a more detailed version of the Tourism Kelowna Re-opening Plan, as well as Health and Safety Protocols in place, please visit the Visitor Centre page.
During these times of decreased occupancy limits, Tourism Kelowna has also successfully applied to the City of Kelowna's Patio Program to expand services and products offered within the Kelowna Visitor Centre onto the paved patio surface to the West of the building for the remainder of the summer.
For any question about the delivery and operation of Tourism Kelowna's Visitor Experience program, please reach out to me directly at chris@tourismkelowna.com or (250) 861-1515 ext. 207.