This morning, the World Curling Federation announced that the World Mixed Doubles and Seniors Curling Championships 2020 will take place at the Kelowna Curling Club from April 18-25, 2020. 
The event in Kelowna will be the first World Mixed Doubles Curling Championship which will require teams to qualify for the 20 available championship spots. Previously, this competition was an open entry event; in 2019, there were a record 48 teams competing. The World Mixed Doubles Curling Championships will be broadcast internationally on World Curling TV, being picked up in several countries. Occurring at the same time, the World Seniors Curling Championships will have 45 teams competing between the men's and women's disciplines. 
"Tourism Kelowna is proud to support the winning bid for the World Mixed Doubles and Seniors Curling Championships 2020," said Tourism Kelowna President and CEO, Lisanne Ballantyne. "Kelowna was recently named the number one mid-size Canadian city for sports events thanks in part to previously hosting events like the World Mixed Curling Championship 2018, which generated $CAD 1.21 million in economic impact for the province. We thank the World Curling Federation for recognizing our expertise and excitement in hosting these international events and our world-class hotels, hospitality, and attractions. We look forward to welcoming the athletes and curling fans to the Okanagan next April."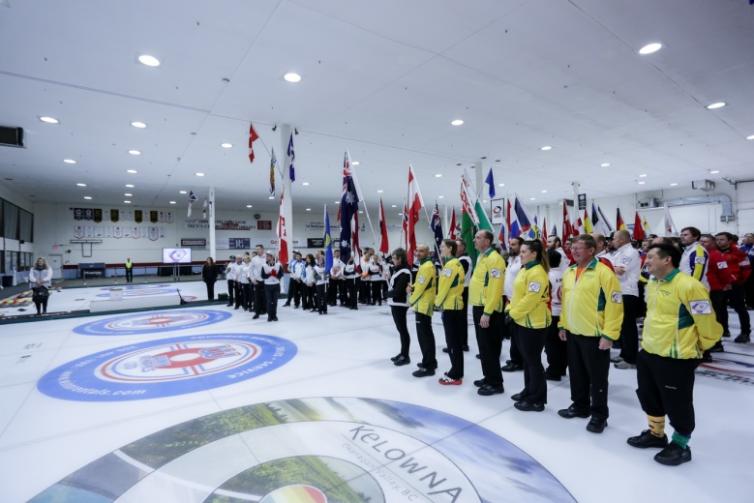 Opening ceremony of the World Mixed in 2018 © WCF / Jeffrey Au
Kelowna has previously hosted three world curling championships: the World Women's in 1986, the World Juniors in 2002, and the World Mixed in 2018, while the World Mixed Doubles has been held in Canada twice previously. Canada, the host nation, are the current Olympic mixed doubles champions. Canadian pair, Kaitlyn Lawes and John Morris, won the first-ever Olympic mixed doubles curling Gold medals at the PyeongChang games in 2018.
"We are delighted that Kelowna will be hosting the 2020 World Mixed Doubles & World Seniors Curling Championships during the 125th Anniversary of Curling in BC celebrations," said CEO of CurlBC, Scott Braley. "We look forward to working with Kelowna Curling Club, Tourism Kelowna, Curling Canada, and the World Curling Federation to promote and support these world championships over the next year."
Kelowna Curling Club General Manager, Jock Tyre, said: "The Kelowna Curling Club is very proud to have been given an opportunity to showcase our club and city to the curling world. Our world-class volunteers did such an amazing job with the 2018 World Mixed that it makes us feel very prepared to step it up a notch with the World Seniors and Mixed Doubles."
The local host committee is currently developing sponsorship opportunities for this internationally broadcast event. If you are interested in these opportunities or for more information on Tourism Kelowna's involvement in hosting the championships, contact Harvey Hubball at harvey@tourismkelowna.com or (250) 861-1515 ext. 209.
Click here for the full World Curling Federation press release.