Keeping Kelowna top of mind with potential visitors continued through the month of May with placements in key provincial, national, and international outlets. 

WestJet Magazine exclusively featured Kelowna and the Central Okanagan in it's May e-newsletter. Pulling together several articles from travel media hosted in the area, including Joanne Sasvari, Jennifer Cockrall King, and other staff writers, the newsletter informed readers about the art of eating locally, great hikes around Kelowna, tops spots for couples, and upcoming summer events.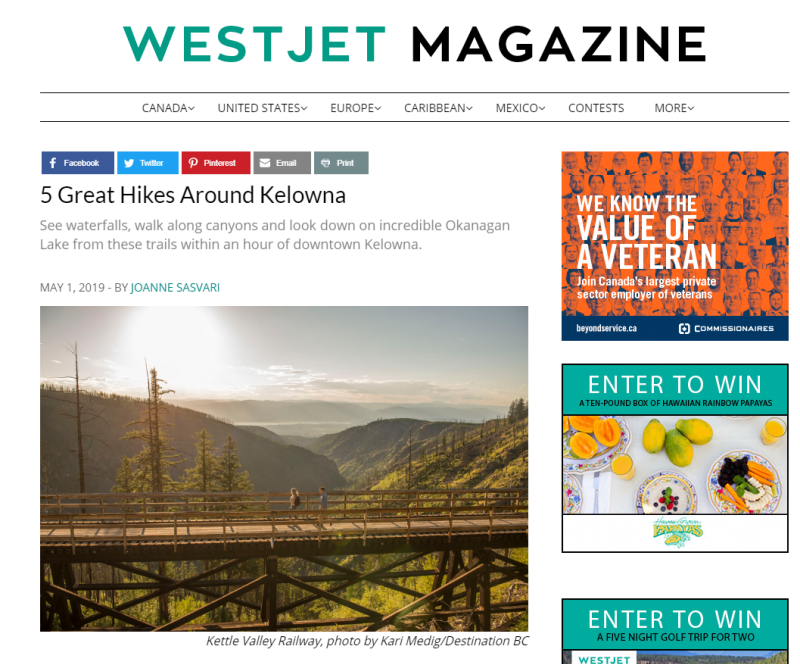 Calgary-based food writer, Elizabeth Chorney-Booth, highlighted the "delicious restaurant boom" taking place in Kelowna for the Calgary Herald, which resulted in coverage across Post Media outlets. Myra Canyon Trestles were featured in Explore Magazine's "7 Amazing British Columbia Adventures You Can't Miss this Summer" as a result of a media visit by Kate Robertson. The QantasTravel Insider name Kelowna as one of the "18 Prettiest Towns in British Columbia, Canada". Other placements included a feature on the Okanagan Rail Trail with Post Media and coverage of Predator Ridge on CTV Morning Live Vancouver. 
Help us share your story and create great Kelowna content. Share what's new and noteworthy for your business with Carla Young, Travel Media & Communication, at carla@tourismkelowna.com.