Airline service is essential to connect travellers with our destination. Tourism Kelowna works with the Kelowna International Airport (YLW) to support its activities and market to travellers in destinations within and beyond Canada.
Here's a round-up of some recent news from YLW, including some collaborative activities that Tourism Kelowna was involved in.  
Celebrating New Air Service to Vancouver Island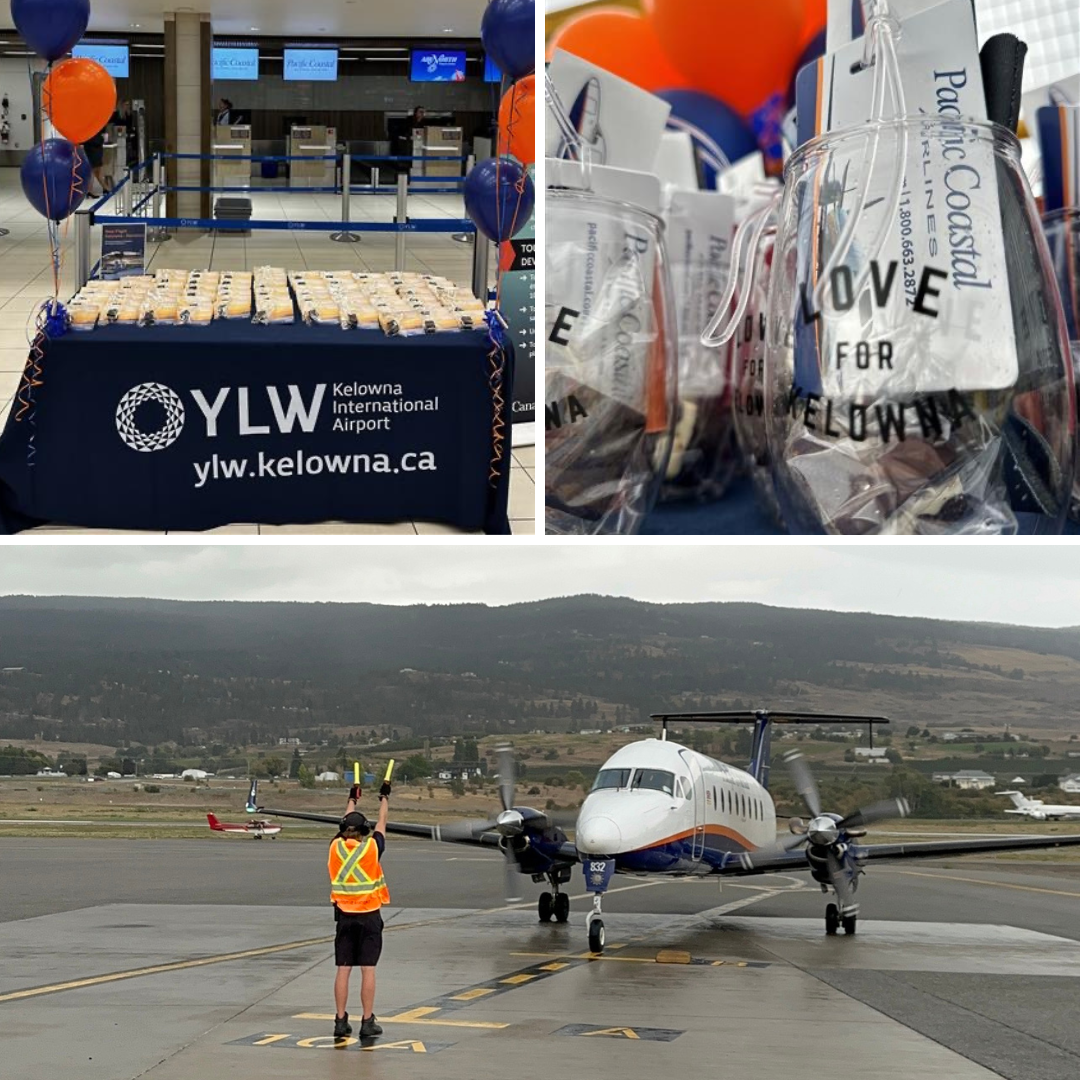 On September 12, the inaugural flight of Pacific Coastal Airlines' daily service between Kelowna and Nanaimo took flight. Increased air service is vital for Kelowna's tourism industry, providing visitors with more options when planning travel to our region.
"We are thrilled to announce these two new routes [Vancouver and Kelowna] and add Nanaimo as a new destination to our route network," said Johnathan Richardson, VP of Customer & Commercial for Pacific Coastal when the routes were announced in June. "Our Nanaimo – Kelowna service will provide the only non-stop flight option enabling customers to travel between these communities in just over an hour."

Flights on the new route can be booked at pacificcoastal.com.

Kicking off Construction of the new Airport Terminal Building (ATB) Expansion Project
The first phase of YLW's ATB Expansion project kicked off in September. During Phase 1, approximately 5,590 m2 of new space and 1,200 m2 of renovated space will be added to the terminal building, including:
Expanded Departures Lounge to improve passenger experience and provide improved food and beverage options.
Expanded security screening area to increase capacity and allow for increased efficiencies through new technology.
New direct access to several gates for departing and arriving passengers.
"Throughout construction, the guest experience is a key priority," says Sam Samaddar, Chief Executive Officer, Kelowna International Airport. "Our team is making every effort to minimize impacts and inconvenience to passengers caused by construction." 
Construction for Phase 1 is planned to be completed in 2026. Learn more about the building and its eco-friendly elements here. 

Hosting Annual Campus Golf Tournament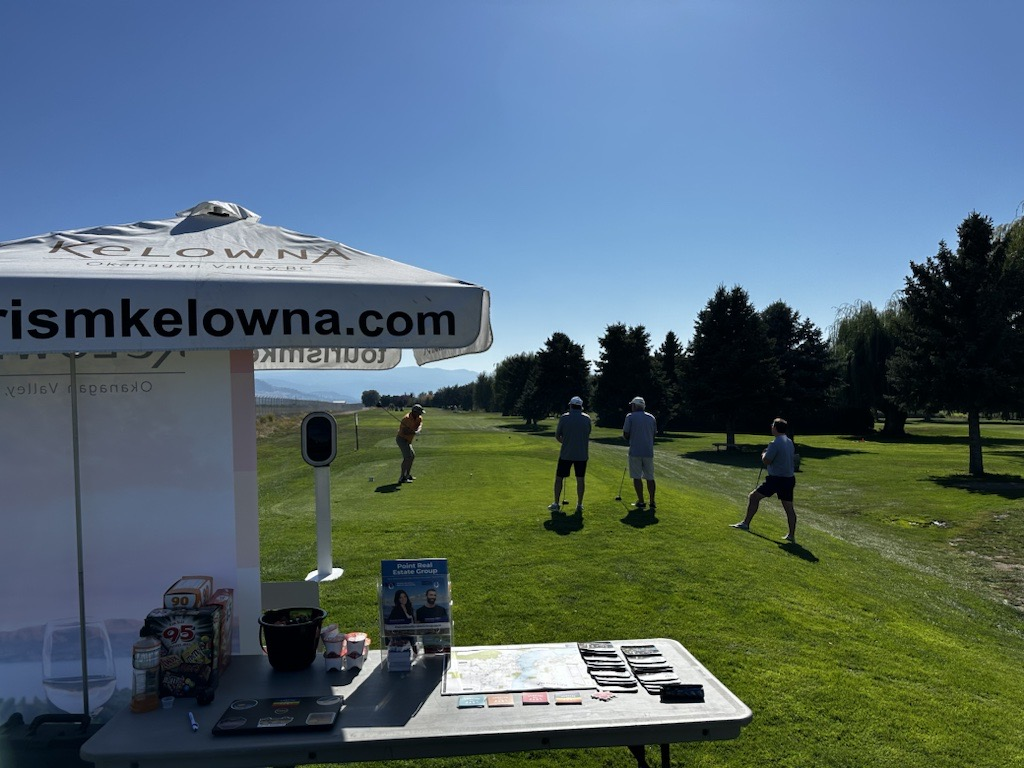 The annual YLW Campus Golf Tournament, organized and executed by Impact Events & Project Management, was held on September 15 at Shadow Ridge Golf Club. Our Community & Visitor Engagement mobile team was at one of the holes. Along with lots of info about Kelowna, our team also set up our photo booth to capture snaps of the 124 golfers participating in the tournament.

Welcoming Airport Executives for Regional Conference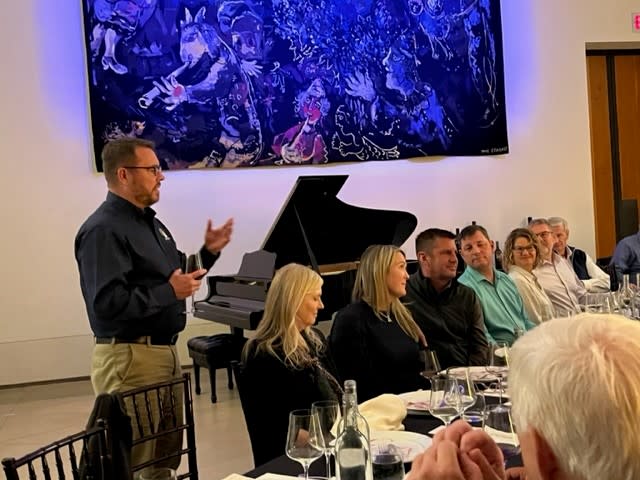 Pictured: Chris Pomeroy, NWAAE Chapter President, welcoming NWAAE board and guests at Mission Hill.
In partnership with Tourism Kelowna, YLW secured the Northwest Chapter of the American Association of Airport Executives (NCAAAE) 2023 Conference, hosted at the Delta Hotels by Marriott Grand Okanagan Resort in late September. About 250 delegates from across North America travelled to Kelowna for the conference, which resulted in a total direct economic impact of approximately $430,000 and an indirect economic impact of $663,000.
Encouraging More Direct Flights to and from YLW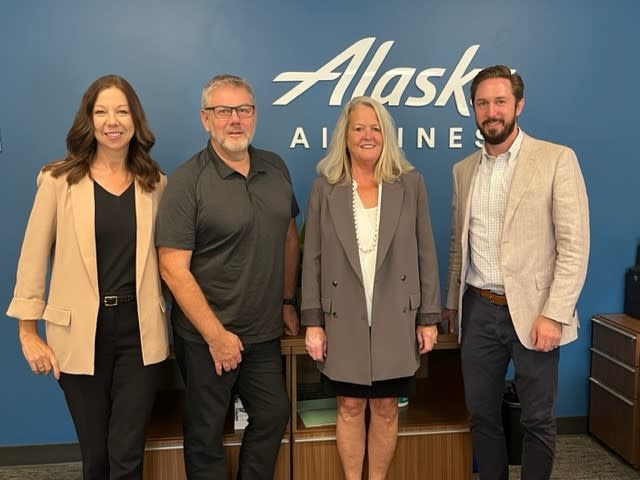 Pictured (left to right): Lisanne Ballantyne, President & CEO, Tourism Kelowna; Geoff Ritchie, Director, Commercial and Air Service, YLW; Ellen Walker-Matthews, CEO, TOTA; Alex Welch, Principal, Welch Consulting.
In mid-September, Tourism Kelowna and the Thompson Okanagan Tourism Association joined colleagues from YLW in Seattle for a meeting with Alaska Airlines to encourage more direct flights from Seattle into Kelowna.

Having direct flights from Seattle means even more travellers can discover the best of the Okanagan. It is also important for our meetings and conferences team, who actively pursue business and showcase Kelowna to planners in the Pacific Northwest.

Receiving Funding for Route Identification and Planning
On September 27, in recognition of World Tourism Day, the Honourable Harjit S. Sajjan, Federal Minister of Emergency Preparedness and Minister responsible for the Pacific Economic Development Agency of Canada (PacifiCan), announced over $4.7 million in PacifiCan funding for 30 projects in British Columbia's Southern Interior. This funding includes $57,500 to the City of Kelowna to help identify new routes for the Kelowna International Airport through collecting data and developing a promotion plan.

Increasing Airport Passenger Numbers
As of August 2023, there has been a 24% increase in passenger numbers year-over-year, with more than 1.3 million passengers travelling through YLW in the first eight months of the year. To date, this year's passenger numbers are only 2.4% lower than 2019, meaning YLW is on track to reach or exceed 2 million passengers for 2023. 
Additional information is available on the Facts & Statistics page of the YLW website.