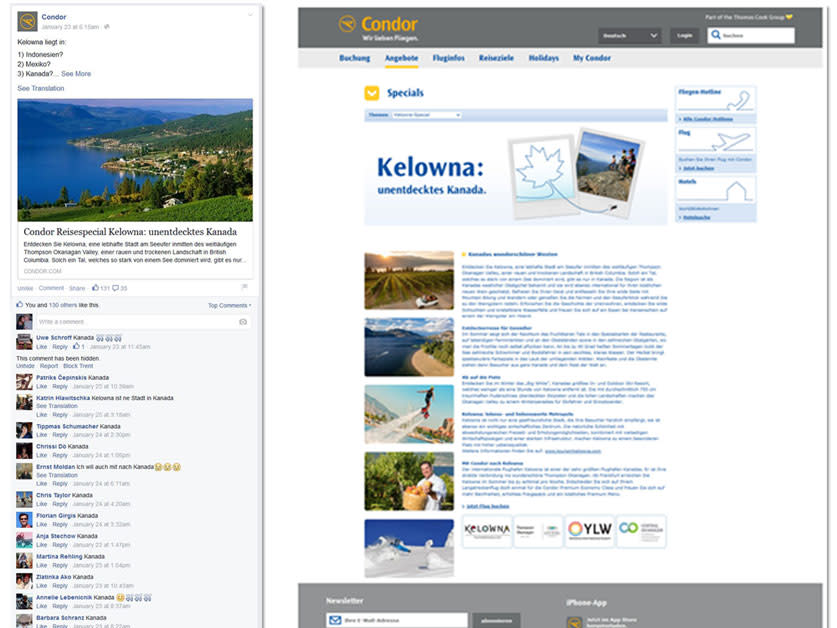 Seeing Kanada spelled this way may look funny to us, but not to the German leisure travel market!  Tourism Kelowna works closely with the Air Service Development Group to support flights and generate in-bound seat sales with leisure travelers in new and emerging markets. Recent efforts have put Kelowna and the Okanagan Valley in front of German customers to create awareness and generate demand for 2015 spring/summer travel on flights between Frankfurt International Airport and Kelowna International Airport via Calgary International Airport.
The campaign is a partnership effort involving Condor Airlines, Kelowna International Airport, the Central Okanagan Economic Development Commission, Thompson Okanagan Tourism Association, and Tourism Kelowna.  The campaign runs from January 20 – February 17 and includes:
Animated banner ad on Condor's German-speaking website
Feature in a targeted newsletter delivered by Condor to their consumer database
Landing page on Condor's website with overview information on Kelowna and our partners
Inclusion in the North America overview page on the Condor website
Inclusion in Condor's online booking engine, listing Kelowna as a destination airport
As a result, www.tourismkelowna.com website sessions from the German market have increased 76.28% since the campaign began.
If you have questions about this initiative please contact me via email: shauna@tourismkelowna.com or phone: 250-861-1515 ext 206