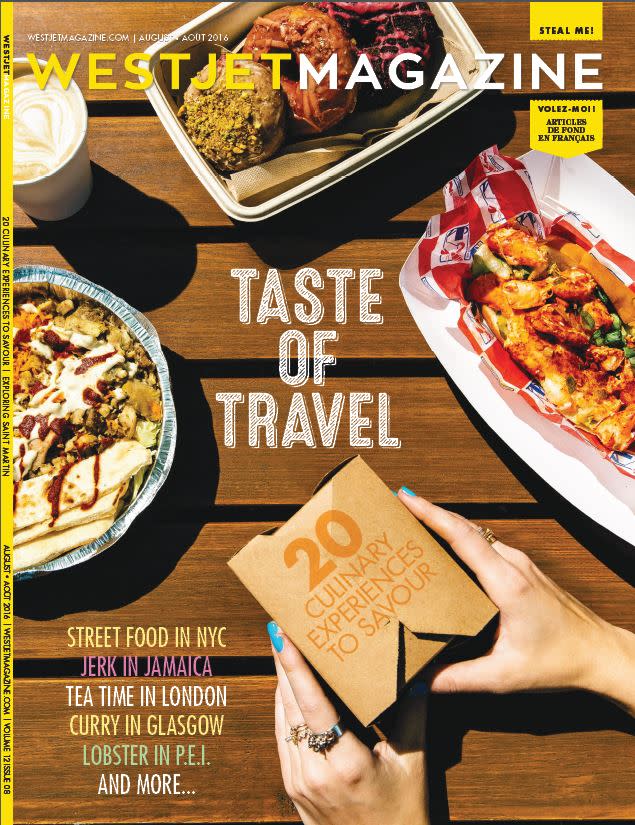 The August edition of WestJet Magazine features not just one but two articles that highlight Kelowna! The magazine is available online and on WestJet flights. You can view the articles here:  http://www.westjetmagazine.com/issues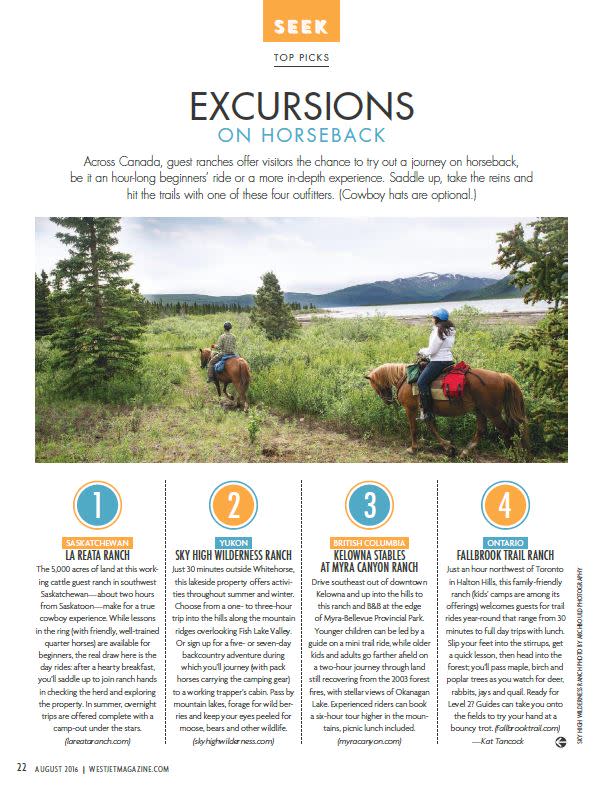 On page 22 you can find "Excursions on Horseback" where journalist Kat Tancock highlights her experience from an August 2015 familiarization tour at Kelowna Stables at Myra Canyon Ranch that Tourism Kelowna assisted. This visit also translated into another article titled "Must-dos in the Okanagan Valley" where Kat paired her August 2015 experience of horseback riding at Myra Canyon Ranch, tasting and baking at Sandrine French Pastry & Chocolate, and dining at Salted Brick, with her local-to-the-Okanagan knowledge of other incredible activities such as touring Myra Canyon with Monashee Adventure Tours, visiting Carmelis Goat Cheese Artisan, and indulging in a treat from Okanagan Grocery. You can read more about this article here: http://www.investorsgroup.com/more/en/2016/07/must-dos-in-the-okanagan-valley/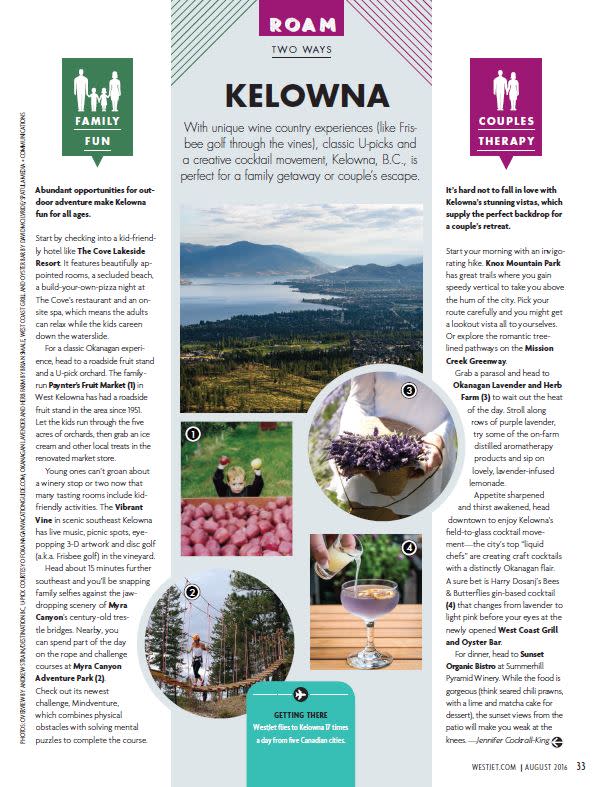 On page 33 you can find "Kelowna Two Ways", written by part-time Okanagan resident and ambassador Jennifer Cockrall-King. Jennifer attended a local media tour hosted by Tourism Kelowna in May 2016. This tour was designed to keep some local writers with outside-the-Okanagan-outlets abreast of what is new and exciting in the Central Okanagan. Her resulting article features two potential itineraries to experience Kelowna as a family or as a couple. Highlights from her May 2016 tour include West Coast Grill and Oyster Bar, the creative cocktail movement in Kelowna, and The Cove Lakeside Resort. Other mentions in her article included Paynter's Fruit Market, The Vibrant Vine, Myra Canyon Adventure Park, Okanagan Lavender and Herb Farm, and Sunset Organic Bistro at Summerhill Pyramid Winery.
So far this year, Tourism Kelowna has hosted 25 journalists, and more visits are planned for fall and into 2017! Stories about Kelowna have run recently in a number of websites, blogs, and publications – everything from Alberta RV&Resort Magazine to vacay.ca!
For more information on Tourism Kelowna's travel media hosting or other communications initiatives, please contact Chris Shauf at chris.shauf@tourismkelowna.com / (250) 861-1515 ext 203 or Alexa Creelman at alexa@tourismkelowna.com / (250) 861-1515 ext 204.
---
Previously posted by: Alexa Creelman