COVID-19 continues to directly and significantly impact the tourism industry and consumer behaviours, and with non-essential travel again not recommended, in many cases travel has decreased significantly – almost to the level when the pandemic was first declared.
While trends, market information, and consumer insights are changing frequently and quickly, there are some signals that may help navigate the current environment and assist with 2021 planning.
Safety Matters
Safety continues to be a top priority for consumers. Within the province, British Columbians' feelings about safety towards travel continue to fluctuate, closely tied to messaging from public health leaders, but show signs of slight improvements leading in the last month of 2020. Also not surprising, a higher number of British Columbians (65%) are comfortable welcoming visitors from nearby communities and less comfortable with visitors from USA (7%) and other international countries (10%).
Unfortunately, BC residents comfort with tourism activities overall is trending down. Eating in a restaurant, visiting outdoor attractions, and staying at a hotel/motel remain higher on the list, while comfort is currently lowest for taking a cruise.
What to do: continue talking about your health and safety measures and don't forget to post your COVID-19 plans at your place of business and on your consumer-facing website. You may wish to add health and safety messaging to your online web listings on tourismkelowna.com and hellobc.com.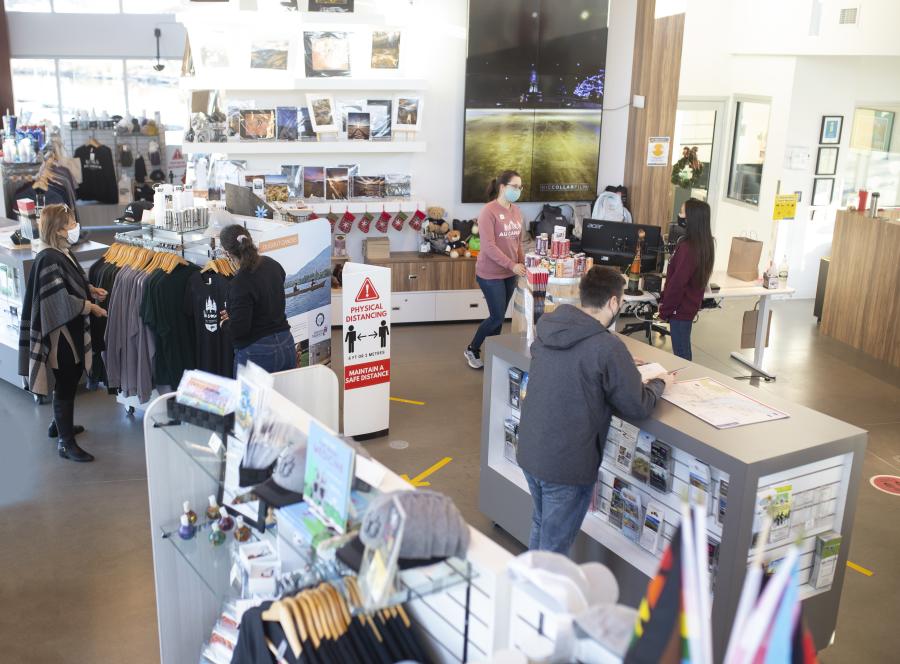 Travel Slows (Again)
When public health leaders ask visitors to stay in their communities and avoid non-essential travel, the vast majority of consumers do so. The result is less movement between communities, provinces, and markets, and less business to local tourism businesses.

Coming into the end of November when provincewide travel restrictions were implemented, movement in BC experienced a week-over-week decrease of -43.6%, and the Thompson Okanagan region saw a -50.9% decrease in the same period. Year-over-year statistics show movement in our region and across the province is down over -50% from last year. This is directly linked to a decrease in overnight accommodation bookings.

What to do: Unfortunately, less movement means less customers visitors; with public health orders limiting non-essential travel, local businesses must rely on local consumers more than in past. Create offers, deals, and incentives with a local audience in mind, and if possible make your product or service available for delivery for out-of-town consumers. If possible, sell gift cards for future use. We have been creating and sharing content, targeted to local audiences, through our various channels so continue to keep our team updated on your current offers and promotions by emailing us and by tagging us / using #exploreKelownalocal on social media. 
Winter Marketing & Outlook
In line with the provincial public health orders to limit non-essential travel, we have temporarily paused marketing outside of our region until restrictions are lifted. In the meantime, we are focusing on providing travel information for those who must travel, providing information for future travel, and increasing efforts to help local businesses persevere through a very challenging winter season.
Unfortunately, with travel restrictions in place, we know the outlook is extremely challenging for local businesses trying to make it through the winter months. And with so much uncertainty about when travel will once again open up, it's difficult to make important business decisions and forecasting. As soon as we are able to activate marketing efforts, within the guidelines from provincial public health leaders, we will do so – slowly, safely, and responsibly.
COVID-19 has had a devastating, and now lengthy, impact on the entire global tourism industry, and we are feeling the immediate effects of the virus and the travel restrictions put in place because of it. While Kelowna and the Central Okanagan is well-positioned when travel opens up again, we know the full recovery of the travel and tourism industry will take years. The length it takes to recover is tied to a number of factors including public health management, consumer spending habits, and consumer confidence.
If you have questions about marketing research, please contact Sara Correa at sara@tourismkelowna.com, and if you have questions about Tourism Kelowna's marketing and communication strategy, please contact me at chris.shauf@tourismkelowna.com.
For more information: 
For provincial information, industry performance, and forecasts, check out Destination BC's weekly Research Roundup or find market intelligence on their Signals & Sentiments Dashboard. 
You can also look up regional tourism research on TOTA's website, or national tourism statistics and research on Destination Canada's website.