Spring usually brings additional visitors seeking great weather, outdoor trails, golf, and new releases at local wineries. Our marketing, business development, and visitor experience strategies over the last number of years have resulted in strong, sustained growth in occupancy, visitation, and visitor spend in spring months. However, with COVID-19 travel restrictions still in place and visitation not yet encouraged, we continue to rely heavily on local audiences to help local businesses survive, and our marketing and promotion efforts within the Central Okanagan continue in earnest. We have increased our efforts encouraging residents to stay local and support local through a number of initiatives to help accommodators, restaurants, and tourism attractions in the region weather this (lengthy) storm.

Local Activations and Contesting
Throughout the pandemic, and especially while travel restrictions have been in place, we've implemented local marketing tactics to help encourage residents to stay local and support local. One example is a media partnership with KelownaNow, which saw a series of contests, sponsored content, and advertising specifically designed to support local hotels, restaurants, and other tourism businesses hit hard by the pandemic. Given the ongoing recommendations against travel, we will be continuing this series into the spring.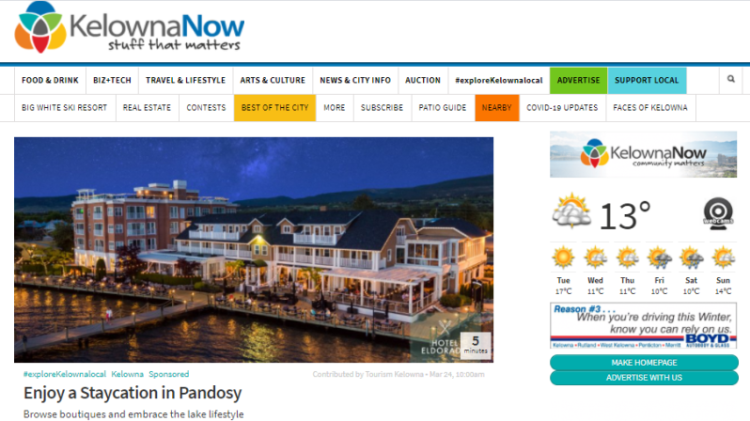 Photo: #exploreKelownalocal content on the KelownaNow website

Digital Passport
Launched in February, our new digital passport program introduces incentives and activations to connect consumers with local businesses. Our first passport, the #exploreKelowna Local Savings Pass, has been popular among locals with over 2,000 downloads and a strong number of activations at local businesses. Given recent restrictions on indoor dining and indoor attractions, we're providing further opportunities for tourism businesses to drive traffic and sales through this tool. Our second passport will be launching soon.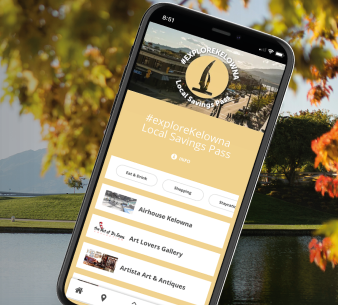 Photo: Mobile view of the #exploreKelowna Local Savings Pass

Content Marketing
Through our strong social media reach (over 192,000 followers), email marketing, and #exploreKelowna blog, we share information and inspiration to help consumers learn more about our destination and the businesses, attractions, and people that make it up. Our recent content marketing has focused on encouraging consumers to stay local and support local, while also providing additional emphasis in response to public health orders and travel restrictions. Enhanced listings, additional blog articles, and a paid effort to boost this content continues to drive visits to our website and local businesses. We also created six new Guides on Instagram to help direct local consumers to local restaurants with patios, take-away, and delivery options they can support right now.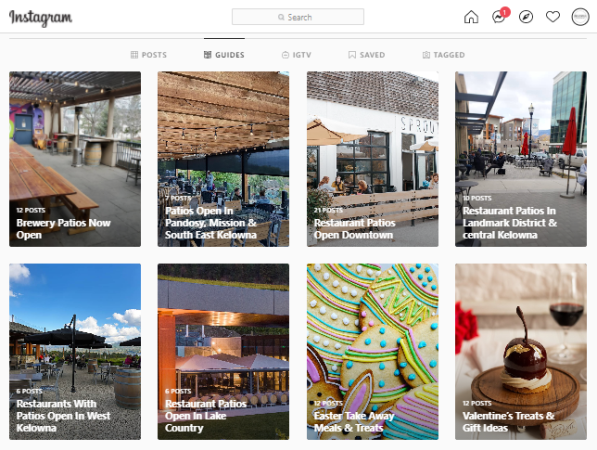 Photo: Instagram Guides highlighting ways to support local

Staycation Series
To help local accommodators, restaurants, and nearby attractions, we launched a series of staycation travel stories. The series, which will continue through the spring, features local residents respecting travel restrictions by safely staying within their own community, taking a much-needed break and supporting local businesses. From quick family getaways and work staycations to relaxing retreats and kid-free staycations, we're showing you don't need to get away to take a break from it all.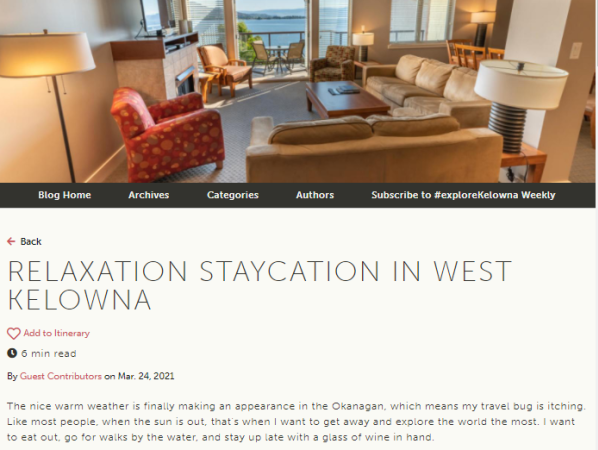 Photo: #exploreKelowna staycation blog content, contributed by Laurence Rich

Enhanced Web / Digital Experience
With more local eyes on our website and content, we made enhancements to tailor the message specifically to our closer-to-home audience. Dynamic content is a way of personalizing a web experience based on the location of the user; local audiences are provided information that's more helpful to them in the immediate or short term. Audiences outside our region have another personalized view that helps them discover, research, and plan more for future travel.
We also continue to expand and refine content about local tourism businesses as new public health orders are rolled out. For example, when indoor dining was closed, we provided helpful information on the many restaurants providing patio, take-away, and delivery options. Our strong digital offerings allow us to be nimble to support local businesses as they react to ongoing and updated measures.  

Photo: Instagram Story linking to our website content

We're ready for when it's time to travel again
We continue to be in close contact with regional, provincial, and national destination organizations on an integrated and aligned return to travel marketing and promotion. We continue to monitor intention and comfort to travel as well as resident comfort welcoming visitors back. When able to do so safely, and with the support of our community, we will re-activate our destination marketing slowly and in stages, welcoming back visitors and encouraging them to travel safely and responsibly. We anticipate that when restrictions are lifted there will be an increased interest to travel and the summer months will see strong visitation. We also know many loved ones will want to come and visit their friends and family that are fortunate to live, work, and play here in Kelowna and the Central Okanagan. We will actively encourage them to consider travelling outside of our busiest travel months.
If you have any questions about our marketing and communication strategy and activities, please reach out to me at chris.shauf@tourismkelowna.com. Stay tuned for more ways we're helping local businesses survive. Thank you for your support during this challenging time for our industry.