With BC now in Phase 3 of its Restart Plan and summer in full swing, Kelowna will be seeing more visitors looking for things to do and places to stay, with many of them searching for information on our website.
As we know, visitors are seeking out slightly different information now, with health and safety top of mind. Firstly, they want to know that your business is open and ready for guests, and secondly, they want to know what types of safety protocols your business has in place to ensure the health, safety, and comfort of the guests.
We have added multiple features to the website so visitors can easily find out who is open for business and view additional COVID-19 measures that are in place. And if a visitor wanted to learn more, your business's health and safety procedures can be added directly to your online listing. With these added features, it is more important than ever for you to update your listing on Tourism Kelowna's Extranet so those reviewing your listing, including our Visitor Experience team, have the most up-to-date information.
Filters for COVID-19 measures have been added to all listings pages. Here is an example from the Hotels, Motels, & Resorts page: 

Currently only "Open for Business" is enabled, but as more and more listings get updated with COVID-19 measures, we will look to update the filter function so visitors can easily search for exactly what they need. 
COVID-19 measures have also been added to listing detail pages. Here is an example of a restaurant's listing page: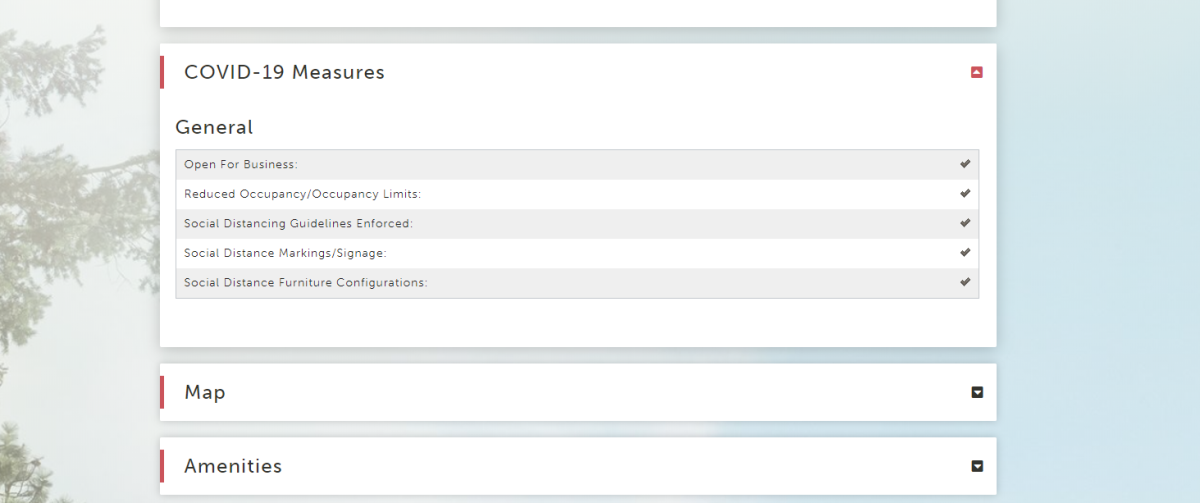 Only a small portion of the COVID-19 measures are shown above; you can see the full list of options when you update your listing on Tourism Kelowna's Extranet. 
Along with the additional enhancements that have been made to all listings, our team continues to update the COVID-19 pages with helpful information for visitors and the tourism industry. As well, we have created a few new pages which will help visitors see ways to explore safely in Kelowna, what the health and safety protocols are, as well the Kelowna is ready page, which highlights all of the businesses that are open, making it easy and reassuring to visitors they can find places to explore in Kelowna.
We will also continue to create content that gets people excited to visit and explore Kelowna, along with content that reassures visitors that although things may be a bit different this year, almost everything is still possible, just in a new way. Our recent blog post, The New Wine Tasting Experience is just one example.
For more information or assistance on updating your website listing, please contact me at steve@tourismkelowna.com or contact Sara Correa at sara@tourismkelowna.com.