Global Meetings Industry Day (GMID) was created to be an international forum for advocacy, awareness, and celebration for the meetings and events industry. Locally, we have gathered on April 14 for the past few years to share the value of the meetings industry in our destination. However, with restrictions on large gatherings, our local event was postponed indefinitely, so the team at Tourism Kelowna had the opportunity to be part of history when GMID 2020 went virtual. 
Led by the Chairs from Meetings Mean Business Canada, India, Mexico, and the United States, with partners from industry associations all over the globe, the challenge was on to break the Guinness Book of World Records for the most attendees on a virtual meeting at one time. Jennifer Spear, with Clean Slate Strategies out of Toronto, and Miguel Neves, from miguelseven.com based in Copenhagen, hosted a thirty-minute session taking the current pulse of the industry through surveys. Questions ranged from "How will live events change after this crisis is over?" to "Are you wearing pants?" and survey results were immediately shared with attendees.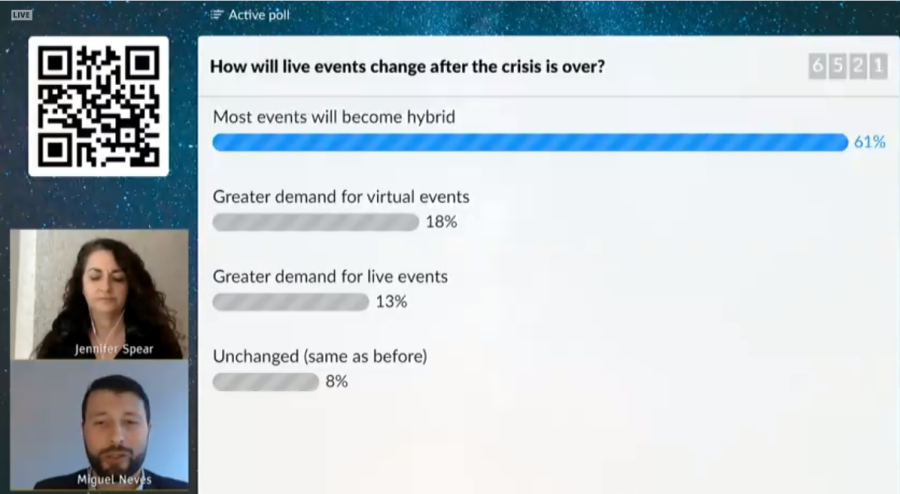 After the thirty-minute World Record attempt, various other GMID events took place, which started with a panel discussion on the industry and how we move forward from the current situation. The discussion was led by Meetings Mean Business (MMB) Canada's Chair, Clark Grue, who welcomed the following panelists:
The Honorable Melanie Joly, Minister of Economic Development and Official Languages
Chantal Sturk-Nadeau, Executive Director, Business Events Destination Canada
Tracy Folks Hanson, President & CEO, Canadian Society of Association Executives
Candace Schierling, Director of National Sales, Tourism Saskatoon
Heidi Walker, Past Chair, Meeting Mean Business Canada
Laura Pallota, VP Sales & Distribution, Marriott Hotels of Canada
Bettyanne Sherrer, President, ProPlan Conferences and Events
Following the MMB event, various other industry associations such as Meeting Planners International (MPI), Society for Incentive Travel Excellence (SITE), and others hosted webinars, concerts, and discussions to mark the day. 
As of today, we are still waiting to hear if we did indeed make history by breaking the World Record. Regardless, it was an uplifting day for the industry and a great reminder of the resiliency and tenacity of the industry.  For those that couldn't participate, you can enjoy a recorded version of the event.  
For more information on this and other business development initiatives, please contact me at jennifer@tourismkelowna.com or at (250) 717-6732.