Take your time. Stay a bit longer. Rediscover what you love about fall. That's the message we want visitors coming to Kelowna and the Central Okanagan to hear as they come to experience our incredible fall weather and share our fall flavours. For those that weren't able to visit during the summer, fall is a great time to come to Kelowna and the Central Okanagan. Our wide-open spaces start to take on autumnal hues and local farmers bring in their end-of-season harvests to share. And, there's still lake time to enjoy with those warm, sunny late-summer and early-fall days.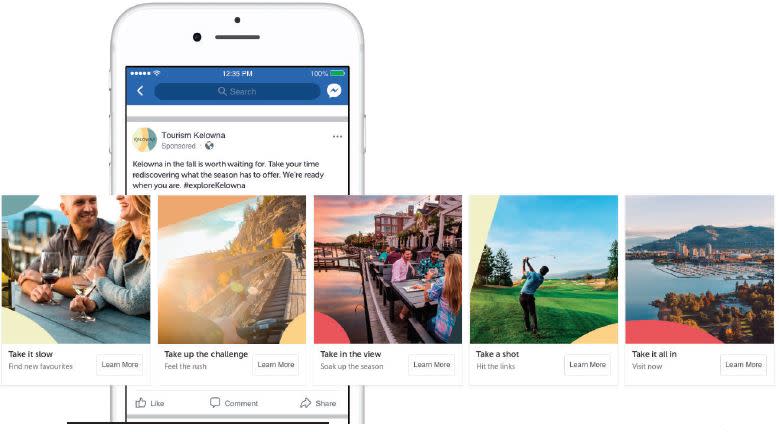 For many, fall is a favorite season. We'll be showcasing the best of Kelowna through our paid advertising campaign to support local businesses as they continue through the recovery phase of the COVID-19 pandemic. The more local businesses are able to open up and serve customers safely, the better their chance of surviving and remaining in our community for residents and visitors to enjoy throughout the year. Our fall advertising tactics are very much a continuation of those we launched when the province moved into Phase 3 of its Restart Plan. We will continue with a limited run of television advertisements but move to mainly a mix of digital tactics including social media advertising, e-mail marketing, search ads, online display ads, and online travel agent site partnerships. We will augment our paid campaign with our ongoing destination marketing delivered through our owned channels (website, social media, content marketing, etc.). 


Tourism Kelowna's fall recovery advertising will phase in starting on September 7, 2020, focused within British Columbia. We continue to closely monitor inter-provincial travel guidelines and recommendations and will activate marketing in other domestic markets in accordance with guidance from Destination British Columbia and our provincial health office, and with feedback from local tourism businesses and residents.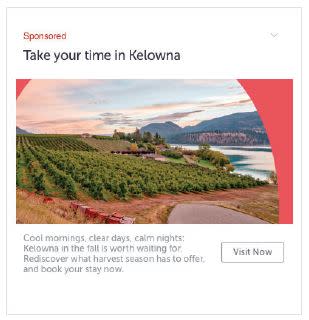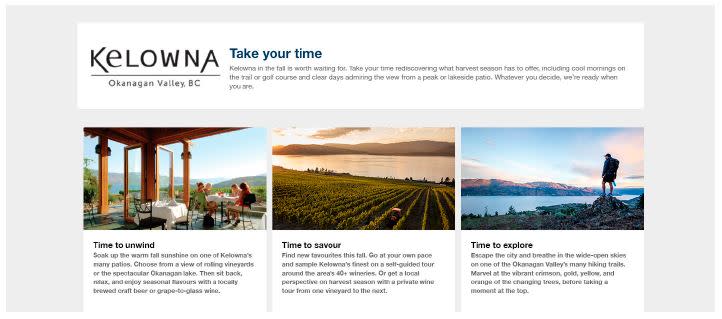 Fall has always brought a bit of a change of pace with it—the starting of a new cycle and a 'reset' after an energy-filled summer. Over the summer months, we saw a higher number of visitors than originally expected but noted that the average length of stay decreased slightly. With so many amazing fall experiences, we're inviting visitors to Kelowna and the Central Okanagan to #exploreKelowna safely and responsibly, but also to take additional time so they can do more, see more, and savour more. 
If you have any questions about our destination marketing and communications strategy, please contact me at chris.shauf@tourismkelowna.com.