Following up on a terrific summer season, Tourism Kelowna is keeping the momentum going and encouraging visits to enjoy the flavours of fall. The advertisements build on the successful, targeted spring campaign.
Food, wine and the great (and still sunny) outdoors are being highlighted in digital advertising geo-targeted to British Columbia, Alberta and Winnipeg (with adjusted messaging in that market to find out about new, direct flights.)
The digital display ads which target couples getaways, girls getaways, adventure getaways and brand awareness will run until mid-October. Ads will also run on Facebook and Instagram.
A few examples of the ads are below.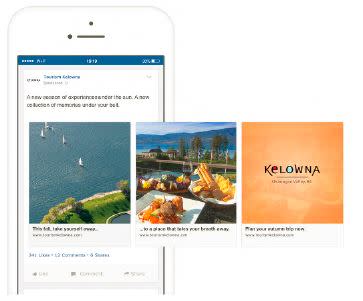 If you have any questions, please contact Chris Shauf at chris.shauf@tourismkelowna.com or (250) 861-1515 ext 203.