Over the past few months, our Community & Visitor Engagement team has seen some exciting changes, as three of our Community Specialists have been promoted, allowing us to further our efforts at the Kelowna Visitor Centre and beyond. 
Earlier this year, Denae Weighill joined the team at the Kelowna Visitor Centre as one of our Community Specialists. During her time with the team, Denae has demonstrated outstanding leadership and knowledge, bringing a positive, enthusiastic attitude to everything she does. Thanks to her dedication and commitment to providing exceptional service, she was promoted to a full-time role as Volunteer and Events Coordinator in August.
Denae graduated from the University of British Columbia Okanagan Campus (UBCO) in 2021 with a Bachelor of Arts in Geography. While completing her degree, Denae worked as a Teaching Assistant and was President of the Geography Course Union, engaging with the community to facilitate meetings and organize various events. Prior to working with Tourism Kelowna, Denae worked as an Asset Management and Training Analyst, utilizing her skills in marketing and communication. Denae's academic and professional background, as well as her involvement within the community, has empowered her to seamlessly communicate and collaborate with peers and the public. As Denae has resided in Kelowna her entire life, she is very passionate and committed to bringing positive change to her community.
In her new role, Denae will oversee our mobile and satellite visitor centres and our team of volunteers, arrange familiarization tours, and handle all event and activation bookings at the Kelowna Visitor Centre. To discuss any of these items, please contact Denae at denae@tourismkelowna.com or at (250) 861-1515 ext. 208. You can also learn more about Denae in our recent Meet the Team post.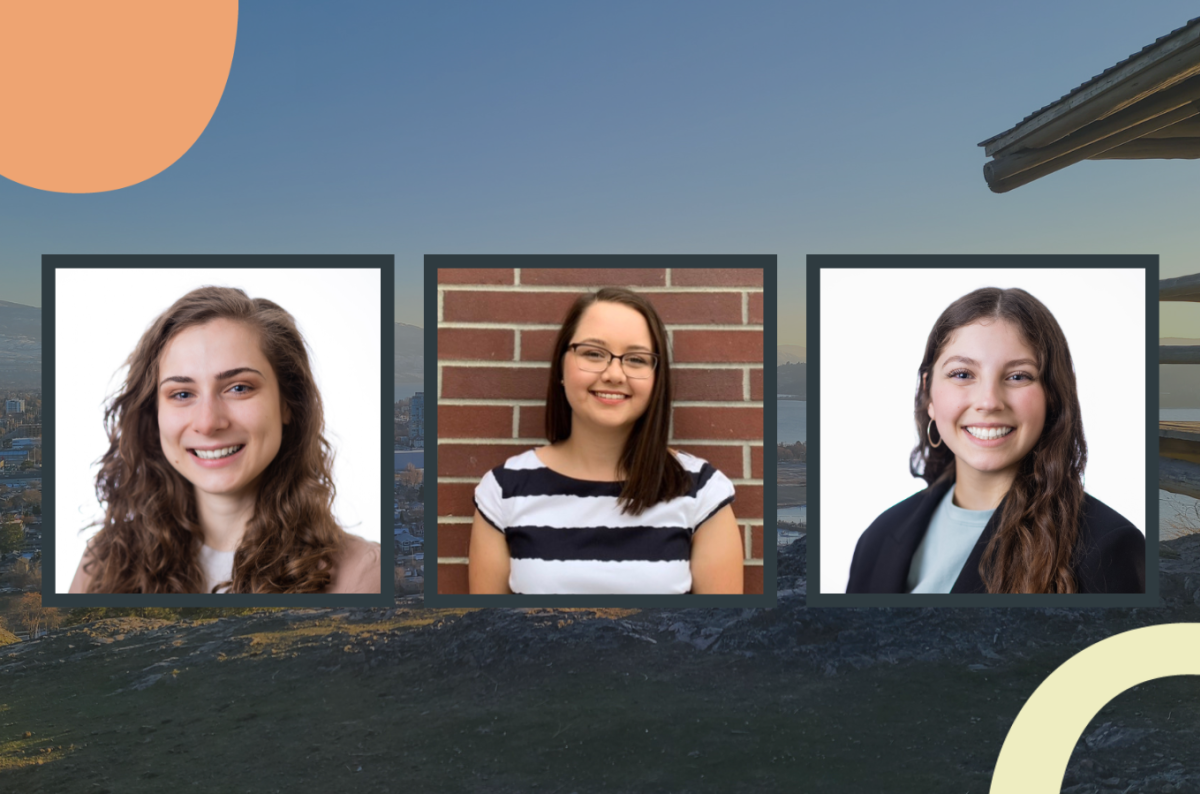 Pictured (from left to right): Denae, Hannah, and Jaclyn
Both Hannah Day and Jaclyn Stuart have also been promoted, moving into the elevated role of Senior Community Specialists. Hannah and Jaclyn have worked with Tourism Kelowna since the opening of the Kelowna Visitor Centre on Queensway Ave. They have become experts in their jobs and their wealth of knowledge allows them to effectively support their team members and assist with questions other team members or volunteers may have.
In her Senior Community Specialist role, Hannah will focus on all things retail. She is helping us revamp some aspects of our retail program in preparation for bringing on a new Retail Coordinator. She has been working on making changes to our online retail store, where we sell all our Love for Kelowna and Kelowna Vibes products, as well as over 100 different consignment suppliers' products. Hannah has also been handling communication with vendors, receiving products, merchandising, and much more. Hannah recently started her Bachelor of Education program at UBCO and is currently working in the visitor centre on Saturdays and Sundays. You can learn more about Hannah here and contact her at hannah@tourismkelowna.com if you have any questions about our retail program. 
Jaclyn will focus on operations in her new Senior Community Specialist role. Currently, she is updating our staff training manual up to date and is looking for opportunities for the team to do additional training that would benefit us in the workplace. Jaclyn has taken a lead role in managing our statistics reporting to Destination British Columbia (DBC), which is required to be part of the Visitor Centre Network program. She is also working closely with Denae to plan and organize events in the visitor centre. Jaclyn is currently in her third year of her Bachelor of Arts degree at UBCO and works on Sundays and Fridays. You can learn more about Jaclyn here and contact her at jaclyn@tourismkelowna.com.
Please join us in congratulating Denae, Hannah, and Jaclyn on their new positions!