We want to highlight some of the recent award wins and achievements in our local tourism industry that have occurred in the past couple of weeks.
Industry
In early December, the Thompson Okanagan Tourism Association (TOTA) was named the 2020 World's Responsible Tourism Award Winner for the third consecutive year at the 27th Annual World Travel Awards, which follows TOTA's win of North America's Responsible Tourism Award in November.
TOTA was also awarded the UNWTO.QUEST certification, which recognizes Destination Management Organizations (DMOs) for excellence in governance. 
Local Awards
In a virtual celebration on December 10, the Kelowna Hotel Motel Association celebrated its third annual Heart of Hospitality Awards, which recognize frontline staff who have gone above and to give the best possible experience to visitors in Kelowna.
Tourism Kelowna was proud to present the "Spirit of Kelowna" award again this year, which recognizes one individual, who works within a member business of the KHMA, for demonstrating the spirit of Kelowna's brand promise and the destination ambassador values of collaboration, excellence, pride, innovation, and integrity. This year's winner, from the nine very deserving nominees, was Linda Jones-Evans of Accent Inns—our Director of Business & Destination Development presented the award alongside with Linda's nomination, which contained numerous accolades about the exceptional service Linda provides to visitors.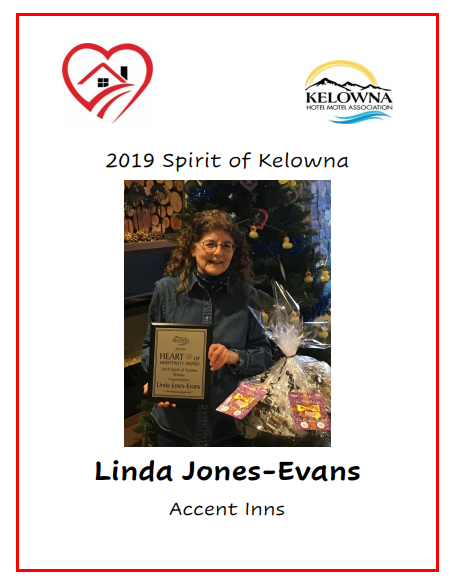 Two other awards were handed out during the afternoon's ceremony. Mickey Cooke, Holiday Inn Express & Suites Kelowna, was presented with the "Service Superstar" award while Georganna Moore, Accent Inss, was the recipient of the "Heart & Soul" award.
Media Coverage
Season two of Food Network Canada's series, Big Food Bucket List, will be featuring two of Kelowna's local restaurants, with Salt & Brick being featured on the February 8 episode and Sunny's Modern Diner being featured on February 20.
Hotel Zed was featured on CNN for granting 18 years of free stays to a couple who took advantage of their "Nooner" special this past Valentine's Day—those who took advantage of the promotion and had a baby roughly nine months later were set to win, and a Kelowna-based couple took home the prize.  
Congratulations to the nominees, winners and all those recognized!
Have an award win or notable achievement to share? Email me at melissa@tourismkelowna.com with all the details.