Tourism Kelowna is once again celebrating National Volunteer Week (NVW), which runs from April 18 to 24. This year's theme, "The Value of One, The Power of Many," celebrates "the awe-inspiring acts of kindness by millions of individuals and the magic that happens when we work together towards a common purpose." This year also marks the 20th anniversary of the International Year of Volunteers.  
At Tourism Kelowna, we are fortunate and proud to have a dedicated group of 77 Visitor Experience volunteers and 18 Board of Directors volunteers, all of whom admirably choose to donate their time, pride themselves on the work they do, and create a massive impact not only within our organization but also in our local community.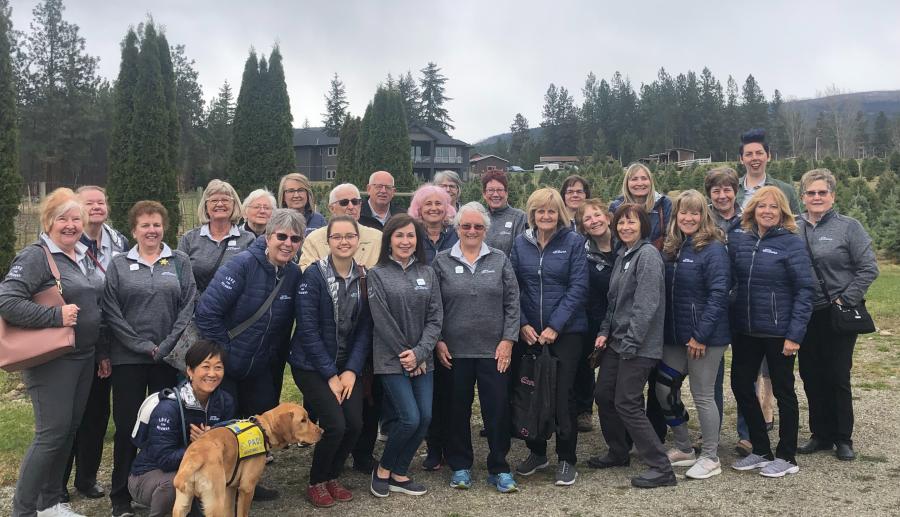 Photo: Celebrating National Volunteer Week 2019, with a familiarization tour to Meadow Vista Honey Wines.
 
In a normal year, our Visitor Experience volunteers can be found doing many different jobs—greeting visitors as they disembark from their plane at Kelowna International Airport, helping people searching for information at the Kelowna Visitor Centre, or chatting with locals and visitors at various community events. The past year has brought many new challenges and tasks for our volunteer team who already do such much. They have persevered through the challenges, continuing to help the community in any way possible and showcasing Kelowna and the Central Okanagan with enthusiasm so visitors and locals have the best experiences possible, contributing approximately 2,320 volunteer hours to our organization. 
"This year, more than ever, Tourism Kelowna has relied on the support of our Board of Directors and Visitor Experience volunteers. Whether it has been providing strategic direction to management when changing operations in early 2020 or assisting residents and travellers with safe travel information, their efforts have been invaluable," says Chris Lewis, Director of Visitor Experience. "Although not all of our Visitor Experience volunteers have been able to return to service in 2021, we thank each and every one of them for their efforts and look forward to a time when all can safely and comfortably return and celebrate their achievements together." 
In recognition of this year's theme, we wanted to highlight one of our past volunteers, Alex Loraas, who has now transitioned to our part-time staff team at the Kelowna Visitor Centre. When asked about her time as a volunteer with our organization, she stated:
"I am so glad that I had the opportunity to be a volunteer with Tourism Kelowna. As a newcomer to the city, I learned so much about Kelowna, a lot of which came from speaking with other volunteers. Most of my shifts were spent working with the Tourism Kelowna staff and other volunteers, where I listened and learned about the best spots in Kelowna from people who have spent the time and money discovering trails, wineries, restaurants, and attractions. During my time volunteering, I became more connected with my community. Volunteering at Tourism Kelowna has motivated me to seek volunteer opportunities elsewhere and to engage in more community activities". 
To celebrate the week with the team, we will be hosting a virtual celebration and will be putting together gifts of recognition for each individual volunteer. We want to thank all volunteers from the bottom of our hearts for their hard work and dedication.  
If you would like to learn more about our volunteer program, please contact me at sydney@tourismkelowna.com or (250) 861-1515 ext. 220.  
Please note: The header image was taken pre-pandemic at the grand opening of the Kelowna Visitor Centre in 2018.