Collaboration, growth markets, and the importance of local community — these are some of the themes that reflect the tourism industry in Kelowna over the past year. As we prepare to ring in 2020, let's celebrate some of the memorable successes our stakeholders, our team, and our industry achieved in 2019.
Better Together
Collaboration is the foundation of tourism and we are grateful for Tourism Kelowna's continuing partnership with the City of Kelowna on major events, marketing, and visitor services. Working together with local sports organizations secured new city-wide events like the 2020 Memorial Cup Presented by Kia and the 2021 Tim Hortons Brier — proof of the power of partnerships.
Engaging Community
Tourism is a vitally important industry in Kelowna according to 95% of residents surveyed this year. Nowhere is this "Love for Kelowna" more evident than at the Kelowna Visitor Centre, a valued community hub that has welcomed more than 310,000 people — a combination of both visitors and residents — through its doors so far in 2019.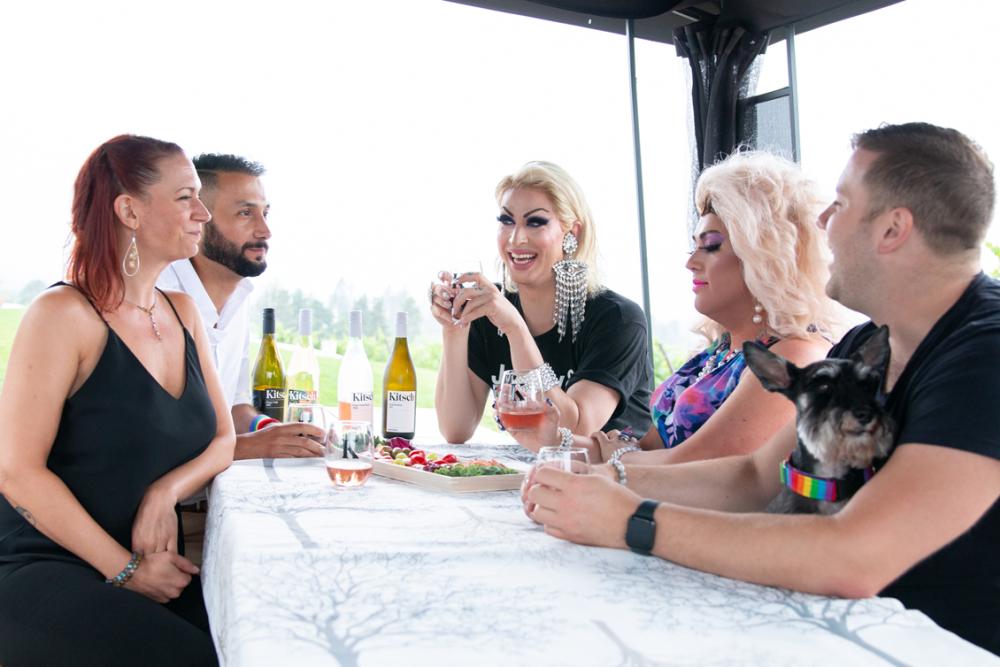 Brooke Lynn Hytes (third from the left) wine tasting at Kitsch Wines (Photo Credit: Destination Canada & Brandon Dodds)
Embracing LGBT2Q+ Travellers
Attracting this high-value market is a key component of the tourism growth strategy. Kelowna firmly established its national brand in July, welcoming Brooke Lynn Hytes, Season 11 runner-up from RuPaul's Drag Race, as part of a cross-Canada tour organized in partnership with Destination Canada. With support from federal tourism programs, Kelowna Pride Society partnered with BC Wine, Cider & Spirits Festival to launch the new OUT in the Valley wine festival this fall, rounding out an appealing four-season Okanagan itinerary for the LGBT2Q+ traveller.
Fostering Sustainable Tourism
Eighteen stakeholders have now made the commitment to the Biosphere Adhesion Program, with 11 more currently in process. Thanks to the award-winning work by the Thompson Okanagan Tourism Association and support of local stakeholders, Kelowna has been selected to host the 2020 Global Sustainable Tourism Council Global Conference, bringing hundreds of delegates from around the world to our biosphere-accredited region.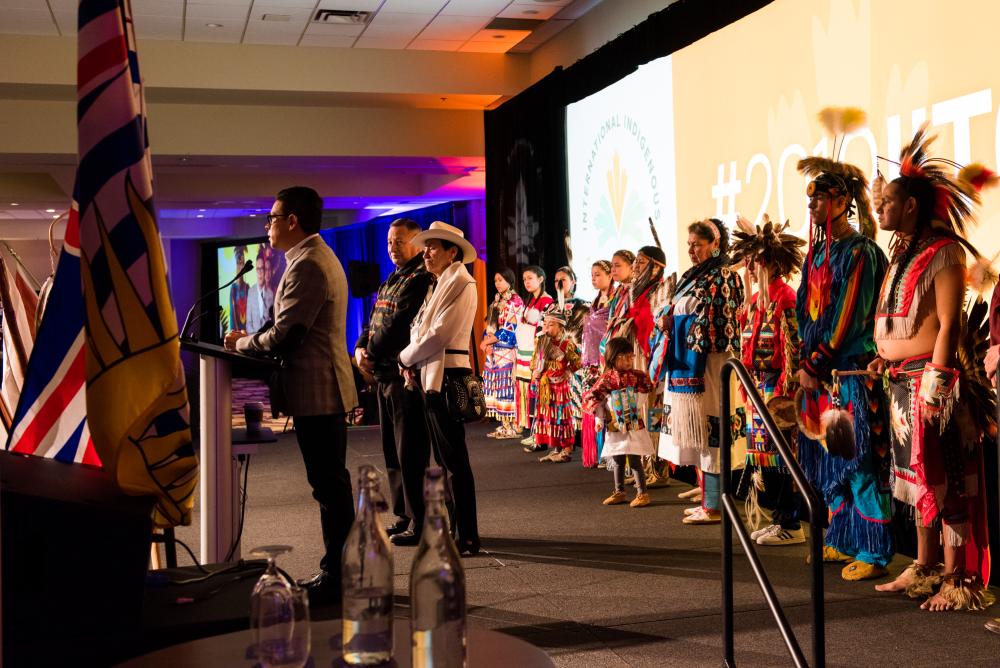 2019 International Indigenous Tourism Conference (Photo Credit: Simon Sees)
Game Changers
A unique Memorandum of Understanding with the Central Okanagan Economic Development Commission will generate new business and conference leads from the region's key industry sectors. Also in 2019, Tourism Kelowna joined several partners, including Westbank First Nation and the Thompson Okanagan Tourism Association, to host 700 international delegates in Kelowna for the 2019 International Indigenous Tourism Conference.
Leading the Way
In the spring, Kelowna was nationally recognized by the Canadian Sport Tourism Alliance and Sportcal as the top mid-size city in Canada for sport hosting. The award acknowledges the collaborative efforts of many organizations to successfully attract, organize, and execute sport events in Kelowna, like 2019 Skate Canada International in October, which resulted in $4.5 million in economic activity for the Kelowna area. 
Promoting Kelowna's Four Distinct Seasons
We know economic growth and resiliency will come if we can equally disperse more visitors and the spending they generate throughout the year. The combined efforts of the local tourism industry are strengthening the Central Okanagan's reputation as a four-season playground. Through the first 10 months of the year, nine months have posted year-over-year increases to hotel occupancy. Summer visitation in 2019 rebounded after two summers of challenging weather, allowing Kelowna to do what it does best — deliver remarkable experiences to visitors.
Thank you for making 2019 such a spectacular year. We look forward to working with you in 2020 to build on these successes and achieve new milestones.