In late June, our Business Development team hosted a Zoom meeting for our stakeholders that participate in the Meetings & Conferences Advertising Program. With much uncertainty in the marketplace and so many changes at the business and client level, we felt it was imperative to ensure consistent communication and provide opportunities for our partners to share feedback and updates.
This meeting focused on the updated collateral (see image below) and website listings our team has been working on to communicate with planners about the health and safety protocols our stakeholders have implemented. Our role as your destination marketing organization is to be that conduit of information of what is open, what the destination experience is like, and to share how exactly our businesses are keeping visitors safe while they are in Kelowna.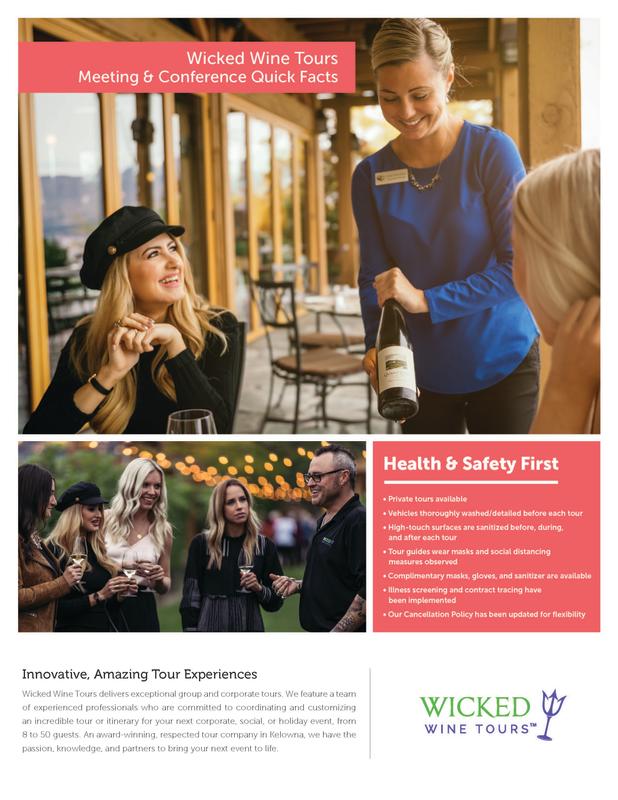 Video is another quick way to demonstrate what the experience looks like and gives meeting planners and delegates comfort when they plan their events in Kelowna. This video from the Kelowna International Airport (YLW), explaining the new departures experience, is a great example of how to communicate your updated protocols to potential visitors. 
We finished off the meeting with a look at a virtual wine tasting with the guidance of Mission Hill Family Estate's Lead Sommelier and customer service superstar, Bram Bolwijn, and a round table discussion to determine how business is looking for the summer months. I'm thrilled to say that many businesses have seen a significant uptake in business for the summer months ahead with reservations and bookings for tours and activities. Smaller groups have started booking, working within the Provincial Health Authority's order for gatherings, and larger groups are starting to look towards 2021 to book their future meetings. 
For more information on this and other Business Development initiatives, please contact me at jennifer@tourismkelowna.com or at (250) 717-6732.