As of May 18, Air North, Yukon's Airline, is proud to offer twice-weekly Boeing 737 jet service between Whitehorse, Victoria, and Kelowna. As the first direct air connection between Canada's North and Vancouver Island, this new route is a welcome addition to the airlines current Kelowna service, which has been in place since 2013. It will also establish the Air North as the only carrier with regularly scheduled all-jet service to Kelowna from Vancouver Island. 
Joe Sparling, President and CEO, Air North, Yukon's Airline, said: "We are very pleased to be delivering a service that Yukoners have been requesting for years. Whether they are attending school, travelling for work or visiting family this flight is going to make travel to Vancouver Island so much easier for everyone in the Yukon and Canada's North."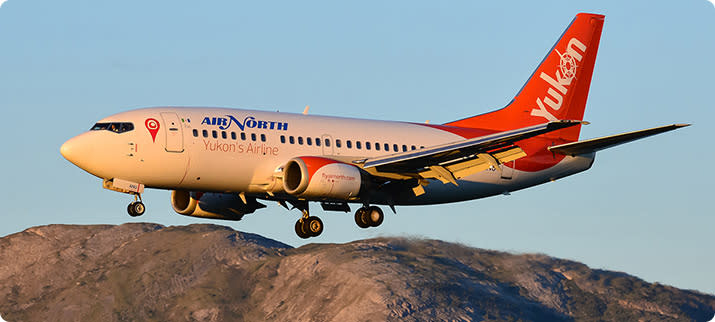 "We welcome this new routing and service from Air North that connects travellers from Northern Canada and Vancouver Island to the beautiful Okanagan Valley, " said Tourism Kelowna President and CEO, Lisanne Ballantyne. "Business and leisure travellers can bring the personal items and sporting equipment they want to enjoy Kelowna's four-season playground and fill their bags with souvenirs and delicious Okanagan Valley wines to take back home to enjoy. We look forward to sharing more of Kelowna's hospitality and memorable experiences with visitors taking advantage of this new routing."
Click here for the full announcement regarding this new service offering.
About Air North, Yukon's Airline
Founded in 1977, Air North, Yukon's Airline has proudly provided affordable, reliable air services to Yukoners for over 40 years. The airline serves 11 Canadian destinations including Whitehorse, Yellowknife, Dawson City, Old Crow, Inuvik, Edmonton, Calgary, Vancouver, Kelowna, Victoria, and Ottawa. Its modern fleet is comprised of five Boeing 737 jets, and five turboprop aircraft including two ATR-42s and three Hawker-Siddeley 748s. Named North America's most-loved airline in 2016 by Fortune Magazine, Air North, Yukon's Airline prides itself on providing genuine Yukon hospitality from the moment guests step aboard its flights. Passengers experience fresh fare prepared daily by its Whitehorse flight kitchen, locally-roasted Midnight Sun Coffee Roasters coffee, and Yukon Brewing beer. Air North, Yukon's Airline is one of the few remaining North American carriers that does not charge fees for checked baggage. Guests enjoy two complimentary checked bags (up to 100 lbs with no one item exceeding 70 lbs) on its 737 jets, and one complimentary checked bag (up to 44 lbs) on its turboprops. For more information, including flight schedules and fares, visit www.flyairnorth.com.