Next fall, hundreds of delegates from around the world will meet in Kelowna, as another global conference makes its way to our city. Late last week, Thompson Okanagan Tourism Association (TOTA) CEO, Glenn Mandziuk, and Global Sustainable Tourism Council (GSTC) CEO, Randy Durband, announced that the 2020 GSTC Global Conference will take place at the Delta Hotels by Marriott Grand Okanagan Resort from November 19-22, 2020, which will be the first time the conference is hosted in Canada.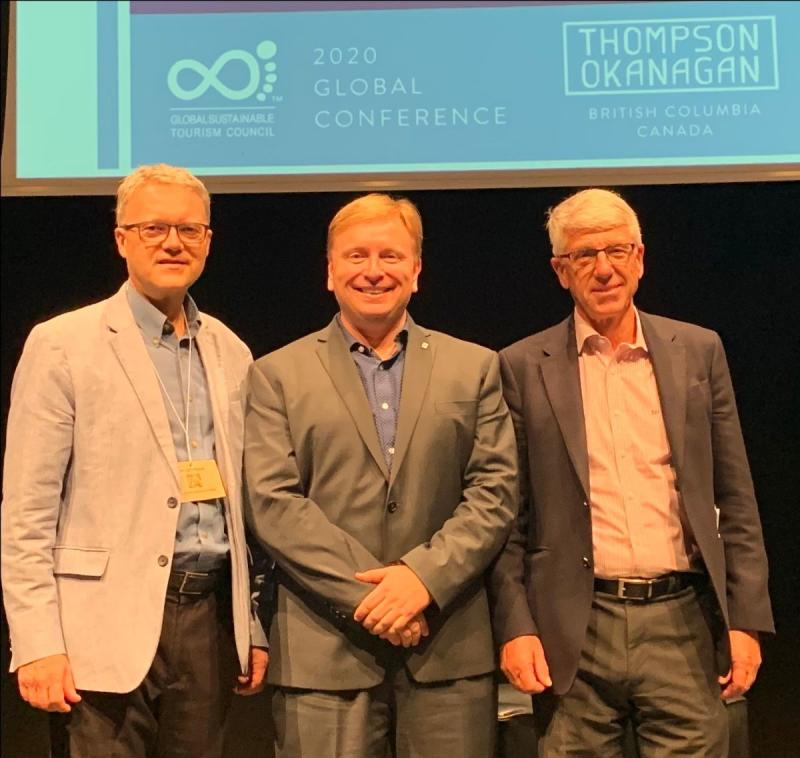 From left to right: GSTC CEO, Randy Durband; TOTA CEO, Glenn Mandziuk; and GSTC Chairman, Luigi Cabrini
"We could not be more excited to welcome the GSTC Global Conference to the Thompson Okanagan and look forward to hosting sustainable tourism leaders in Kelowna from around the world," says Mandziuk. "It is truly a privilege to share our destination with the world as we work toward a more sustainable future for us all. It is an opportunity to showcase the region and our sustainable commitment on a global stage to professionals actively involved in the development and promotion of sustainable tourism." 
"Kelowna is proudly located in a Biosphere accredited region and hosting the GSTC annual conference will showcase our commitment to local responsible tourism as well as the 17 global Sustainable Development Goals," says Tourism Kelowna President & CEO, Lisanne Ballantyne. "Industry reports tell us that more travellers than ever are seeking sustainable destinations, with 87% wanting to travel sustainably and 67% of travellers willing to pay more for travel that impacts the environment less."
The annual event will see Kelowna and the Thompson Okanagan welcome over 300 international leaders together with up to 200 local and national delegates specializing in sustainable tourism including destination management and marketing professionals, airlines, travel agents, tour operators, the hospitality sector, and international media.

The conference brings together industry professionals to discuss key challenges and opportunities surrounding smart destination management and sustainable tourism development by featuring a series of panels and presentations from an array of speakers from around the world.
Click here to read TOTA's full press release.