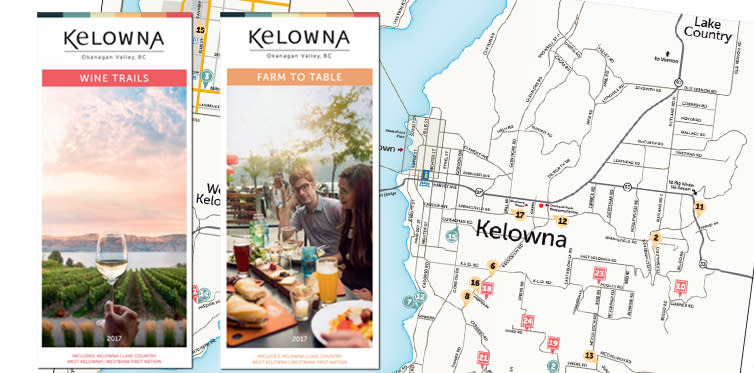 The 2017 Kelowna Wine Trails and 2017 Kelowna Farm to Table guides are in and they look fantastic!  Each publication has a fresh new look and is packed with deliciously helpful tips and tricks on how to make the most of the wineries, craft breweries, distilleries, farms and foodie experiences available in Kelowna, West Kelowna, and Lake Country.
Both publications include contests designed like virtual passports that encourage people to take photos and share them on Twitter and Instagram. To enter into the contest, the person adds their location and either the hashtag #sipKelowna or #tasteKelowna to their post. There is one photo contest entry per location so the more stops the explorer makes, the more chances they have to win!  Watch for more information on these contests in the coming months!
The Tourism Kelowna team has begun distribution throughout the Central Okanagan of both of the guides, and on-going contracts with Certified Folders, Go Brochures, and AMA ensure that the guides are distributed throughout the rest of the Okanagan Valley as well as strategic locations throughout the provinces of British Columbia and Alberta.
Although the guides are scheduled for delivery in the coming weeks, we welcome you to expedite your order and stop by the Visitor Centre to say "hi" and pick up your spring supply yourself.  To make arrangements and confirm they have your quantity on hand, please contact the team at 250-861-1515 ext. 201.
View and download the guides online: 2017 Kelowna Farm to Table  and 2017 Kelowna Wine Trails.
We strive to improve all of our publications every year and really appreciate your feedback. If you have comments, questions or suggestions please contact me at shauna@tourismkelowna.com or call  (250) 861-1515 ext. 206