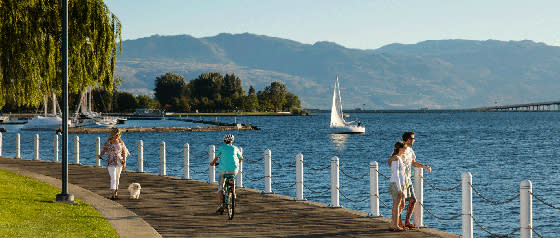 In 2016, we continued with our digital-first approach and combined new and proven tactics to build awareness and capture travellers where they're looking for inspiration and while they're booking their travel.  And it's been working. Below are just a few examples of advertising activities that performed well for 2016.   Take a few minutes and look through these samples to get an idea of how we attract visitors. 
To build awareness of the Central Okanagan and our many experiences, we used videos and online advertising targeted at key travel groups including couples, girls' weekend planners, outdoor adventurists, wine and food enthusiasts, golfers, and weddings.
Check them out here: video 1   video 2   video 3
Display ads: Girl's Weekend   Adventure Weekend   Couples Weekend   Wedding
We have also had great success with our Google Adwords campaigns as well as really strong engagement on our 2016 destination video.
————————
Custom content:  We continued to place custom (or sponsored) content in the BC market and added new markets including Alberta, Saskatchewan, and national publications. These articles included itinerary suggestions and checklists of fun things to do in Kelowna, West Kelowna and Lake Country. These outlets included Canadian Traveller, Avenue Magazine (Calgary), Calgary is Awesome, Vancouver is Awesome, Calgary Buzz, Vancity Buzz, Mike's Bloggity Blog, the Calgary Herald, Regina LeaderPost and Saskatoon StarPhoenix.
If you haven't seen them already, here are a few examples: sample 1  sample 2  sample 3  sample 4
————————
Online Travel Agency (OTA) Partnerships: To capture travellers during the consideration phase, we built on the success of our 2015 partnership with Expedia and expanded to other OTAs within their family including Expedia.ca, Travelocity.ca, Hotels.com, and Expedia.com (with a focus on the Washington travel market) with videos, imagery, relevant content, and most importantly – a booking engine.
For a sample, click here
————————
Golf Kelowna: For Golf, we placed a :30 second ad on television and websites including TSN, TSN2, and Global during all of the major golf tournaments. We also supported the campaign with Google advertising and digital ads on golf-centric properties including TheScore, ScoreGolf, TSN, and The Weather Network.
To see the commercial, click here
To see a display advertising sample, click here
————————
Key results to date:
Over 1 million views of our videos (with nearly 80% completion rate – meaning viewers watched the entire video)
Expanded partnership with Expedia and placed targeted advertisements in the Washington market and other US states where travelers expressed interest in travel to Western Canada. This resulted in over 6,000 organic visits to the Tourism Kelowna website (and traffic through to stakeholder websites) from very qualified travelers.
The Tourism Kelowna website is "pixelated" which means that visitors will receive digital ads that remind them of their interest in travelling to Kelowna and area even when they visit other sites.

On that note, traffic to the Tourism Kelowna website is up 6% and visits to content pages including our blog articles help to increase the amount of time visitors are spending on our website.

Our Google adwords campaign realized high click-through rates and brought in nearly 45 million impressions.
The Kelowna destination video has enjoyed more than 1.2 million views on Facebook and a whopping 13,500 shares most of which have strong comments of endorsement and resident pride to share Kelowna and area experiences with friends and family.
Our Golf Kelowna program continued with ads on TSN, TSN2 and Global during major golfing events which earned nearly 8.5 million impressions, and was complemented with digital advertising on the Score, ScoreGolf and TSN and The Weather Network, which also surpassed industry benchmarks (and last year's results) for click-throughs and completion rates.
Tourism Kelowna also continued to grow its social reach; with guestgrammers and hosted Instagram influencers.  Our main social channels include Facebook (with over 55,300 followers), Instagram (with over 15,200 followers) and Twitter (with over 13,200 followers) and they are full of crowd-sourced photos, endorsements, and authentic content that inspires and invites people travel to our area. (If you don't already follow us, please do!)
If you would like to see other examples or have any questions please contact Shauna Merritt by email shauna@tourismkelowna.com or call 250-861-1515 ext 206