If you've lived in Kelowna for a few years, the words 'BreakOut West' may fill you with a special kind of excitement. Kelowna has hosted BreakOut West and the Western Canadian Music Awards on two previous occasions — once in 2010 and again in 2018.
One of my favourite memories from 2018 was being in a jam-packed coffee shop in downtown Kelowna in the late hours of the night, bouncing up and down with a room full of friends and new friends as the Snotty Nose Rez Kids raised the roof. We sang together, we sweated together, and we jumped together. Truthfully, I'm not sure how the floor held that night as we all bounced and bopped in unison. 
Talk to anyone who has attended BreakOut West, be they a member of the public or an artist, and you may hear similar stories — fond memories of the power of music to unite people and build community. It's an event that only comes around once in a while, and you do not want to miss it.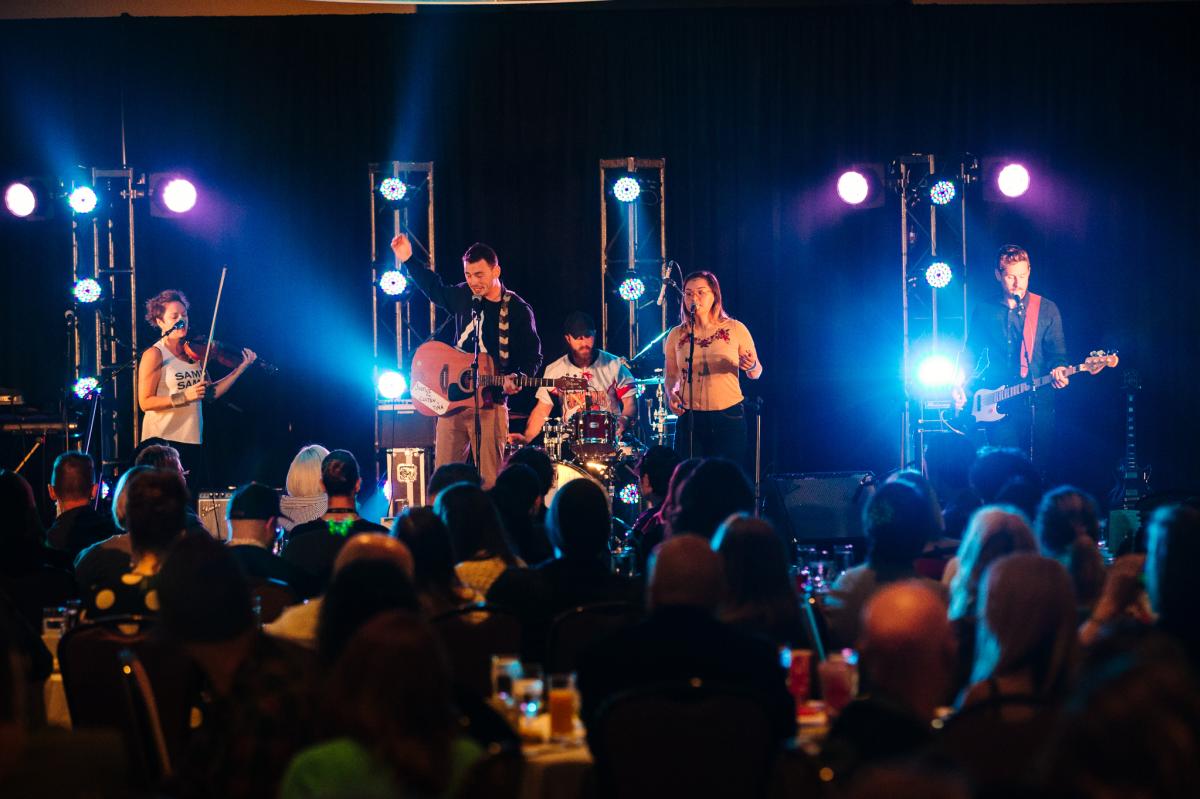 BreakOut West Kelowna 2018. Photo by: BreakOut West & Matt Lucas
The 21st installment of BreakOut West will take over downtown Kelowna from October 11 to 15, 2023. You'll want to put these dates in your calendar and book your time off work as soon as possible. Trust me.

What is a BreakOut West?
BreakOut West is an annual music event. It is organized by the Western Canadian Music Alliance out of Winnipeg, MB, and typically takes place in a different Western Canadian host city each year. For instance, BOW 2022 was in Calgary, AB.
The event is a big deal for our community as it offers opportunities for local artists, brings some great acts to town and also welcomes delegates from around the world to our city.
BreakOut West offers something for everyone. First, there's the Showcase Festival (a personal favourite and perhaps the most exciting part of BOW for the wider community) — "A multi-genre line-up of over 50 artists showcasing over three nights at eight local host live music venues." This event will see intimate downtown venues full as a variety of incredible acts demonstrate their skills for locals and BreakOut West delegates. Festival wristbands will go on sale later this year.
There's also the conference that brings knowledgeable music industry professionals, key players and artists together for four days. This opportunity may be of particular interest to local musicians who are looking to network, develop their skills and advance their careers. 
And if that's not enough, there's also the Western Canadian Music Awards, where some of Western Canada's best acts are honoured.

How to get involved
Planning for BreakOut West 2023 is well underway (full disclosure: I'm a volunteer on the Host Committee), and things are coming together. More announcements will be made over the coming months. For now, here are some tips:
Book October 11 to 15, 2023, off work if you can
Sign up for the BreakOut West newsletter and follow their social channels — visit breakoutwest.ca for more information
See you at BreakOut West 2023! Don't forget to put those dates in your calendar — Oct 11 to 15, 2023. It'll be here before you know it.