Swirling and sipping in a winter wonderland is just as fun as doing it in a summer wonderland. The wine scene in and around Kelowna continues all year long, baby! Winter wine touring actually provides a quieter time for you to bury your nose in a glass and explore our winery destinations. You can discover not only our wine culture but also pick up a couple of history lessons along the way.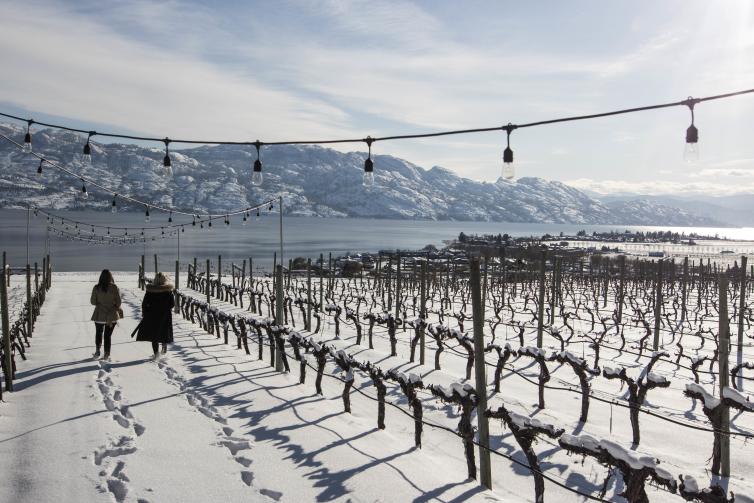 Quails' Gate Winery - Photo by: Meghan Reading
Wining and dining can be enjoyed at a few of our of landmark wineries throughout the year. Quails' Gate Winery is the ideal place to partake in a thorough wine tasting in their wine shop followed by a long lunch or dinner next door at their Old Vines Restaurant, where you can order more of your favourite taste of the day.
Similarly, Summerhill Pyramid Winery offers a long tasting bar to tickle your nose with their outstanding range of bubbly, as well as other favourites from their all-organic wine list. Lunch, happy hour or dinner can follow in the Summerhill Pyramid Bistro featuring local, organic cuisine.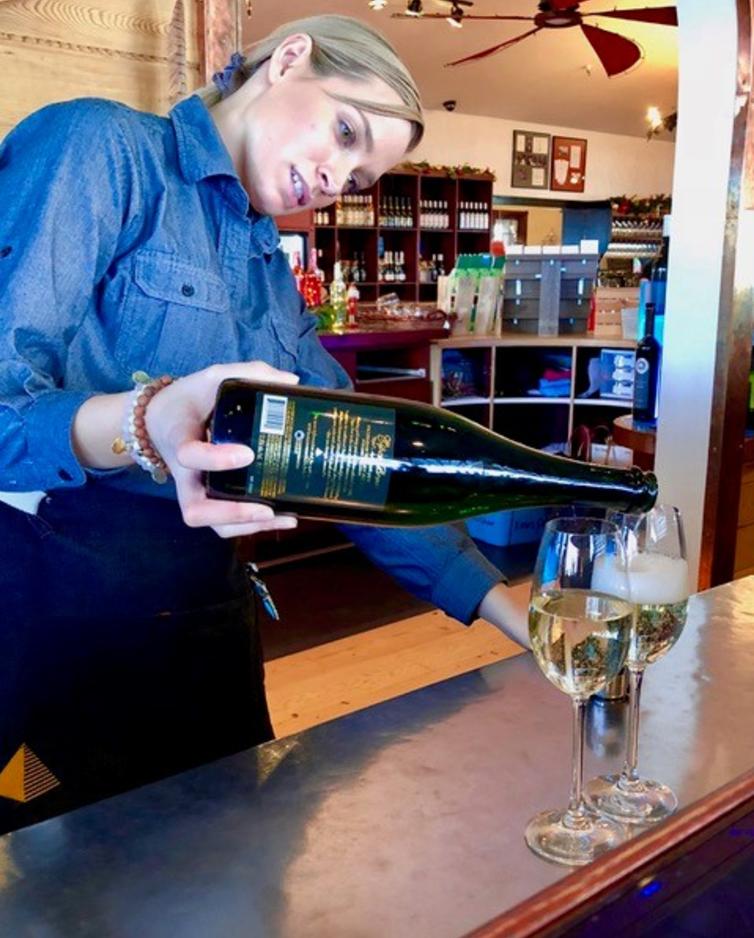 Tasting and dining opportunities carry on to the other side of the bridge in West Kelowna starting with beautiful Indigenous World Winery. Turn right at the magnificent teepee to the right off the highway and prepare to immerse yourself into the stunning culture of indigenous history.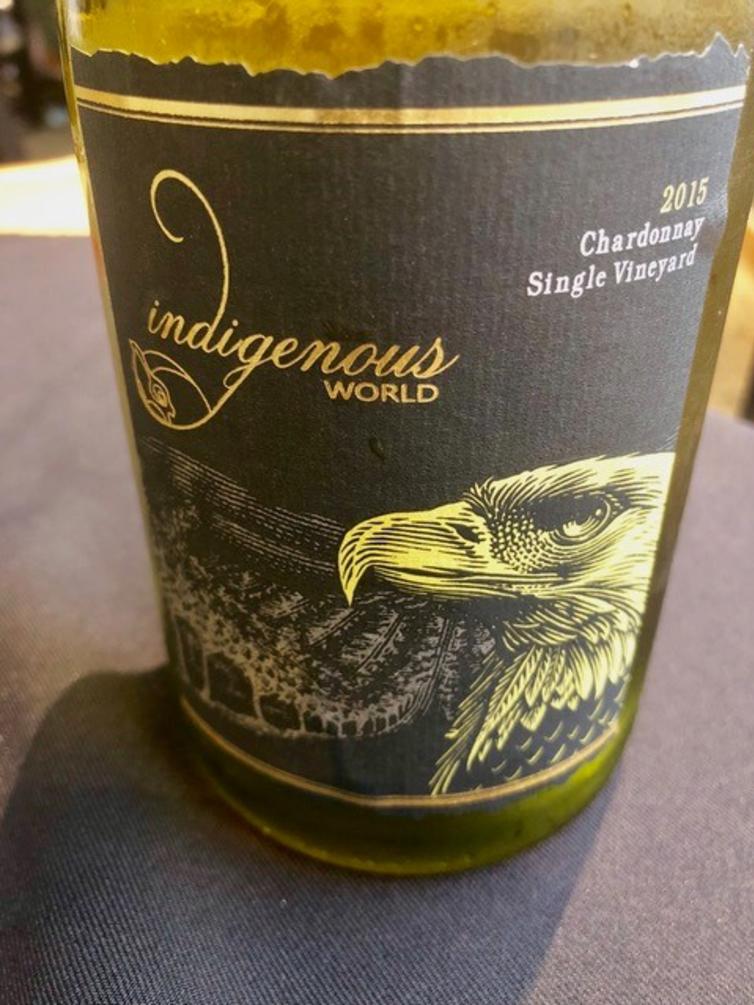 This winery is owned and operated by the Louie family, descendants of the Syilx people of the Okanagan with roots deep into the history of this land. After your tasting, descend for a fabulous meal at The Red Fox Club restaurant below. Chef Andrea Callan has created a Canadian themed menu featuring locally sourced cuisine inspired by indigenous culture.
If you want to tack on a couple more wineries in one of our hottest new micro-regions in Southeast Kelowna, plan ahead to book tastings (*appointment only) at these two superstars:
1. Spearhead Winery also excels in Pinot Noir excellence (they are famed for their rare White Pinot Noir).
2. Nagging Doubt Winery at the top of the hill is a small Garagiste style operation that offers big taste.
Also in the Southeast Kelowna hood is The View Winery and Ward's Cider offering visitors an opportunity to taste a range of delicious wines as well as cider produced here by the Turton family. This is a unique heritage venue that once was a busy packinghouse operation run by the family's great grandfather.
Easy to access in Kelowna as well is local winemaking pioneer Sperling Vineyards on Benvoulin Road. Here you can also get a lesson on the Okanagan farm and vineyard history from this family's legendary roots.
Sandhill Wines, Kelowna's first urban winery, is located downtown and also offers a Happy Hour every Friday. Wines are by the glass and there are appies and live entertainment, too.
Do plan to head out to Lake Country for a tour around this lush vineyard region. Intrigue Wines is open 7 days a week and offers a super fun tasting and shopping experience in their fabulous wine shop. Across the street, you can have lunch at O'Rourke's Peak Cellars at their Garden Bistro.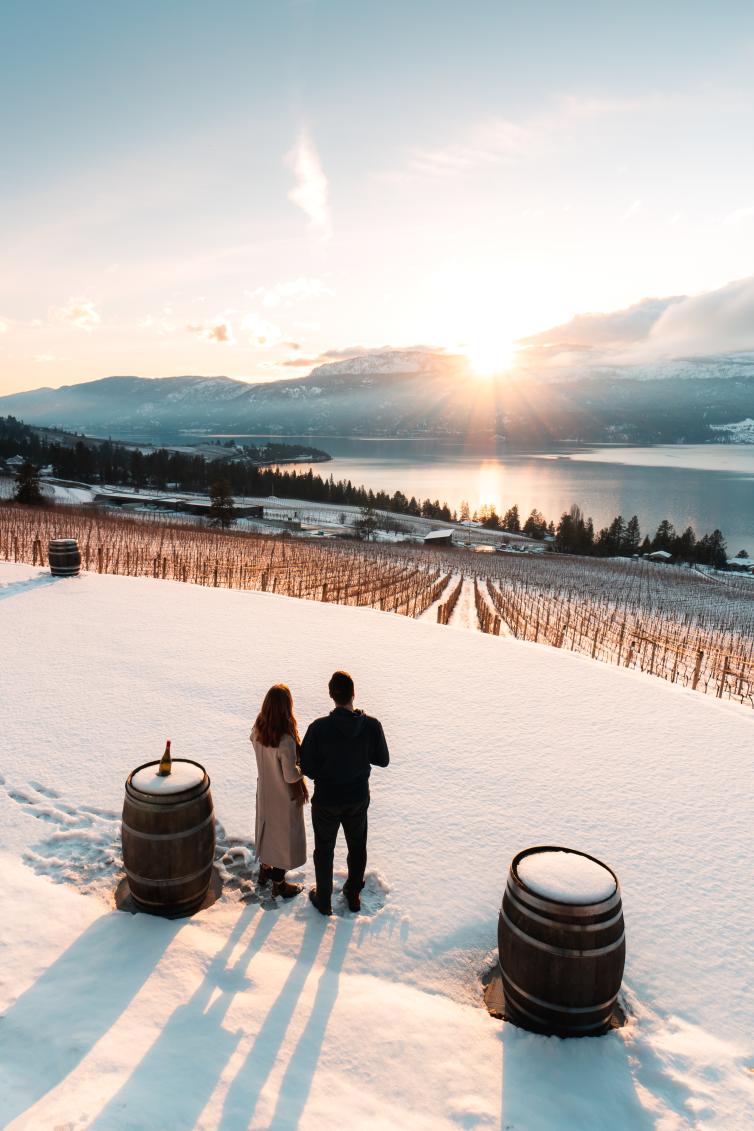 50th Parallel Winery - Photo by: David Vassiliev
Continue on towards the glam 50th Parallel Estate Winery that has added a restaurant experience at BLOCK ONE. To fully enjoy and allow yourself to indulge in the wines and not worry about the driving, BLOCK ONE offers a shuttle service! 
Cheers, to winter wine touring!

Winter wine tour with ease, book a guided wine tour: