Travelling with kids is easy… so long as there's a swimming pool or hot tub at the hotel, I always say. Other lodging perks that have helped us tote our children on vacation include suited rooms, amenities such as a refrigerator and microwave, and free breakfast. These Kelowna hotels check most of the boxes, and their locations are great, too.
*Please note that all hotels have new protocols in place for pools and are outlined and are current as of July 22, 2020.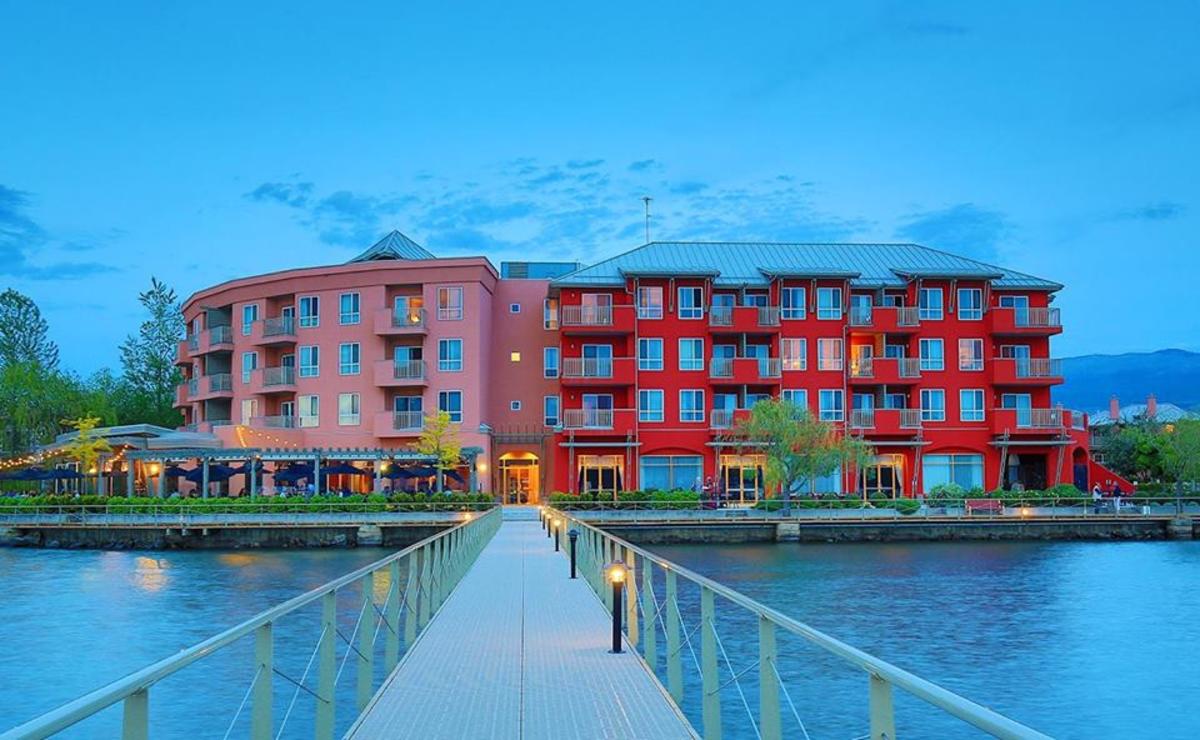 Located right on Okanagan Lake, close to the trendy Pandosy neighbourhood and the wineries along the Lakeshore Wine Route, this resort has long been a family favourite thanks to its seasonal outdoor pools and waterslide, spray park, and Kidz Klub. There's also a playground, dock access and watercraft rentals, plus an indoor pool and hot tub open year-round. Manteo offers traditional guest rooms, but where it really shines for families are the larger suites and lakefront villas that include full kitchens and living rooms, and feel like a home away from home.
*Pool Safety Protocols: One outdoor pool and hot tub open with physical distancing and time limits in place. Registered guests only. 
Kelowna's best-known resort is all about location. It has an enviable position along the downtown waterfront, within walking distance of numerous restaurants and attractions such as beaches, Rotary Park Marsh and the Okanagan Heritage Museum. With a heated indoor pool, hot tubs and a seasonal outdoor pool, plus bike and kayak rentals available—and nearby hiking ay Knox Mountain—there's a lot to keep families busy. The rooms are great, too, with larger suites and condos available.
*Pool Safety Protocols: Physical distancing required, reservations recommended, maximum two hour time limit. Registered guests only.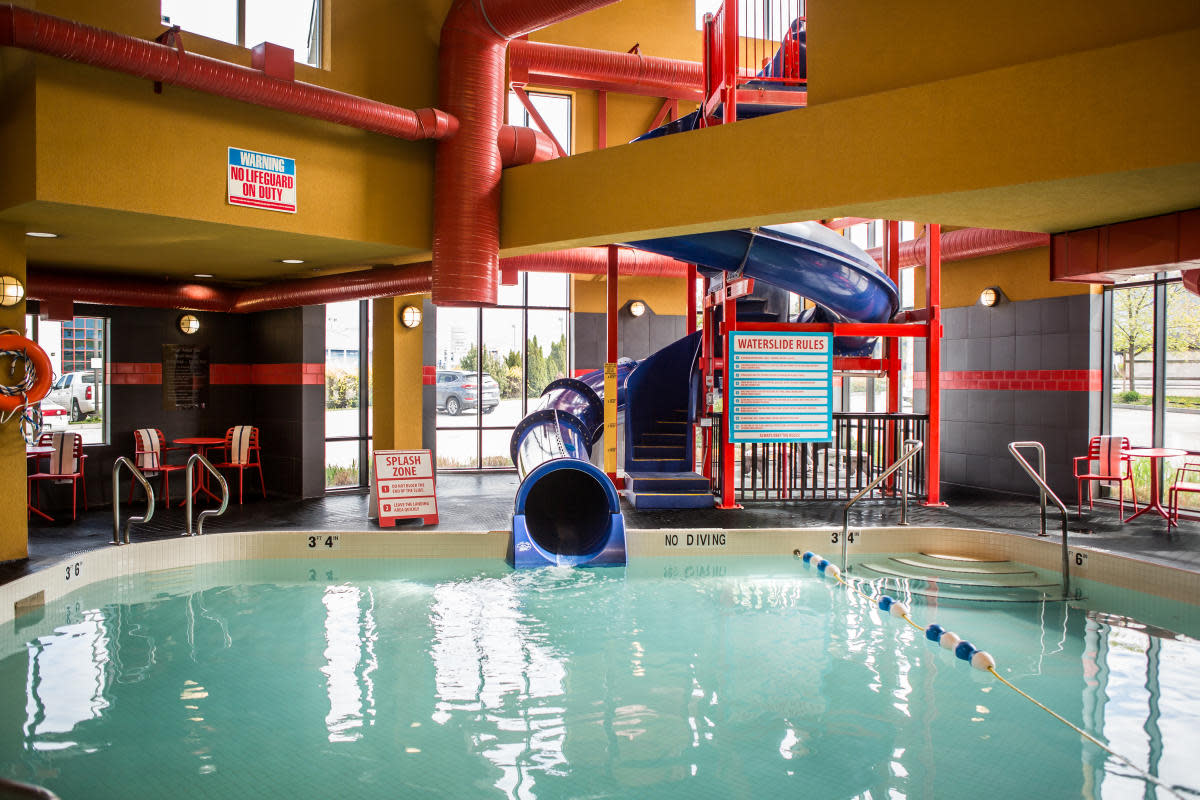 Comfort Suites is an affordable option for families looking to make the most of their time in Kelowna. The indoor waterslide, splash pool, and hot-tub make this a favourite for kids (no height restriction on the water slide) and adults alike! All of the accommodations are suites that come in various configurations (the Family Suite, for example, has additional rooms and can sleep six) and include a fridge and microwave, plus a daily hot breakfast. 
*Pool Safety Protocols: Modified hours of 8 am - 12 pm and 3 pm - 8 pm by reservation only for 45 minute time segments. Registered guests only.
Boasting its own marina and a private beach, this West Kelowna resort takes a lake holiday to the next level. The one and two-bedroom suites come with full kitchens and resort amenities include two hot tubs plus a seasonal outdoor pool, children's pool and waterslide. For families looking for nearby activities such as u-pick nut gathering in the fall or year-round hiking, the property is close to the Gellatly Nut Farm, Gellatly Heritage Regional Park, and Kalamoir Park.
*Pool Safety Protocols: Modified hours of 12 - 6 pm with maximum 50 guests total in the pool area. Physical distancing, 2 hour time limit on a first-come first-serve basis, physical distancing required. Registered guests only.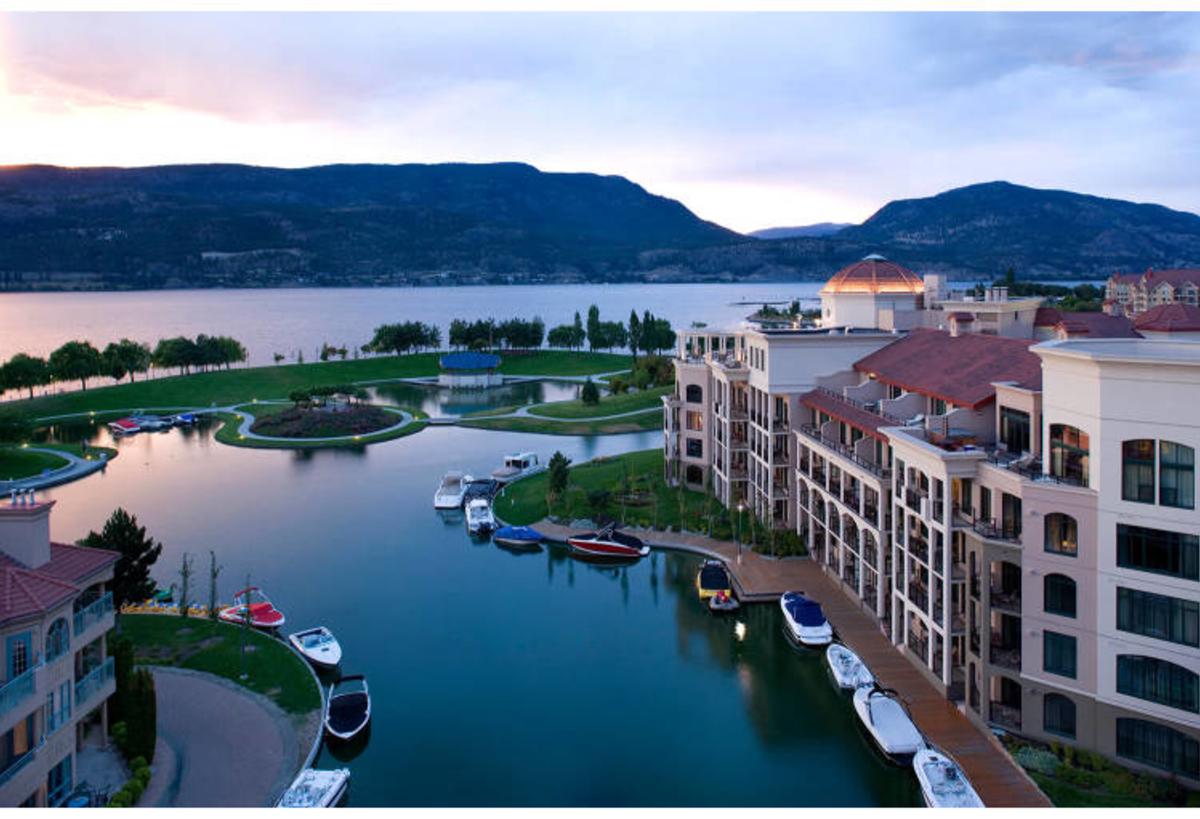 Enjoy views of Okanagan Lake and the rounded mountains of the Thompson Plateau from the rooftop infinity pool and hot tub at The Royal Kelowna. This Bellstar resort boasts one, two and three-bedroom suites with fireplaces, living rooms decorated in a cozy mountain style, and gourmet kitchens with stainless steel appliances. It's a great option for foodie families looking to cook their own meals. The resort's downtown waterfront location means it's a short walk to restaurants, brunch spots and coffee shops, plus shopping and beaches.
*Pool Safety Protocols: Pool and hot tub open with physical distancing, maximum numbers, and time limits in place and monitored throughout the day. Registered guests only.