One of the best things we love about living in Kelowna is the mornings. We love waking up before the kids so we can take in the sunrise outside with our coffees first thing and prepare for the day.
Whether you prefer being lakeside, mountainside, or hillside, the Kelowna area has it all when it comes to starting the day off in nature.
When you get an early start on the lake, there are rarely any crowds if you go before 9 am and you can sometimes get the whole waterfront to yourself. The following are a couple of suggestions on where to stay if you're looking for some peaceful and serene waterside mornings.

Beaver Lake Resort 

Cabins at Beaver Lake Resort
Beaver Lake Resort has something for all nature lovers. Choose from staying in a rustic cabin, pitching a tent or setting up an RV on one of their campsites, or visiting one of their lodge suites. Fishing, biking, swimming or hiking - this high plateau lake is at an elevation of 1400 metres and is only a 30-minute drive from the airport. The kids will also love climbing on the big adventure playground, playing in the horseshoe pits, and running around on the sports field. For those of you who do need to check your office email once in a while, there is satellite wifi available for a fee.

Seclusion Bay Resort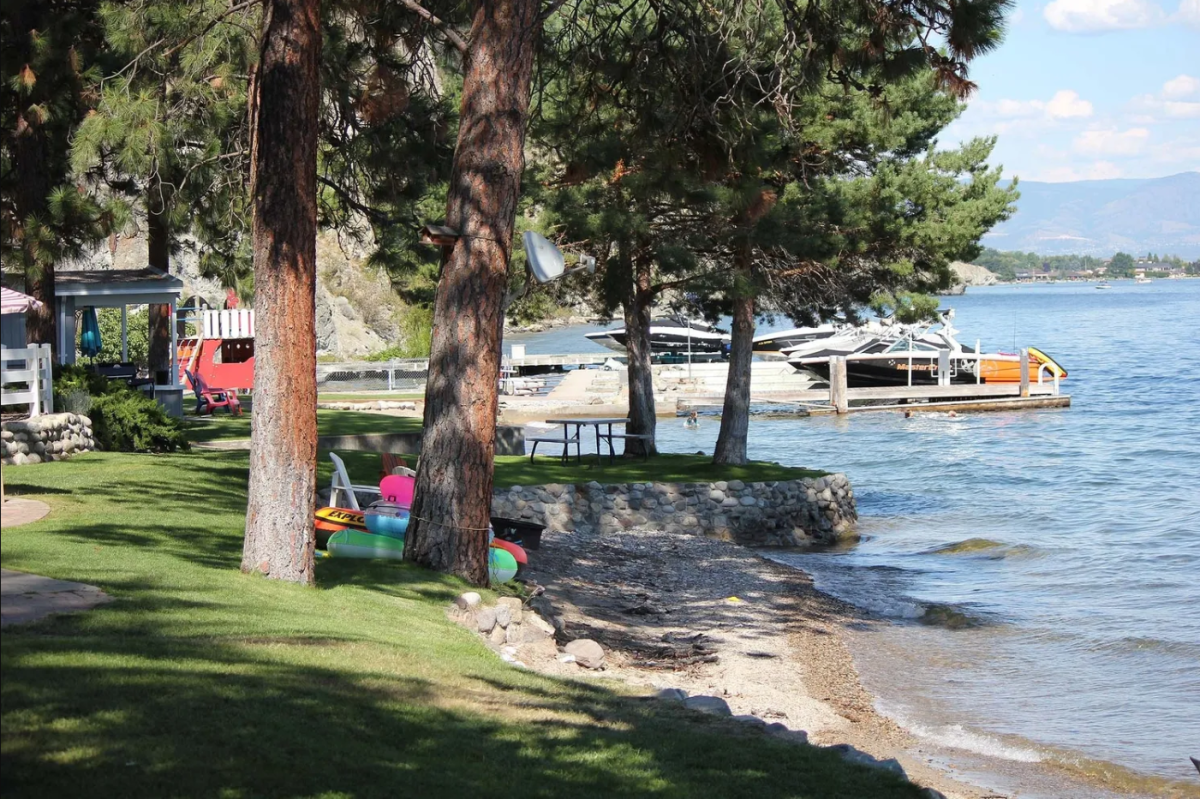 From door to Okanagan Lake in steps. Photo credit: Seclusion Bay Resort
Towing a boat and hoping to do watersports on Okanagan Lake? Seclusion Bay Resort has cabins and condos available with boat moorage. Situated between West Kelowna and Peachland, come here to take in the lakeside views from one of their waterfront rental units. With high-speed internet, cable TV, BBQ's on all patios and fully stocked kitchens enjoy the comforts of home while having the lake seconds away from where you eat and sleep.

Big White
Being lakeside isn't the only way to wake up in nature if you're staying in the Okanagan. Take a drive to Big White and breathe in some of the fresh mountain air. Or if you're looking for a way to beat the heat in the summer season, the mountain village elevation of 1755 metres does usually mean it is about 10C cooler on the mountain than it is the valley.
"Hiking, wildflowers, and the views all resonate with our guests," says Michael J. Ballingall, Senior Vice President at Big White Ski Resort. "There are plenty of things to do at the resort including scenic chairlift rides and frisbee golf."
Big White is open this summer on Thursdays through Sundays, except on long weekends when they are also open on Mondays. The Inn at Big White is one of the many accommodation options available during the summer season and has an outdoor pool for guests.

Soma Craft Cidery Farm Inn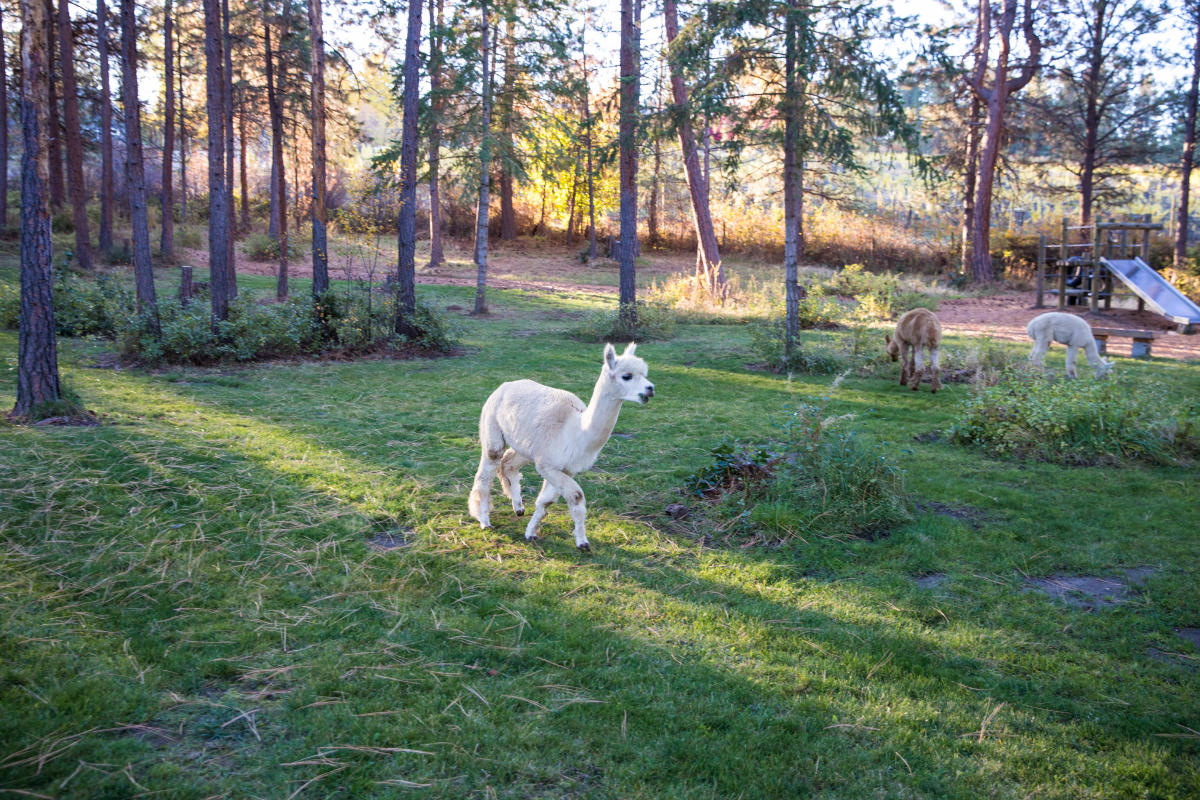 Alpacas at Soma Craft Cidery. Photo by: Scott Bakken Productions
Have you ever wondered what it is like to stay at a country farm setting? Guests at the Soma Craft Cidery Farm Inn get to experience rural accommodation without having to give up the amenities of a resort. Stay at one of the 9 private suites at this small family farm. Try their delicious cider in the tasting room, read a book in their lounging space, challenge your partner to a game of chess in the games room and walk down to say hello to their resident alpacas during your stay.

Myra Canyon Lodge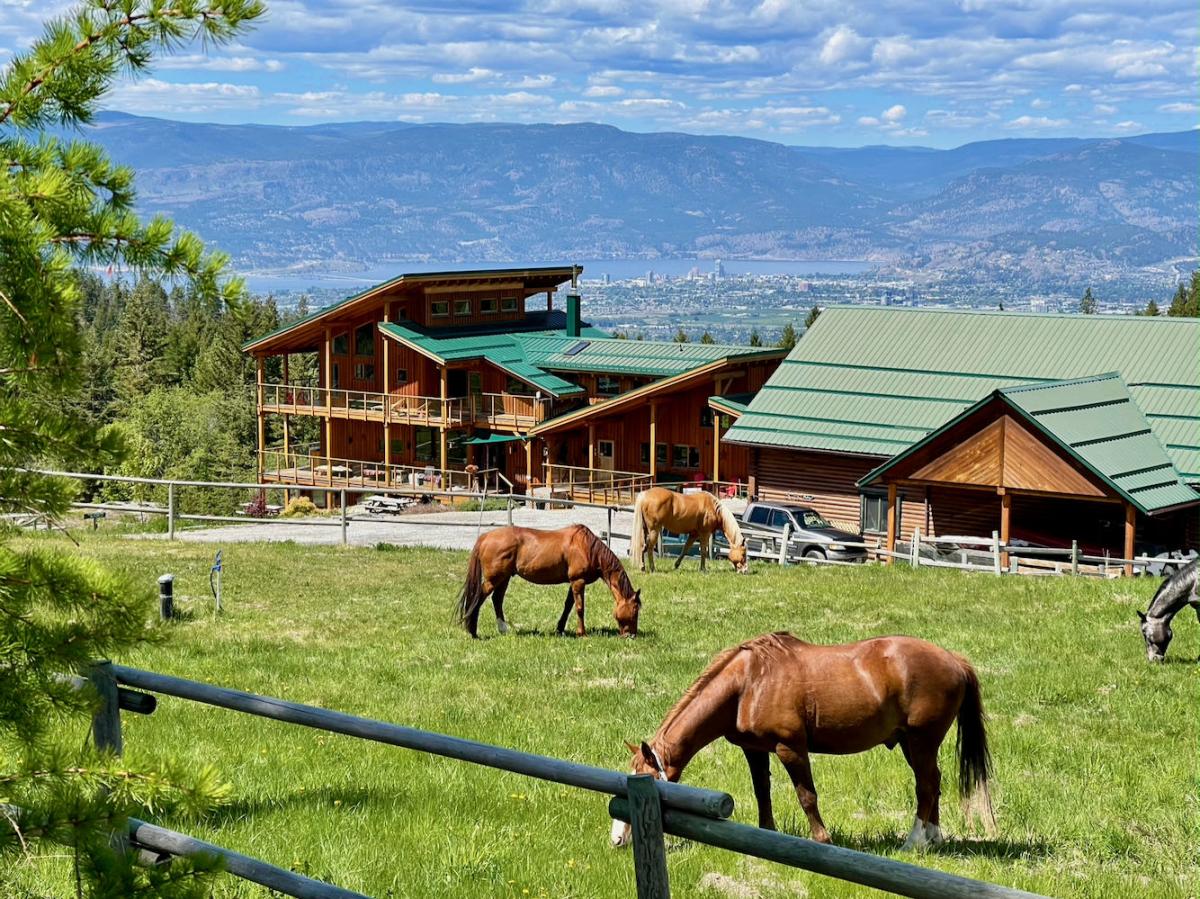 If you're looking to escape the distractions of everyday life and hoping to get a chance to see wildlife, the Myra Canyon Lodge located right next to the Myra Bellevue Provincial Park might be the place for you. Owner Kathrin von Andrian describes her establishment as a place where you can "touch" the quietness.
"Our unique setting 500 meters above Kelowna allows us to offer wonderful fresh well water, rooms with lots of daylight and endless views from our huge decks," she says. "At Myra Canyon Lodge you want to spend most of the day outside."
Open year-round, lodge guests have access to breathtaking hikes in the summer and spectacular snowshoe trails in the winter season.
These quiet escapes are just minutes away from a wide variety of activities and attractions, explore all of the things to do in Kelowna while enjoying waking up in nature.