With Canada-wide recreational travel set to begin on July 1, Kelowna is expecting a busy summer, with visitors coming in from all over B.C., Alberta, and provinces to the east —  over 90 percent of all travel into the Okanagan comes from Canadian tourists.
"Once people have a light at the end of the tunnel around vaccination and when it's safe to travel again, we expect bookings and inquiries to go up," says Natalie Corbett, president of the Kelowna Hotel Motel Association, and 'director of continuous improvement' with Hotel Zed and Accent Inn in Kelowna. "We saw that last summer — we had a really busy July and August."
With that in mind, here are a few tips to ensure your trip to Kelowna is a safe and smooth experience.

Plan ahead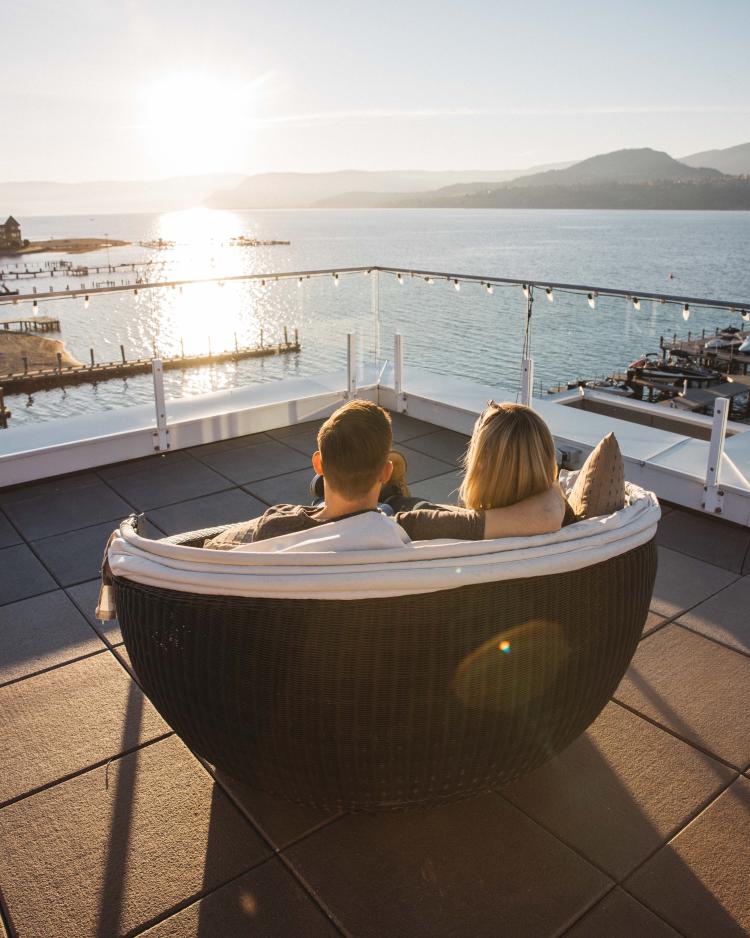 The days of rolling into town and hoping for the best with accommodations and wine tastings are over, at least for the time being. You'll need to plan ahead to avoid disappointment with everything from tee times to organized tours.
"We anticipate operators are going to be at or near capacity, especially when you factor in occupancy restrictions," says Corbett. "It's going to be critical that people book in advance not only their hotels, but activities and wine tours as well."
It's even a good idea to reserve individual wine tastings, where possible. Some wineries, such as CedarCreek, will try and accommodate walk-ins, but reservations are strongly recommended. Likewise for dinner reservations at coveted patio spots around town — Home Block at CedarCreek is already booking into August, for example.

Travel safe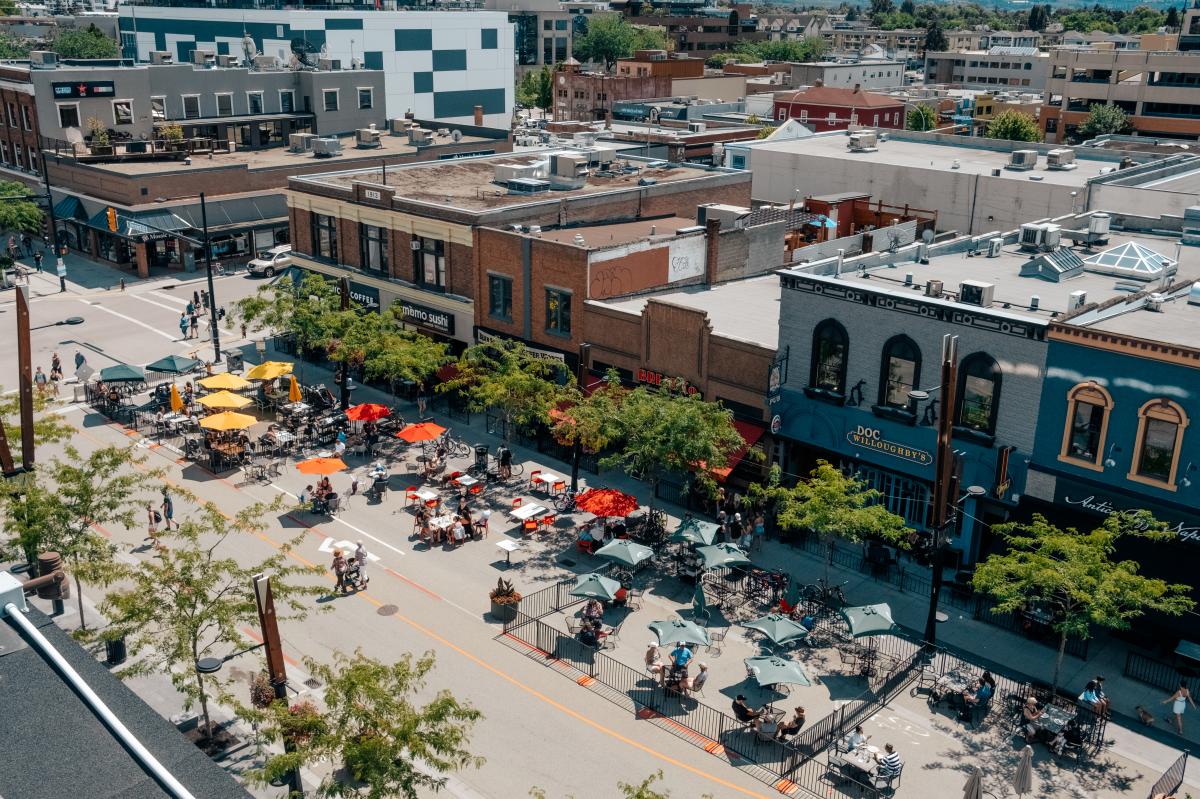 Patios on Bernard Ave in 2020, will return for Summer 2021
The safety protocols we've all come to know and love will still be in effect this summer. This means masks in indoor public spaces such as hotel lobbies, stores, and inside restaurants unless seated at a table. Seating at restaurants is also limited to groups of six for the time being, but is expected to be eased on July 1 with no limitations on group size.
"We ask that you sit and focus on your own meal experience — no cross socializing with other tables," says Mairoula Dimopoulos, guest service manager at CedarCreek Estate Winery. "Our safety, and our guests' safety, are paramount."
You can expect table sanitization between dining groups at restaurants. There will also be plenty of opportunities to hand sanitize at the table, and pretty much at the entrance to any public building, whether a restaurant, grocery store, liquor store, shop or hotel. Maintaining six feet (two metres) of distance between yourself and others — at the beach, on a popular pathway, or inside a boutique — will still be expected, too.
"What vaccination is going to give us is that freedom to travel, but when we do so, we still have to be keeping everybody else safe," says Corbett.
She encourages guests to call ahead of time to ask about health and safety expectations so there aren't any surprises.

Play outside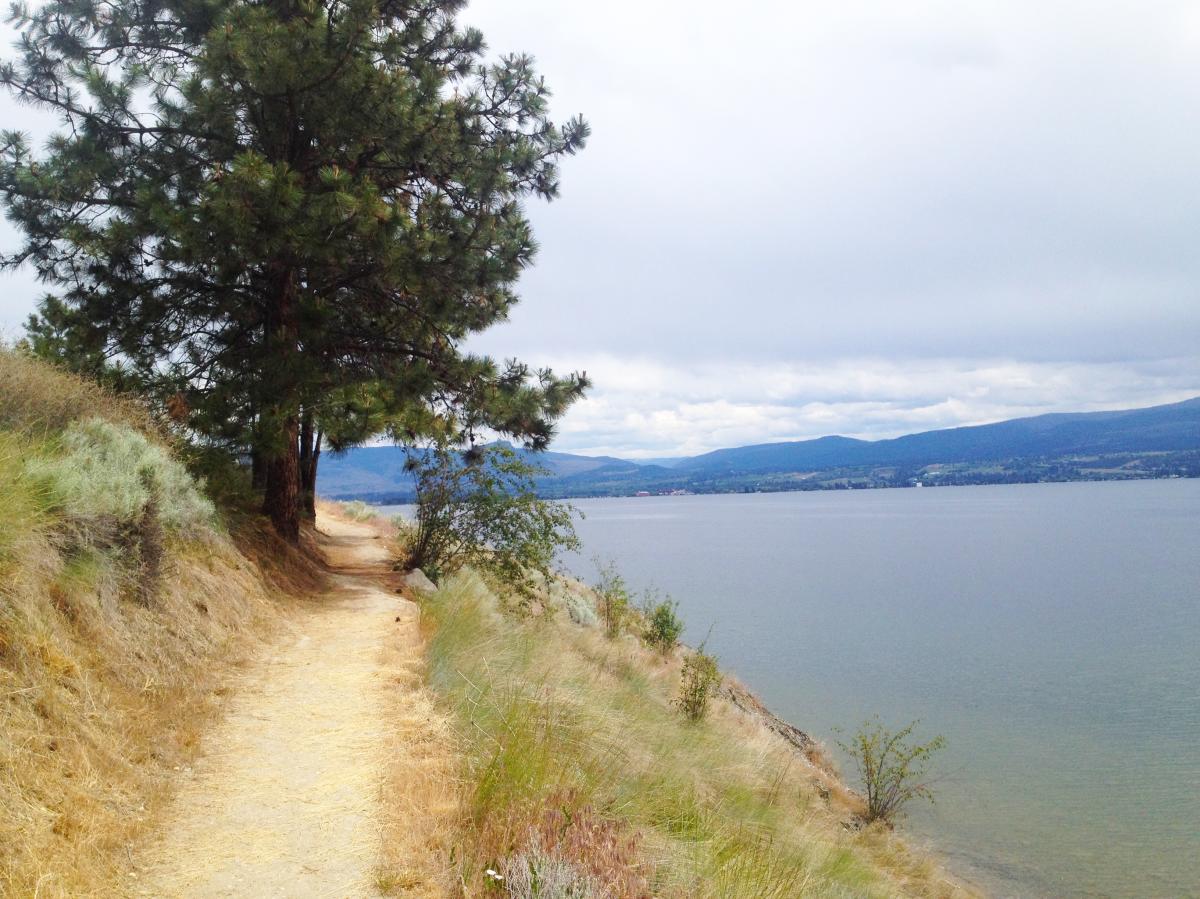 Hiking trail at Kalamoir Regional Park
People come to Kelowna to play outdoors, which is going to be the safest way to holiday this summer. But instead of heading down to uber-popular City Park Beach, or hiking on the busy pathways at Knox Mountain Park, choose the beaches less sun bathed and the trails less travelled.
Kelowna boasts 31 regional parks located between Peachland and Lake Country, and many combine hiking trails with lake access. Last summer, the regional parks experienced between a 150- and 250-percent increase in park usage. Murray Kopp, director of park services for the Regional District of Central Okanagan, is expecting a similar demand this year.
"There's a lot of evidence to the mental and physical health benefits of getting outdoors during this pandemic — getting outside, physically spaced, not gathering," says Kopp. All told, the regional parks offer 5,000 acres for you to do just that.
Kopp recommends exploring some of the under-visited parks, such as the Trepanier Creek Greenway, which follows along a creek and connects Peachland to the connector; Mill Creek Regional Park, which offers shade, a short hike and a pretty waterfall, or Kalamoir Regional Park in West Kelowna, with hiking trails, lake views and a dog beach.
No need to plan ahead for hikes, bike rides or beach days — just get outside and enjoy!