Summer is a wonderful season to visit Kelowna, but locals know the valley shines in autumn, the pace slows down, the temperatures are slightly cooler, and the trees begin their slow change to red, orange, and gold, making for a scenic backdrop.
Our family encourages guests to come in September or October, and we have a checklist of activities we drag them around to do, depending on their interests. Some of our go-tos include crossing the bridge to West Kelowna for a wine tasting at Mission Hill or lunch at Terrace Restaurant, hiking to the top of Knox Mountain for stellar views, and strolling the grounds at Kasugai Gardens to see the Japanese maples in all their fall glory. There might also be hikes in Myra-Bellevue Provincial Park, or bike rides to a few local wineries on the southeast bench.
Here are a few more ideas for making the most of being a host in the fall.

Experience the harvest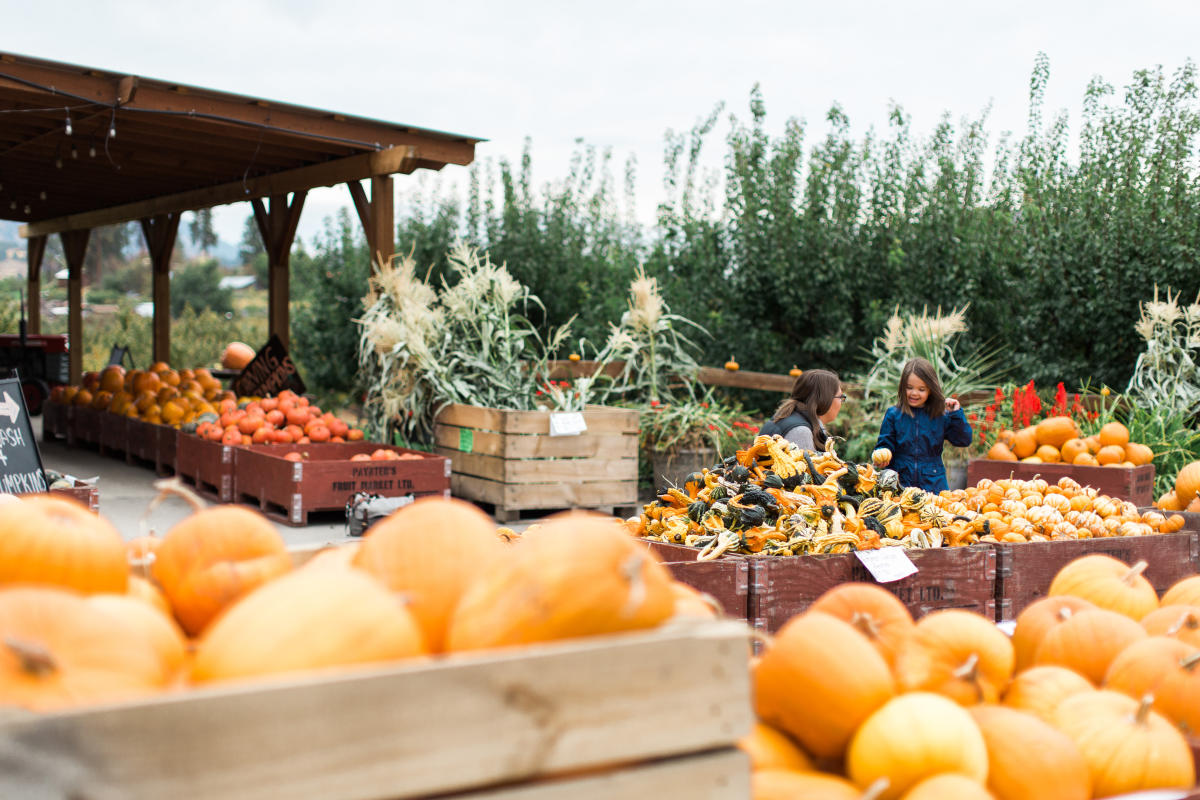 Paynter's Fruit Market. Photo by: Wines of British Columbia
In fall, Kelowna's orchards and farms are bursting with produce and it's a great time to either pick or purchase fresh fruits and veggies. Hit the Kelowna Farmers' and Crafters' Market every Wednesday and Saturday through October, or stop by a local fruit stand to stock up on apples, pears, peppers, squash, and root vegetables. 
It's also the grape harvest, when local wineries are celebrating the end of the growing season and picking all those future bottles of wine. To mark the occasion, celebrate alongside the wineries and book wine tastings and tours throughout the valley.

Explore downtown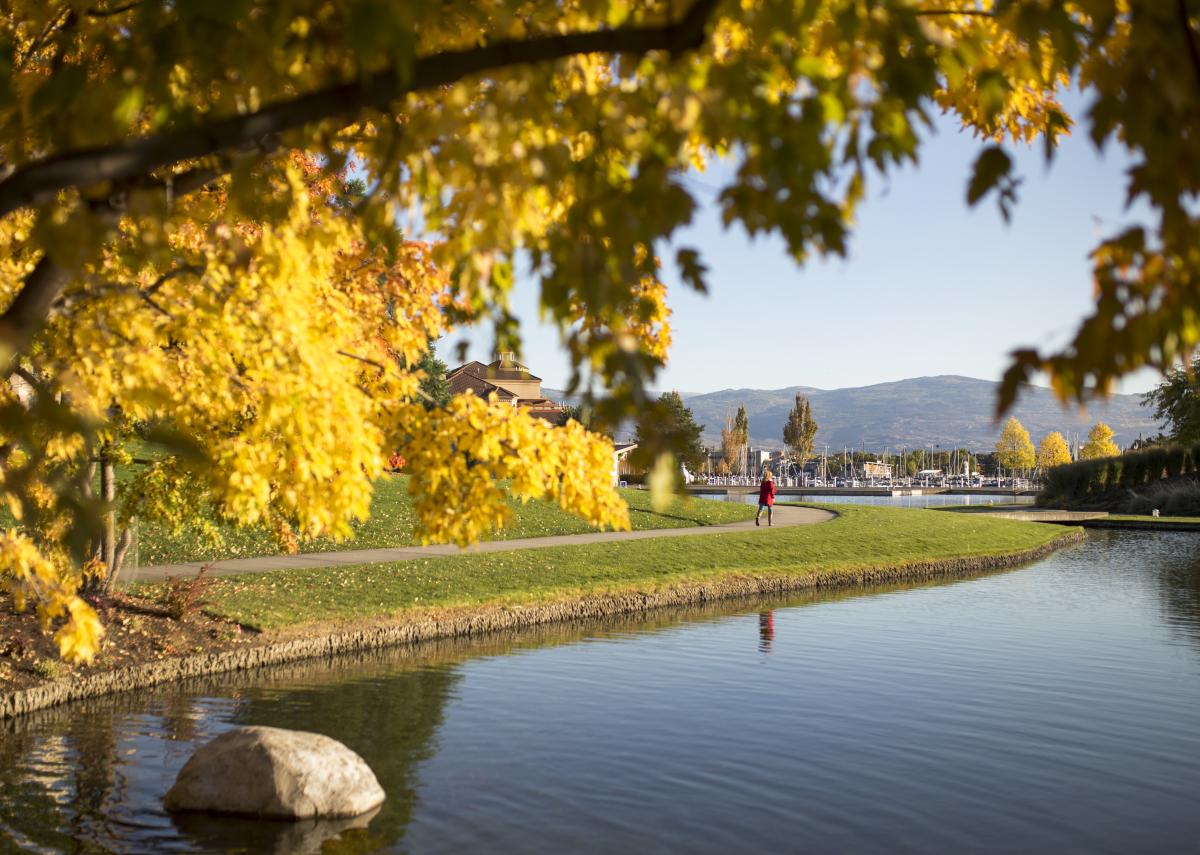 Waterfront Park. Photo by: Matt Ferguson Photography
The Okanagan Heritage Museum is a great introduction to Kelowna, with displays that explain the region's flora and fauna, the valley's formation, and the culture of its original inhabitants, the syilx/Okanagan people. From there it's a quick walk to boutiques on Bernard, the tranquil Japanese-style Kasugai Gardens, or the hip tasting room at BNA to sample a flight of beer or eat a delicious smash burger from BNA Burger, located on-site.
To get your steps in, head to the waterfront and stroll the boardwalk between The Sails statue and Tugboat Beach. The fall vibe is way more relaxed with fewer people out and about—take a load off on one of the benches along the way and just enjoy the view across Okanagan Lake.  

Take a hike
Trails that seemed oppressive during the heat of summer become achievable any time of day in fall including classics like Mount Boucherie or more obscure hikes such as the Carrot Mountain Bluffs in West Kelowna. You can always combine a hike with a chance to see spawning salmon, starting in mid-September. Good spots to see the Kokanee swimming upstream include Mission Creek Regional Park, and Hardy Falls in Peachland.

Ride a bike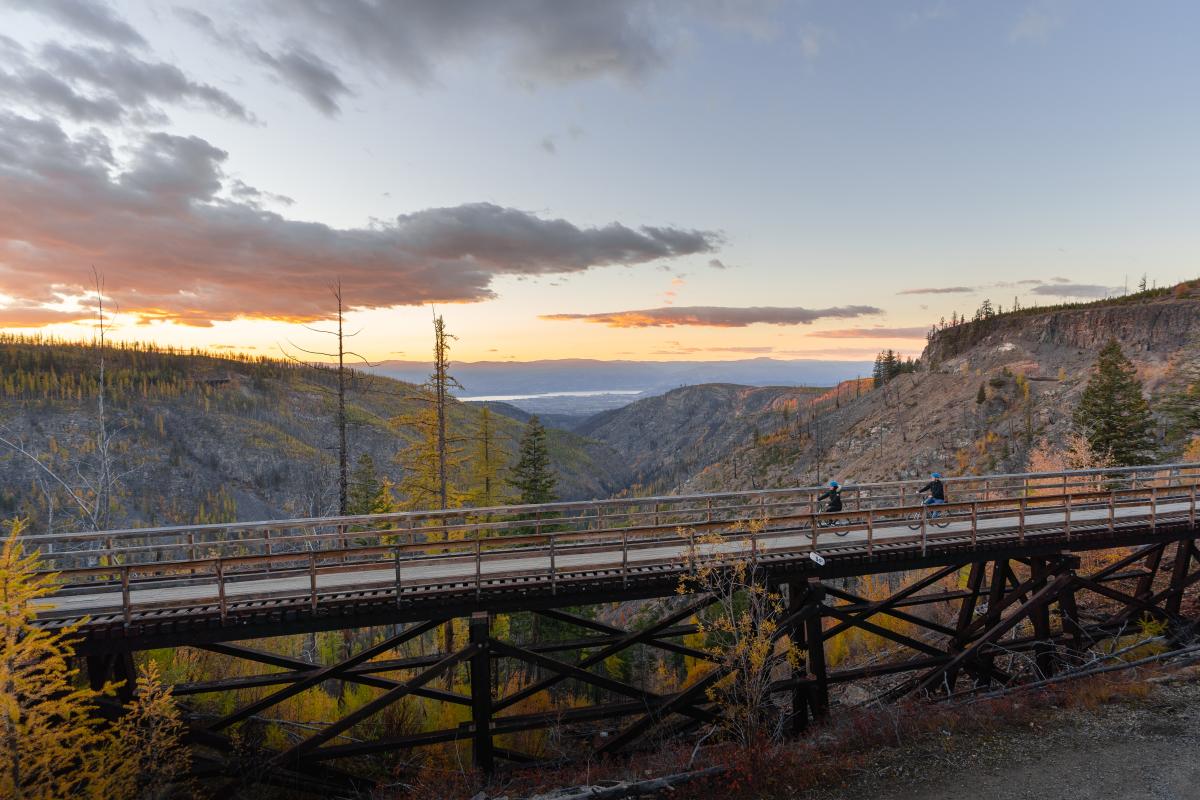 Myra Canyon Trestles. Photo by: Scott Bakken Productions
Trails are usually rideable in Kelowna through November, whether you opt to bring guests for a leisurely pedal from Pandosy down historic Abbott Street to downtown, along the Mission Creek Greenway, or on a flowy circuit in the Crawford Trails.
Fall is also an ideal time to tackle the Myra Canyon Trestles, Kelowna's most famous bike ride located along the Kettle Valley Rail Trail. There shouldn't be many other cyclists if you bring your friends mid-week, and in October the coniferous larch trees (which lose their needles in the winter), will be turning gold.  

Be a remote host—check them into a hotel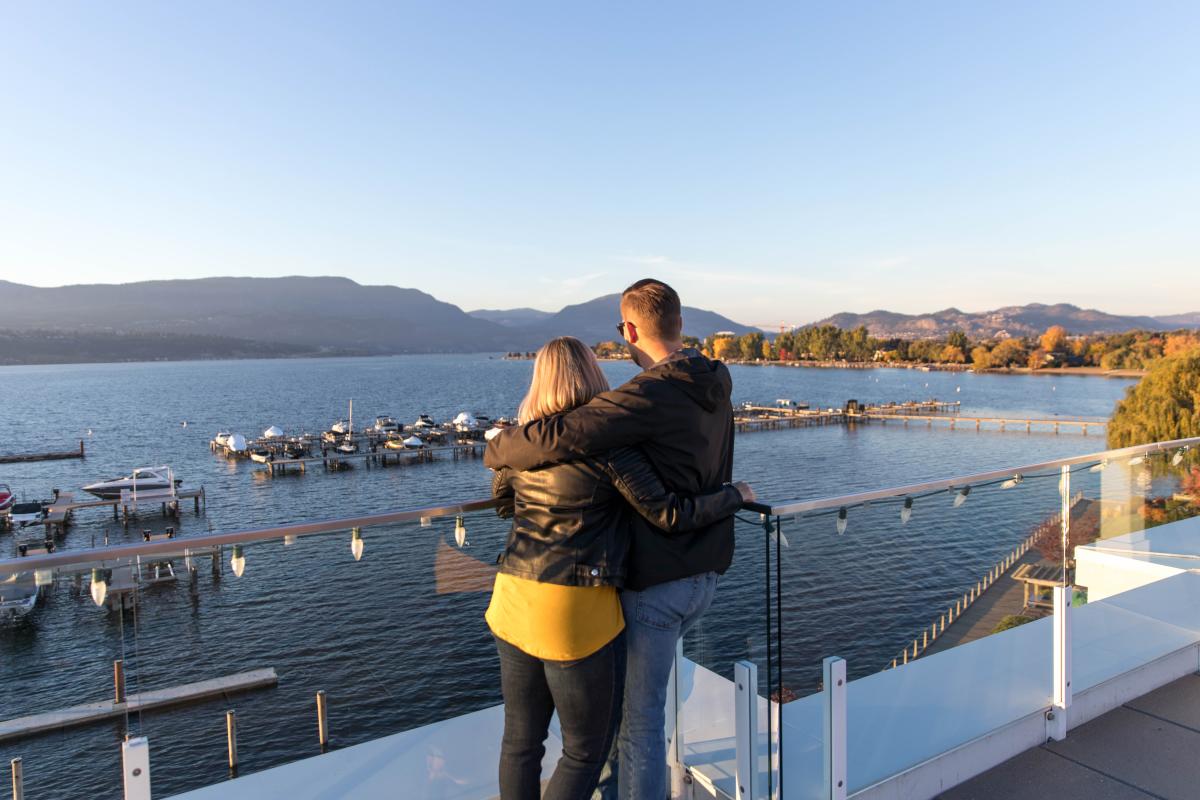 Eldorado Resort. Photo by: Scott Bakken Productions
Does this sound rude? Let's be real: Fall is a busy time for families with summer holidays over and the kids back in school. So instead of piling more stress on yourself, why not suggest to dear friends or relatives that they consider staying at a hotel instead of chez vous. Not only does this remote hosting strategy give everyone some downtime, they'll also be able to enjoy resort amenities like a pool and waterslides, or even lake access. It will also give them time to explore on their own. A win-win-win!