I love touring friends and family around Kelowna. The hardest part is planning an itinerary to fit everything in.
First thing to do is book the accommodation if they are not staying at your home. Thankfully we have many choices that offer extra amenities that will enhance their Okanagan experience to the max. Everything from lakeside resorts, to quaint bed and breakfasts, to family-friendly hotels with pools and waterslides, there's an option that will work for all visitors.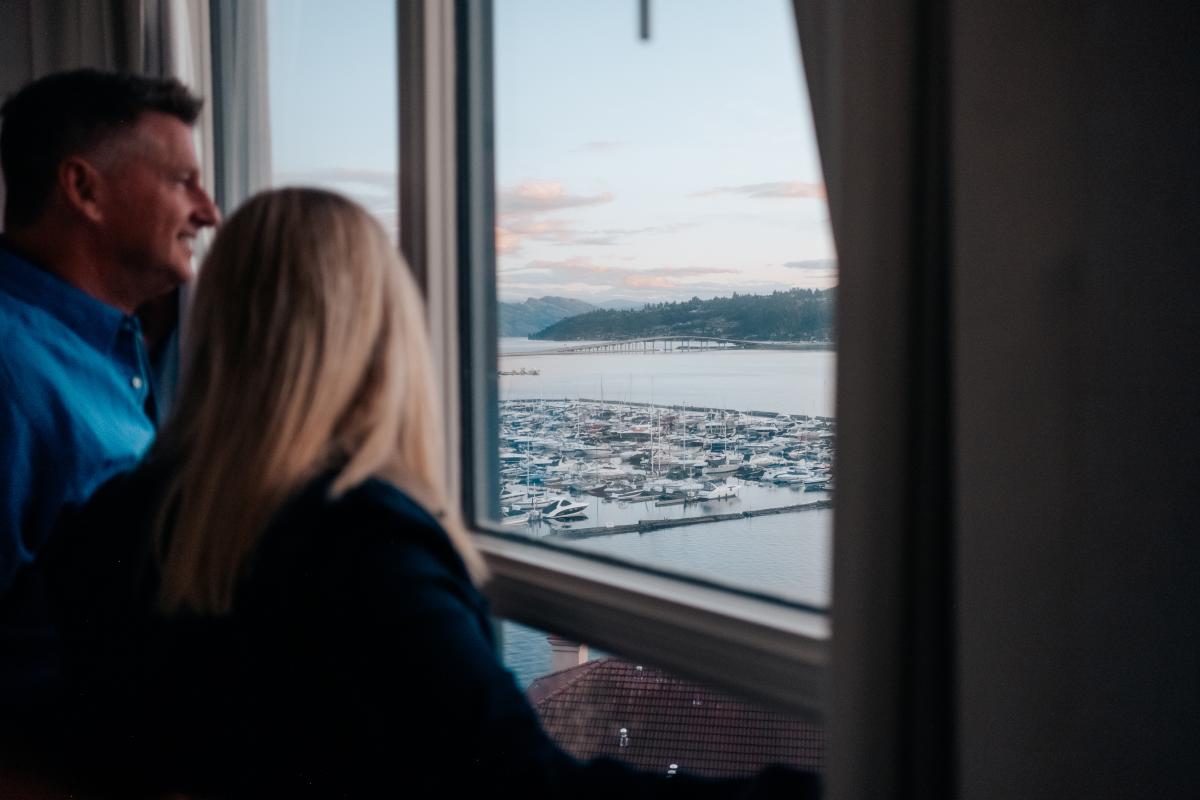 Delta Hotels by Marriott Grand Okanagan Resort. Photo by Nic Collar
Next is where to eat. I absolutely love showing off our amazing winery restaurants. I love watching the wow appear on my guests faces when I roll out one of our world class wineries. The food, the wine, the view – it's like presenting our Okanagan world wrapped up into one perfect experience. Definitely book at CedarCreek's Home Block for stunning views from south Kelowna and at Quails' Gate's Old Vines which is one of the classic farm-to-table options in the area.
Lakeside Dining at Hotel Eldorado is also a must for a meal or just a drink on their legendary boardwalk. It's a quintessential Okanagan experience where our gorgeous glittering lake is front and centre.
Speaking of drinks, let's not forget the brewery district. Beers on patios is another Kelowna pastime with 22 breweries now listed! Many also have an eatery attached – like the amazing Vice & Virtue or Kettle River with Provisions Restaurant.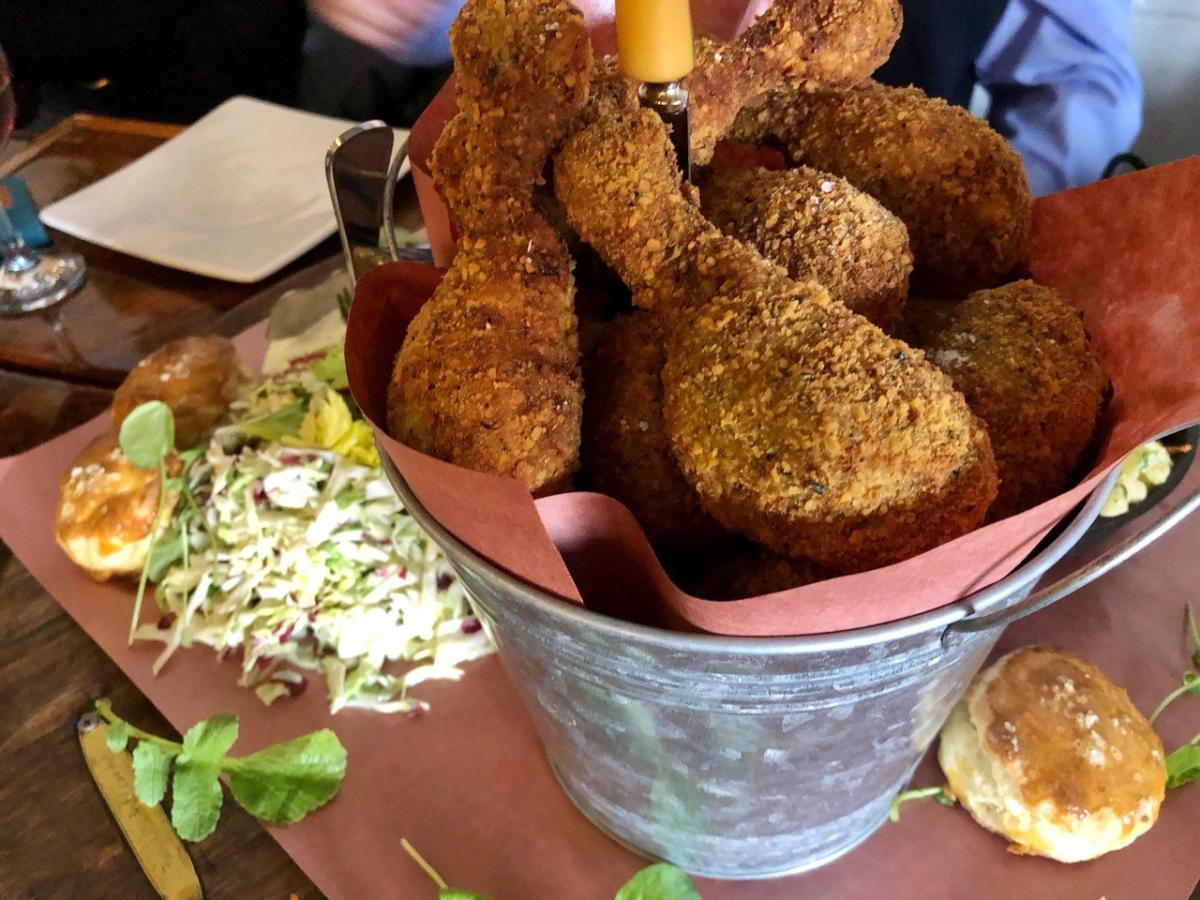 Fried Chicken Bucket at Provisions Restaurant in Kettle River Brewing
QB Gelato in the Landmark District is a must stop for an affogato or cool treat on their patio any time of day. You can also take some gelato home to enjoy in the backyard after a barbecue.
If you are shopping for a backyard barbecue, make it a local menu. Hit the farmer's market if your timing is right or go to a local fruit and vegetable farm market like Don-O-Ray's in Kelowna or Paynter's Market in West Kelowna to pick up your delicious local ingredients.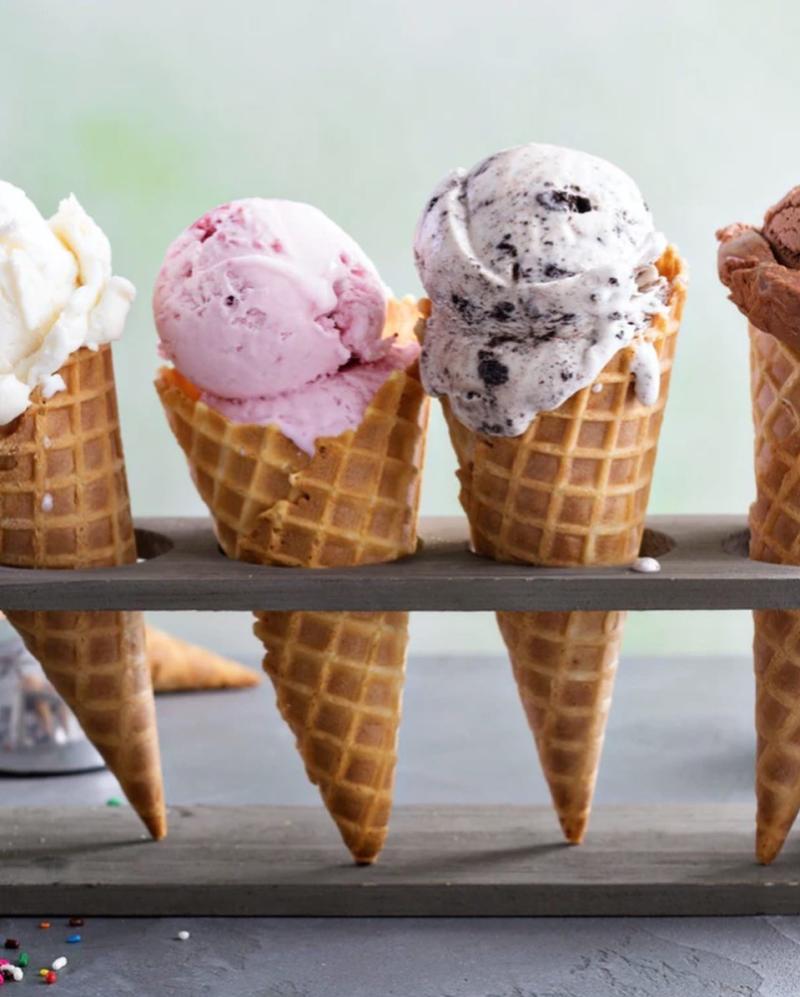 Gelato Cones at QB Gelato
Picnics are also in order here and Kelowna has amazing take out options. Downtown Kelowna's new Kalamansi Restaurant is owned and operated by celebrated Chef Alex Lavroff. Here his gourmet flavour bombs are all packaged for takeaway, ready to enjoy al fresco in the park or on a beach. Stop by Sandrine's French Pastry & Chocolate also has delicious treats including pate that you need to picnic. Bean Scene or Bright Jenny is where to go for a coffee break and snack or a pickup along the way.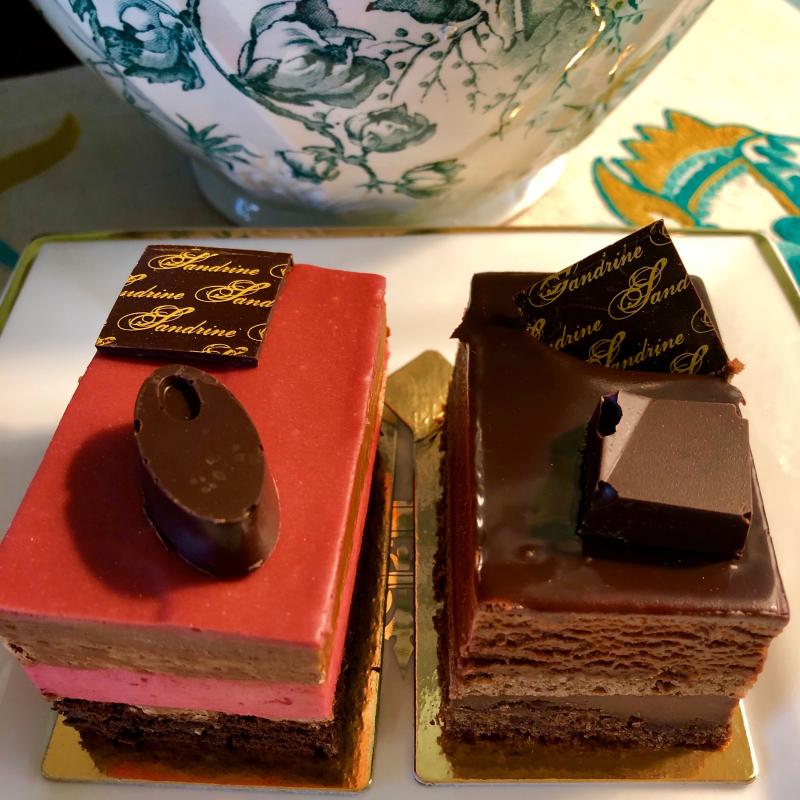 Cakes at Sandrine French Pastry & Chocolate
Last, but not least - cheese please! Pop in to pick your own or let owners Phillip and Desiree of Perseval & Young Cheesemongers make a killer cheese board to serve on your picnic or with the wine you picked up while wine touring. To tie it all together, pick up a delicious baguette at local fave bakery Okanagan Grocery.
As I was saying, so many places to share so might want to extend that vacation by a day or two, and start planning to come back for round 2…and 3, and 4.
---
Consider Exploring Kelowna Together in the Fall
Summer is the busiest time in Kelowna, which may lead to not being able to do everything on your list. In the Fall the pace of Kelowna slows down, which gives more time to explore everything on the list. Friends and family can stay a little longer at a hotel or B&B since the rates will be less expensive giving more opportunity to enjoy more of Kelowna together. Explore activities to enjoy in the Fall.