Our family loves spring in Kelowna for one main reason: unlike much of Canada, we actually have a season between winter and summer when temperatures are mild, flowers bloom, and outdoor activities reserved for summer in the rest of the country are readily available right now. And, as we continue to support local, it's also the perfect time to explore local. Read on for some of the best ways for residents to enjoy Kelowna this May long weekend.

Chase waterfalls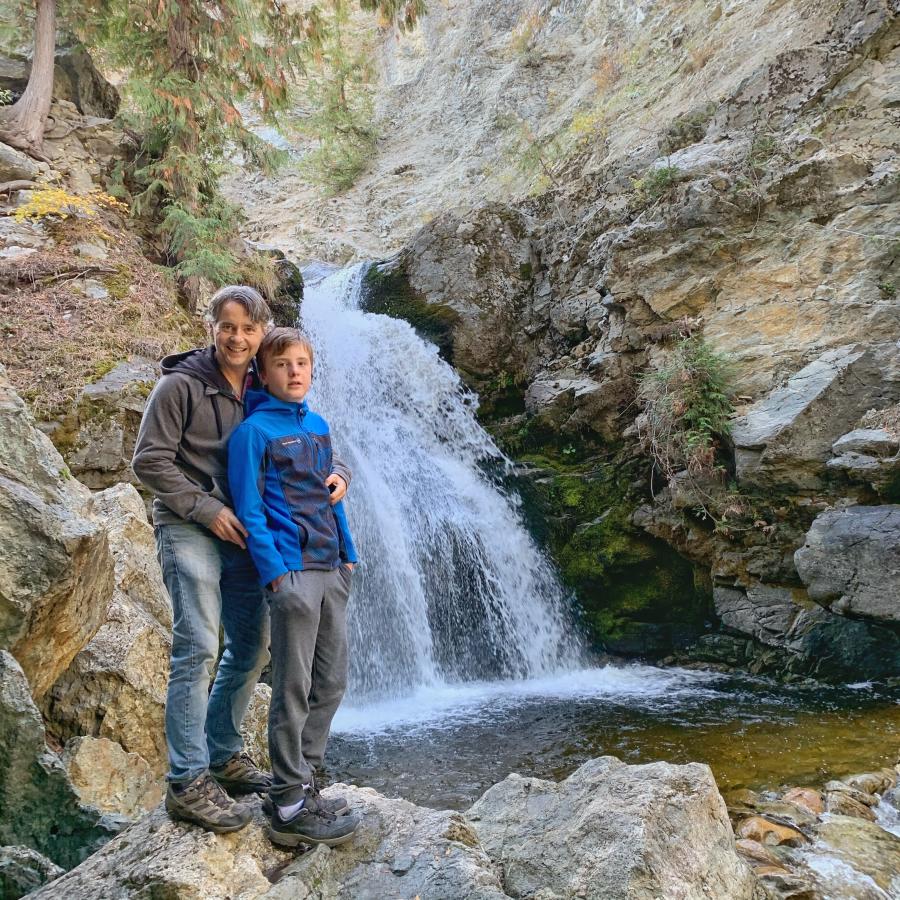 During spring run-off — also called "freshet" — the snow rapidly melts in the high country, which translates into fast-flowing creeks and raging waterfalls at various locations around town in April and May. One of our favourite spots to see the misty spray is Angel Springs, a hike off McCulloch Road where numerous small, rushing falls tumble down KLO Creek that runs parallel to the path.
If it's open, the Crawford Falls hike in Canyon Falls Park (accessed from Canyon Falls Court in the Crawford neighbourhood) is also a must. The 1.5-km out-and-back trail descends steeply into the canyon and dead-ends at gushing Crawford Falls. Unfortunately, due to bank destabilization, the trail is periodically closed, so check its status before heading out. Last, in West Kelowna, we like the Bear Creek Nature Trail, a 2.1-km loop that passes multiple viewpoints over Bear Creek, where crashing waterfalls put on a show every spring.

Hold joeys, see quail chicks
Love is in the air every spring, when the 'roos at Kangaroo Creek Farm give birth to wee ones and it's possible for the public to snuggle the adorable "joeys" during a visit. The farms' new location is now open for the season so you'll also be able to pet adult kangaroos and feed capybaras, which are the world's largest rodent.
And, no matter where adventure takes you this weekend, be on the lookout for baby quails throughout May. You might see the fuzzy yellow chicks following their parents while on a hike, or even on a walk around town.

Bursting blossoms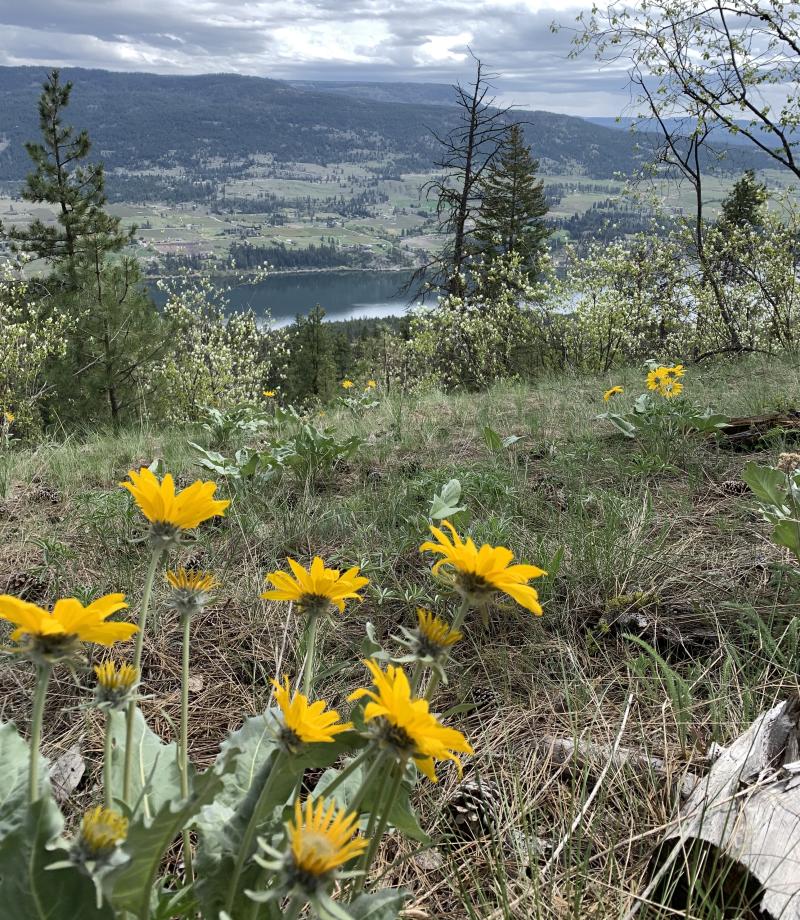 From mid-April to late May, families can easily get their fill of flowers around town. There are wildflower-studded parks, blooming orchards, and manicured community gardens that turn Kelowna into a pretty and fragrant affair.
Our favourite sign of spring is the happy, yellow Okanagan sunflower, a.k.a. Arrowleaf balsamroot. Kelowna's official flower grows like a weed on south-facing hillsides and you can find it on hikes in Knox Mountain Park close to downtown, or in Kalamoir Regional Park in West Kelowna. Also be on the lookout for delicate pink cherry blossoms as you drive by orchards, starting in late April. If you don't want to leave your flower foraging to chance, stop by any community garden, such as Guisachan Heritage Park or Kasugai Japanese Gardens downtown, to enjoy weeping crabapples and rhododendrons blooming in May.

Hiking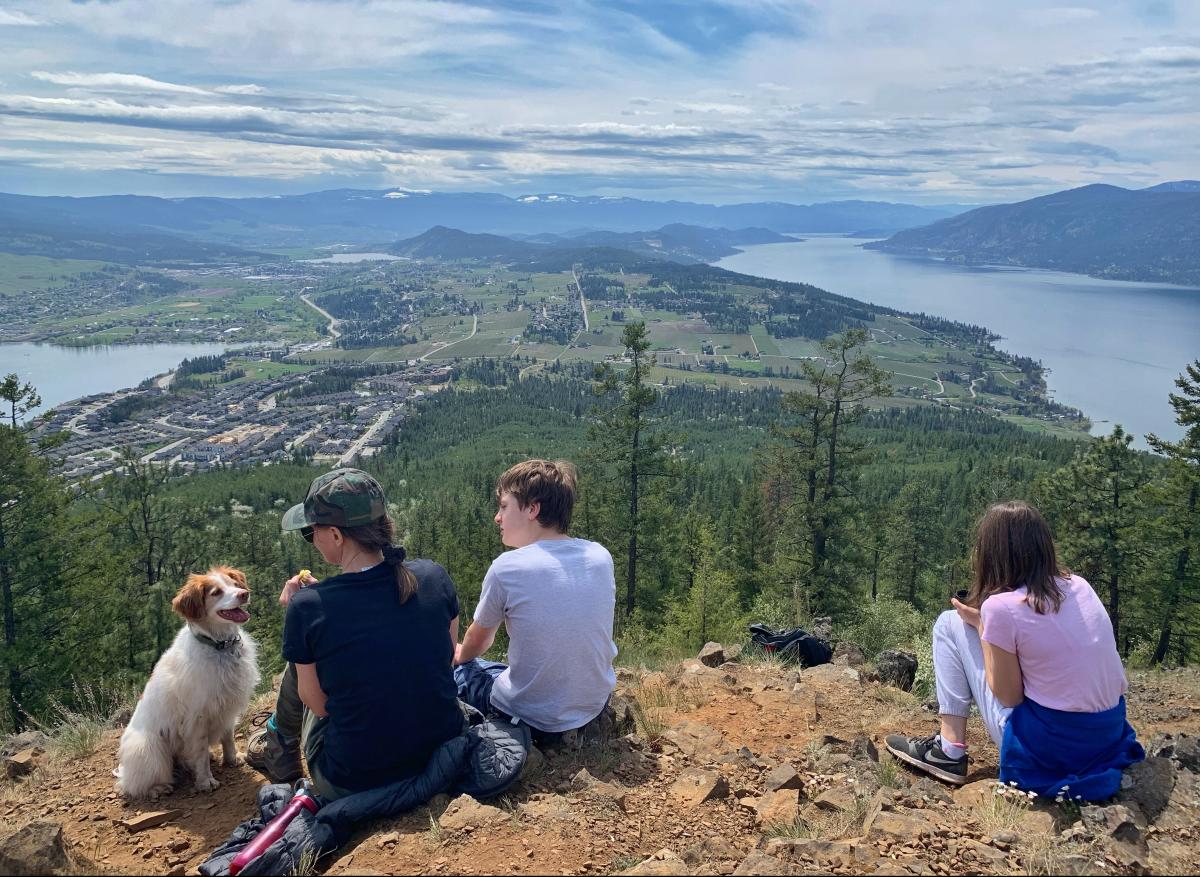 With mild temperatures in the morning and evenings, plus longer days, you can head out on a number of different hikes over the weekend. Try the Johns Family Nature Conservancy in south Kelowna or ascended to numerous viewpoints in Myra-Bellevue Provincial Park on  A Deer's Tale (a 1.7-km interpretive loop). A climb to the top of Spion Kop (Spy Hill) in Lake Country for what's arguably the best view in the Okanagan Valley should also be on your list. These are rather longish hikes, so bring water and if you bring your kids have food bribes for best results.

Mountain biking & cycling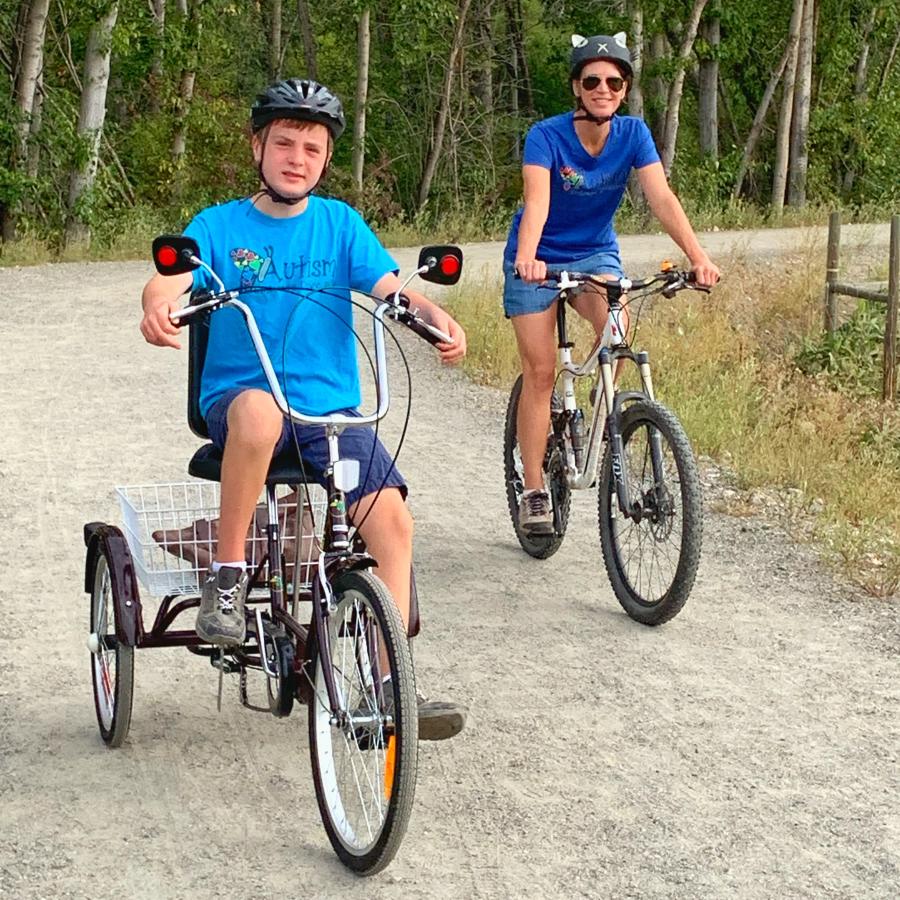 Dry trails mean that mountain biking and cycling adventures are well underway. My husband, an avid cyclist, has managed to ride on Knox Mountain every month (even January and February!), and the trails in Rose Valley are usually clear and dry by April. For tamer two-wheel rides, both the flat, gravel Mission Creek Greenway, and Okanagan Rail Trail, are good bets for the whole family, with lots of stops at benches and picnic tables so little legs can have a rest.

Summer starts early
You don't necessarily have to wait until July for beach days on Okanagan Lake. The mercury can spike to 30C in May, which means all lake activities, including kayaking, floating, and even a refreshing dip, are entirely possible. When on the water, be sure to be safe when heading out as the water is still cold, go with someone or make sure your family or friends know your plan.