Our staycation was amazing, we stayed at a lovely B&B and tried out a new experience - e-biking! It was a great weekend enjoying the beautiful weather while visiting several wineries and patios with simply stunning views.
On the first day of our staycation we checked into our accommodation, A View to Remember Bed and Breakfast and were really impressed with their attention to the health and safety of their guests upon check-in. There's a sanitizing area and masks are provided, rooms were immaculate, and most importantly, comfortable!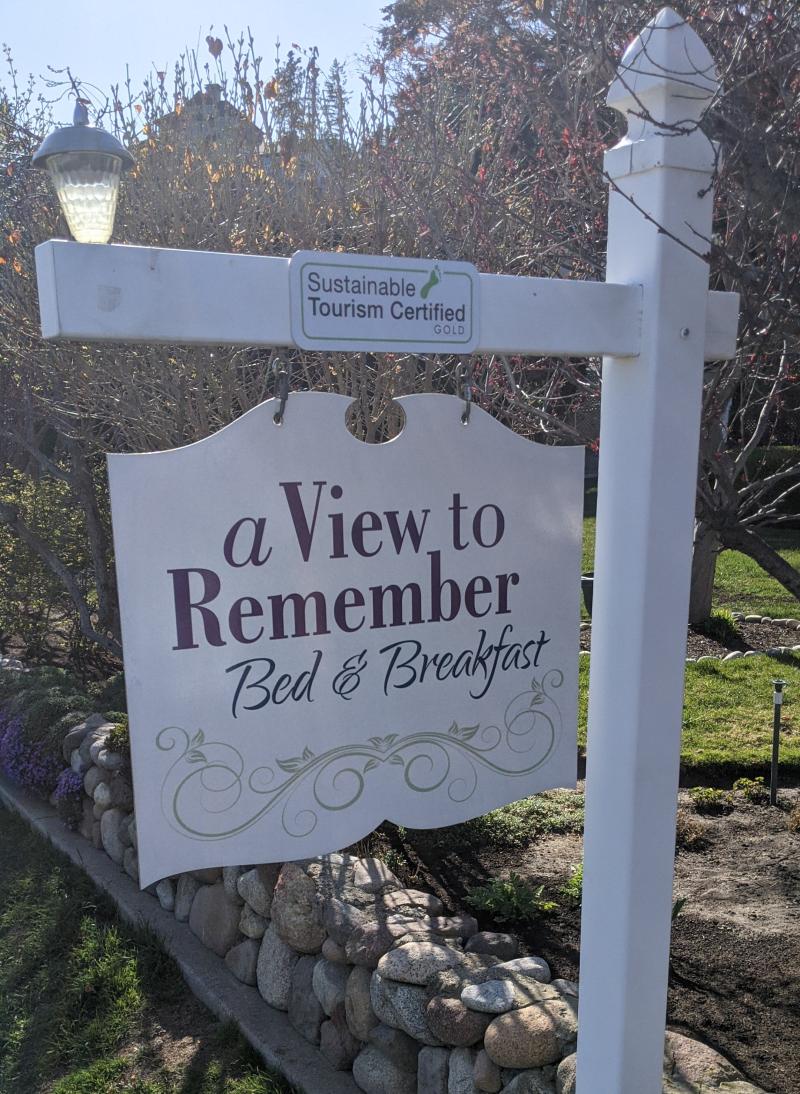 Our favourite thing about our stay at A View to Remember Bed and Breakfast was definitely our hosts Sue and Dan! They were so welcoming, knowledgeable, and keen to share with us their experiences. We were welcomed with a wine reception, complete with Sauvignon Blanc from Mission Hill Family Estate.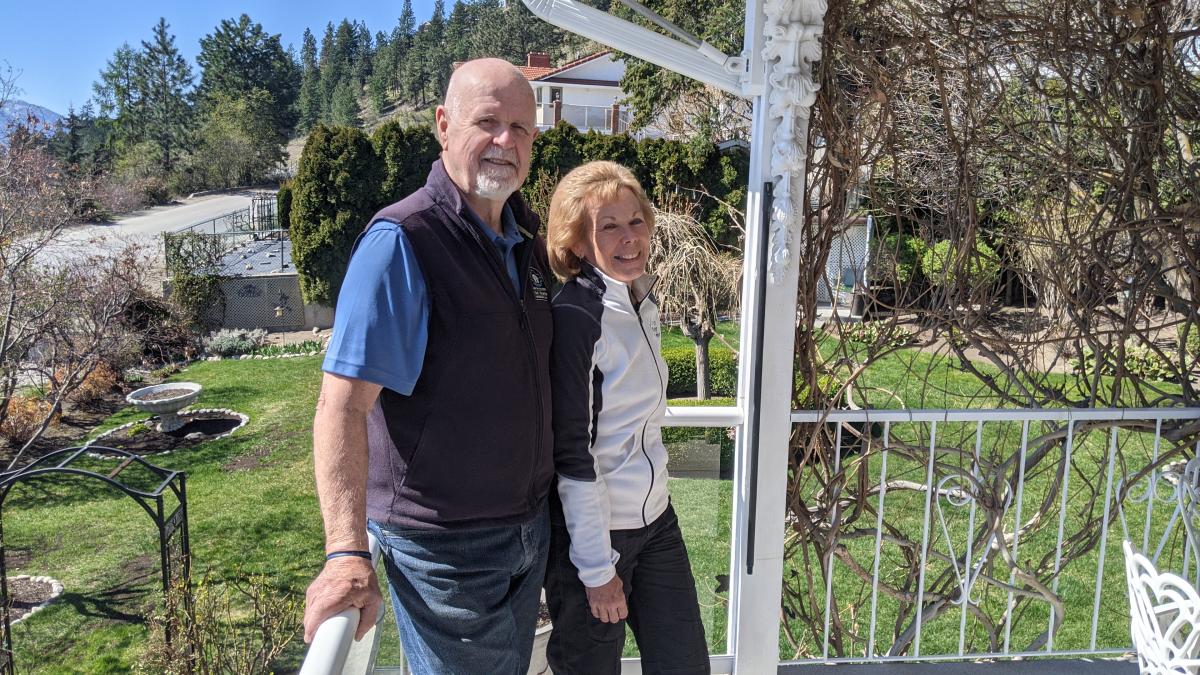 A View to Remember Bed and Breakfast host Sue and Dan.
A View to Remember is a Certified Sustainable Green Tourism Accommodation with a Gold rating, as well as a Biosphere Committed Business. And the cleaning products they use are all chemical-free, so you can rest assured your stay is a sustainable one.
The B&B is easily accessible to anyone in the Kelowna area and it's close to many wineries, restaurants, hikes, and parks. In addition, it is complete with amazing amenities like outstanding lake and mountain views, a great covered deck, and a beautifully landscaped yard (complete with 7 fruit trees which they use in their homemade baking and preserves). Our room had a separate entrance, which made it feel like our own place, and was complete with a 3-piece ensuite bathroom, coffee and wine bar, microwave, mini-fridge, fireplace, and TV sitting area. It sure felt like a home away from home.
Once we had finished settling in, we grabbed our golf clubs and visited Two Eagles Golf Course's driving range.
The views from the driving range tee box are amazing. Looking down the driving range you can see Okanagan Lake, mountain views, and the lush rolling greens of the golf course. It might be hard to keep an eye on your ball, because you'll be so distracted by the views.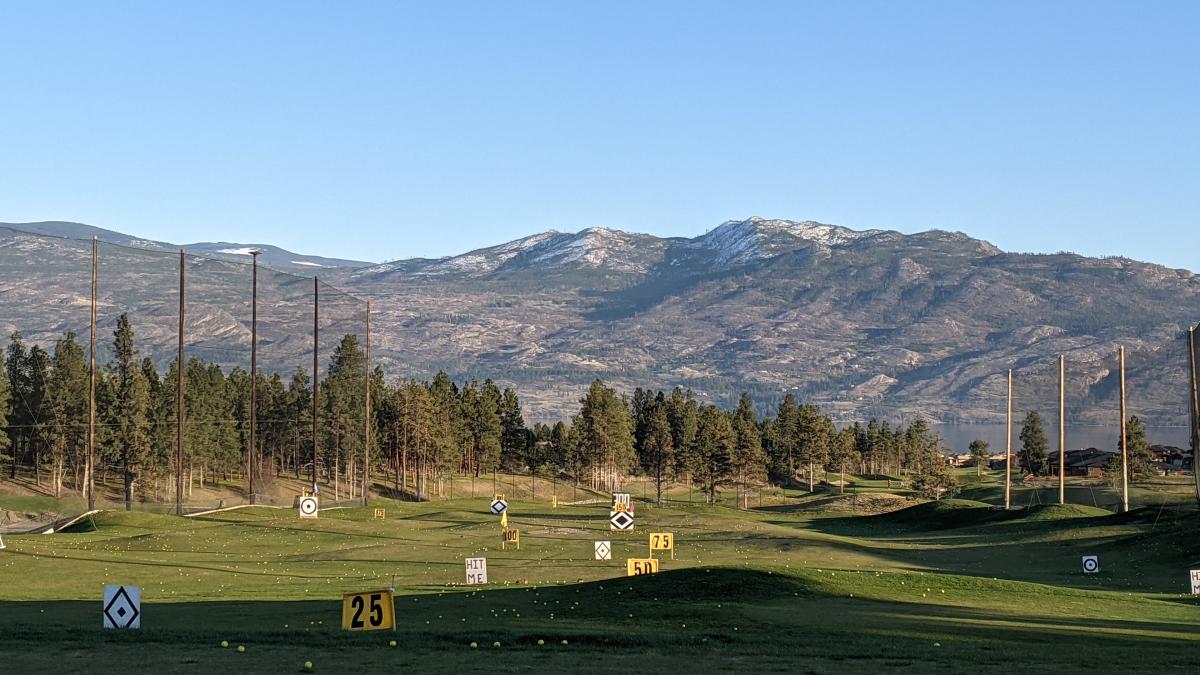 Although we were just at the golf course for some practice, Two Eagles also has a Golf Academy, with lots of different programs for private, group, or junior coaching. Making it a great place to learn.
After we worked up an appetite, we did not have to go far for our dinner, as right next door is 19 Okanagan Grill & Bar.
With the same amazing view as Two Eagles Golf Course, we sanitized our hands, donned our masks, and headed to the restaurant.
Upon entering 19 Okanagan, guests are asked to use the sanitizer station, have masks on (masks are available if you forgot yours), and provide contact tracing information. When walking to our table we noticed the extra space between tables in accordance with provincial health guidelines and surfaces such as chairs and tables being sanitized between reservations.
Tip: They have 2 very large patios! One is the sunny patio, the other is covered. So, depending on your preference, let the staff know when making your reservation. But really, any seat is a good seat.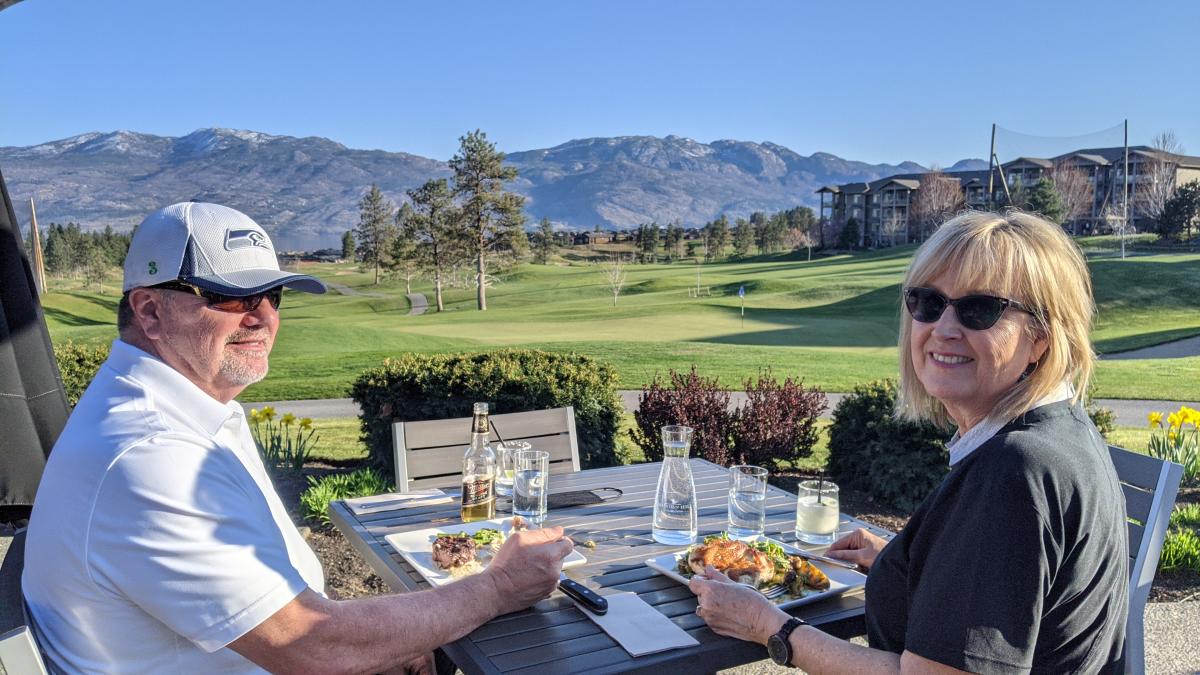 There was a lot to love about 19 Okanagan! The staff were outstanding and we were attended to at every stage, from arriving to departing, with friendliness and professionalism. The vibe was upscale, but relaxed. And again, you can't beat the views!
I ordered a margarita and the Chef's favourite "Summer Plate" with chicken breast, my husband Paul had a beer and the fillet of beef tenderloin with prawn and scallop embrace. Everything was so delicious with beautiful presentation, and the steak was cooked to perfection. My dinner was large enough to share, which Paul happily finished!
As we finished up dinner, it was time to turn into our B&B.

Day 2
Upon waking up, it was hard to get out of bed as it was so cozy and the linens so comfy! But our host, Sue, was preparing our home-made breakfast based on the food allergies and sensitivities she asked us about when we checked in. 
To start, we had strawberries and cream, followed by one of Sue's signature dishes, an egg roll-up with homemade fruit scones. To drink fresh fruit juices and gourmet coffee were available. Everything was so delicious, but Paul and I especially liked the egg roll-up. Sue even was kind enough to share the recipe with me, so I'll be giving it a try soon at home.
Once we were fueled up with a tasty breakfast, our e-bikes were delivered to the B&B.
We rented from Velo Volt Mobile E-Bike Rentals. Owners Sarah and Kendra were great! They delivered the bikes right to our B&B, gave us a thorough operational and safety lesson, and stayed until we felt we were ready to head out on our own. They were also very encouraging, as I was a bit nervous, having never ridden a power-assisted bike before. However, I was surprised at how easy it was!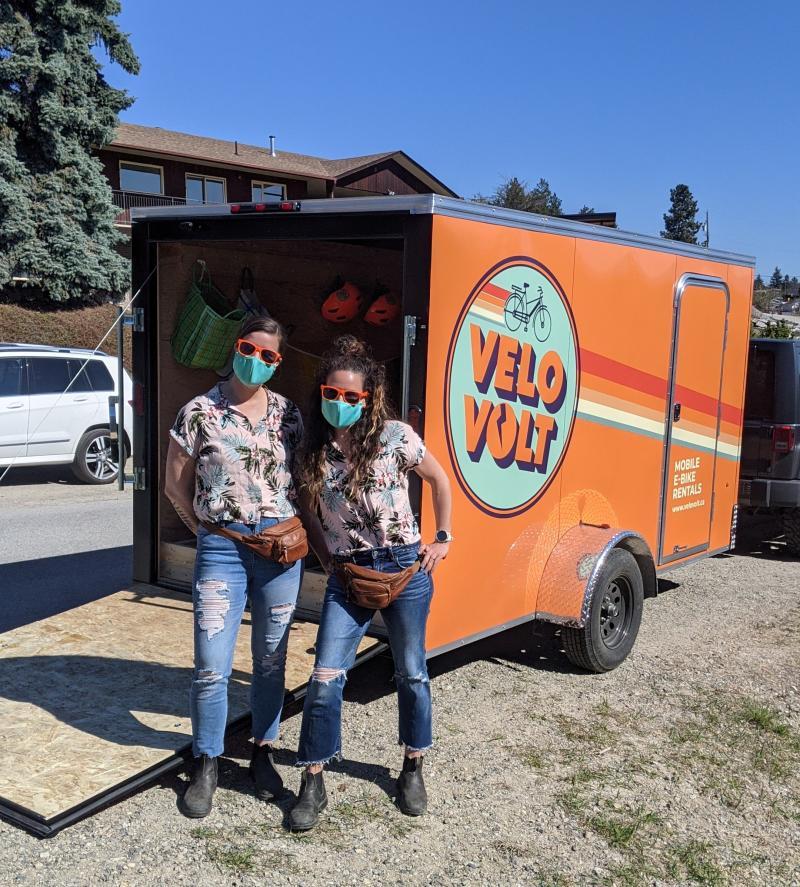 Before we started our wine tour, we had decided that we would share one tasting at each winery, since we wanted to be careful on the bikes. And to make sure we had the hang of things we first rode up and down the roads in the neighbourhood, then we were off.
First stop was Little Straw Vineyards, only 5 minutes from the B&B, for an outdoor tasting. Our tasting server was 3rd generation family member of the winery that taught us so much about the area and the winery!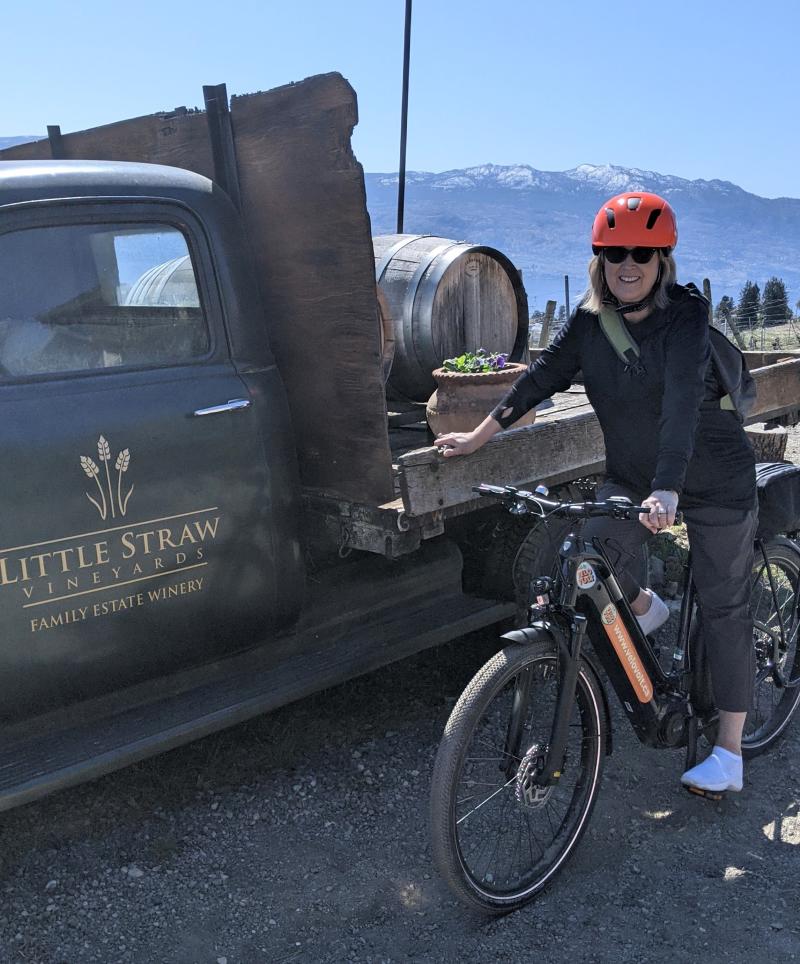 Fun fact, Little Straw has the oldest premium Auxerrois vines in the valley, planted in 1960 (pictured below).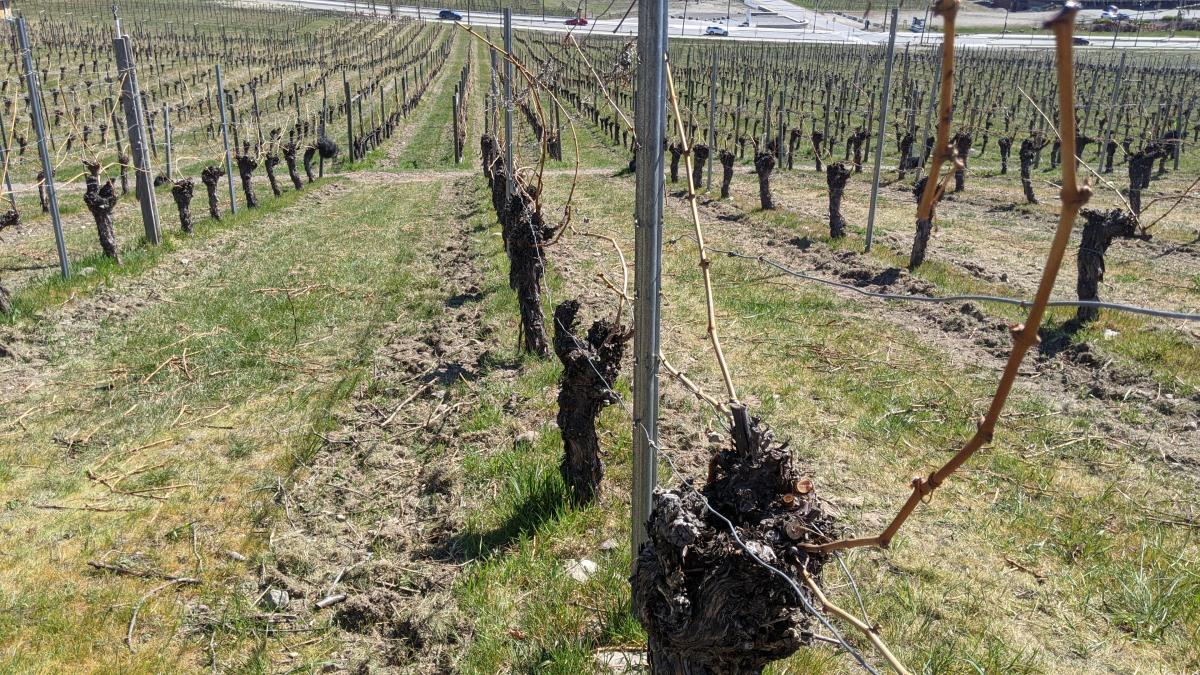 Next on our e-bike tour was Beaumont Family Estate Winery on Boucherie Road. Just a quick 10-minute ride from Little Straw. Beaumont has just undergone an interior renovation, which looked amazing, with a very clean and modern vibe! They also have plans to build a picnic area and on select days will have live music. My favourite wine that we tasted was the "Melody" Gamay Rose, the perfect patio sipper. Fun fact: Beaumont has been certified organic, since 1995.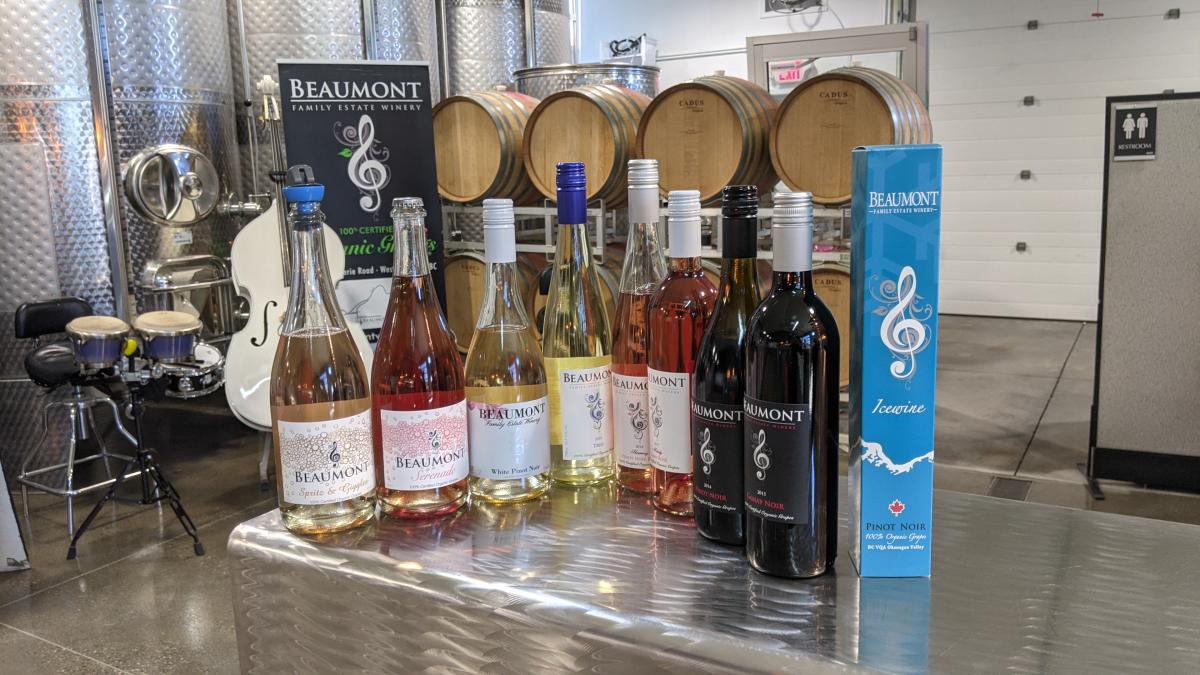 Next we went down the street to Volcanic Hills Estate Winery. We were greeted with a warm welcome and tried their Icewine as it's not what we usually have at tastings. We were both pleasantly surprised by the experience and really enjoyed their Chardonnay Icewine, it's dessert in a glass. Volcanic Hills also has the restaurant Blu Saffron Bistro, with a huge outdoor patio. We will definitely be going back to try the food as it looked and smelled great!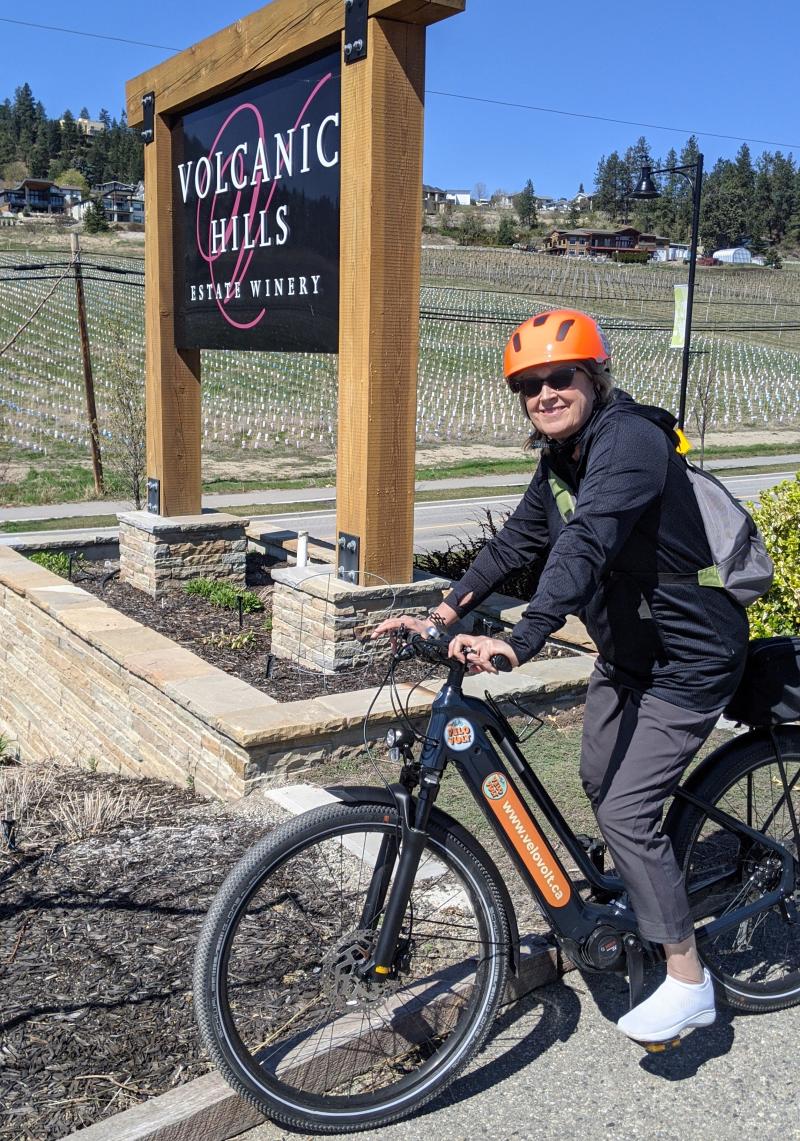 While out, we noticed that all the wineries had really good health and safety protocols in place, with sanitizer stations, masks available, and contact tracing information collected. And there is plenty of extra space between tasting groups. We felt very comfortable at the wineries.
As we continued to ride through the area, we took in the sweeping vineyard and lake views of the Westside...just spectacular!
We would definitely go on an e-bike tour again. I've been getting so many messages from friends and family asking about the experience and I think a gift card for Velo Volt would make a great gift for someone. They made the entire experience so easy and enjoyable for us!
After returning our bikes, we drove to Frind Estate Winery for a late lunch.
Once we arrived at Frind, Paul noticed and loved the unique post and beam architecture and how there were so many spacious tasting bars. This winery is unique because it's the only lakeside winery in North America and you can visit by boat, with a huge dock for tying up. They also have lakeside firepits and a large picnic area right on the water.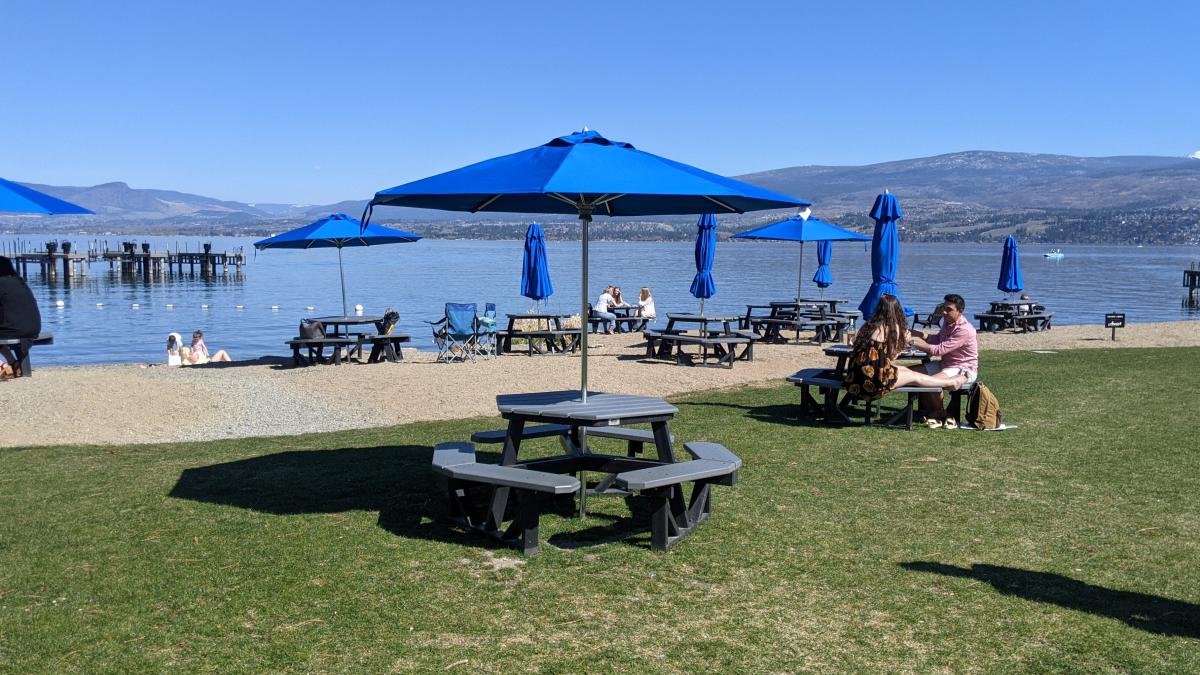 Attached to the winery is Annie's Beach Cafe & Bistro, as the name suggests, was upscale but at the same time casual and beachy. And the food was delicious, I had the braised pork sandwich, with a side salad (pictured below) and Paul had the Sauerbraten Beef Dipper. Both became instant favourites and we can't wait to visit go back to order both meals again.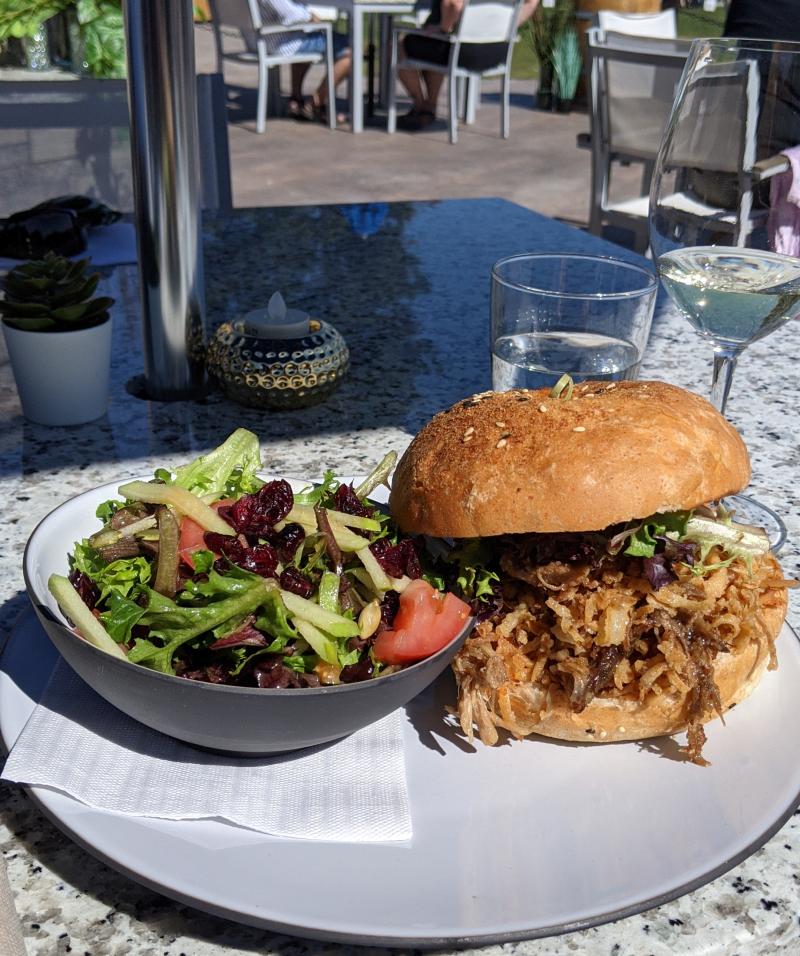 As our staycation came to a close, we were talking about how fun it was and how we had such a great time. I would absolutely recommend a staycation to my friends and family. I was receiving messages from family and friends, as they were following along on my Instagram stories saying how fun it looked and they wanted to try it out! Kelowna has so much to offer and you don't have to travel far when you live in such a beautiful part of the world. We are SO grateful to call Kelowna home.
About the Author:
Jan Nesbitt has lived in Kelowna and worked alongside her husband Paul, in their Architectural Design business, for the past 41 years. Recently Jan has turned her hobby of designing and creating modern clay earrings, into a small business called "ADORABLES", selling at Farmers and Craft Markets and on Instagram. Jan has also been a volunteer for Tourism Kelowna for the past 8 years, at the Visitor Centre sharing her love for Kelowna. She's enjoying her newest role as a Grandmother, hiking/walking, and has a keen interest in wine education.