This year, many of us are looking forward to reconnecting and gathering with our loved ones throughout the holidays. No matter where you reside, wellness at this time of year is all about balance—that means heading outdoors to make the most of the crisp winter air and fresh powder, indulging in your favourite treats, and carving out time to relax. For those who will be in and around Kelowna, here's some ideas of how to strike the perfect wellness balance this holiday season.

Savour Local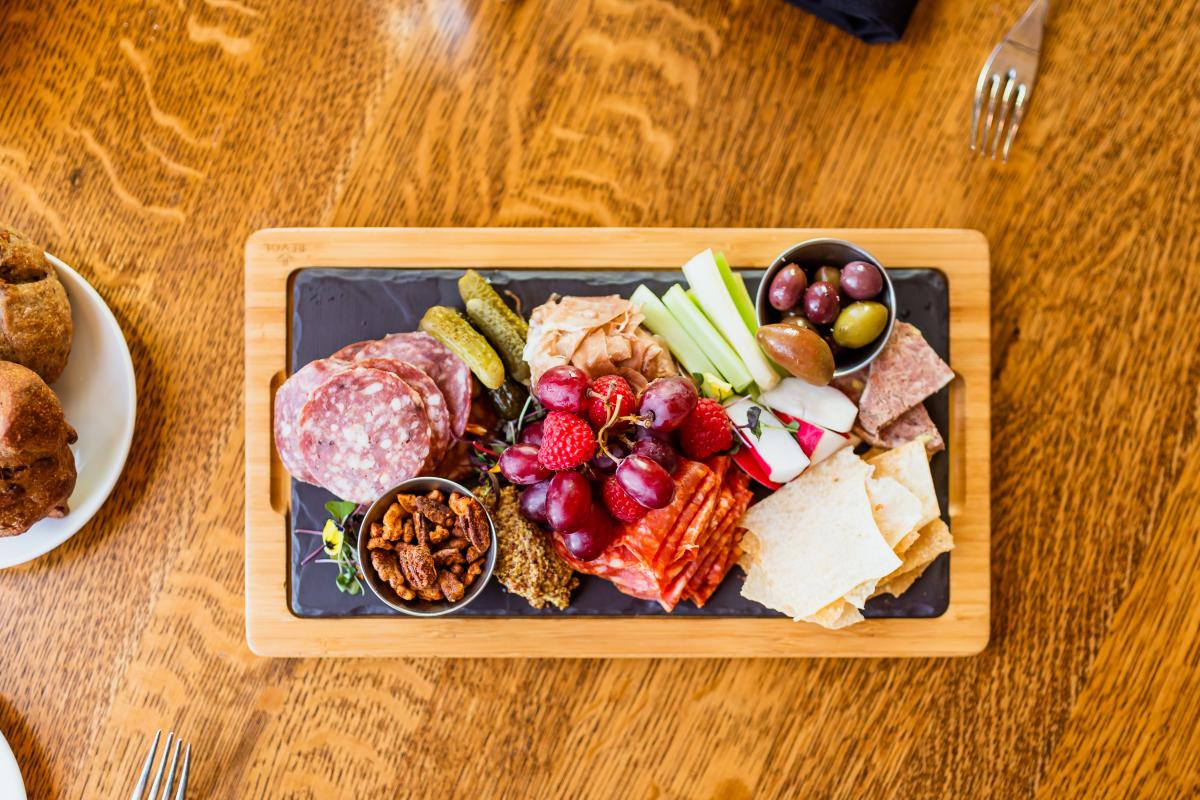 Photo by: Scott Bakken Productions
Charcuterie boards—often referred to as the adult version of Lunchables—are a crowd pleaser during the holidays, allowing everyone to create their own bite-sized creations. Thanks to Kelowna's numerous local shops, it's easy to find the highest quality ingredients. The Festive Market at Quails' Gate Estate Winery offers a wide selection of goods including artisanal cheeses and breads—visit on Fridays and Saturdays, from 4 to 8 p.m. until December 18. Head to Illichmann's, which has been serving the community since 1967, for gourmet meats and sausages, as well as a large selection of specialty European items. Or, explore the deli case at The Okanagan Table or the vast selection at Perseval & Young Cheesemongers. Then venture to the Mercado at Matadora in South Pandosy for olives and canned seafood—you can even order the Matadora Board, with Spanish meats and cheese, housemade labneh and dukkah, preserves, and more, if you don't have the time, space or desire to put together your own masterpiece.
Once you've had your fill of savoury eats, it's time for the sweet treats! Nothing spreads yuletide cheer quite like baked goods. And nothing says balance more than making sure to enjoy your favourites, many of which are only around at this time of year. Since I'm not a baker, I'm very familiar with the numerous local bakeries in and around Kelowna—none of them will disappoint! You'll find stollen at 350 Bakehouse & Cafe, lebkuchen cookies at Bread Co. Kelowna, and Buche de Noel at Sandrine French Pastry & Chocolate and Karat Chocolate + Pastry Boutique. Those looking for vegan and gluten-free options will want to hit up Jaide & Joel's Baking Company in Rutland for their assortment of holiday goodies. You can also add a little something extra alongside the bakery items with Eggnog or Coffee & Bailey's gelato from QB Gelato & Bakery.

Explore Kelowna's Outdoor Playground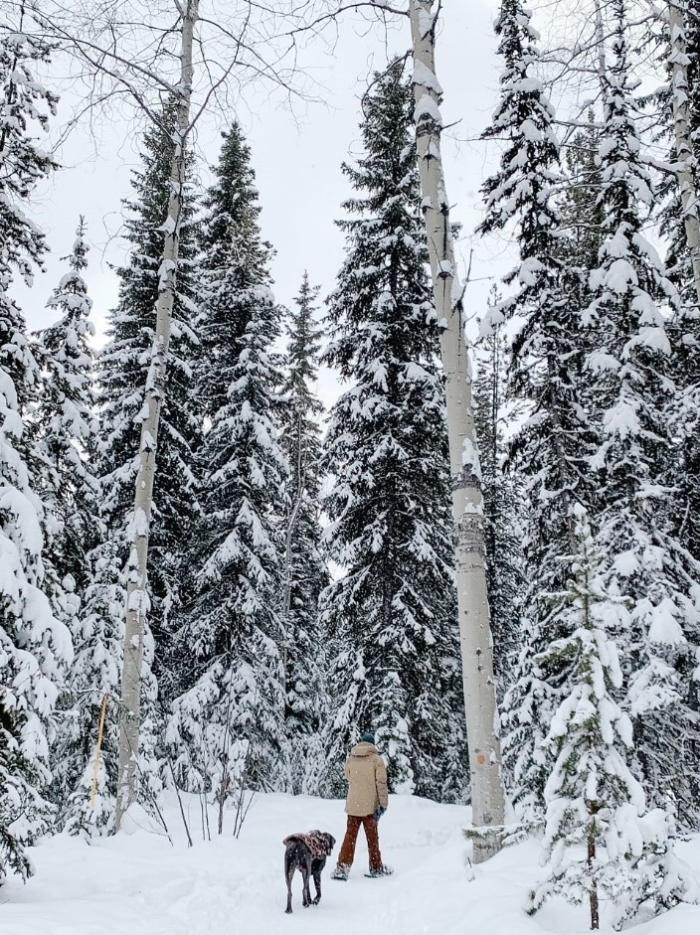 Photo by: Sara Correa
Kelowna's mild winter temperatures make for pleasant and fun outdoor excursions. By the holidays, the fluffy white stuff is generally plentiful in the surrounding mountains where numerous activities await.
Though I'm not a skier, snowshoeing is one winter activity that I love and would recommend everyone try at least once. Telemark Nordic Club in West Kelowna and Kelowna Nordic offer 50 and 70 km of snowshoe trails respectively, where you can walk in a winter wonderland enjoying the solitude and beauty of our region. Both clubs offer day passes and Telemark, which is set to open December 20, has onsite snowshoe rentals for adults and youth. Play It Again Sports also offers snowshoe rentals, as well as new and used equipment in case you decide you want to buy your own pair. You'll also find snowshoeing trails at Big White Ski Resort and SilverStar Mountain Resort.
If you like prefer a bit more adrenaline when heading outdoors, Full Cyrcle Adventure's Winter UTV Adventure will be right up your alley. You'll cruise through the snowy wonderland in a fully enclosed and heated utility terrain vehicle (UTV) on this 3-hour adventure, which can accommodate up to 5 people.
For more winter activity ideas, click here.

Unplug and Unwind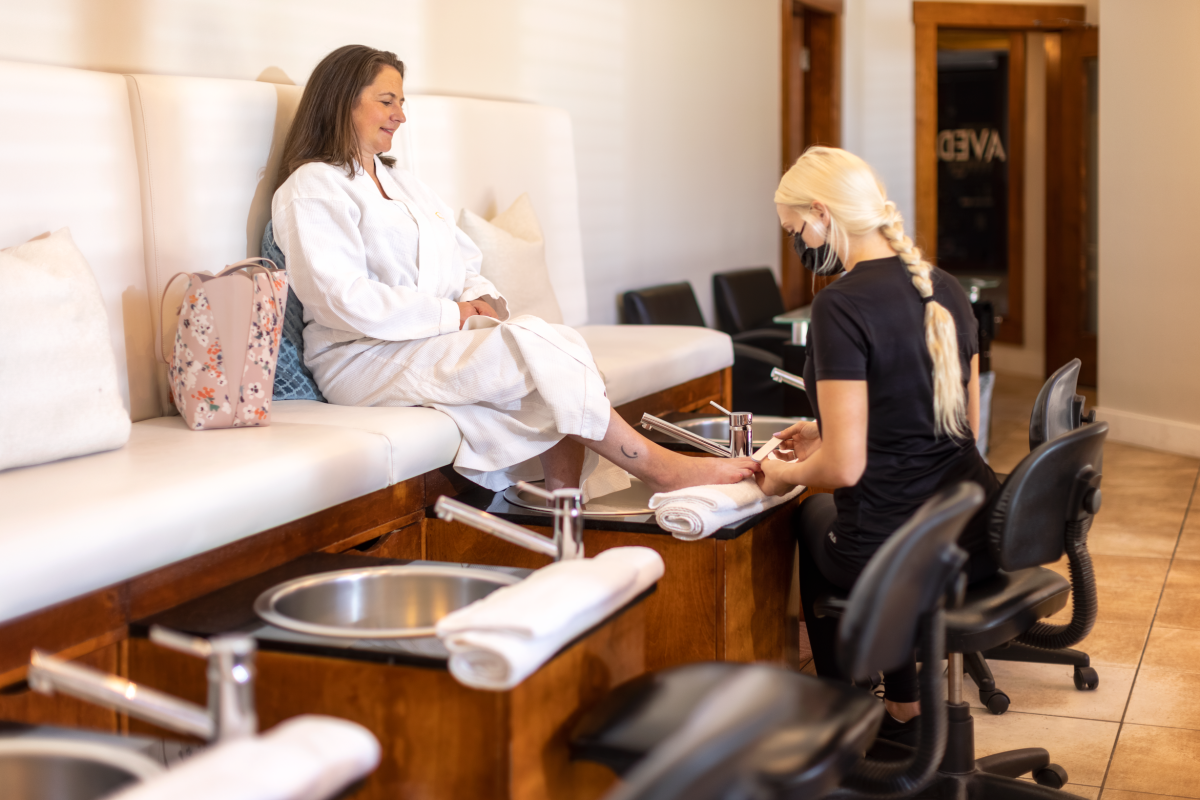 The Spa at The Cove Lakeside Resort. Photo by: Shawn Talbot Photography
The holidays are a busy time for many of us, so it's important to carve out space to unplug and unwind. Take some for yourself and experience flotation therapy with a 60 or 90-minute session at Gravity Float & Wellness, offering deep relaxation and stress relief.  Or discover the assortment of services available at The Recovery Spa, like their 30-minute NuCalm session, which uses neuroscience technology to help you feel relaxed and re-energized—between the weighted blanket and calming music, you may have trouble staying awake! You can also gather up your partner, favourite family members, or besties to spend time relaxing and meditating in the salt cave at Room + Pillar Spa, where you'll be surrounded by thousands of pounds of Himalayan salt. The 45-minute experience can accommodate up to six people. If you prefer more traditional spa treatments, head to the Spa at the Cove where you can choose from an array of blissful and revitalizing packages, which can be booked solo or as a group.
You're sure to make memories and spread cheer by taking part in these Kelowna activities through the holidays, bringing balance to your physical and mental wellness.