"All you need is love. But a little chocolate now and then doesn't hurt". - Charles M. Schulz
The big day to celebrate love is just around the corner and I have some local ideas to help woo your darling. Chocolate! Lots and lots of chocolate is the key to my heart and local chocolatiers have had me swooning with their creations lately.
Sandrine French Pastry & Chocolate is always loaded with ideas made for pleasure. Beautiful cakes, chocolates for every moment of the day, fantastic meal ideas such as the perfect quiche to pair with your bubbles for brunch, and even delicious cooking classes where you can learn to make your own treats.
I literally go bonkers for KARAT Chocolate created by local choco-genius Julian Helman. Using only single origin cacao and chocolate, and he also infuses local products ie. his Arlo's Honey bar. You can get the Karat chocolates at Olive & Elle on Pandosy Ave and the Kelowna Visitor Centre on the highway, Mosaic Books on Bernard Avenue sells the chocolate bars – so while you are there, choose some unique housewares, beauty supplies or linens, a Kelowna keepsake, or a thoughtful book or cookbook - always great gift choices!
Exciting news hit the airwaves recently when our very own Pastry & Culinary Arts department at Okanagan College announced their line of artisan chocolate! This incredibly innovative concept was led by renowned Chef Bernard Casavant, OK College's Culinary Manager and Chef/Instructor Danny Capadouca, who took the two to France to research and design their custom line. The chocolate can be purchased in the College's cafeteria at the Kelowna campus on KLO Road.
Just add bubbly to that chocolate and you've got a winning combination for Valentine's Day! Pick up a bottle or two of Summerhill Pyramid Winery's perfectly pink Cipes Blanc de Franc. Bubbles are the ultimate celebration tool and a must to begin a magical evening, or an exciting day if you are planning to serve up a romantic brunch pour deux. And/or you could also book a pre love fest date at their Sunset Bistro starting on February 10th for a special three-course Valentine's Day Dinner with wine pairings.
February 11th you can get the jump on your romantic week ahead at "Love the Wine Your With" event that will be a roaming from winery to winery to taste wines and treats! Participating wineries: CedarCreek Estate Winery, St Hubertus & Oak Bay Estate Winery, Summerhill Pyramid Winery, and Tantalus Vineyards.
Getting into the spirit of Valentine's Day, downtown Kelowna's Okanagan Spirits has a heavenly pairing experience to offer up on the big day. On February 14th, they will be hosting an event, Sweet Sips, featuring local chocolatiers Jordan and Julia Keller of Liv a Lil Chocolate paired with their spirits. Cheers to love and living local!
---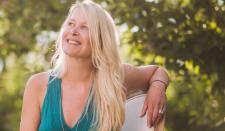 Jennifer Schell is a writer, editor of BC Food & Wine Trails Magazine and internationally award winning author of three cookbooks titled: The Butcher, The Baker, The Wine & Cheese Maker. Born and raised on an orchard in East Kelowna, Jennifer's family roots run deep in agriculture. An advocate for all things local, she focusses on shining the spotlight on the people of the food, wine and farm scene.