If you listen closely, the faint sound of jingle bells can be heard in the distance. As you look out across the lake, you can see that the snow line is starting to creep further and further down the mountains surrounding Kelowna. It's true - the holidays are just a few short weeks away.
The festive season is a wonderful time of year, an opportunity to get together with loved ones to make new memories and reflect on the year that has passed and what is still to come. Whether you're a local welcoming family for the holidays, or a visitor coming for the Christmas period, there's no shortage of holiday shows and concerts coming up in our city. Here's a sampling...
[Pro tip: Why not give the gift of an experience? Tickets to a concert or show can make a great present!]
Mary Irwin Theatre (RCA - 421 Cawston Ave.)
Christmas is off course as the Snow Dragon, compelled by the Evil Queen, kidnaps Santa's Reindeer. Will Christmas be cancelled this year? Join the Theatre Kelowna Society in their run at the Mary Irwin Theatre to find out. Tickets range from $5 to $20. Purchase tickets. 

Downtown Kelowna Winter Street Market & Annual Tree Lighting (Dec 1)
Stuart Park (1430 Water Street)
Starting at 11:00 a.m. enjoy a festive street market with tasty eats, adult beverages, local vendors, activities for all ages, a visit from Santa himself and live entertainment as Downtown Kelowna officially welcomes the holidays. The event will be capped off with the lighting of a giant tree at 6 p.m. This is a free community event.
Sapphire Nightclub (238 Leon Ave.) 
Join the Femme Fatale Dancers for a night of classic cabaret music, Christmas favourites and show tunes. Tickets range from $25 to $40. Purchase tickets.
First Lutheran Church (4091 Lakeshore Road, Kelowna)
Enjoy festive music and carols by the Kelowna City Concert Band, as well as an arrangement of The Night Before Christmas. Admission is free, but donations to the Central Okanagan Food Bank are suggested.

Okanagan Symphony Orchestra: Messiah (Dec 20)
Kelowna Community Theatre (1375 Water Street)
Handel's Messiah, with its beautiful arias, brilliant choruses and imaginative orchestrations, has stood the test of time as one of the most popular works in the classical repertoire. With a quartet of stunning soloists, our own Okanagan Symphony Chorus and your OSO, this is a Christmas tradition that you won't want to miss. Tickets range from $25 - $59. Purchase tickets.

O Christmas Tea: A British Comedy (Dec 22)
Kelowna Community Theatre (1375 Water Street)
Lovers of Monty Python, Dr. Seuss and Mr. Bean will be delighted by this brilliantly funny comedy. Tickets range from $19 - $44. Purchase tickets.

Valley First New York New Years (Dec 31)
Stuart Park Ice Rink (1430 Water Street)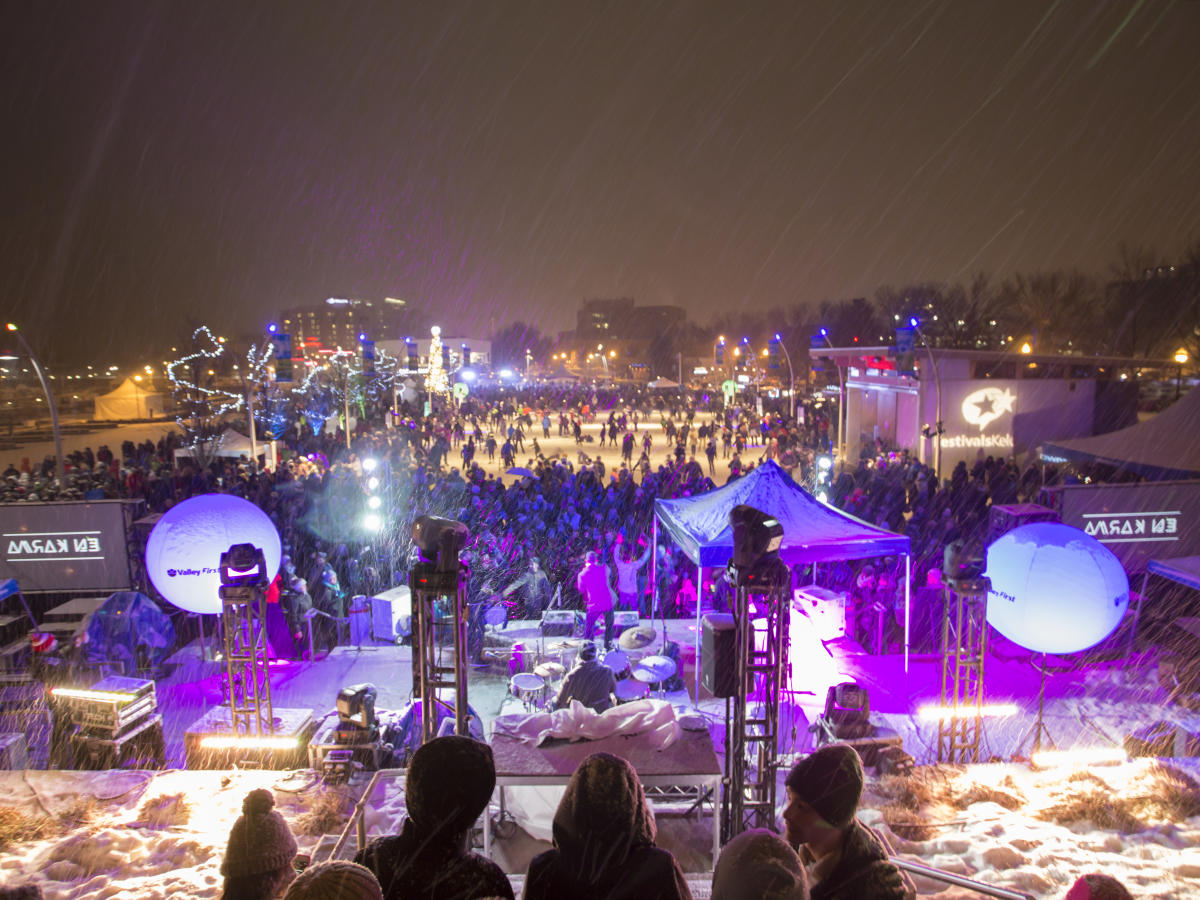 Kelowna's de facto New Year's Eve celebration returns to the Stuart Park Ice Rink. Enjoy live musical performances, free hot chocolate, food trucks, skating and activities for the little ones as Kelowna rings in the twenties all over again. Admission is free. Runs 6 to 9 p.m.
No matter how you celebrate the holiday season - from Merry Christmas to Happy Hanukkah - I'd like to wish you a wonderful festive period in the company of loved ones experiencing some of what Kelowna's art and culture scene has to offer.
For more holiday events, shows, and concerts, check out the events calendar.