Make isolating with your sweetheart fun with our ultimate guide to having a Kelowna couples staycation! Here are a few ideas on how to make the best of our current situation with your special someone.

Go on a Private Wine Tour
You can't wine tour with people outside of your bubble, but why not sign up for a wine tour with your significant other? Enjoy the scenic ride along the vineyards in the Kelowna area with one of our city's experienced guides. Learn more about the place you live in and be reminded about how lucky we are to live in wine country!
A few local wine tour companies to check out: Okanagan Wine Country Tours, Wicked Tours, Vivid Tours, and Distinctly Kelowna Tours.
Enjoy the fresh mountain air and take a day trip up to the local ski resort. After the slopes, grab a bite at one of the many restaurants on the hill. 
Some of our favourite food establishments on the mountain are: Globe Cafe, Black Diamond Bar & Grill, The Bullwheel, and Underground Pizza.
Don't feel like taking a long break from the skis? There are also food trucks that are accessible from the ski areas - Beavertails is at Gem Lake, Broken Anchor is at Black Forest Day Lodge, and Kelly O's is at the Ridge Day Lodge. 

Resort Stay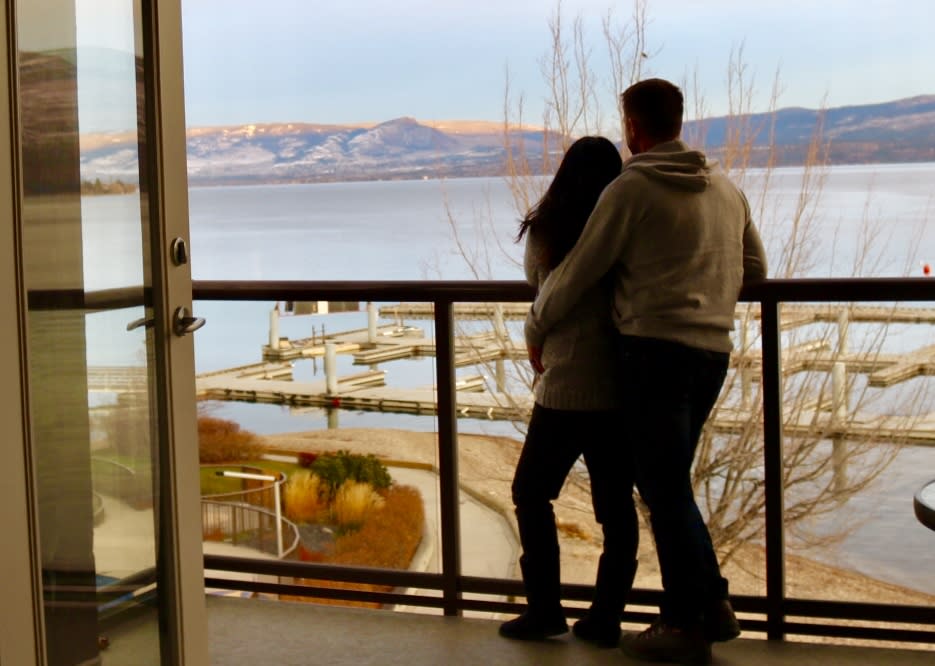 Photo at The Cove Lakeside Resort
Treat yourself to a staycation at one of our lakeside resort hotels. Order breakfast and get it delivered without the need to get out of bed! Take a dip in the pool or hot tub (make sure to pre-book your time), or just take in the beautiful views. With fewer people travelling right now, it might even be easier for hotels to offer an upgrade to your room - make sure to ask for one with a view.
Local lakeside resorts: Delta Hotels by Marriott Grand Okanagan Resort, Eldorado Resort, and The Cove Lakeside Resort.

Enjoy a Bite Out…or In
Your favourite local restaurants are still operating! Many offer both dine-in and take-out options. Reserve a meal at one of the dome dining options for a memorable experience: Frind Winery in West Kelowna and Oak + Cru Downtown Kelowna. 
Consider one of the area's local winery restaurants - the vineyards make romantic backdrops!  
Old Vines Restaurant at Quails' Gate Estate Winery boasts a lunch and dinner menu that uses local farm-to-table ingredients.
Block One Restaurant at 50th Parallel Estate Winery offers a Sunday Brunch and a Happy Hour menu in addition to their regular lunch and dinner choices.
Mt. Boucherie Estate Winery's The Modest Butcher is famous for their Tomahawk steak nights every Tuesday. Or if you feel like bringing your meal home, Chef Dan Carkner and his team have crafted a special take-out menu.

Indoor Fun
Looking for some indoor fun? Kelowna has it all. Come for the pins and stay for the pints at Whiski-Jack's, the area's newest bowling alley located on the west side of the bridge at Okanagan Lake Shopping Centre.
The McCurdy Bowling Centre is also open. Featuring 30 lanes of 10-pin bowling, there is also the newly renovated Freddy's Brew Pub for beer lovers attached right beside the bowling alley.
Looking for a 5-pin bowling experience, head to Capri Bowling Lanes.
Want to have some fun while exercising at the same time, Beyond the Crux Climbing Gym has you covered. With over 5000 square feet of bouldering, top-rope rock climbing, and lead climbing areas there is something for the most experienced climber to those who are just starting out. 

Outdoor Fun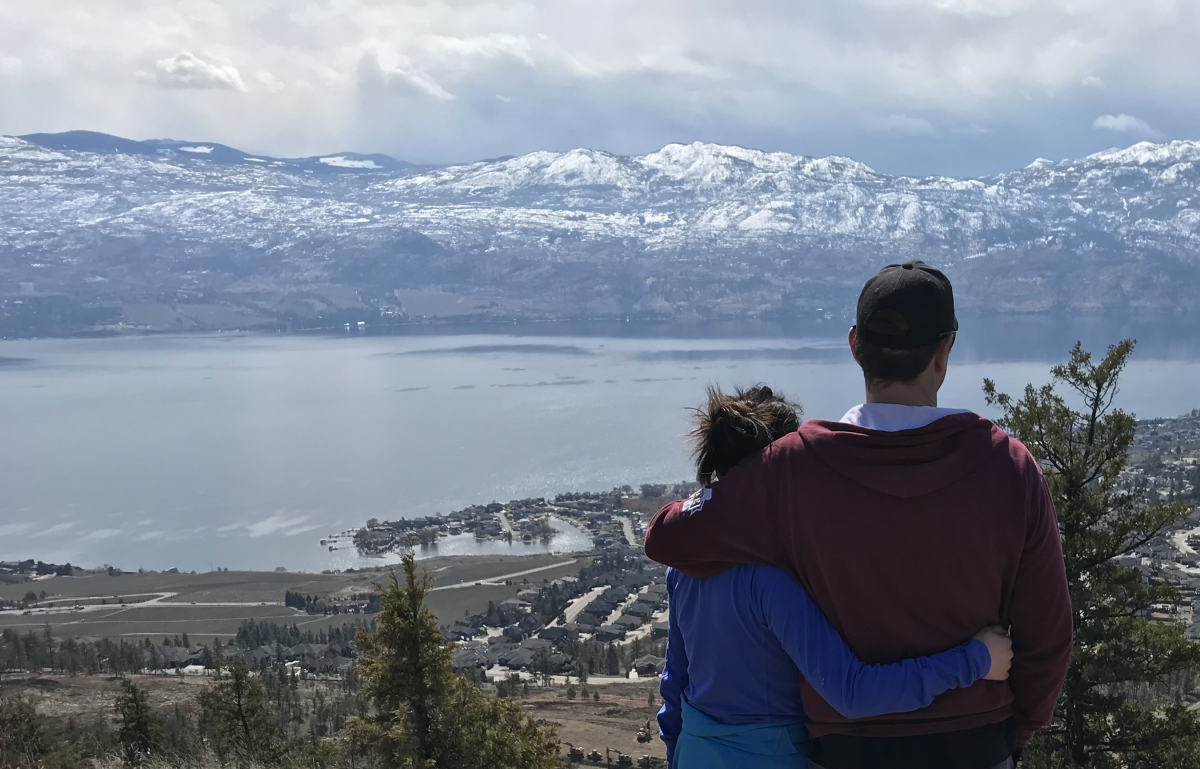 View from the top of Mount Boucherie 
Planning your staycation doesn't have to break the bank! There are many free or cheap activities to enjoy.
Before the snow melts, plan a day to snowshoe at Telemark Nordic Centre, rentals and day passes for two will only set you back just over $40. Make sure to book ahead of time before going. 
Go for a hike, being out in nature on a beautiful day, taking in the views, can set your mind at ease, and leave you feeling rejuvenated. Try Mount Boucherie or Knox Mountain for spectacular panoramic views.
Now you know how to have an ultimate Kelowna staycation, all you have to do now is book it!