Fahmy Baharuddin (he/him/his) attended his first Pride in Vancouver at 22. It was his first year in the country. Baharuddin came to Canada as a refugee, and celebrating Pride was illegal where he grew up. So as he ventured out for this new experience in Vancouver, he wasn't entirely sure what to expect. Skeptical that he would be safe, he had mentally planned his escape route in case he needed to run away in a moment of danger.
Seven years later, Baharuddin is the new – as of December 2021 – President of the Kelowna Pride Society (KPS) and looking forward to his first Kelowna Pride Week in the role this June. He now looks back fondly on his first Pride in Vancouver. Despite his initial trepidation, he was delighted with the openness, inclusivity, safety, non-judgemental atmosphere, and joy that he found. He remembers a conversation with a father of three who was so open, progressive, and curious. The experience exhilarated Baharuddin.
Having lived in Kelowna for four years now, he's excited by the possibilities for Kelowna's future. He is relishing the opportunity to support KPS in helping to make Kelowna Pride Week 2022 a reality this June. Every Pride is someone's first, and Kelowna Pride 2022 has the possibility of giving to someone what Vancouver Pride gave to Baharuddin. A safe place. Hope. Happiness. Acceptance. Memories to last a lifetime.
Kelowna Pride Week is set for June 6 to June 12 this year, and while looking forward to it all, Baharuddin is most anticipating the Pride March, which will take place on June 11.
"We're here to celebrate ourselves. We're here to celebrate our community. The Okanagan itself is a very diverse and culturally growing place, and I think that's something to celebrate. To see people put effort into coming back and meeting again, have a purpose of coming and meeting, and have so much love and inclusivity showcased in that, it's wonderful. Because when it comes to attendees, it's not just numbers. It showcases the amount of shared mentality that we have here in the Okanagan. So when I see the crowd [at the March], I think it will really sink in that this is my home, my community. It will be a wonderful, wonderful feeling when it happens."
In June 2019, thousands of people from across Western Canada and beyond descended upon downtown Kelowna for the biggest Pride March and Festival in the city's history. The downtown core was awash with rainbows, smiling faces, celebratory signs, and a party atmosphere. People of all ages, genders, orientations, and backgrounds mixed and mingled. It wasn't quite Vancouver levels, but as someone who has attended many Pride celebrations in Kelowna (and elsewhere), it was something. There was a buzz in the air. Then COVID-19 happened.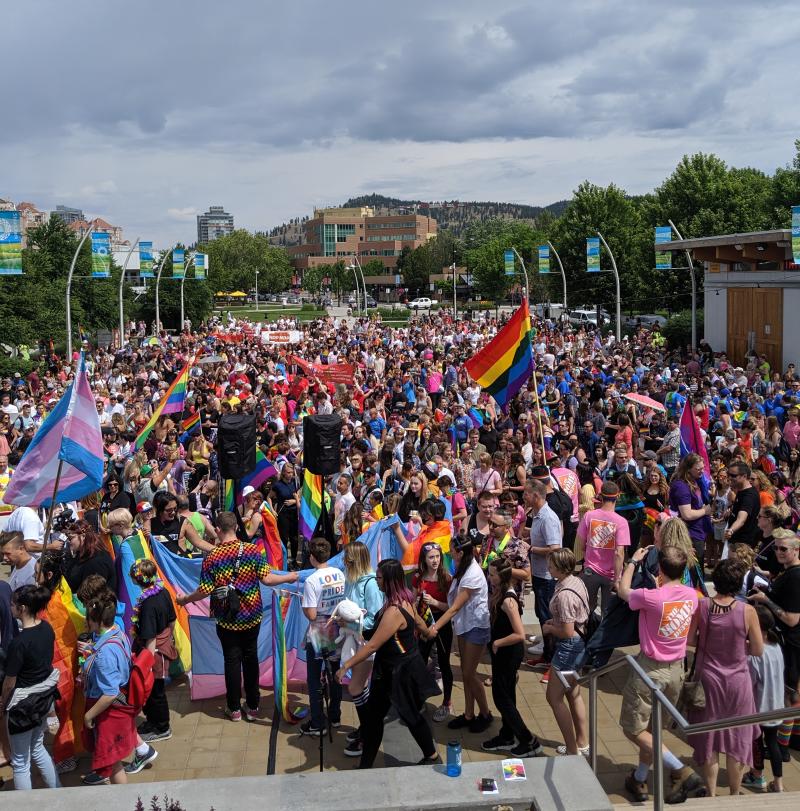 Kelowna Pride 2019 at Stuart Park. Photo Credit: By Jove Co./Kelowna Pride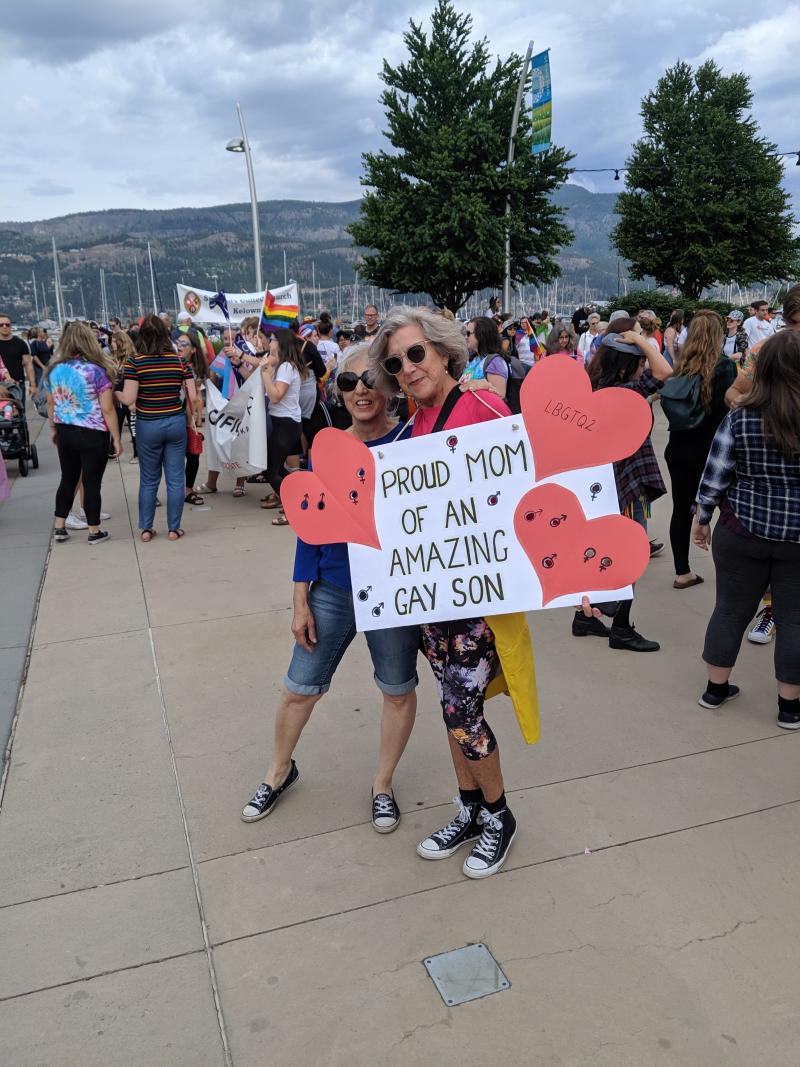 What a great sign! Kelowna Pride 2019 at Stuart Park. Photo Credit: By Jove Co./Kelowna Pride
To their credit, the Kelowna Pride Society managed to keep Pride running during the worst of the pandemic with innovative ideas and pared-back events and festivities. As a result, they managed to keep the momentum bubbling along while keeping people safe. However, Baharuddin believes the community is ready to release "about two years of pent-up energy" and celebrate a full-scale Pride Week next month. 
At the moment, there are several key dates for your calendar:
Kelowna Pride Week: June 6 to 12, 2022
Trans March: June 9 (gather at 5:30 p.m. and begin marching at 6 p.m.) at The Sails/Spirit of Sail (at the west end of Bernard Avenue adjacent to the north entrance to City Park)
Trans Social: June 9 (runs from 6 p.m. to 8 p.m.) at the Kelowna Art Gallery (the Trans March will go from The Sails to The Gallery at 1315 Water Street)
Pride March: June 11 (start gathering at 9:30 a.m. and begin marching at 10:30 a.m.) at Stuart Park (the Pride March will go from Stuart Park — 1430 Water Steet — to City Park — 1600 Abbott Street) 
Pride Festival: June 11 (runs from 11 a.m. to 3 p.m.) at City Park
Organizers are working on additional events, and there are other affiliate events planned through June as well. Keep an eye on Kelowna Pride's Facebook, Instagram, and website for the latest. Also, if you're interested in performing at the Kelowna Pride Festival and March, KPS is currently looking for applicants.
The theme for Kelowna Pride Week 2022 is Together in Pride. Fittingly, as he looks ahead to June, Baharuddin is keen to remind the community that Pride is for everyone:
"I think one of the misconceptions that folks have regarding Pride is that it's only for the queer community, but the reality is that the only way we can move out of the realm of tolerance and towards the realm of acceptance is with the majority of the general population. The queer community is smaller than the majority of the population, and we can't do these things by ourselves. We need the community's help to support queer folks who don't have supportive people around them."
Baharuddin is also hoping Canadian Pride celebrations, including Kelowna's, can shine as an example for others around the world, such as those who are in positions like he was growing up: 
"We need to remind ourselves that we are one country in a world that has so many other perspectives. We still have hate crimes in Canada, so we're not perfect, but we can be role models. Pride is a chance to celebrate the advancements and achievements that we have made while gathering support for the changes that still need to happen. It's also a chance to show those who may still be being discriminated against elsewhere that there's hope. I think it's important we use our privilege to be a beacon of hope."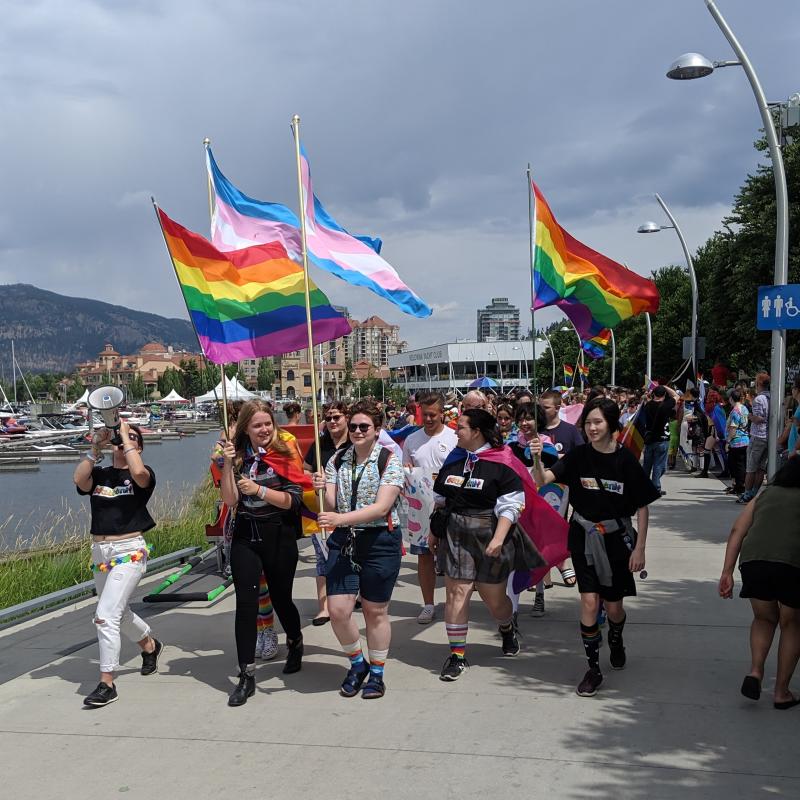 Kelowna Pride March 2019 in downtown Kelowna. Photo Credit: By Jove Co./Kelowna Pride
Kelowna has come a long way since its first Pride March in 1996. Whether you're a member of the 2SLGTBQIA+ community or an ally, a visitor or a local, Baharuddin hopes to see you for the celebration this June, "I really, really encourage people to come, whether they've been here before or not, come…" I'll second that. See you at Pride!