At the top of Tube Town, I ease myself onto the inflated donut, edge to the lip of the sledding track, clutch the safety handles, and let gravity zoom me down the slippery slope. It's terrifying and exhilarating at the same time. My daughter is already heading back up the magic carpet, tube in tow, and I can see why this park is so popular. With four long tubing tracks, families can easily do laps after a day on the slopes at SilverStar Mountain Resort.
Normally I'm so over the snow by March, but this year I want to squeeze every last flake out of winter—and there's no better time to do it than on the cusp of spring, when the snowpack is high, the temperatures hover just above zero, and the lengthening days mean you can pack more in.
Since families are encouraged to avoid non-essential travel and stick close to Kelowna this spring break, why not get outside locally and enjoy some fun in the sun? Here are some ideas to keep you and your kids busy.

Tubing and Ice Skating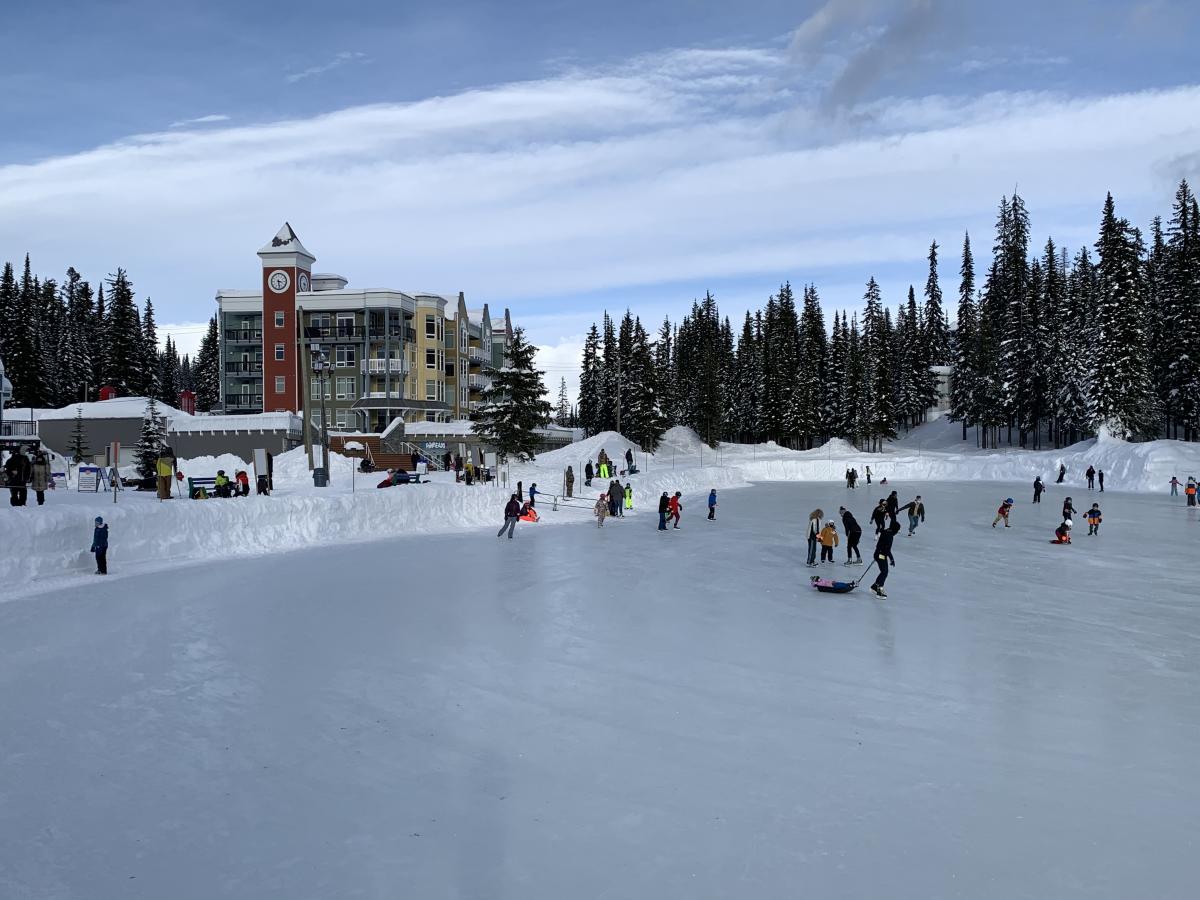 I had no idea there's a little winter village happening at the base of SilverStar. Not only does Tube Town offer extended hours on Fridays, Saturdays and Sundays, but Brewer's Pond is also open for ice skating (weather dependent). This 2.5-acre natural rink takes recreational skaters around an island in the middle of the pond.
The whole zone has a storybook feel not only because of the rosy-cheeked families enjoying the rink's glassy surface, but also thanks to the clock tower building and ski runs rising up behind the pond like a postcard backdrop. Tickets for tubing and skating, plus ice skate rentals, are available at the Tube Town Ticket Office. Be sure to reserve a parking spot if you're planning to ski before tubing or ice skating (no need to reserve a spot if you plan to arrive in the afternoon.).

Downhill Skiing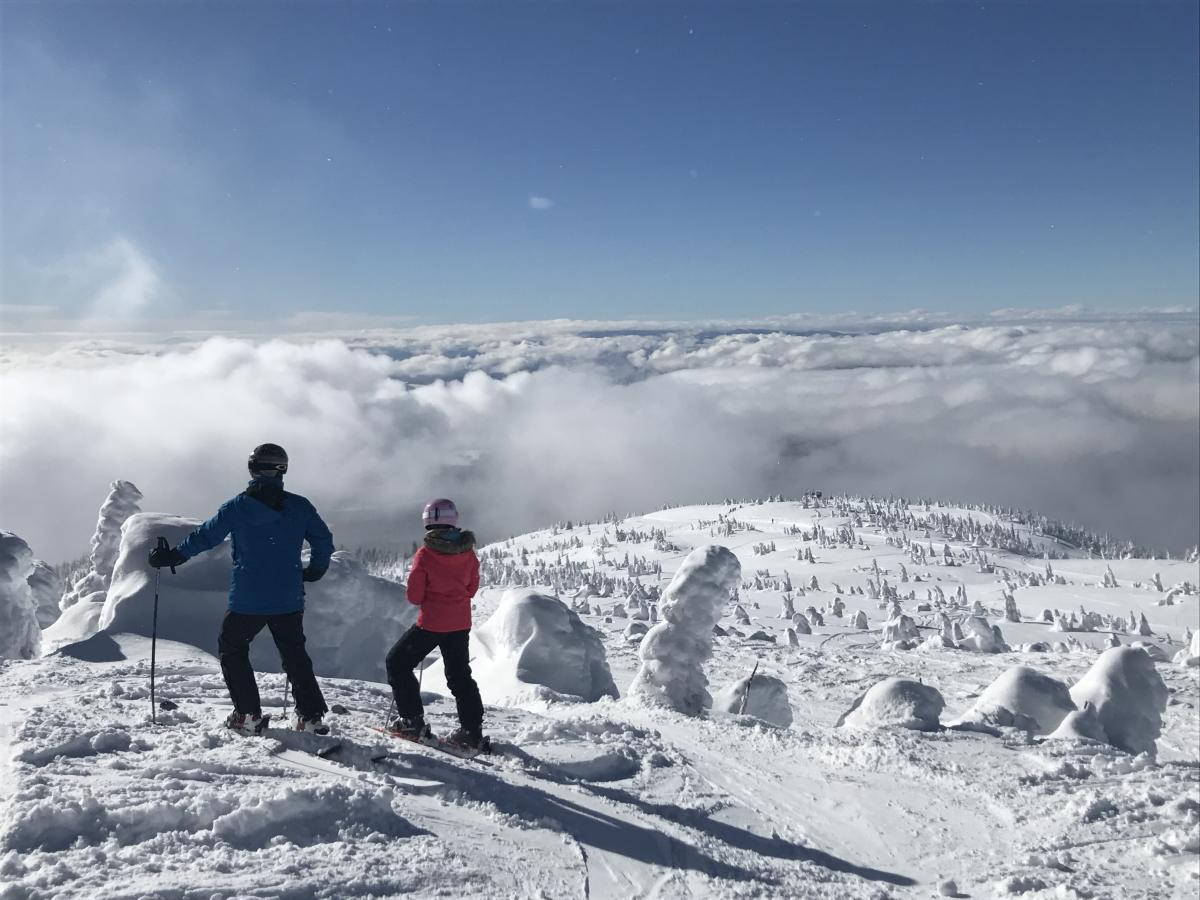 Big White Ski Resort
Now is the time to get out downhill skiing. When we skied at SilverStar we walked right onto the gondola as our son practiced linking turns on beginner run Far Out. It felt like we had the mountain—and all the powder stashes to ourselves. Both resorts are offering various promotions this season, and Big White is enticing beginners with discounts on lift tickets, lessons and rentals.

Cross-country skiing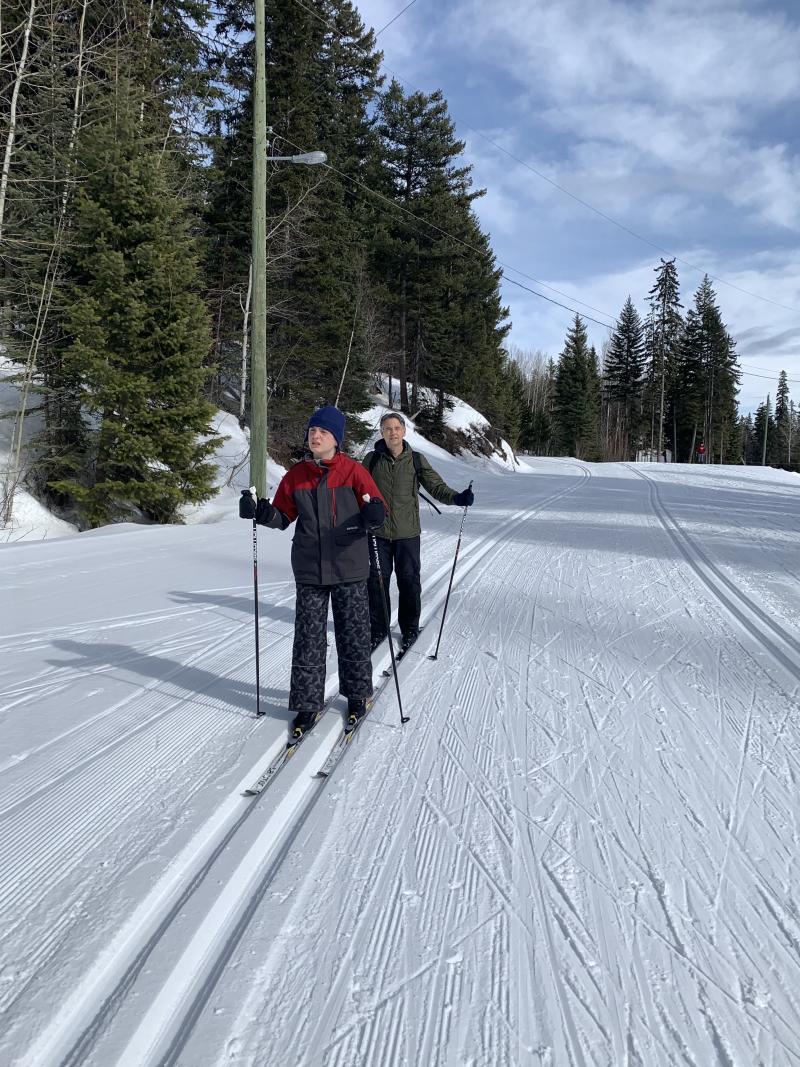 Telemark Nordic Centre
Our adrenalin-junkie children have been slow to embrace the slower, meditative pace (not to mention harder workout) of cross-country skiing, but that doesn't mean we haven't stopped trying. In fact, when we skied at Telemark Nordic Club in late February, our teenage daughter confessed she had a blast. Our son, 13, was game for several beginner loops and he finally got the hang of skiing down small hills on skinny skis without crashing (they were both so much better and more confident their second time on cross-country skis—more than two years after our first Nordic foray—so don't give up!).
Located in West Kelowna, Telemark has over 50 km of trails for all ability levels (one is dog-friendly), bathrooms, and a day lodge. Rentals are available on-site if you don't have your own equipment. It's a good idea to book your tickets and rentals in advance as it streamlines the process.
More cross-country trails are available at Sovereign Lake Nordic Centre, adjacent to SilverStar, and the facility also offers rentals. And just past the Big White turn-off on Hwy. 33 you'll come to the Kelowna Nordic Ski & Snowshoe Club, where 75 km of groomed and track-set trails meander through evergreen forests and over rolling hills (bring your own equipment or rent in Kelowna).

Snowshoeing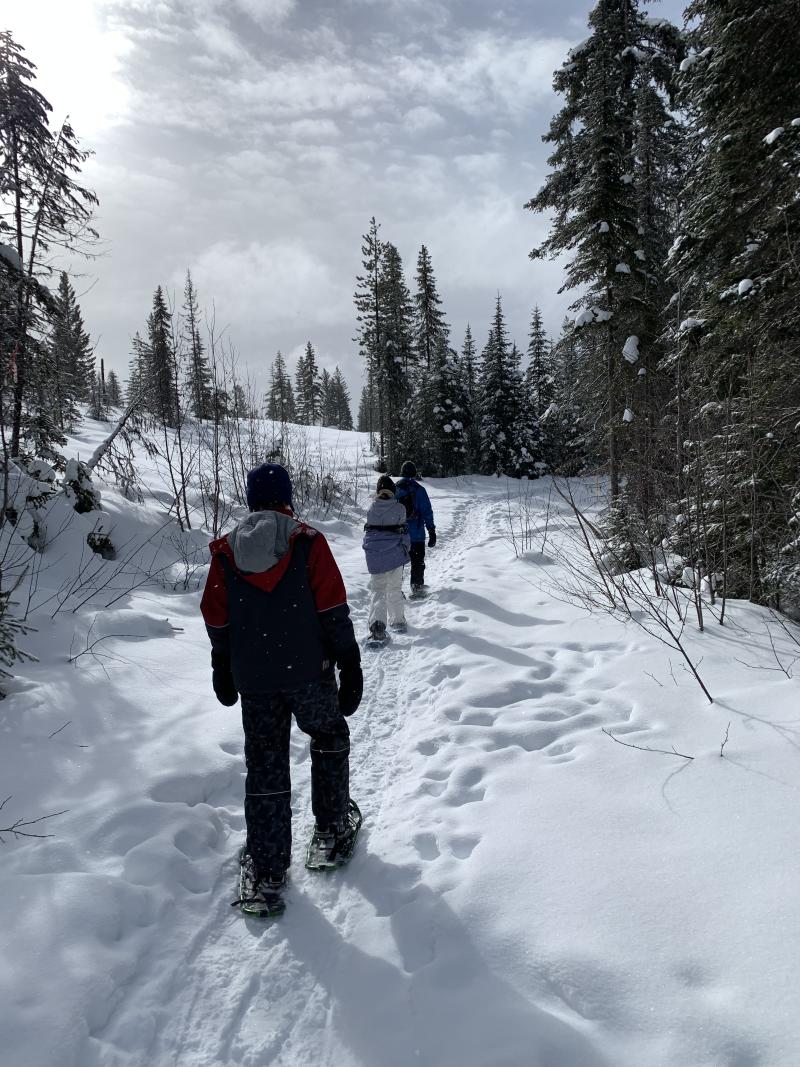 Kelowna Nordic Ski & Snowshoe Club
This is also the season we've embraced snowshoeing, and there are several places just outside of town to try it. Our family has explored a few of the 75 km of snowshoe trails at the Kelowna Nordic Ski & Snowshoe Club. We love it here because there are mountain views from some of the lookouts on the trails off of the Hwy. 33 Summit Car Park (including Big White on a sunny day), plus meadows of virgin snow on trails like Snow Beauty when you park at the main lodge (accessed off of McCulloch Rd).
For an iconic Kelowna snowshoe, head up to the Myra Trestles portion of the Kettle Valley Railway Trail after a fresh snowfall. We love this trail, which crosses 18 train trestles and passes through two tunnels, in every season. There are also snowshoe trails at Big White and SilverStar, as well as Telemark Nordic.

Hiking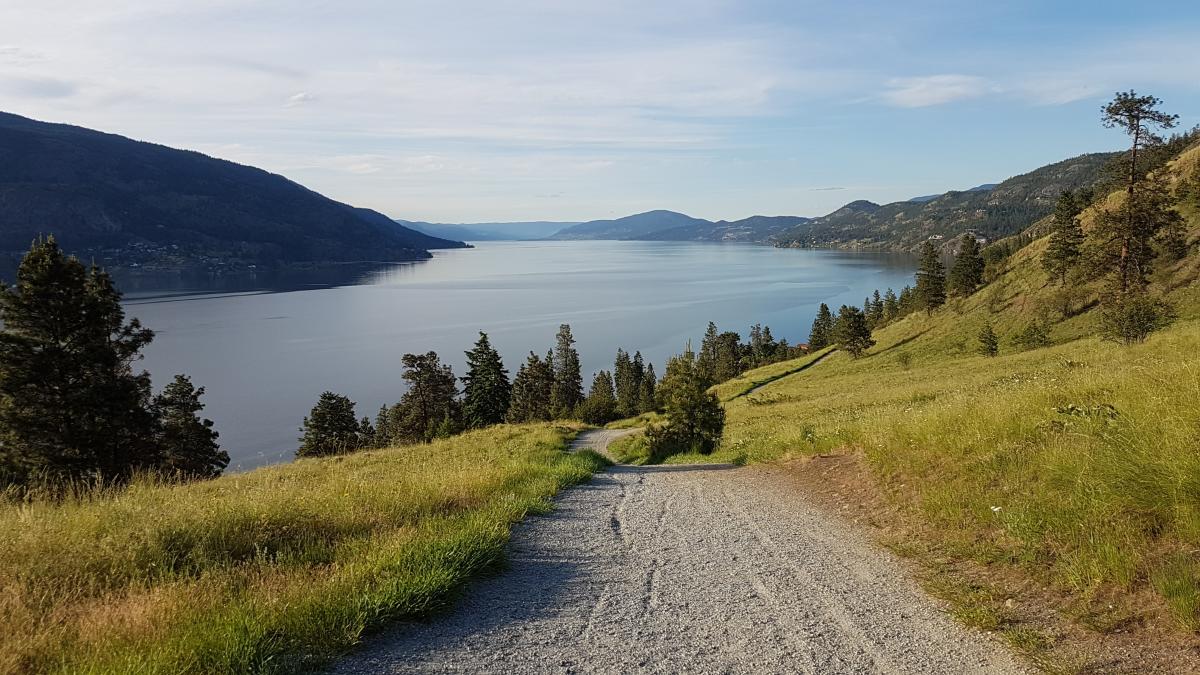 Paul's Tomb Trail. Photo by: Steve Small
So over the snow? Hit the trails on Knox Mountain. This south facing park is mostly snow-free and the paths are usually pretty dry by March. We like Paul's Tomb, a flat trail that parallels Okanagan Lake. Picnic tables and a beach greet you after 45 minutes of walking.
If you want to reach the top of Knox (but don't want to hike all the way there from lake level), park at the Magic Estates entrance on Woodpark Ct. and hike the Magic Estates Trail to the Pioneer Pavillion, then continue on the Apex Trail to the summit—this will shave at least an hour off your hike time. Beyond the fantastic lake and city views, we often see wildlife in Knox including deer and marmots.

Need gear?
Play it Again Sports rents out snowshoes, Nordic ski equipment, and downhill ski and snowboard gear for just the day, or longer. The store also sells new and used equipment.
Rentals are also available at Big White, SilverStar, Sovereign Lake and Telemark Nordic.

Fuel Up
If you're day tripping to a ski resort there are plenty of options for on-mountain lunch and snacks. It's a different story if you're heading off-the-grid (at least temporarily) on a family adventure. We like to pick up to-go picnic supplies in these scenarios. A couple of our favourite stops on the way out of town include Sandrine Pastry for croissant sandwiches and sweet treats, or Ferrara's Italian Market for hearty eats like meatball sandwiches and muffalettas (sandwiches stacked tall with Italian deli meats). Bring extra napkins and always remember to pack out what you pack in.