Businesses in Kelowna have worked hard to implement all necessary precautions to make sure their staff remain healthy and that customers can have fun in a safe environment. This means you can enjoy a getaway to Kelowna with your bubble and we have plenty of ideas of what you can put on your itinerary.

Book a Wine Tour
What's more fun than an afternoon of wine tasting?! It's an afternoon of wine tasting safely with a designated driver! That's right, guided wine tour operators are fully equipped to transport your bubble in a COVID-safe way from winery to winery. Review what wineries are also doing to keep you and their staff safe during tastings, then book your wine tour for up to six guests. 
Find the tour company for you and book now!

Dine Safely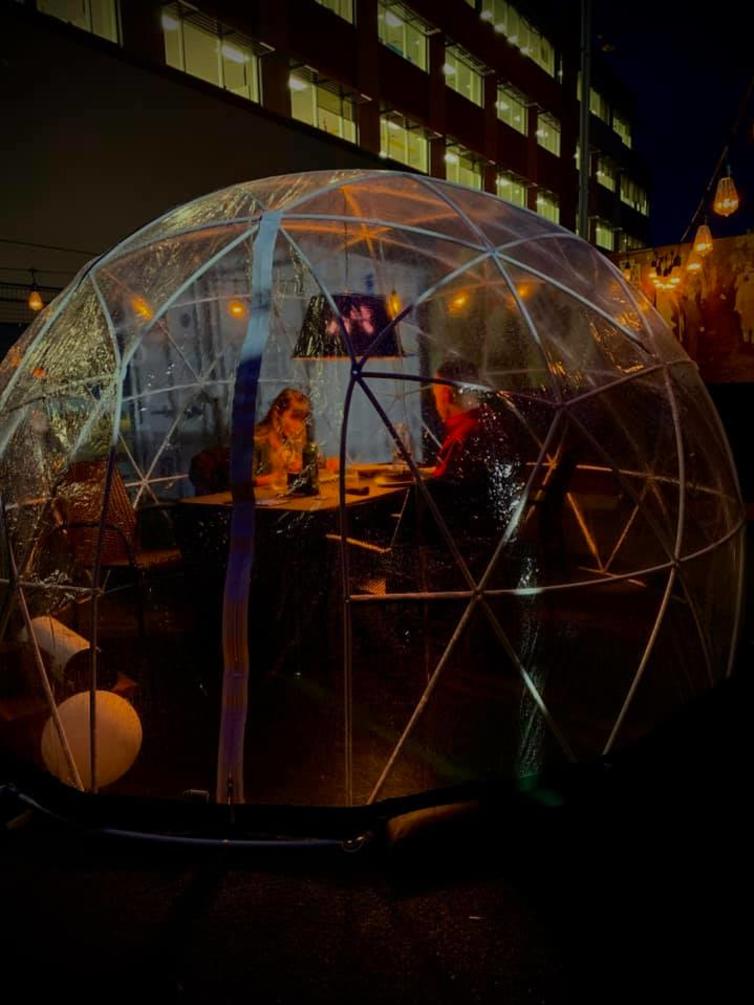 Photo by: The Curious Cafe
Kelowna restaurants have invested in barriers, additional sanitization, and PPE for staff, making it safe for your group of up to six to dine indoors. Plus, many businesses are going above and beyond by expanding their outdoor offerings with covered and heated patios and in some cases, offering an "in bubble" dining experience.
View a full list of restaurants with outdoor heated sections.

Explore the Outdoors
Kelowna is the perfect place for nature lovers. With hundreds of parks and green spaces, plus hiking and biking trails, there's lots of room to roam with your bubble. If you do come across others while out on a trail, remember to keep a safe distance and practice patience by taking turns over bridges or along narrow paths. 
View more outdoor fall activity ideas.

Enjoy Private Shopping
Boutique shops and clothing stores across the city are welcoming groups of up to six into their stores for private shopping opportunities. Call ahead to book your time and enjoy browsing for winter staples or holiday gifts safely with your bubble.
View more shopping options in Kelowna. 

Take it Indoors
As the weather cools, plan to safely participate in indoor activities to burn some energy, learn something new, and most importantly have fun!  Bowling lanes across the city have put in appropriate protocols to keep everyone safe, and it's fun for all ages. Plus our museums, climbing centres, and kids play places are all ready to welcome visitors safely. 
View more info on indoor activities and museums. 

Plan a Safe Stay
Accommodators are keeping everyone safe with many new health measures in place. Plus, you can add an additional layer of protection when staying at a hotel with your bubble by booking a suite or two rooms joined together which will help limit unnecessary contact with other guests or hotel staff. 
View more information on all accommodations or take advantage of current packages and promotions.
When visiting, please follow all protocols set out by businesses, and it is now expected that people wear a mask in public indoor spaces. As Dr. Bonnie Henry says, "Be calm, be kind, be safe."  View more information on how to travel safely.