If you've spent time in Paris, you may have visited Père Lachaise Cemetery, the final resting place of Jim Morrison, Oscar Wilde, Édith Piaf, and many others. But did you know you can take a cemetery tour right here in Kelowna too? Whether you're a local or a visitor, it's a great way to learn about the history of the area. 
Organized by the Kelowna Museums Society and led by local historian and Past President of the Kelowna Branch of the Okanagan Historical Society, Bob Hayes, Tombstone Tours take place at Kelowna Memorial Park Cemetery (1991 Bernard Ave.)
Covering 50 delightful acres at the base of Dilworth Mountain close to downtown Kelowna, the cemetery is home to Kelowna's 'Pioneer Cemetery,' which is even older than the City of Kelowna itself.
The Pioneer Cemetery interred its first resident in 1892, the same year that the Town of Kelowna was established—Kelowna eventually became a city in 1905 (population 600).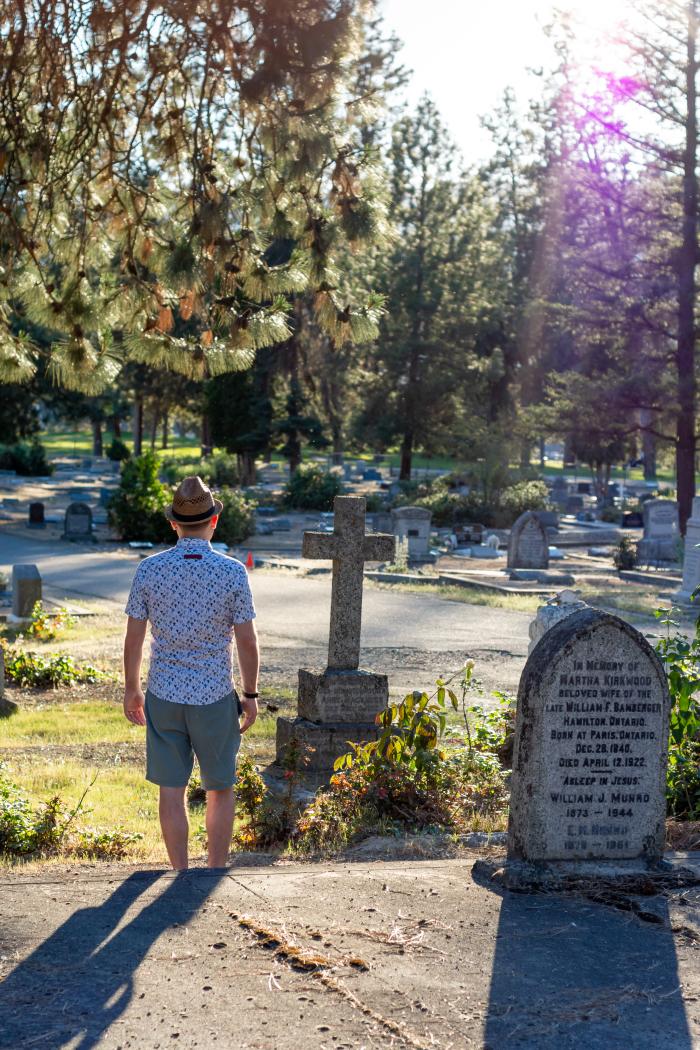 Tombstone Tours from the Kelowna Museums Society offer a fascinating look at some of Kelowna's history. Photo Credit: By Jove Co.
Hayes has been leading the tours for more than ten years and is an excellent storyteller who helps bring some fascinating characters to life as he explains:
"I have long been interested in the history of Kelowna and its people. The Pioneer Cemetery, with its hundreds of marked and unmarked burials of the 'well-known' and 'lesser-known' people, is a natural place to visit to learn more about our history. The townsite of Kelowna was founded by Bernard Lequime (who is buried in the Pioneer Cemetery with his wife Margaret Dowling Lequime) in 1892, and the first grave marker – that of Julius Jackson Rice, part of the great American invasion of 1893 – dates from 1893, one year after Kelowna was founded. The Pioneer Cemetery has thus been a part of the town/city of Kelowna since its founding in 1892. It is the final resting place of so many people who have contributed, quietly or in a very public manner, to our city's 130-year history."
This summer, there are five different tours to choose from, each one covering a different angle of Kelowna's history:
All tours take place from 6 p.m. to 7:30 p.m. and are $10 per person.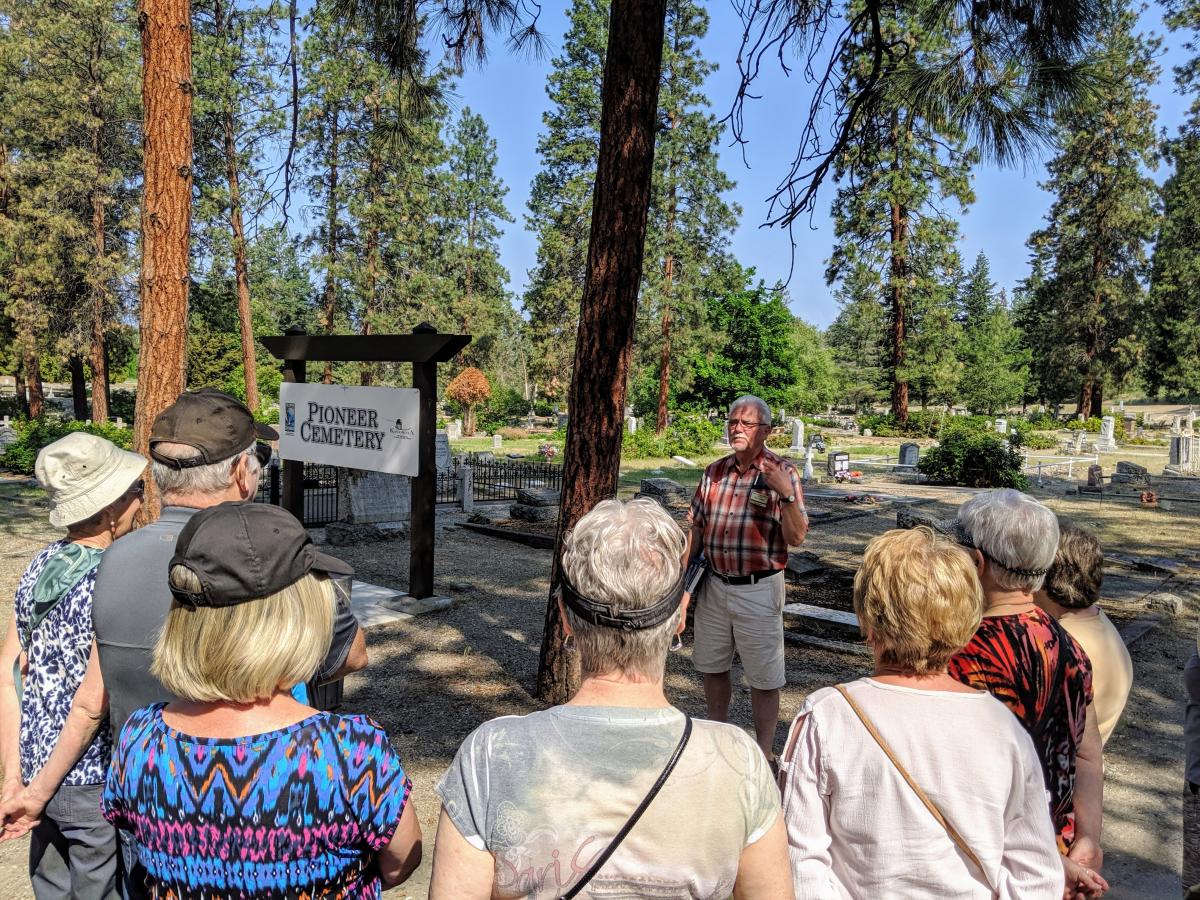 Local historian, Bob Hayes, leads the Tombstone Tours in Kelowna. Photo Credit: By Jove Co.
If you're a little nervous about visiting the cemetery, don't be. The setting is genuinely beautiful, and the tours are done respectfully and tastefully, as Jen Garner, Head of Programming at the Kelowna Museums Society, details:
"The tours happen in daylight," laughs Garner. "And it really is this beautiful setting filled with nature. There are heritage trees on the property. We're at the base of Dilworth mountain, so we're up high, and you're getting this beautiful view of Kelowna. The stories themselves are not presented in any kind of dark way. The stories are presented as, 'Hey, let me tell you about this person and the incredible life that they had.' So we're talking about the lives of the people, not the deaths of the people."
Tombstone Tours take place in a delightful park-like setting. Photo Credit: By Jove Co.
In addition to the interesting stories, the tours occasionally see wildlife visitors with a bear, a badger and an eagle all spotted on previous tours.
"We were right in the middle of the tour, and a bear appeared," reveals Garner. "It was a small bear, and it was enough rows down that nobody panicked. We just kind of paused and went, 'Oh, look, there's a bear.' We watched it just sort of wander down a row and then wander over the green space before it disappeared. We all stopped and just enjoyed it for a bit. And then we continued on the tour. That was kind of cool!"
Kelowna Memorial Park Cemetery is the final resting place of around 20,000 individuals, each one with a story to tell, and Hayes is passionate about his role in sharing stories from Kelowna's early years:
"Death is the great equalizer in our lives. In death, everyone buried in Kelowna's Pioneer Cemetery is of the same status, with ethnicity, economic rank or social position no longer of any importance. What we are left with is hundreds of people buried there, each with their own story to tell. My task is to try to tell these stories, shedding some light on these people's lives and perhaps breathing some life into their bones."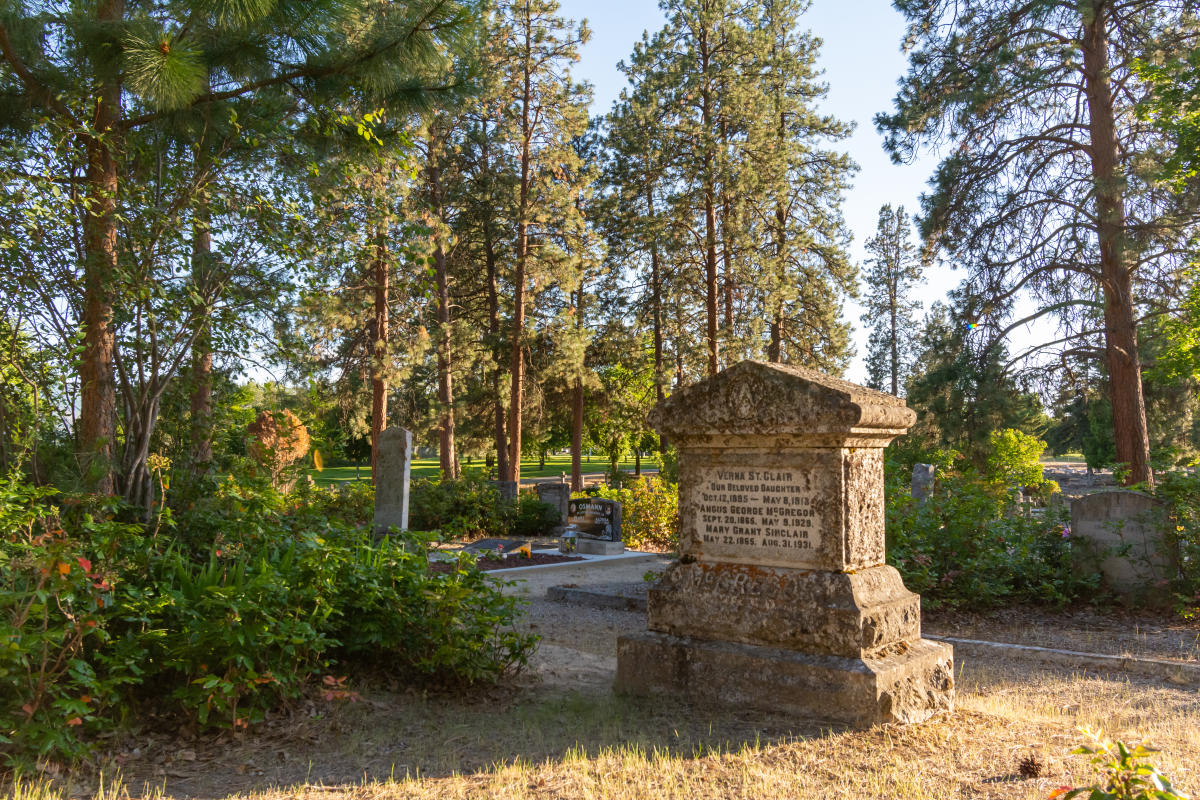 Kelowna's 'Pioneer Cemetery' is rich with history and stories. Photo Credit: By Jove Co.
The tours also help you understand Kelowna's connection to the wider world as they detail the community's link to global events such as World Wars, the Spanish Flu epidemic and the March 27, 1977, air disaster in Tenerife (still the deadliest accident in aviation history with 583 fatalities).
"If you love learning about history but hate reading history books, come to a Tombstone Tour," laughs Garner, and she's not wrong. I also often come away from the tours with a spring in my step, inspired by the tales of those who went before. They are a great way to spend a part of your evening. So check out a Tombstone Tour (or two) this summer! Maybe I'll see you there.