We all know the saying, "all work and no play, makes Jack a dull boy." Enjoy the best of both worlds with a working staycation that refreshes the mind, body, and soul! Our family did just that this past weekend and, even though we were just 20-minutes from home, we truly felt like we were a world away.
After checking in to the newly opened Hyatt Place Kelowna (located at the corner of Spall Road & Enterprise Way), my family dropped their bags and went straight down to the pool for their 4 o'clock swim while I settled in to finish a few work projects.
With all of the changes we've all had to endure over the past year, a quiet hotel room felt like a little oasis and was the exact change of scenery I needed to get my creative juices flowing. Our room was bright and beautifully designed with 2 queen beds, a cozy corner sofa-sleeper, and a work desk. Truth be told, I opted to work from the comfort of the bed that afternoon before switching to vacation mode and joining the family for the last few minutes of our allotted swimming time.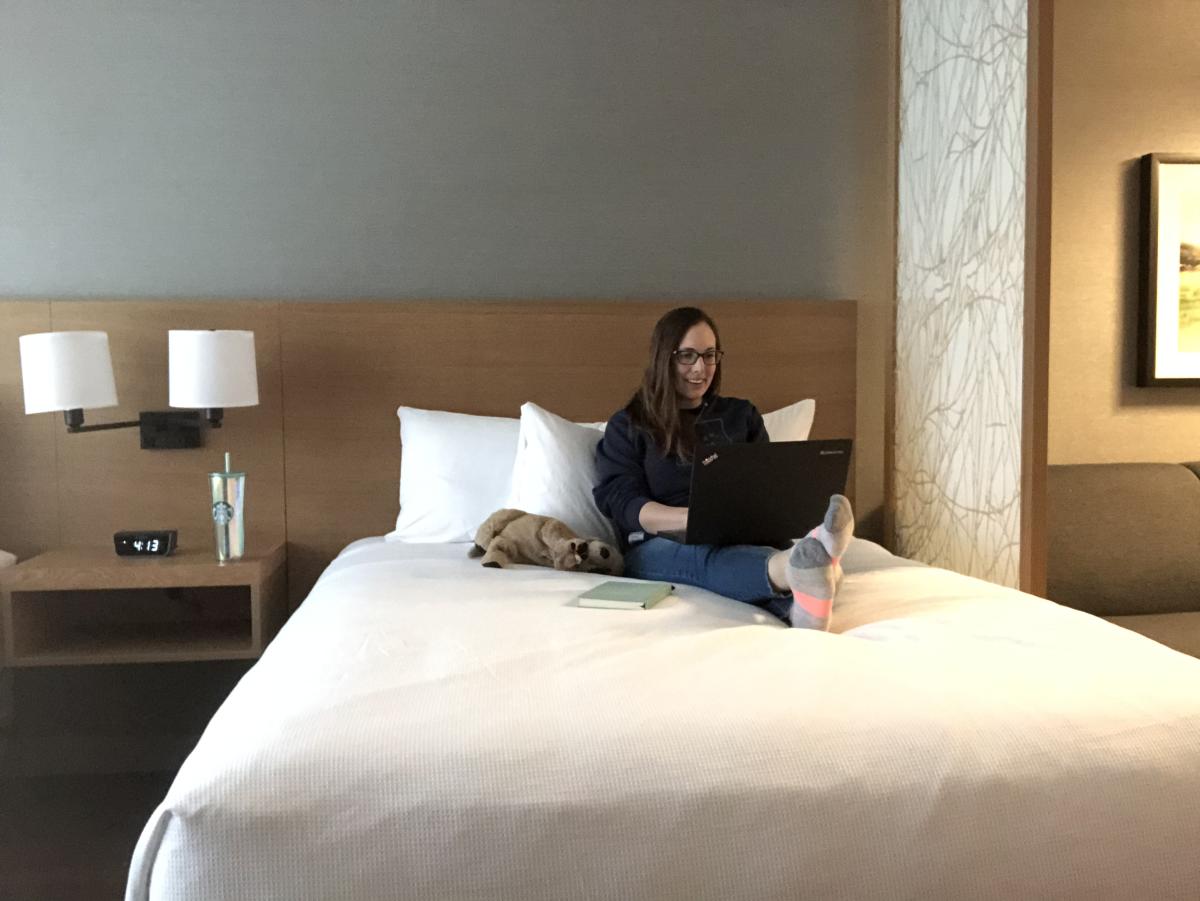 Private pool bookings (reserved in 1-hour increments) are just one of the many great safety and hygiene protocols in place at the Hyatt Place Kelowna. Public swimming has been one of the activities our family has missed the most over the past year and we definitely made the most of our time with family swimming races, epic Dad launches and cannonballs – capped off with a little hot tub relaxation.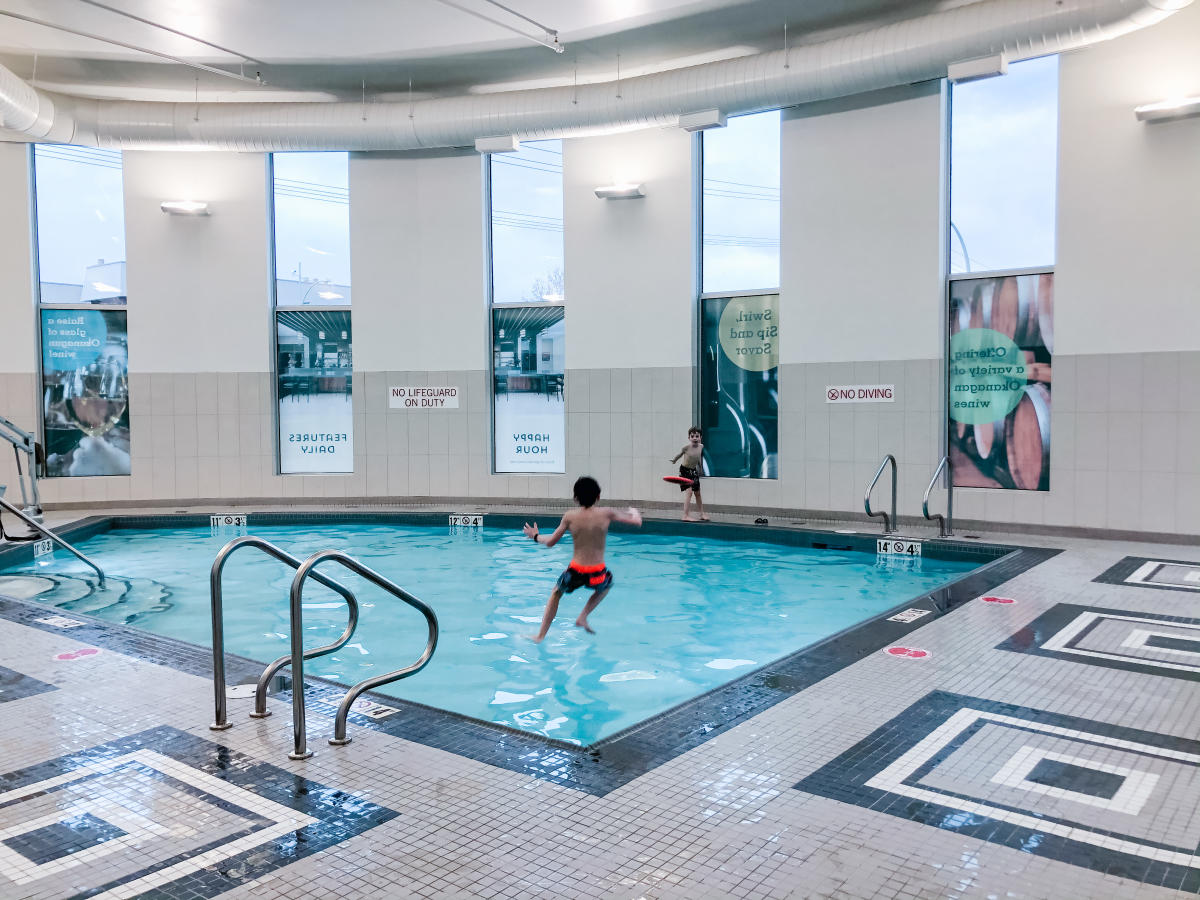 Once our hour was up, we dried off and got ready for an evening on the town with our best masks in tow. The hotel is conveniently located close to downtown (5-minute drive or 40-minute walk via the Okanagan Rail Trail) and the growing Landmark District (10-minute walk). We opted to leave the car at the hotel and check out all that the Landmark District had to offer. We started our evening with a celebratory cheers at one of Kelowna's newest craft breweries, Copper Brewing. With more than 20 beers on tap, they have something for everyone. In the spirit of trying new things, I opted for the tasting flight so that I could safely sample several brews including the Triple IPA, Strawberry Rhubarb Nitro Sour (my favourite of the flight), peanut Butter & Chocolate Nitro Stout, and their new special International Women's Day Release, the Butterfly Pea Blossom Pale Ale ($1 for every sleeve or 4-pack sold goes towards the Hope Outreach Okanagan Charity).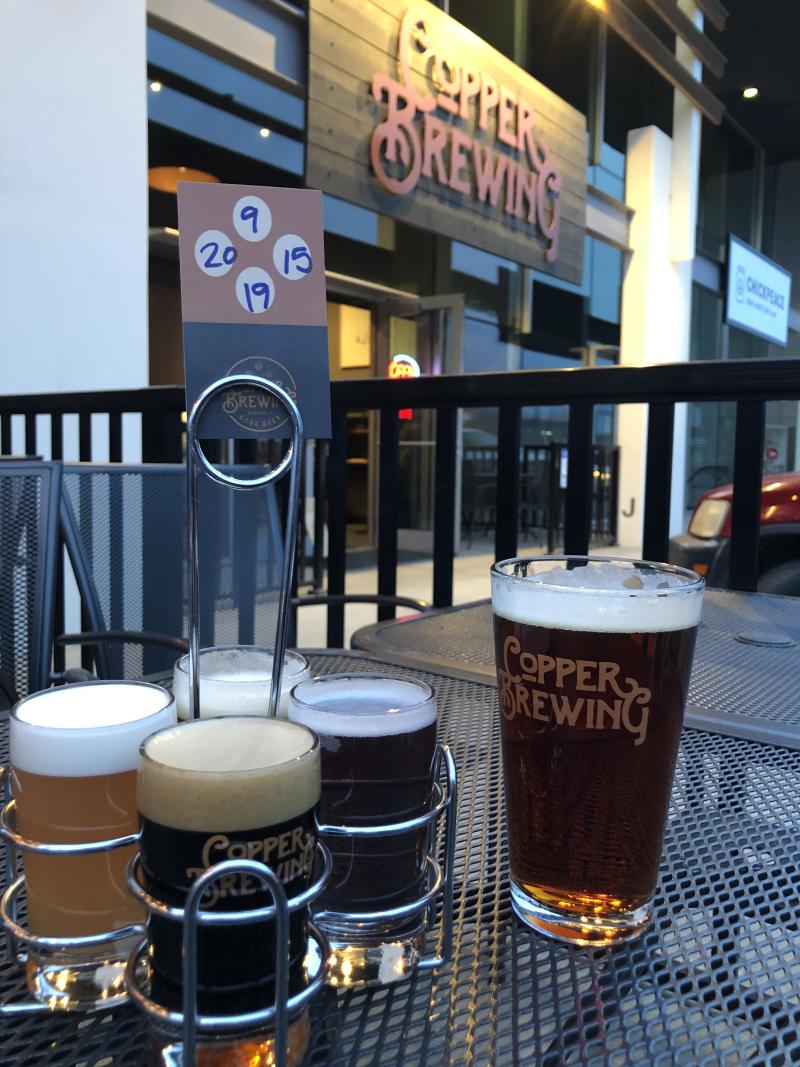 Following the flight, what my meat-loving family did not know in advance is that we were dining at one of Kelowna's most well-known plant-based restaurants, Frankie We Salute You! The goal for owners Chef Brian Skinner and Christina Skinner is to make plant-based eating tasty and inspiring for meat-eaters and vegetable aficionados alike, and I'm happy to report that the whole family voraciously devoured each dish. From the truffle parmesan popcorn (pro tip, order a bowl for each side of the table) and chickpea fries, to the Shitake Bolognese, and Moroccan Cauliflower special, the food was spectacular. Not to mention the incredible cocktails, sugar-free craft sodas for the kids and the perfectly curated (and very well-priced) local wine list. We will definitely be returning for brunch or happy hour one day soon.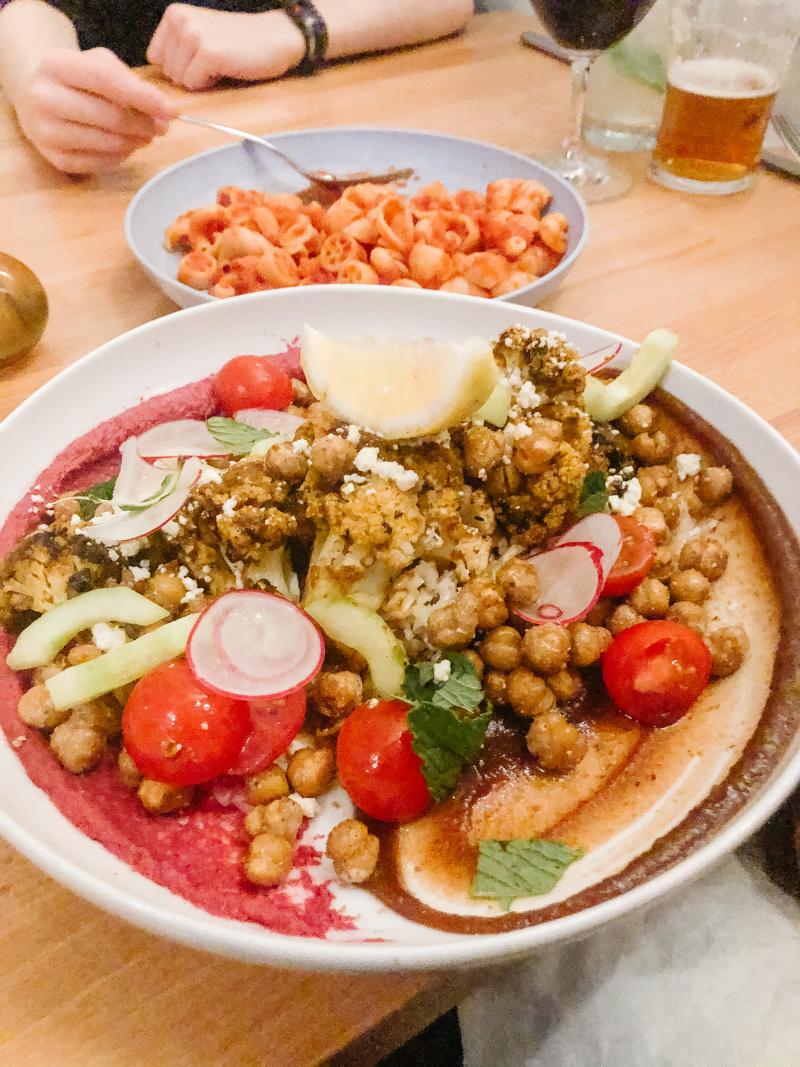 Moroccan Cauliflower Special  
The following morning, we were up and at 'em pretty early so we could make the most of our day. Thankfully the hotel's onsite restaurant, The Placery, serves continental breakfast from 7 am to 10 am on weekends (6:30 am to 9 am weekdays), offering a wide array of individually wrapped, pre-packaged items to choose from including yogurt parfaits, cereal, fresh fruit, and croissants. We were also pleasantly surprised that they also offered sausage and egg breakfast sandwiches, which made for some very happy kids.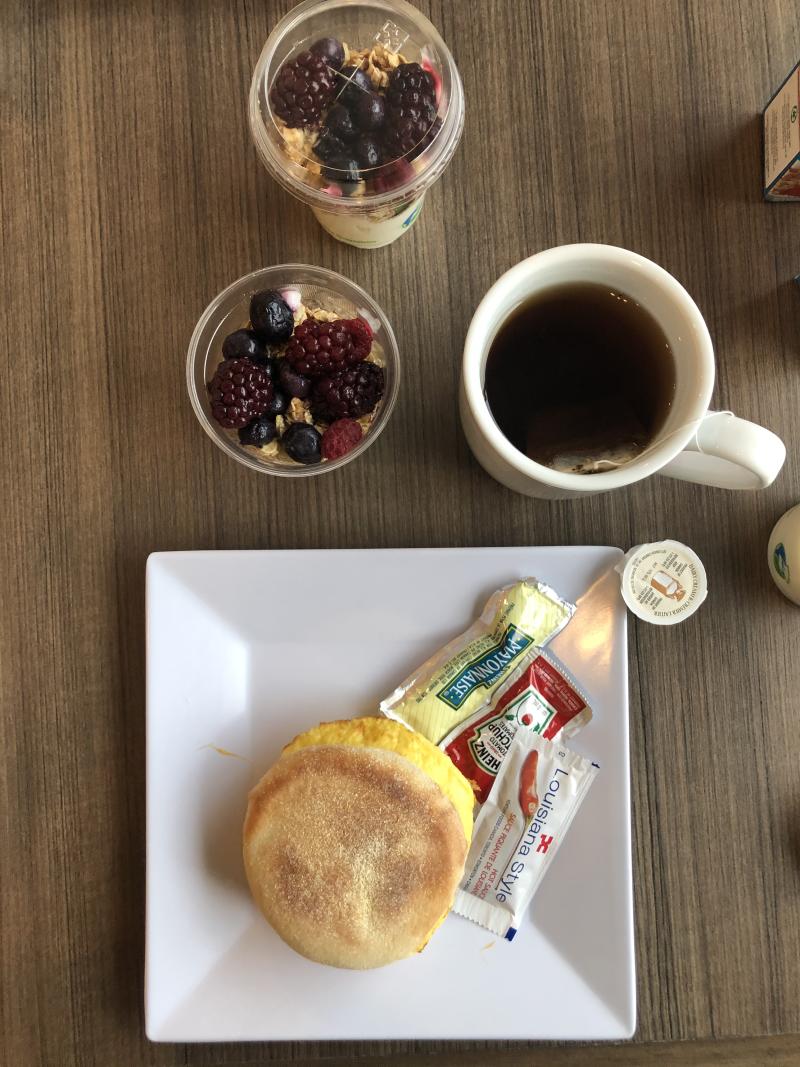 After breakfast, it was back to the pool for one final hour before walking across the street to the Parkinson Recreation Centre to take in the Kelowna Farmers' and Crafters' Market. The indoor/outdoor market takes place every Saturday from 8 am to 1 pm until March 27th, at which time it will move back to the primary summer location at the corner of Dilworth and Springfield (across from Orchard Park Mall). On this beautiful spring day, there were more than 20 vendors safely spaced out with everything from organic veggies, Italian sausages, honey, haskap berries, curries, samosas, bread, meat pies, bubble tea, and more. What better way to support your local producers when they need it most!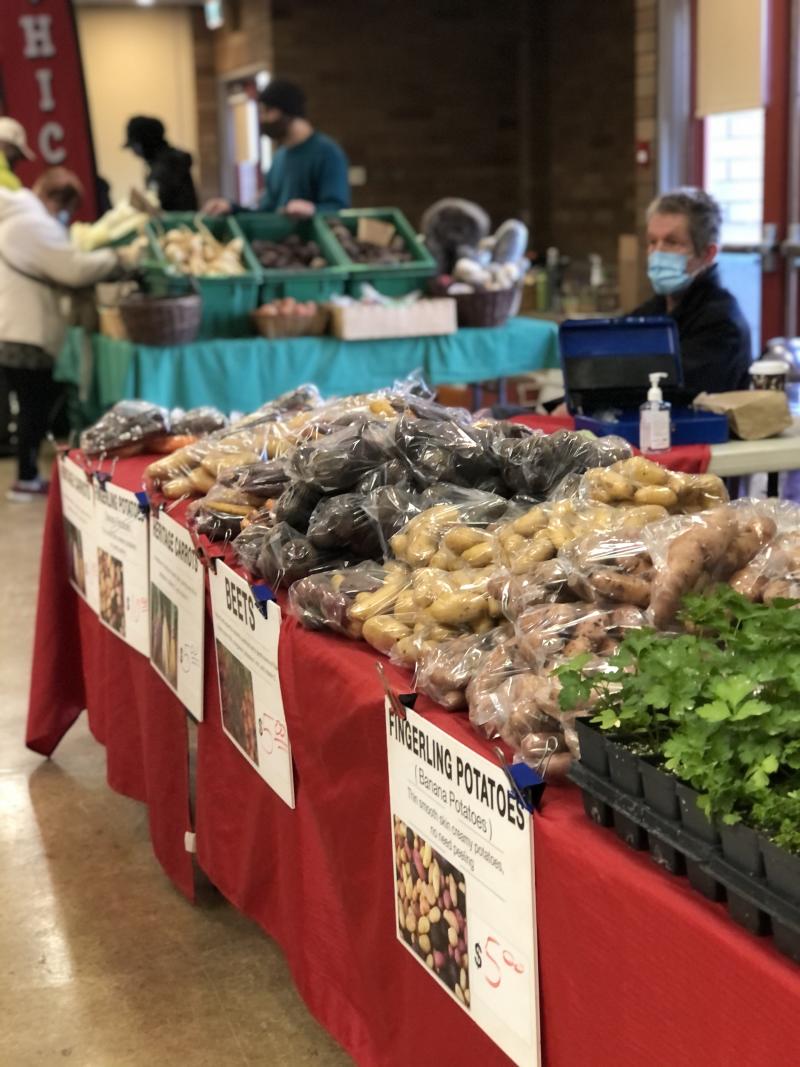 With check-out time looming, we had time for one final walk across the overpass to the Landmark District to fuel up at Bean Scene Coffee Works. This location is known as Bean Scene HQ and it's where all of the magic starts for their four Kelowna locations. More than just a great café, Bean Scene serves up delicious breakfast and lunch to-go options, as well as the biggest and best cookies you may ever have.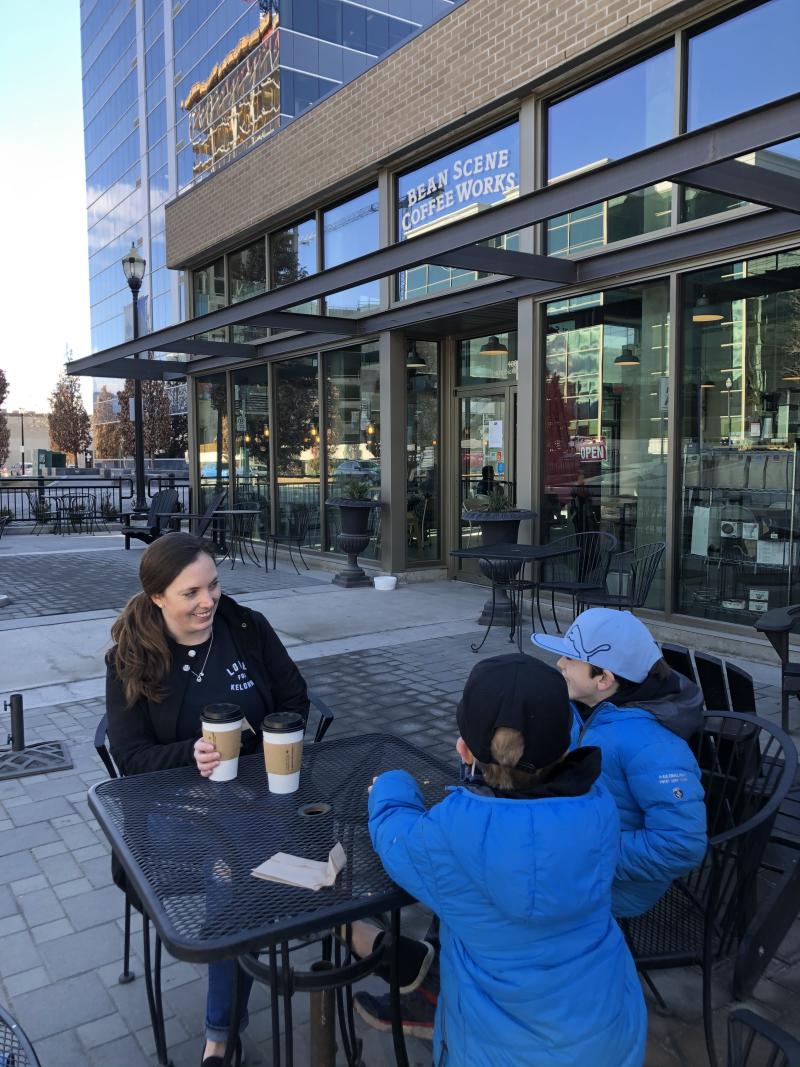 And just like that, our work/playcation had come to an end, but our local Kelowna adventures certainly have not. With more than 80 local restaurants, attractions, and hotels offering deals via #exploreKelowna Local Savings Pass, it's easier and more affordable than ever to support local businesses and create your perfect working staycation!