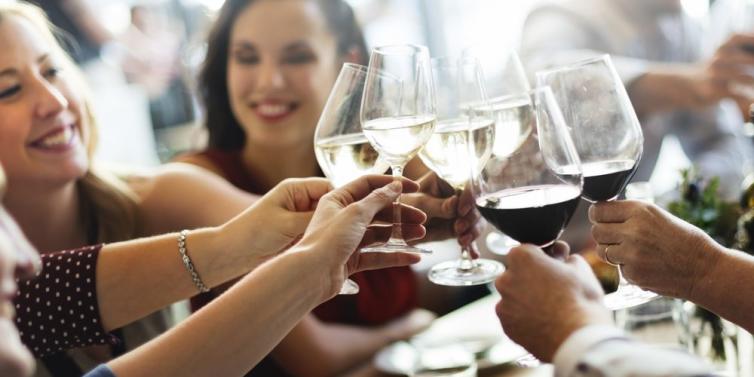 No one wants summer to end… the sunshine, beaches, sangria, patios, and delicious food enjoyed outside with friends. Luckily, there's a place where you can still enjoy gorgeous summer weather (and everything that comes with it) even during the fall.
Gather the girls and escape the city to Kelowna, where you'll find unique brunch spots, downtown boutiques, and an abundance of outdoor activities.
Kelowna is a short drive from Calgary and an even shorter flight, so don't say goodbye to summer just yet. Instead, experience those warm weather vibes in the later months of the year by following our itinerary for a perfect girls' weekend getaway. Let's go.
Friday
3 p.m.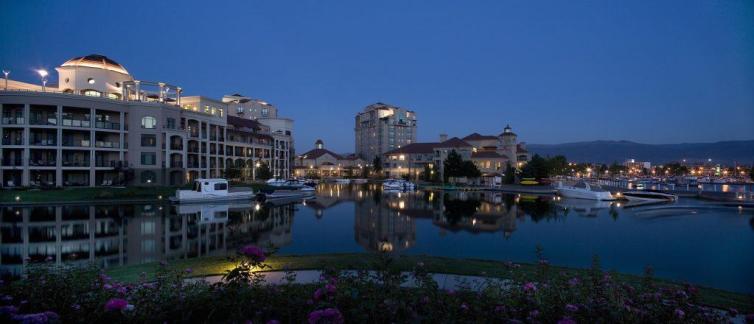 Photo Courtesy of Delta Grand Okanagan Resort and Tourism Kelowna
Located on the shores of the majestic Okanagan Lake, the Delta Grand Okanagan Resort should be the foundation of your Kelowna vacation. Once you've checked in, head to the newly opened Oak + Cru Social Kitchen and Wine Bar located alongside the lagoon for a glass of the region's famous reds or whites. Your holiday has officially begun.
7 p.m.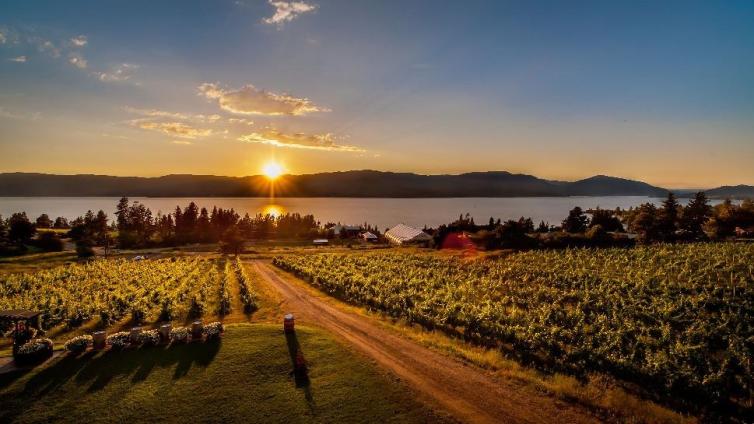 Photo Courtesy of Tourism Kelowna
After you're settled, take a short, scenic trip over to the Sunset Organic Bistro at Summerhill Pyramid Winery for a meal made from top-notch local ingredients. Some of the herbs and veggies are even grown on site! Try an organic gourmet beet and wild watercress salad or a plate of locally sourced pan roasted char. As an added bonus, your server will suggest wines that pair nicely with the items on the menu.
10 p.m.
Your first night in town means it's time to hit the dance floor. Head to Kelowna's Sapphire Nite Club where you'll experience impressive sound and lighting effects, posh VIP booths, and the latest creations by its expert mixologists. Pro tip: book bottle service a couple of days in advance. Work up a sweat dancing to the latest in top 40, R&B, hip hop, and house music. Alternatively, wing it and check out one of many of other bars, pubs, and nightclubs in Kelowna's busy downtown core.
Saturday
10 a.m.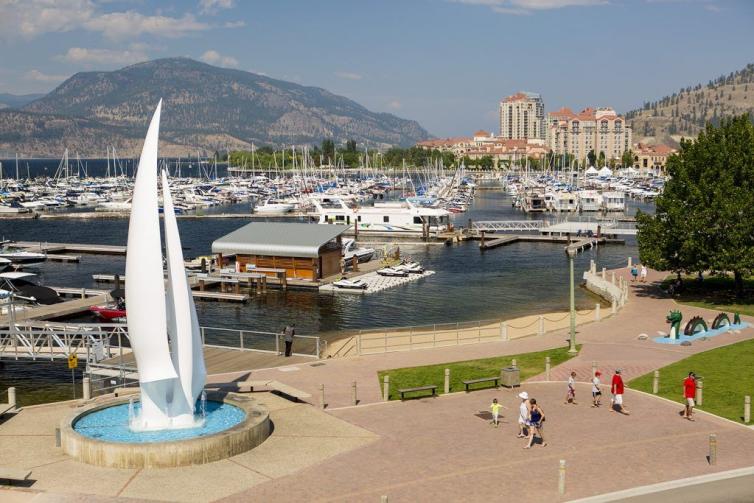 Photo Courtesy of Tourism Kelowna
After a night on the town, treat yourself to breakfast fare you can't find in Calgary. The Curious Café serves savoury fare like avocado on toast, bennies with hash, or their signature breakfast sandwich. Walk off your morning meal by strolling around downtown in the sun along the 2.2km lakefront boardwalk. Enjoy the gorgeous views of Okanagan Lake, the surrounding mountains, and even a nearby bird sanctuary while listening to music by talented buskers who dot the sidewalks and parks.
12 p.m.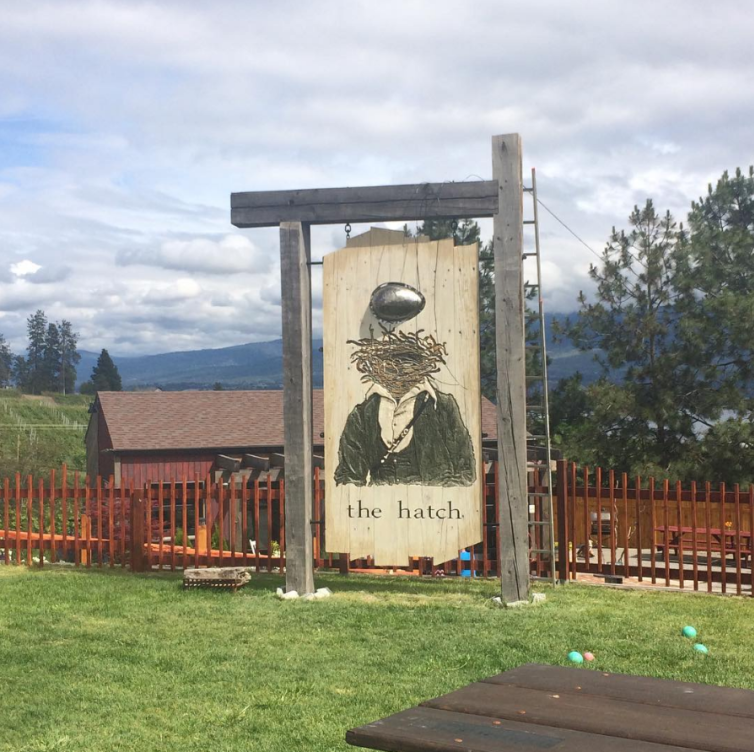 juliegathercole/Instagram
You're in wine country, so you have to visit the nearby wine trails and wineries during your weekend getaway. For those who've toured Kelowna and area before, check out The Hatch, Indigenous World, Off the Grid, and Kitsch wineries, a handful of newly open, up-and-comers in the Okanagan wine scene. Depending on when you plan your trip, there are plenty of events happening as part of the Fall Wine Festival. We recommend stopping by the weekend of September 30 – October 1, when you can check out the WestJet Wine Tastings where you can enjoy live music and sample wines from a selection of more than 60 B.C. wineries.
This unusual activity is guaranteed to be one of the highlights of the trip. Distinctly Kelowna Tours pairs a ziplining adventure with wine and a picnic lunch, resulting in an afternoon that will have you screaming your lungs out with the ladies. Zoom across six cross-canyon lines at ZipZone Adventure Park and enjoy your lunch in the hills afterwards.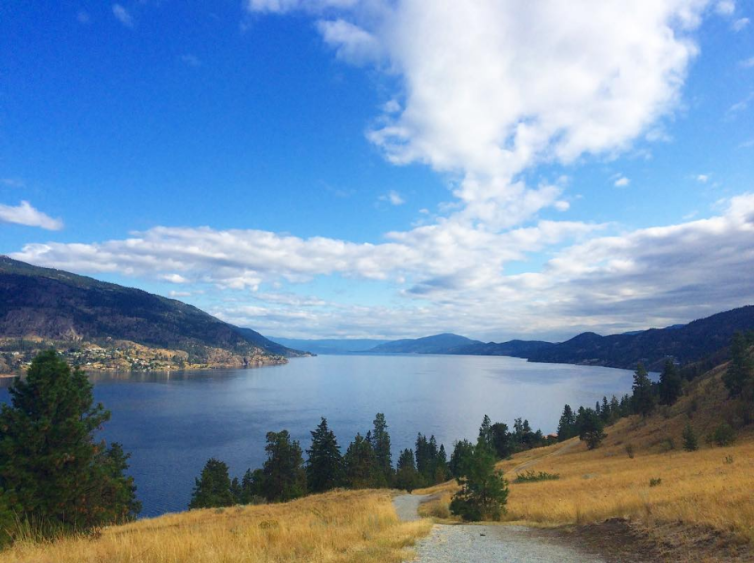 chaninecarr/Instagram
Another option is to go for a hike because any day is a good day to be on top of a mountain. Put on your hiking shoes and venture along one of Knox Mountain's popular trails. Knox Mountain is only five minutes from downtown Kelowna and trust us—the panoramic views at the top are worth the effort. Don't forget your swimsuit, because you'll need it for a quick dip in the lake at the end of Paul's Tomb Trail, one of the locals' preferred hikes.
6 p.m.
Tap into your creative side at the Wine + Art Piano Bar, where local artists display their work in an on-site gallery. Take your pick from one of the largest selections of local wine-by-the-glass in Kelowna and order a sharing plate for you and your friends. The Bar hosts live music performances every Friday and Saturday night, so you can enjoy the best local creative talents under the same roof.
9:30 p.m.
Finish off the night at BNA Brewing where you can order shareable dishes like Salt Spring Island mussels, Portobello fries, or smoked brisket wontons. There's quite an eclectic selection of beers on tap, so be sure to try something you haven't had before. We recommend a pint of Don't Lose Your Dinosaur or Earl Pale Ale, made with Earl Gray tea from local teahouse Chaibaba.
Sunday
10:30 a.m.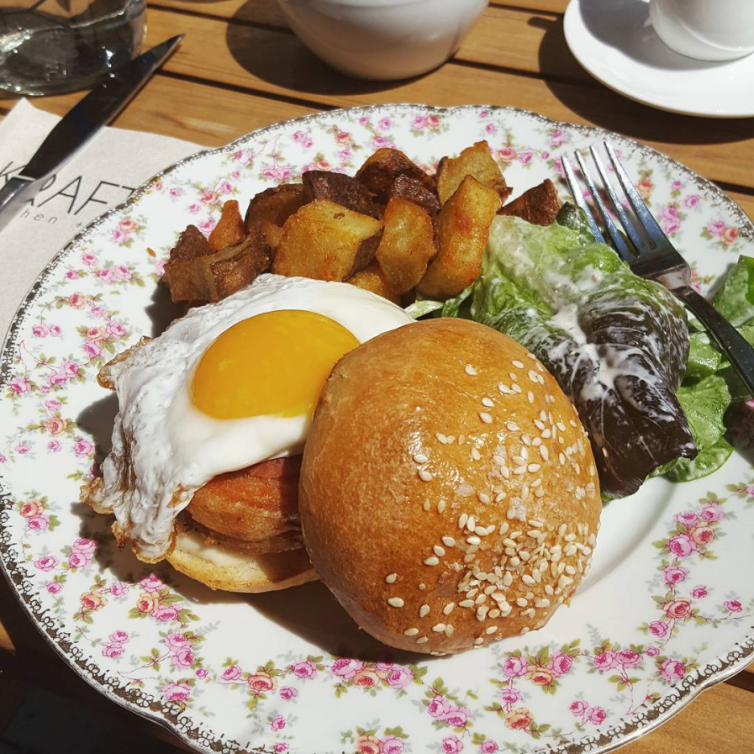 ceciliebalfour/instagram
Start your Sunday off right with an amazing farm-to-table breakfast at Krafty Kitchen + Bar. The popular spot (which cheekily claims to be "Kelowna's SECOND best restaurant") hosts a Hip-Hop Brunch every Sunday from 10:30 a.m. to 2:30 p.m. Try the Dizzy Rascal Sandwich (fried pork belly, kimchi, and a fried egg) or the Le Crime French Toast for a unique and authentic experience.
1 p.m.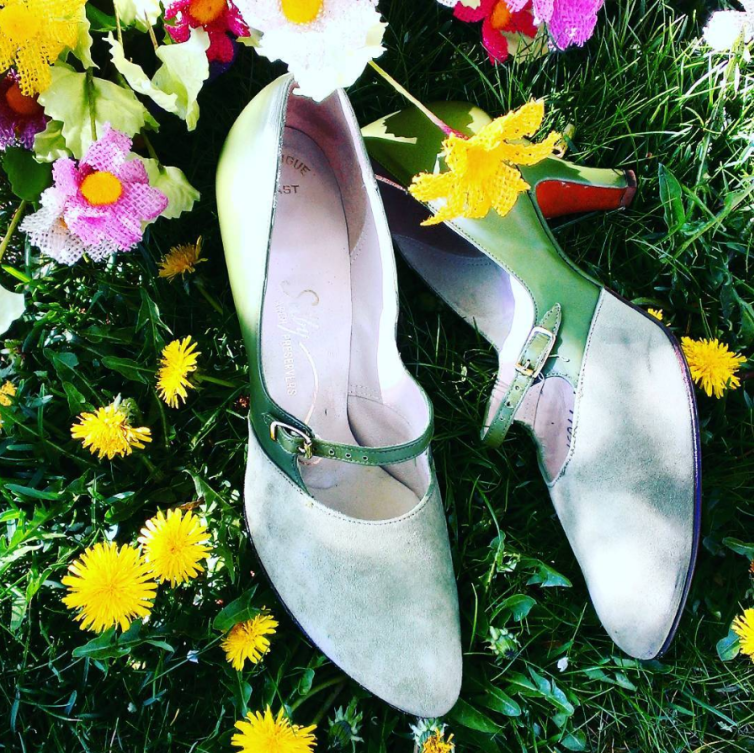 georgiegirlvintage/Instagram
What's a girls' weekend without a bit of shopping? Before you jump on the plane or hop back into the car, make sure to check out some of Kelowna's unique boutique stores. Many of them carry designs and brands you can't find anywhere else.
Hit up Georgie Girl for some secondhand high fashion vintage finds, or try the Wardrobe Boutique for an eclectic fusion of fashion-forward Canadian-designed clothing and classic vintage reproduction. Find a couple of perfect additions to your spring wardrobe at Ginger Lily and Funktional, two boutiques bursting with bohemian clothing, accessories, gifts, and home decor.
If you're looking for a date night option to take home, find a party dress and matching accessories at Hollywood Shoes, Blonde Clothing Store, or one of the many stores in the Orchard Park Shopping Centre.
If your bags are already full, check out Okanagan Lifestyle Apparel's online store for some wearable reminders of how much fun you had on this trip.
Full of inspiration? The next step is to start planning your girls' weekend getaway to Kelowna. Wine, adventure, and good times await you.
---
Article originally published September 14, 2016 on the Daily Hive.