Although many companies transitioned their incentive program offerings while travel was on hold through the pandemic, nothing can compare to the authentic experiences, connections, and memories made during an incentive trip.  Thanks to its breathtaking landscapes, ease of access, mild climate, and four-season playground, Kelowna will allow you to motivate and inspire your team, build loyalty, and reward your top performers in a memorable and meaningful way. 

Discover Indigenous Culture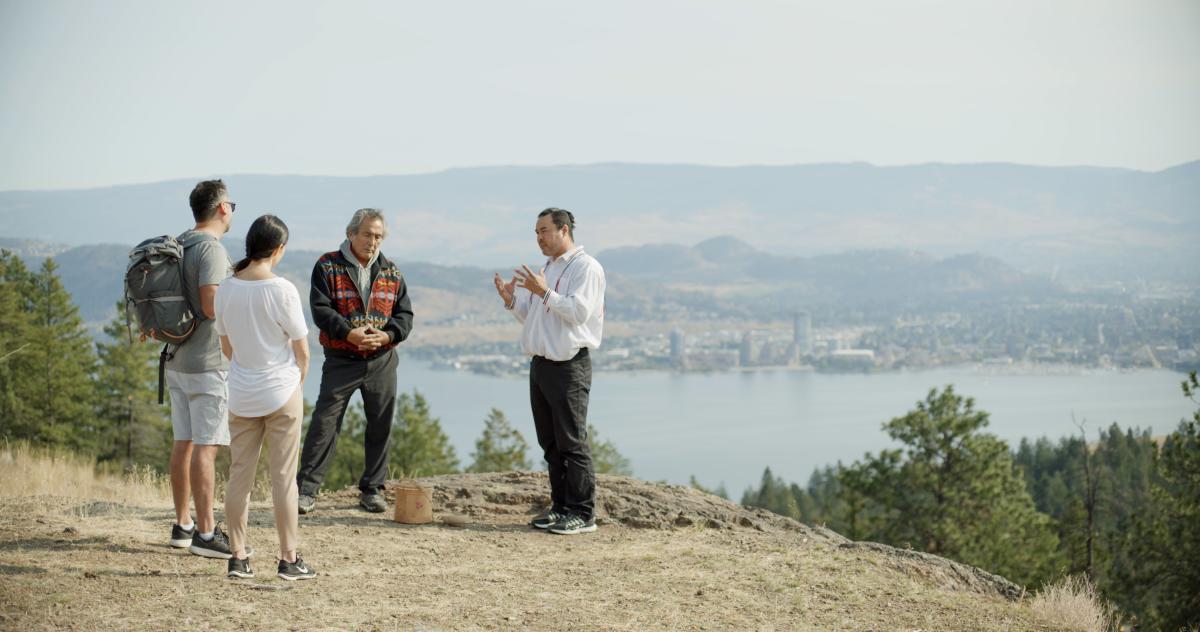 It has been noted that incentive travel recipients value immersive experiences that expose them to the people and culture of a region. In Kelowna, your guests can learn about the region from Indigenous Elders and knowledge keepers thanks to Moccasin Trails. Through private, guided tours, participants will explore the lands of the syilx/Okanagan people to learn about the traditional and medicinal use of the various native plants. A visit to the Sncewips Heritage Museum will allow guests to take in the heritage and natural history of the syilx people while stops at Kekuli Café, for an Indigenous-inspired lunch, and at Indigenous World Winery, one of only two Indigenous-owned wineries in BC, will complete the tour experience, highlighting the living culture of those residing in Westbank First Nation. 
Savour Award-Winning Wines and Marvel at Architecturally Unique Wineries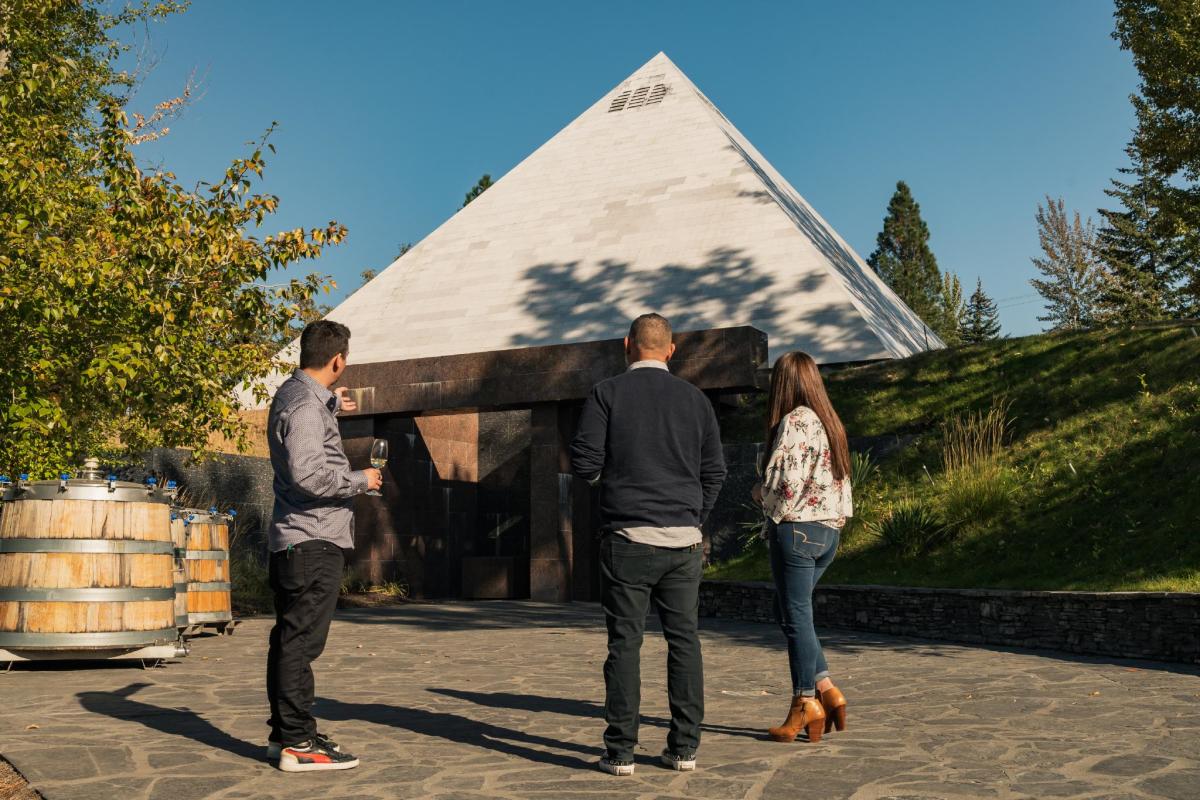 The Pyramid at Summerhill Pyramid Winery. Credit: Ken Hagen
Kelowna is one of the largest organic wine regions in the world—close to 18% of wineries in the region are certified organic—and home to award-winning wineries like CedarCreek Estate Winery, which won Winery of the Year at the 2022 National Wine Awards of Canada and became certified organic in its farming and winemaking in 2019. With several stunning spaces onsite to accommodate anywhere from 10 to 100 guests, the winery is an excellent option for a kick-off reception or private dinner, where guests can learn about the terroir and the winery's regenerative farming practices from CedarCreek's viticulturist or winemaker. 
Beside CedarCreek, you'll find the exclusive Martin's Lane Winery, which only recently started to offer pre-booked tour access to its winery. During the intimate, private tours, guests will be guided through the winery's unique architecture, seeing every area of the six-level, gravity-flow winemaking process and ending with a flight of limited-release wines.
Not far from both wineries is another architectural marvel, The Pyramid at Summerhill Pyramid Winery, a replica of the Great Pyramid of Egypt in which Summerhill ages its wine. Thanks to The Pyramid's energetic properties, it is especially suitable for hosting intimate meditation or wellness-focused gatherings. The winery is also home to a kekuli—a traditional Indigenous winter house—which can also be used for private gatherings. The onsite organic bistro will ensure the dining component of any experience you book is top shelf, too. 
On the west side of Okanagan Lake, Mission Hill Family Estate is well-known for its award-winning wines and impressive architecture. In 2018, the winery's 120,000-square-foot complex was included in Architectural Digest's "19 Best Vineyard Designs Around the World." While a private experience in the winery's underground barrel cellar is unique, there is also a culinary theatre where demonstration cooking classes can be led. For an intimate experience, guests can savour local, seasonal fare as they dine fireside in the Chagall Room, which is home to a stunning tapestry by Marc Chagall called "Animal Tales."

Make the Most of Winter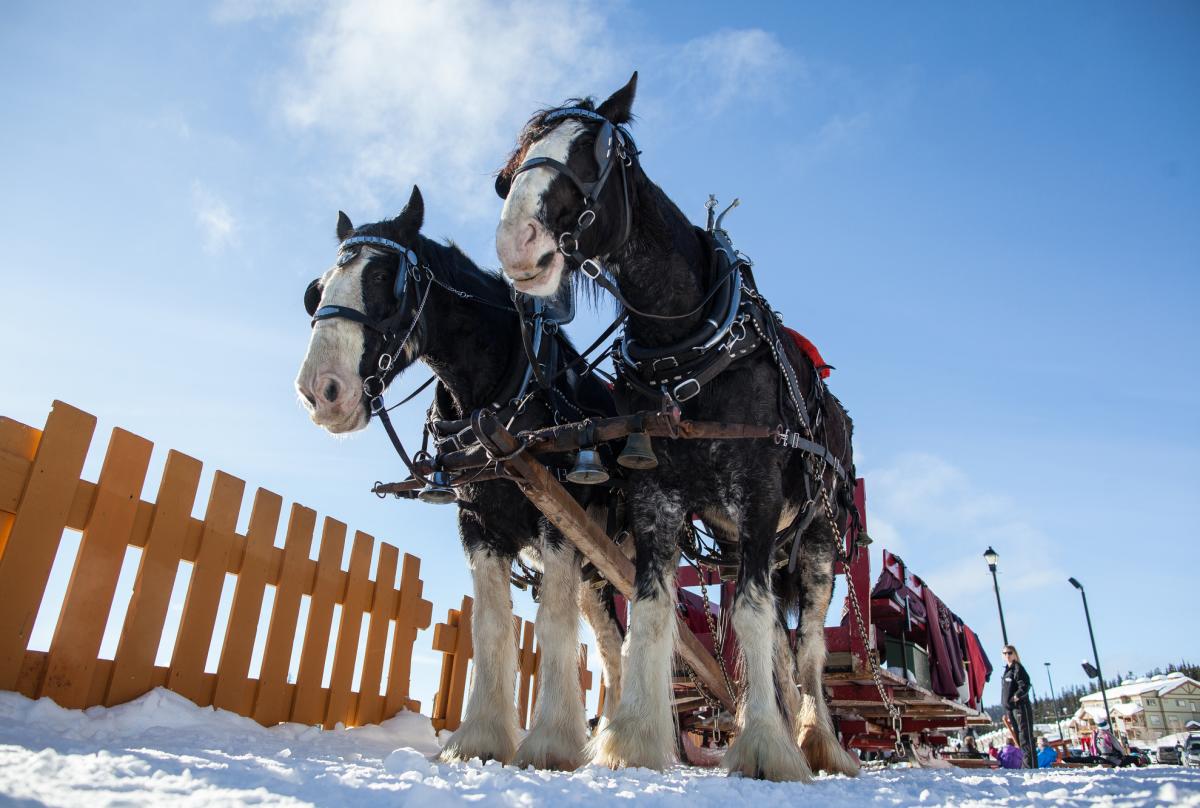 Horse sleigh at Big White Ski Resort. Credit: Jeff Bassett, Sproing Creative
In addition to its vast organic wine, Kelowna is a premier Icewine producer, with several area wineries, including Grizzli Winery, Quails' Gate Estate Winery, and Summerhill Pyramid Winery, having won awards for their Icewine. Grapes for Icewine are left on the vines after the fall harvest; the holding temperature must drop to -8° Celsius (17.6°F) or lower for the grapes to freeze naturally and for harvesting to begin. The harvesting process often happens overnight when temperatures drop. While an Icewine experience can be booked any time of the year, there is something special about showcasing these sought-after wines to your guests during the winter season when the vines are covered in snow.
Spending the day and evening at Big White Ski Resort or SilverStar Mountain Resort is a perfect addition to a winter incentive trip. While the fresh powder will excite the skiers and snowboarders in the group, plenty of other activities can be tailored to your group's preferences. Perhaps it's a private horse-drawn sleigh ride to a cozy cabin in the woods for dinner at Big White or a Snow Cat tour on the backside of the mountain at SilverStar to a lantern-lit dinner. Other activities include guided snowshoe tours, snowmobiling in the backcountry, dogsled tours, and fat biking. There are also many indoor spaces and dining options for those après vibes and several transportation options to get your group to the resorts quickly and safely from Kelowna.
PRO TIP: Booking your incentive trip during the winter season will also help you make the most of your budget since accommodations and activities have much more availability than in the peak summer months. 

Savour Kelowna's Local Bounty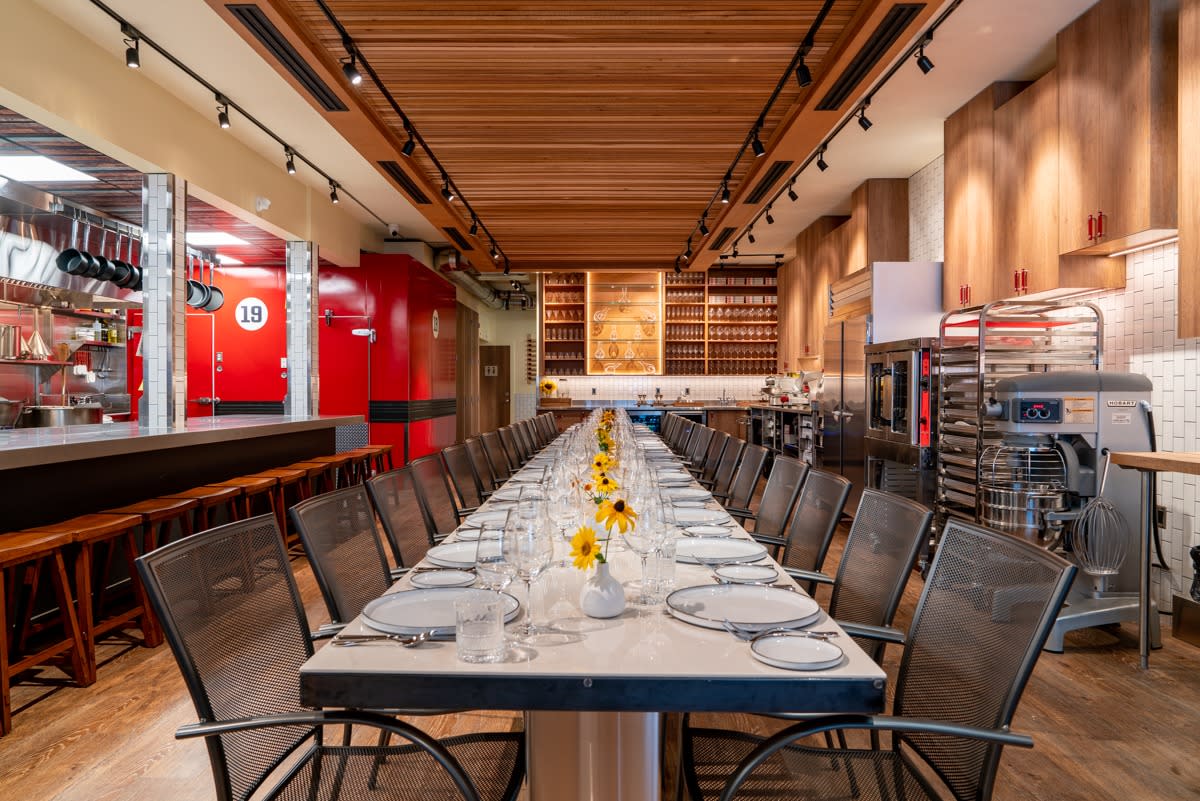 With the mention of several culinary components in the sections above, there are still other customized experiences you can take advantage of for your incentive trip guests. At The Okanagan Table, for example, attendees can participate in an interactive culinary demo with award-winning Chef, Rod Butters, showcasing dishes featuring local ingredients. In the fall, guests can even go to a local farm to learn more about where the produce is grown and then take it back to The Okanagan Table to be cooked as part of their meal. 
The recently opened Lakehouse Kitchens also offers a centrally-located venue where you can host private events incorporating hands-on cooking lessons, demonstrations, or catered dinners, complete with add-on options for take-home products like aprons and gift baskets. 

Tour Kelowna in Luxury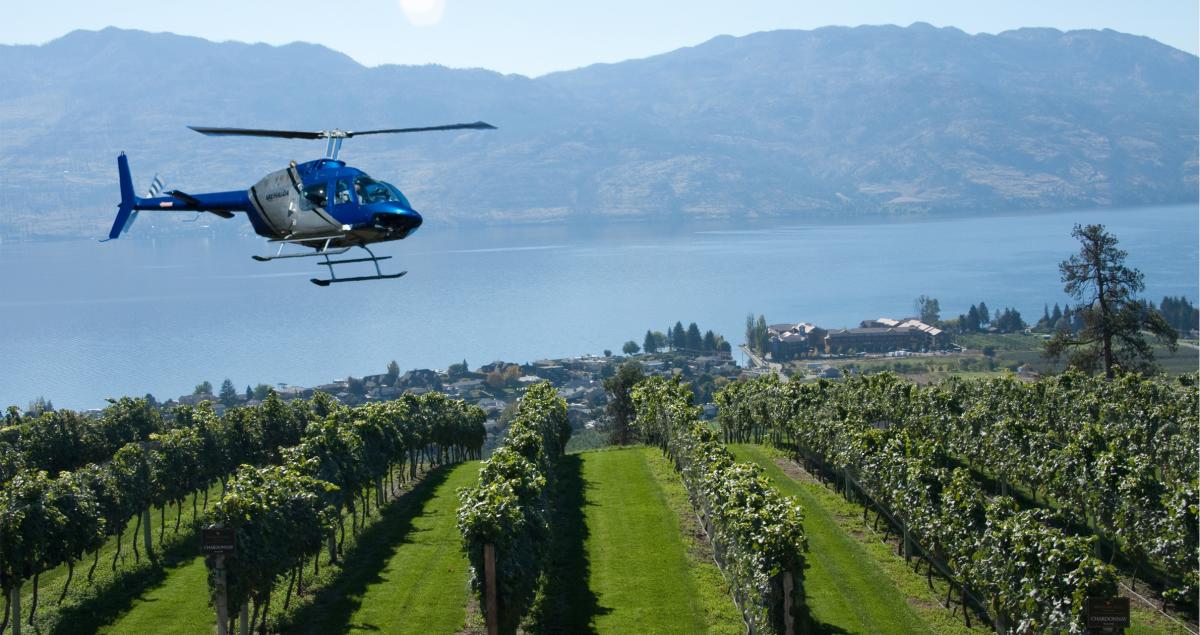 Valhalla Helicopters Tour
What better way to incentivize your top performers than with a private, luxury tour? Several of the area's guided tour companies offer private tour options if you want to continue with the wine theme. Wicked Tours, for instance, offers a private, six-hour driving tour with tastings at five area wineries, including a sparkling wine tasting at Fitzpatrick Family Vineyards.
To take wine touring to the next level, why not organize a one-of-a-kind heli-wine tour? Skylux Luxury Helicopters offers curated helicopter experiences for groups of 4 to 6, while Valhalla Helicopters can accommodate up to 4 people—both options allow your guests to visit some of the region's best wineries, all while giving them a birds-eye view of the Okanagan Valley.
For those who aren't interested in wine, other offerings include luxury picnic tours with Valhalla, sightseeing or fishing tours with Skylux, or heli-yoga experiences—with an option to add on a relaxation massage—with Ikon Adventures.

Book Lakeside Accommodations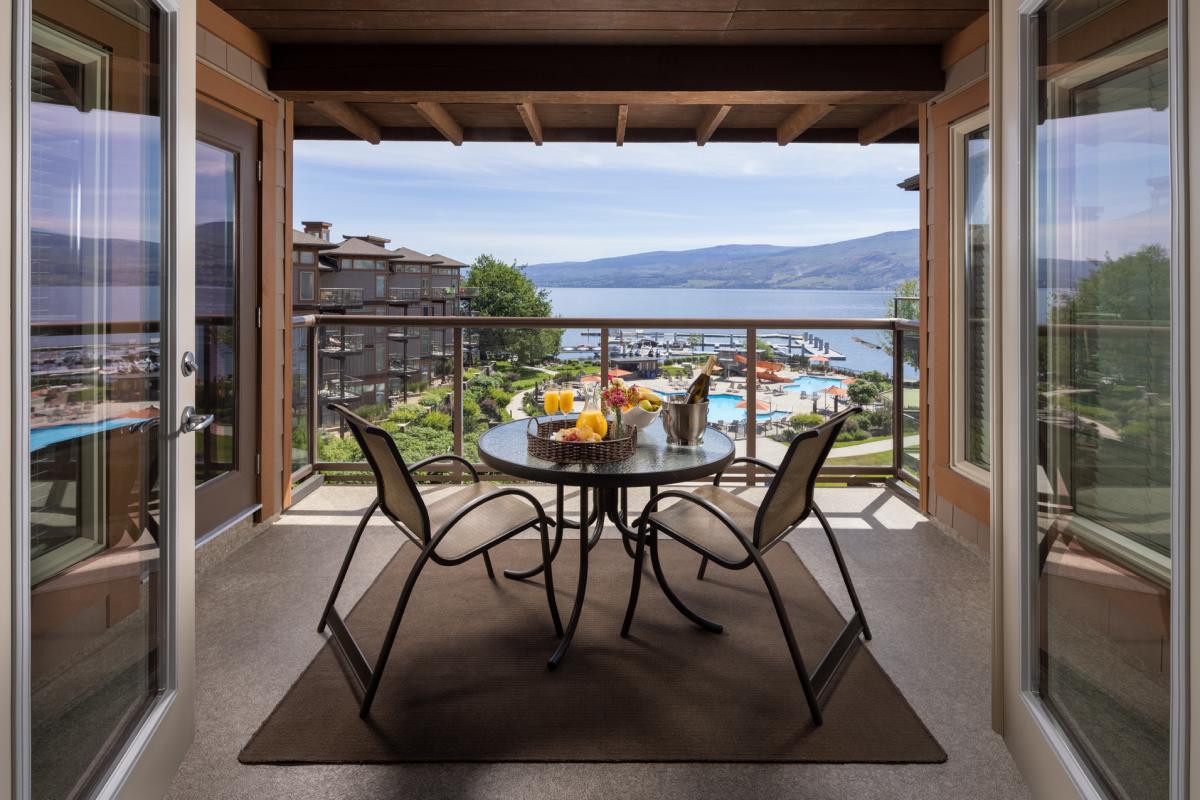 The Cove Lakeside Resort
There's nothing better than waking up and being steps away from the beach, especially when you're being rewarded on an incentive trip. The lakefront properties in and around Kelowna offer comfort, convenience, and exceptional views that will wow any guest.
For those that like to be in the centre of the action, Kelowna's largest lakefront resort, Delta Hotels by Marriott Grand Okanagan Resort, is the place to be. Having celebrated its 30th anniversary in 2022, the hotel will undergo a full-scale renovation in the coming months, with new rooms ready for summer 2023. Guests can spend their downtime exploring the city centre or taking in nearby seasonal activities, like lake activities in the spring, summer, and fall, or ice-skating lakeside in the winter.
You'll find Eldorado Resort just south of downtown, where the boutique Hotel Eldorado property sits lakeside. Founded as The Eldorado Arms Hotel in 1926 by Countess Bubna, an aristocratic English woman, it became Kelowna's premier social hub in the 1950s and '60s. Today, the original Victorian charm of the property remains, with elevated touches. During warmer months, private charters aboard the Spirit of the El Chris Craft Sedan Cruiser, built in 1952, are available for up to 8 passengers, making for another unforgettable Kelowna experience.  
The Cove Lakeside Resort offers a secluded lakeside retreat in West Kelowna, nearby numerous vineyards and orchards. The resort's spacious lakeside suites allow guests to take in the full splendour of Kelowna's unique landscape, including Okanagan Lake and the surrounding mountains, which are beautifully snow-capped through the winter season. If there is downtime in the evenings, guests can connect while relaxing lakeside at seasonal outdoor fire pits. Both the Cove and the Delta Grand also have onsite day spas.

Let Us Help
Tourism Kelowna's experienced and knowledgeable Business Development Consultants are here to assist with planning your future incentive trips:
For planners in Western Canada and the Pacific Northwest, contact Nicolle Gomez de Sousa at nicolle@tourismkelowna.com or (587) 716-5599
For planners in Eastern Canada and the Eastern US, contact Pat Gappmayr at pat@tourismkelowna.com or (416) 265-3464
Pat and Nicolle will work with you and connect you with local suppliers to make planning your custom itinerary easy and stress-free.