What could possibly be described as the most epic mountain bike ride in Kelowna? There are so many trails to ride, routes to take, how can just one be described as the most epic? From mountain trestles and tunnels to single track riding canyon side, to cruising by vineyards, beaches, and through downtown, then ending at the north end brewery district - this 40km ride is arguably the quintessential Kelowna ride.
FYI, to start, this ride will require to be dropped off by a loving friend or family with a truck or bike rack and some sections require at least an intermediate level of mountain biking experience. Allow for at least 3-4 hours to complete the ride and be prepared with lots of water, a handpump, spare tire or patch kit, and bike tool. 

Pre-ride Fuel Up
This bike ride is not for the faint of heart and you will burn a ton of calories, so best fuel up and have a hearty breakfast. Head to the nearest Bean Scene and grab a breakfast burrito, they have several choices like sausage, vegan, and veggie. Be sure to also pick up a tasty giant cookie or two (the other for that loving friend or family who is dropping you off) and a coffee for the drive.

Leg 1: Trestles & Tunnels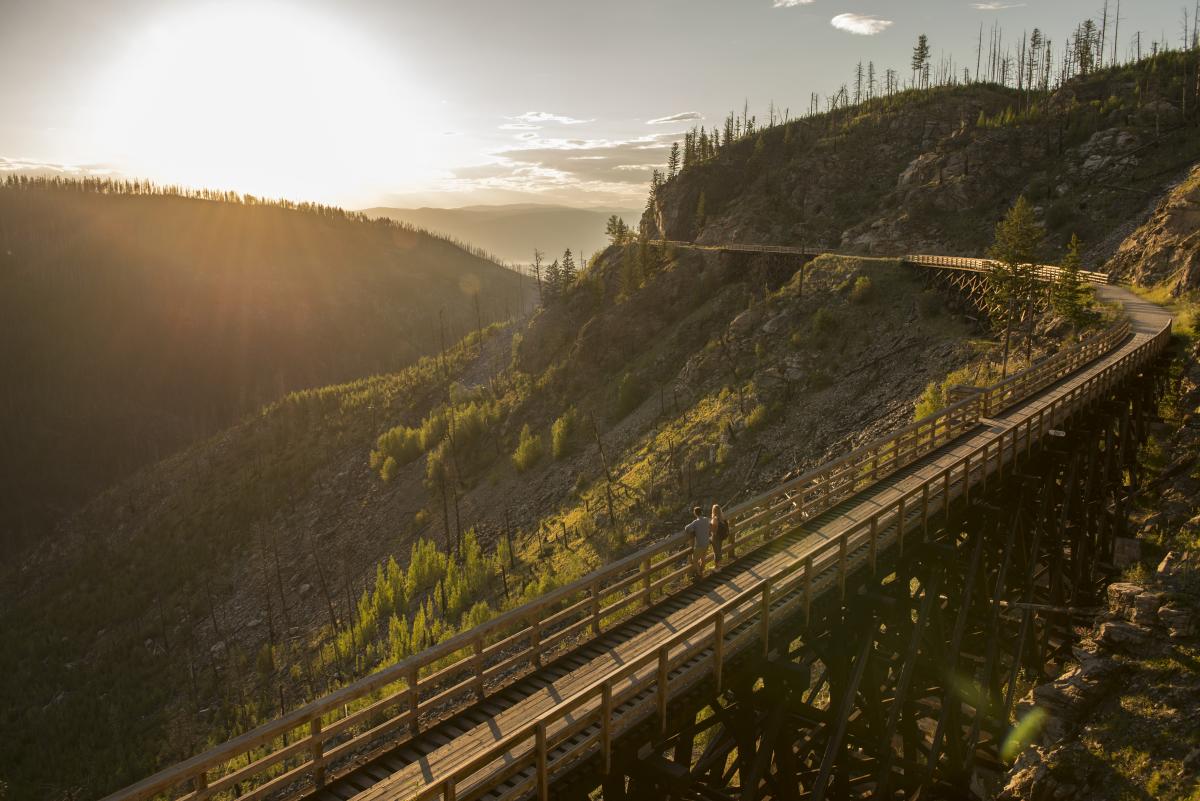 Photo by: Destination BC and Kari Medig
For the first leg of the ride, start at Myra Canyon Station. This 30-minute drive from downtown Kelowna will put you at the beginning of the Myra Canyon Trestles portion of the Kettle Valley Rail Trail. This 16km stretch will take you over 18 trestles and through two tunnels, all along the edge of a canyon with amazing views of Kelowna and Okanagan Lake. Since this trail was once part of a rail line it is virtually flat with no more than a 2% grade. 

Leg 2: The Downhill
Not far after you've passed the last trestle and Ruth Station you will see a sign on the right-hand side for the beginning of the Myra-Bellevue Provincial Park Trail Network, AKA Crawford Trails. However, continue on to the second trail called Crawford Canyon DH - this is where you will drop in. This 8km trail descends 750m.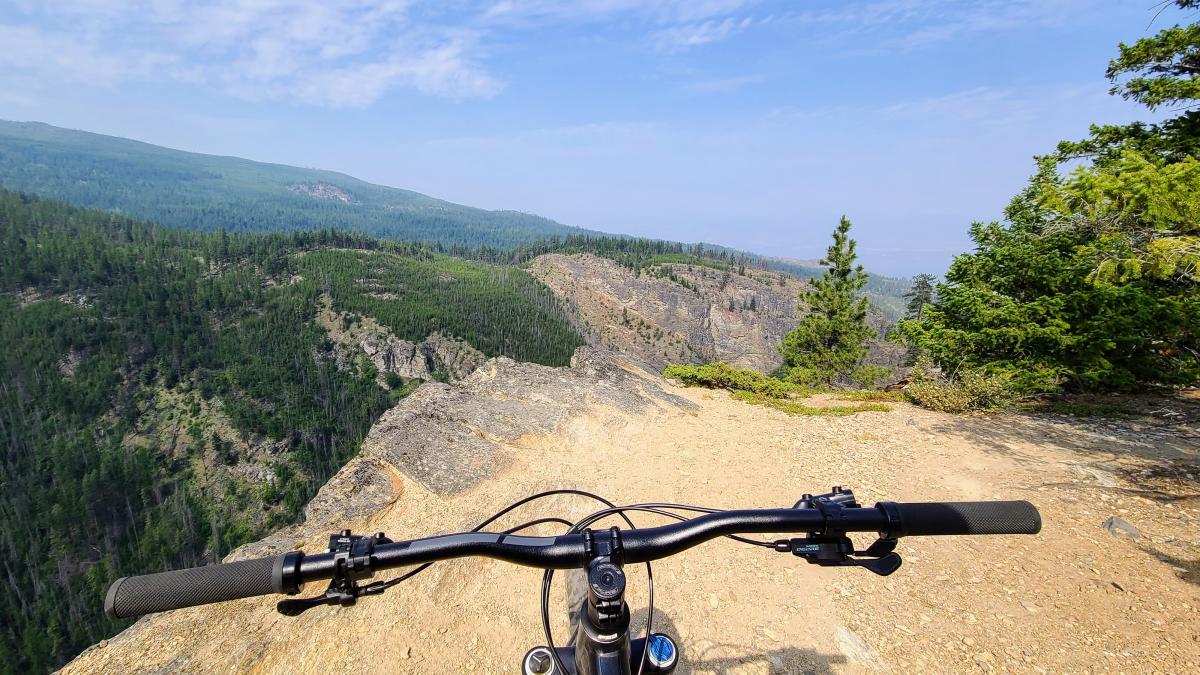 Be aware this trail has steep loose dirt and rocky sections; you should be at least an intermediate level rider to take this trail. Beyond the challenging sections, this trail also provides stunning canyon side trail riding and flowy sections that will just put a smile on your face.
Once you have reached the bottom you will be faced with a new road that is being built (South Perimeter Road), as you continue north use caution as there may be heavy equipment working. When you reach the asphalt of Stewart Rd W, the next leg will begin.

Leg 3: Vineyard Sailing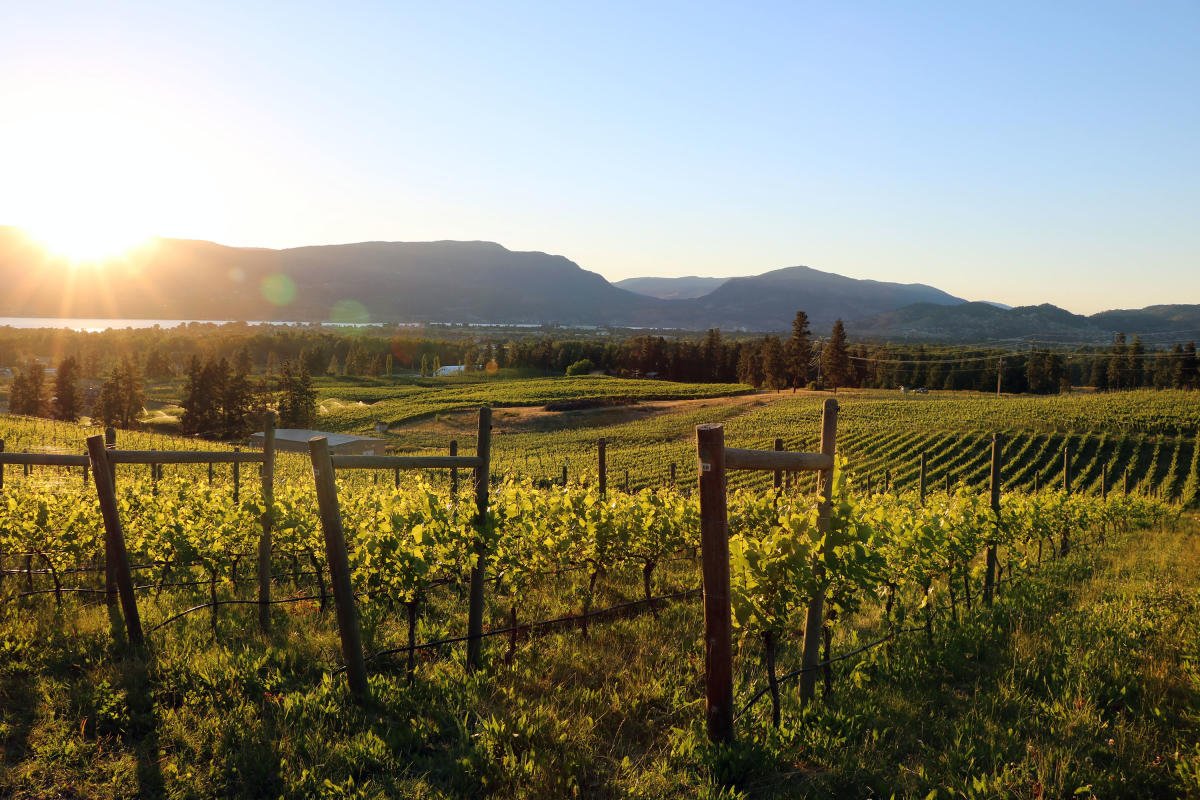 Tantalus Vineyard
Beginning at the top of Stewart Road W, you will cruise 5km through the neighbourhood sailing past vineyards and orchards with amazing views of Okanagan Lake and downtown Kelowna. As you continue north, Stewart Road turns into Saucier Road that leads to a left turn onto Bedford Road. Bedford then shortly turns into Casorso Road which you will follow all the way down the hill to Mission Creek, where you will cross the bridge, then get onto the Mission Creek Greenway going west (towards the lake). 

Leg 4: Creek to Beach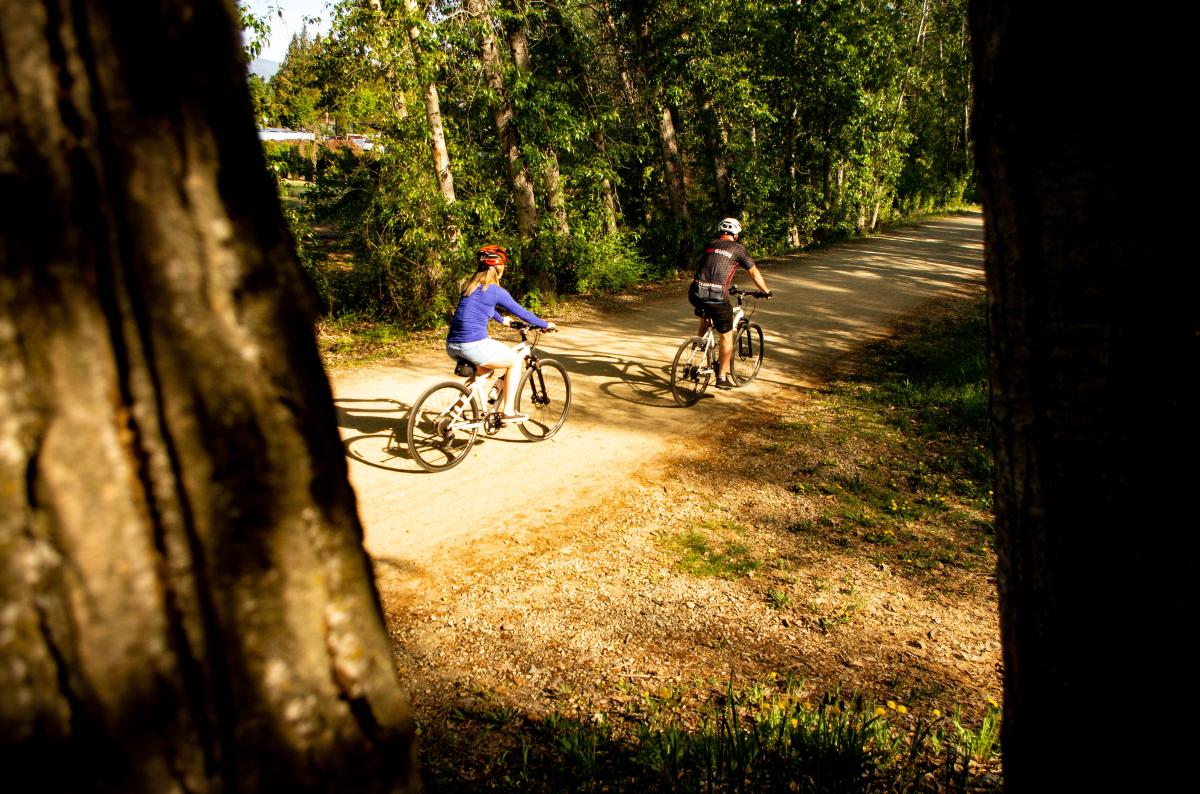 Photo by: Seekers Media & Nancy Shields
Here we go leg 5, it's essentially all flat from here on out, plus after working up a sweat on the earlier legs the shade of the trees will be a welcome treat. Once you turn off of Casorso Road onto Mission Trail Greenway continue pedaling until you reach Lakeshore Road. Along this 2km section of the gravel trail, keep an eye out for birds, there is a wide variety to be found through this wetland, including Blue Heron.  

Leg 5: Beach Cruising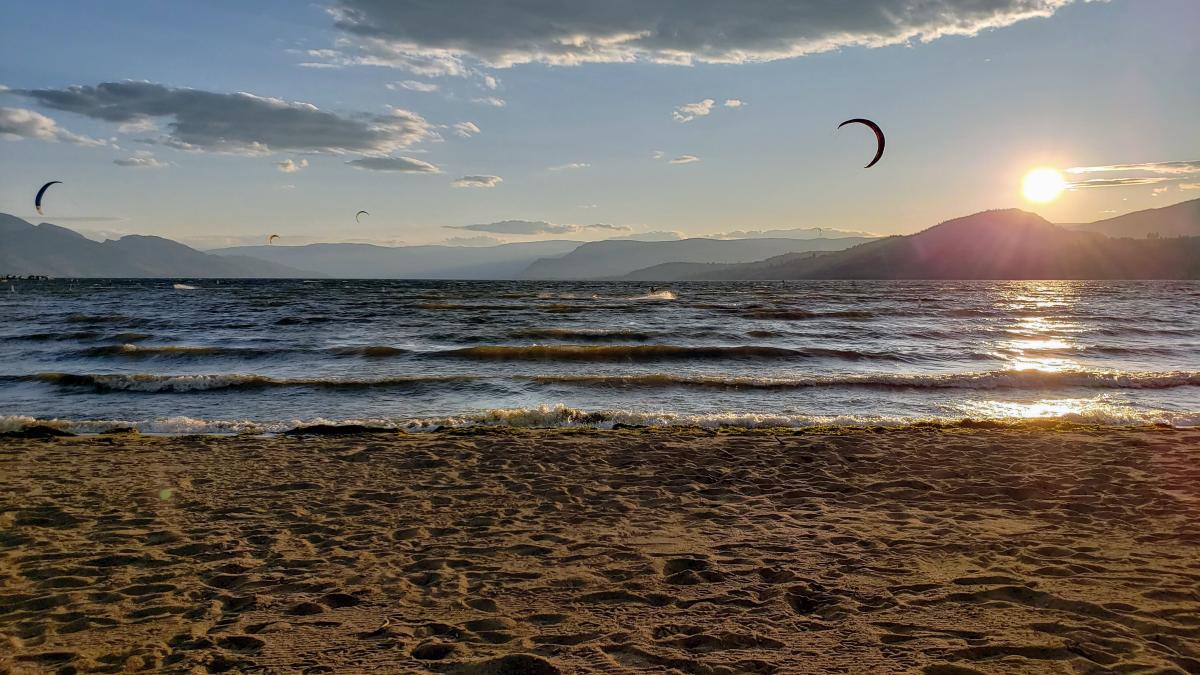 Kite Surfers at Rotary Beach
You've made it back to the road! This 5km section is along a multi-use pathway so be cautious of other people walking, biking, scootering, etc. On-road bike lanes are also available if you choose. Make your way along Lakeshore Road to Rotary Beach than on the pathway to Gyro Beach, where you will then reach Abbott Street which will take you to downtown Kelowna. Feel free to make a pit stop at one of the many beach and lake access points, local tip bring your swimwear to change into so you can take a dip in the lake.

Leg 6: Downtown to Beer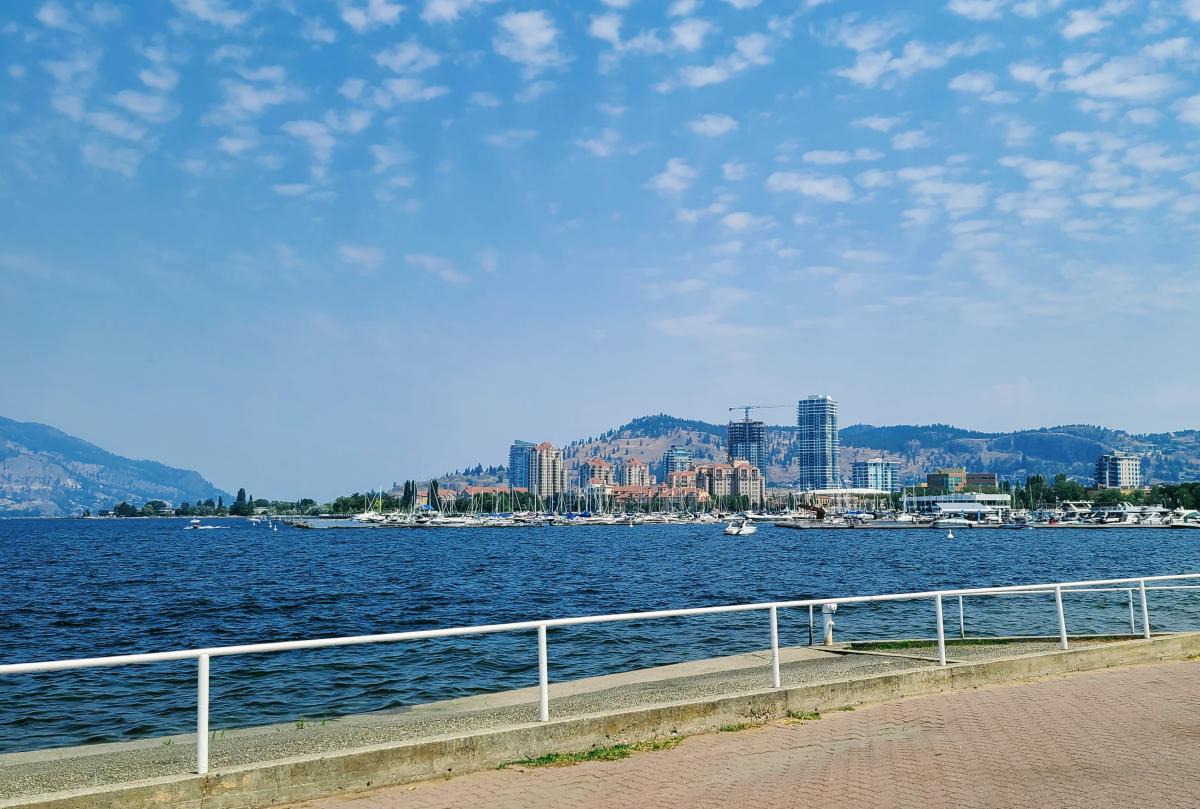 It's the final phase, the grand finale, the last leg. After travelling along Abbott, you'll reach City Park which takes you along the lake into downtown Kelowna, from beach to beach to boardwalk. Cruise the 2.2km waterfront pathway until you reach Sunset Drive, here is where you will connect to Okanagan Rail Trail, yep you are going on two rail-trails on this ride. Take the rail trail to Richter Street and head south a little way until you see the breweries. The length of this section totals 3.5km.
Choose from Vice & Virtue, Red Bird, Jackknife, Kettle River, Rustic Reel, or Welton Arms. Not into beer, don't worry there is also Sandhill and Gretzky Wineries, and BC Tree Fruits Cider. Find your favourite patio and sip on a beverage or two, you earned it. If you are hungry, all of the breweries also have food, and not just your ordinary brewery food, you can get amazing burgers, house-smoked wings, the best thin crust pizza, and straight from England - chip butties.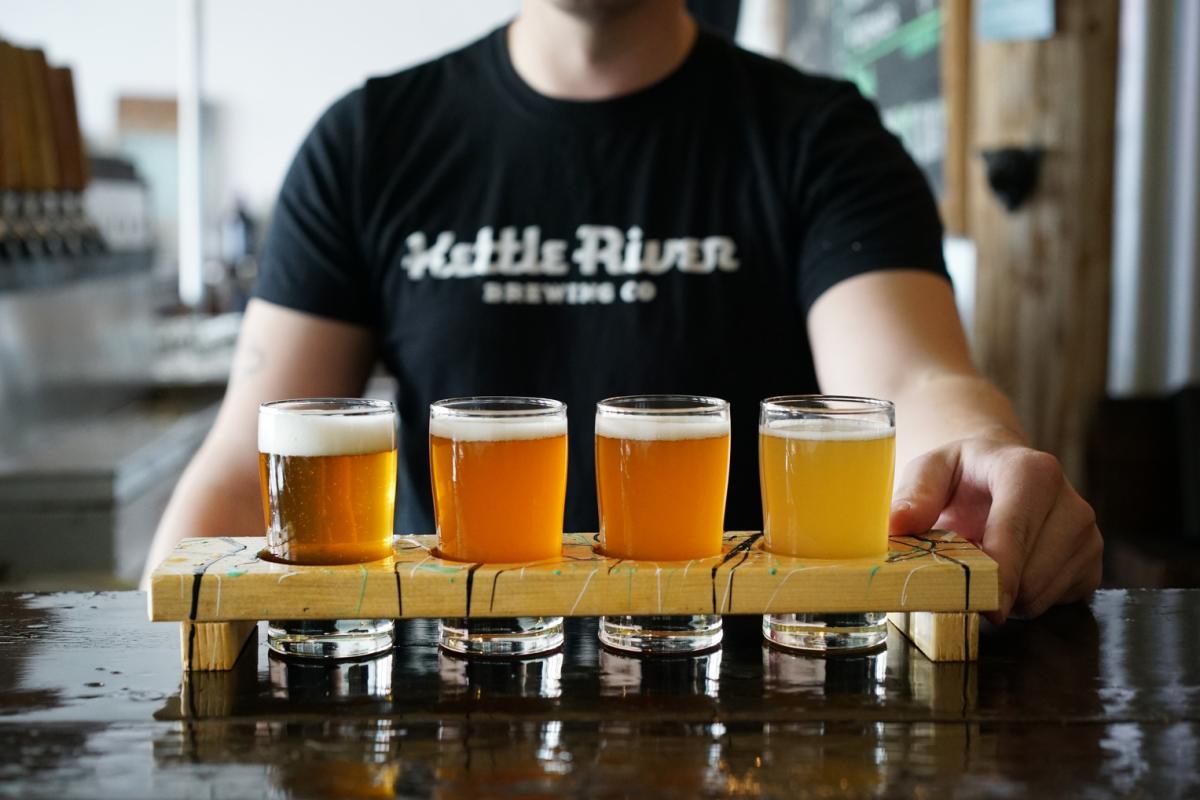 Photo by: BC Ale Trail
What is more quintessentially Kelowna then biking in the mountains over trestles, through tunnels, downhill on single-track trails, to sailing past vineyards, beach cruising, and finishing with a pint of craft beer on a patio. This is simply the most epic Kelowna mountain bike ride.