When I ask Canadian tenor and co-creator of The Book of My Shames, Isaiah Bell, to give me the 'escalator pitch' for the show about his own life, he struggles. Not because the operatic show isn't powerful or worthy but because, to Bell, the show is almost beyond words.
"I hope that when people leave the show, they'll take a feeling with them. And not just an emotion, but a feeling of a question, or an opening of their mind or heart to the way they explore their own life; that's what I hope for."
The show is deeply personal to Bell, and he admits to "cringing" at certain parts. In a one-person cabaret-style opera performed with a small chamber ensemble, Bell takes the audience on a journey into his past. He tells "the story of a hole" and how "persistent emptiness of heart drives a young man out from the shadow of a restrictive fundamentalist community, into obsessive passions for bad men, and onward to a successful but strangely hollow life on the stage."
While the show deals with some challenging themes, it's insightful, tender and often humorous. It combines personal confessions and rapid-fire monologues alongside a diverse array of original music.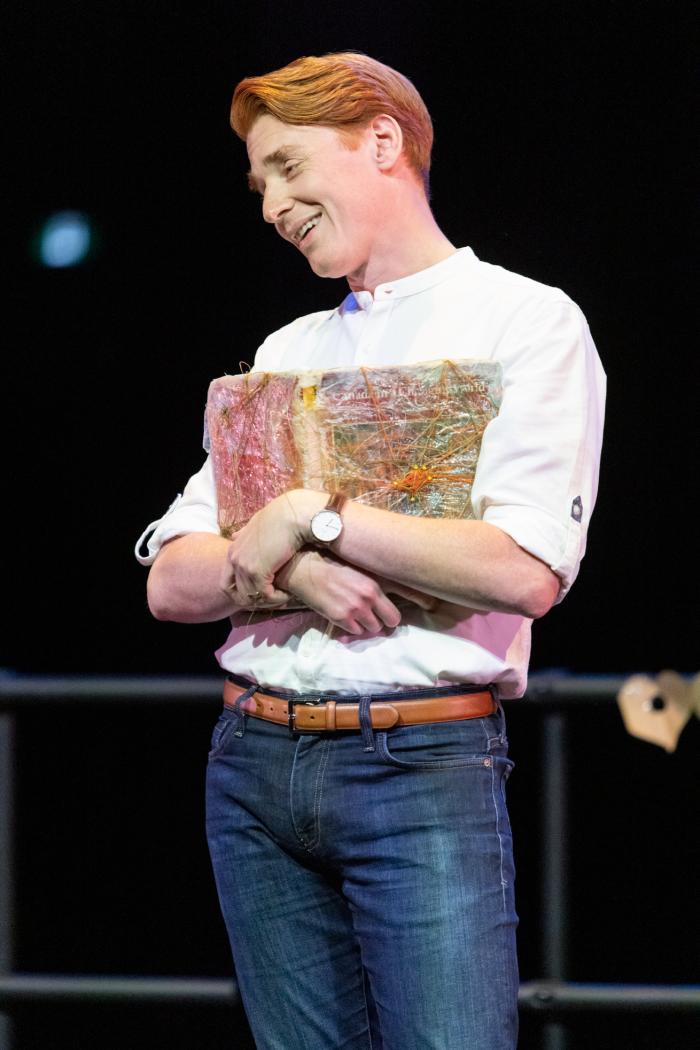 Isaiah Bell performs The Book of My Shames — Photo Credit: Opera Kelowna
Bell is the Co-Creator, Composer and Principal Performer in the show, assisted by his Co-Creator and Director, Sean Guist. While in Kelowna, he will be joined by Opera Kelowna's Rosemary Thomson for the Kelowna performances as the Music Director and Pianist.
For those who are a little unsure about opera, Bell says give it a chance.
"I think some people are a little afraid of opera and classical music, but this is a bit of a hybrid. I wouldn't call it popera or crossover, it's not that, but maybe it's more "present" than opera often feels because it's so immediate. This isn't reproducing old music from a distant century; it's quite the opposite."
Given the material and his role in the show, Bell admits to feeling "very vulnerable" when performing The Book of My Shames. Still, he believes that turning painful memories into art gives him power over his experiences. He also says that while the material centres on his life, it is meant to be relatable and meaningful to others.
"It's about this hole that I carry around inside myself, and you're always trying to fill it with something, but nothing ever quite works. It's very personal, but most people have that kind of thing. Most people have that sort of emptiness, and they're always trying to find something to fix it… So many people have come up to me and said, 'This was so moving to me. I've had this experience myself,' with tears in their eyes."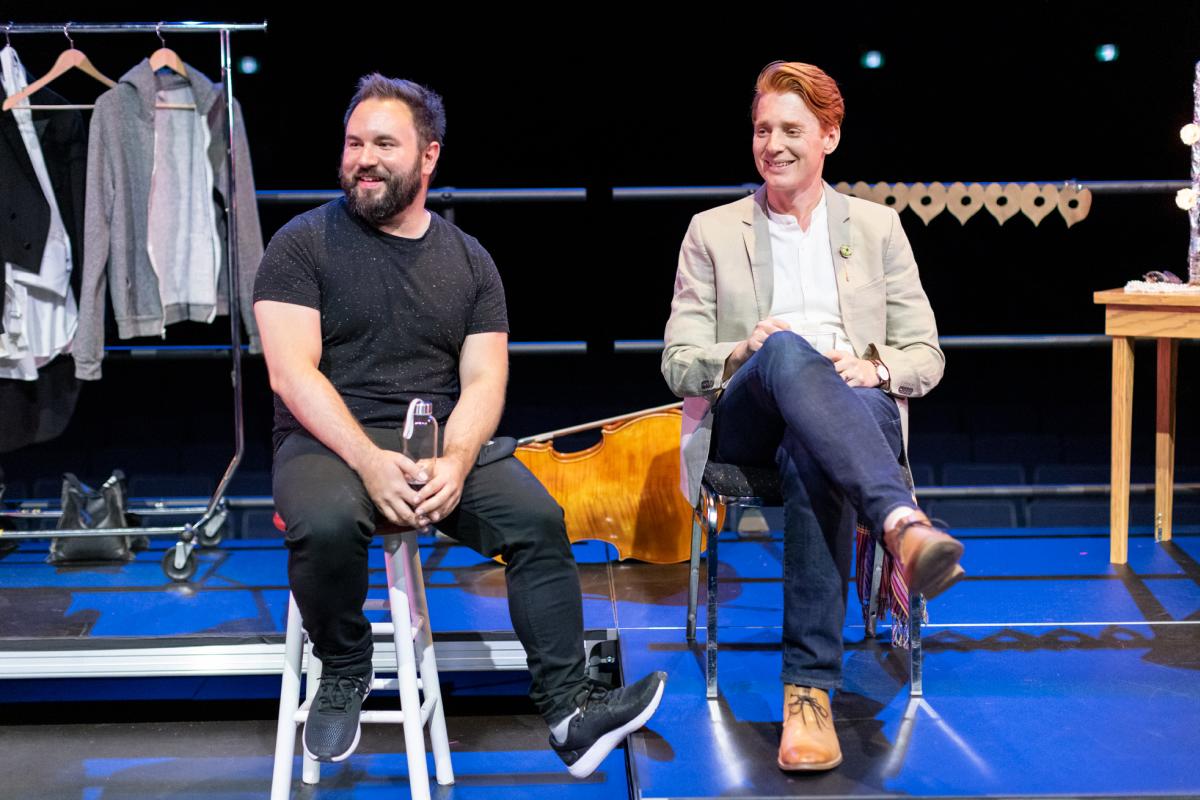 Sean Guist (L) and Isaiah Bell (R) at The Book of My Shames in Kelowna in 2021 — Photo Credit: Opera Kelowna.
The Book of My Shames originally premiered at Toronto's Tapestry Opera in 2019 and was presented in Kelowna in 2021. Tickets for those Kelowna performances sold well — 95% sold out — despite challenges posed by COVID-19 restrictions. Now, Bell looks forward to bringing his story to the city once again.
"The experience of doing it [The Book of My Shames in Kelowna] in 2021 was really creative and inspiring… It was the first thing I did for an audience since COVID started, and there's a very sort of electric energy in Kelowna."
Bell's excited to bring the show back to a larger local audience later this month, especially as Opera Kelowna helped develop the show alongside Pacific Opera Victoria and Intrepid Theatre. Unless you were there in 2021, Bell believes the show will be unlike anything you have experienced before.
"It's a unique experience. I go to a lot of theatre and a lot of opera, and of course, I'm an opera singer, so there is classical singing in this. It's not like you've never seen anything in this category at all. But we combine a personal story, classical-infused music, and many different musical styles… I don't know anyone who's done this exact combination of genres and styles, and I think people often experience it as a fresh thing."
Bell is a proud queer artist, and while the show is about his experience as a queer man, he doesn't see The Book of My Shames as queer with a capital Q.
"The message of the show isn't about being queer. It intersects, and there's queer love, but it isn't about queerness specifically. There's also an act of defiance in being a queer artist and doing queer theatre, but I'm looking through a queer prism to see something universal; exploring the human condition. That's my life's mission."
The Book of My Shames runs for approximately 90 minutes. It will be performed at Kelowna's Mary Irwin Theatre inside the Rotary Centre for the Arts on Friday, February 17th and Saturday, February 18th, at 7:30 pm on both evenings. Tickets are $39/$59 and can be purchased here.