Canadian Thanksgiving is coming up and here in the Okanagan, we are lucky to be able to create a completely locally-sourced feast. The best place for a one-stop shop is at the Kelowna Farmers & Crafters Market (Wednesday 8:00 A.M - 1:00 P.M and Saturdays 9:00 A.M - 1:00 P.M)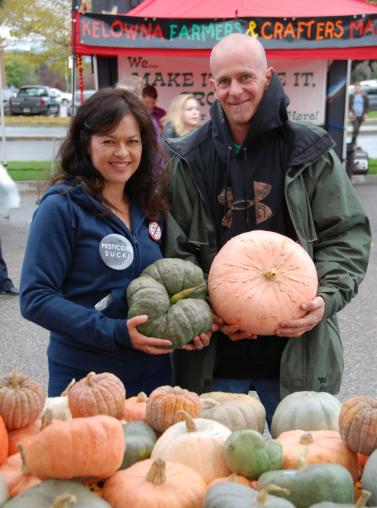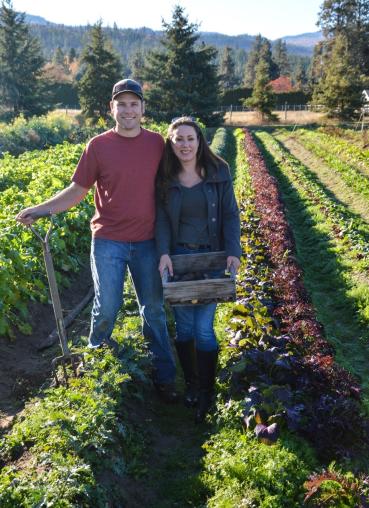 Thanksgiving Dinner Shopping List and Stalls to Visit:
Turkey: Farmers at Hamblett Highland Farms have local turkeys (recommend pre-ordering yours).
Stuffing: Bread from Wine Country Bakery Truck and if you need sausage for your stuffing go to Sterling Springs Chicken or to Wild Moon Organics for pork.
Veggies: John & Brenda from Wise Earth Farm have beautiful, tender yellow-green beans and excellent salad greens. Try adding the zest of an organic lemon and butter to your steamed beans.

Steve & Gord at Forbes Farm have organic squash of every kind to choose from- try stirring in a little butter and minced ginger into your mashed squash.
Green Croft Gardens have parsnips and turnips and the best garlic. Roast them all together to the caramelization stage, for a delicious side dish.
Sunshine Farm have the most beautiful rainbow carrots and onions to make the dish below.
John at Sweetlife Farms is THE potato man and will hook you up with spuds whether you want to roast them or mash them, he will advise on the best choice.

Herbs: Firefly Farms will fill in any other odds and sods you need like herbs for your stuffing and turkey.
Fruits: The Gambell Family Fruit Stand will have all of the fruit you need for a pie-making bee.
These are some of my favourite stops but there are many more wonderful vendors to choose from to inspire your local bounty menu so you can celebrate a 'for reals' Thanksgiving harvest dinner. Make sure to pair with local wine!
What is your favourite Thanksgiving side dish?
Something different to add to your menu from another family's traditional Thanksgiving Dinner recipe box:

Alcock Family Recipe: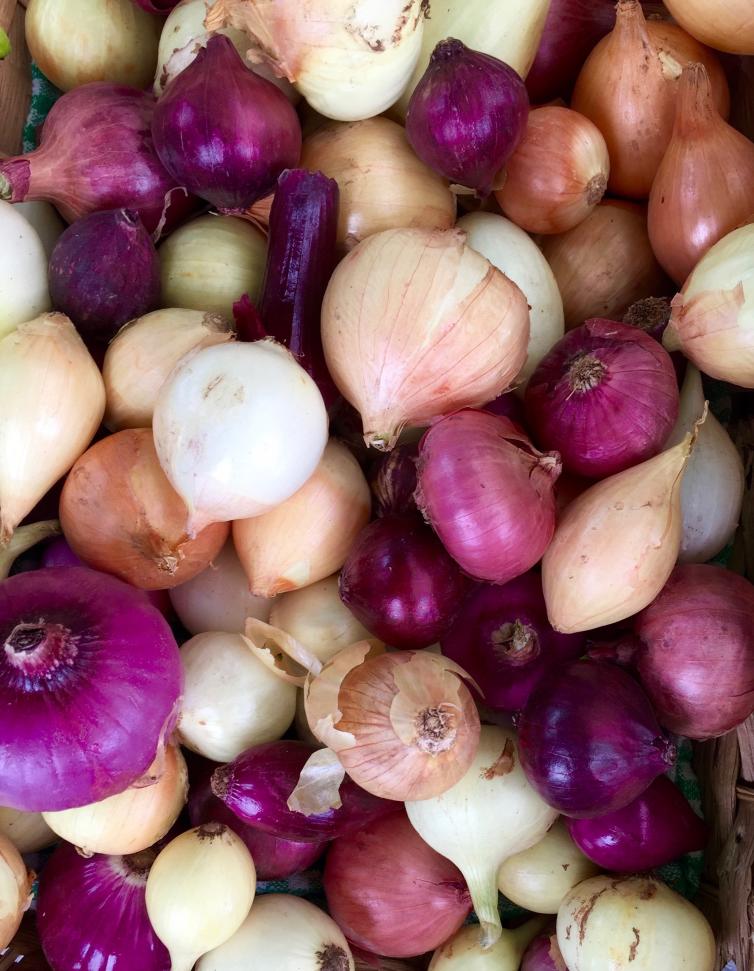 Nana's Creamed Onions:
Pick up the onions for this recipe at the Sunshine Farm stall. Mona Johansson is the chef in the Alcock family tree from this south Kelowna farm and she says, "This dish has always been a holiday tradition for our family and passed on to those willing to learn how to make it in the kitchen with my Nana (Alice). She was a great cook and a great teacher." Enjoy!
3 lb white small to medium onions, roots and ends removed and peeled
1 1/4 teaspoons salt
¼ cup unsalted butter
½ cup  all-purpose flour
1 cup heavy cream or half-and-half
1/4 teaspoon black pepper
1/4 teaspoon freshly grated nutmeg
Plain salted potato chips (seriously)
Instructions:
Put onions and 1 teaspoon salt in a medium pot and add enough fresh water to cover by 1 inch (I've adapted the recipe with stock instead of water). Bring to a boil, reduce heat and simmer covered, until onions are tender, about 20 minutes. Drain well in a colander, reserving liquid. Transfer to a buttered 2-quart baking dish.
Put oven rack in middle position and preheat oven to 350°F.
Make a roux: melt butter in a 1- to 2-quart heavy saucepan over moderately low heat, then add flour and cook, stirring, 1 minute (until it turns golden colour). Add cream in a stream, whisking, and bring to a simmer while whisking. Simmer sauce, stirring occasionally, Add as much reserved water or stock as necessary to obtain a thick, but creamy sauce. Stir in pepper, nutmeg, remaining salt, and pour the sauce over onions.

Sprinkle lightly crushed potato chips evenly over onions and bake until sauce is bubbling, about 30 minutes.
PS. After all of that hard work shopping at the farmer's market, sit down and reward yourself with a delicious crepe from the Crepe Bistro truck.
---
Article originally published in October 2017 and had been updated for accuracy