If you are looking to plan a memorable golf retreat for your colleagues or clients when it's safe to do so next year, then look no further than Kelowna where your checklist is complete, and planning is as easy as picking from one of the great options detailed below. 
Enticing, scenic golf courses from easy-going to ego-shattering – check.
Convenient accommodation with plenty of sun-soaked patios for reminiscing after your round – check.
A diverse collection of local breweries offering flights and food to feed your soul and your appetite – check.
Golf emerged as one of the go-to activities during the COVID-19 pandemic. It followed the public health and safety guidelines to a tee – pun intended. Courses offered physical distancing, open spaces, fewer faces and promoted positive mental health. It only makes sense there will be continued demand for this activity in 2021, so now is the time to start planning your next golf retreat in Kelowna. 

Great Golf Starts Here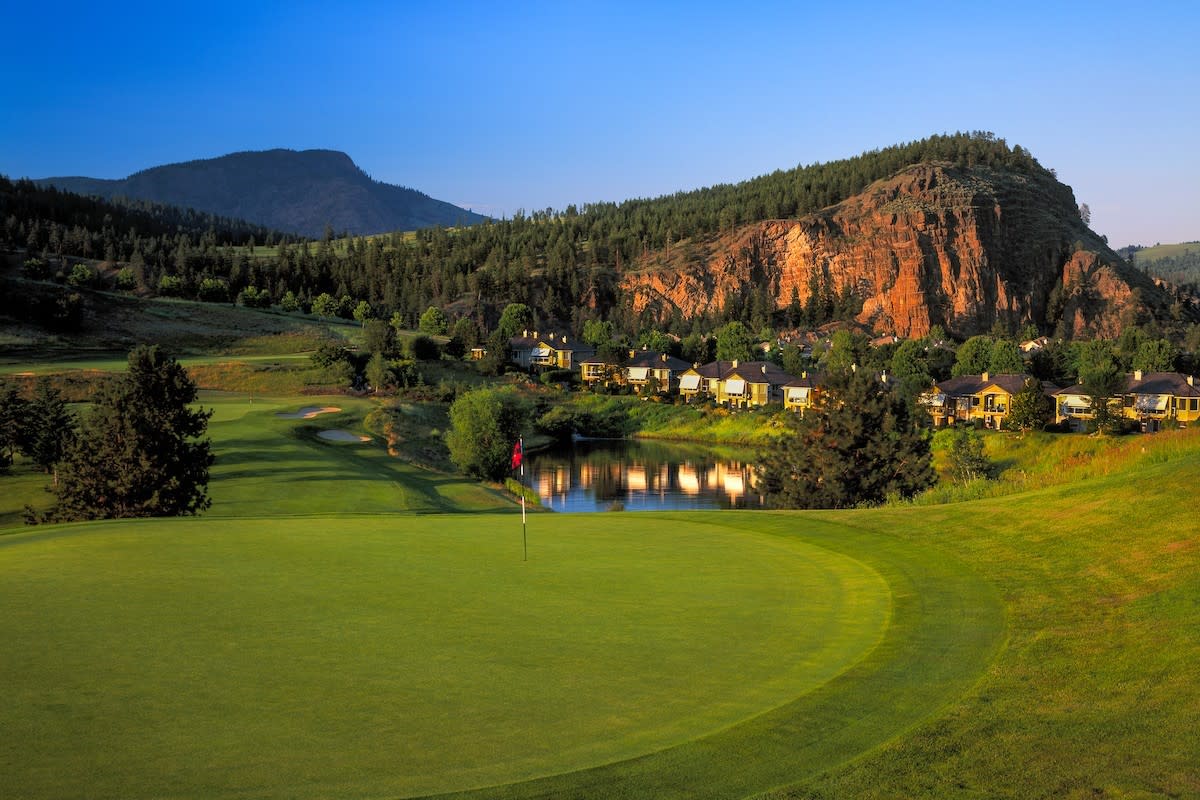 Gallagher's Canyon Golf Course
Kelowna boasts one of the longest, driest golf seasons in Canada. Here, 19 courses offer the amenities you'd expect of a world-class golf destination — lots of rolling fairways and plenty of challenging shots. Situated amongst aromatic apple orchards, along rocky bluffs and with sweeping views down to Okanagan Lake, keeping your eye on the ball is just that much more challenging here.
Finding the perfect course will be a snap. "As one of Canada's premier golf destinations, Kelowna offers golfers so much choice. With the flexibility to pick a different course, different brewery and different patio for dinner every day, it's no wonder that groups love coming to Kelowna," confirms Bruce Vermee, PGA Head Golf Pro at The Harvest Golf Club, a resort-style course offering 18-holes through their picturesque working orchard. A short drive from the hustle and bustle of downtown Kelowna, the stunning, Gallagher's Canyon Golf Course is an oasis in the foothills above town. The course features the 18-hole championship Canyon Course for those looking for a challenge, and the charming 9-hole Pinnacle Course for those who prefer a more approachable round of golf. Both the Harvest Golf Club and Gallagher's Canyon courses are complemented by practice facilities, speciality golf shops and full-service clubhouses with restaurants making them fantastic choices for your post-round celebration. 

Affordable Stay and Play Packages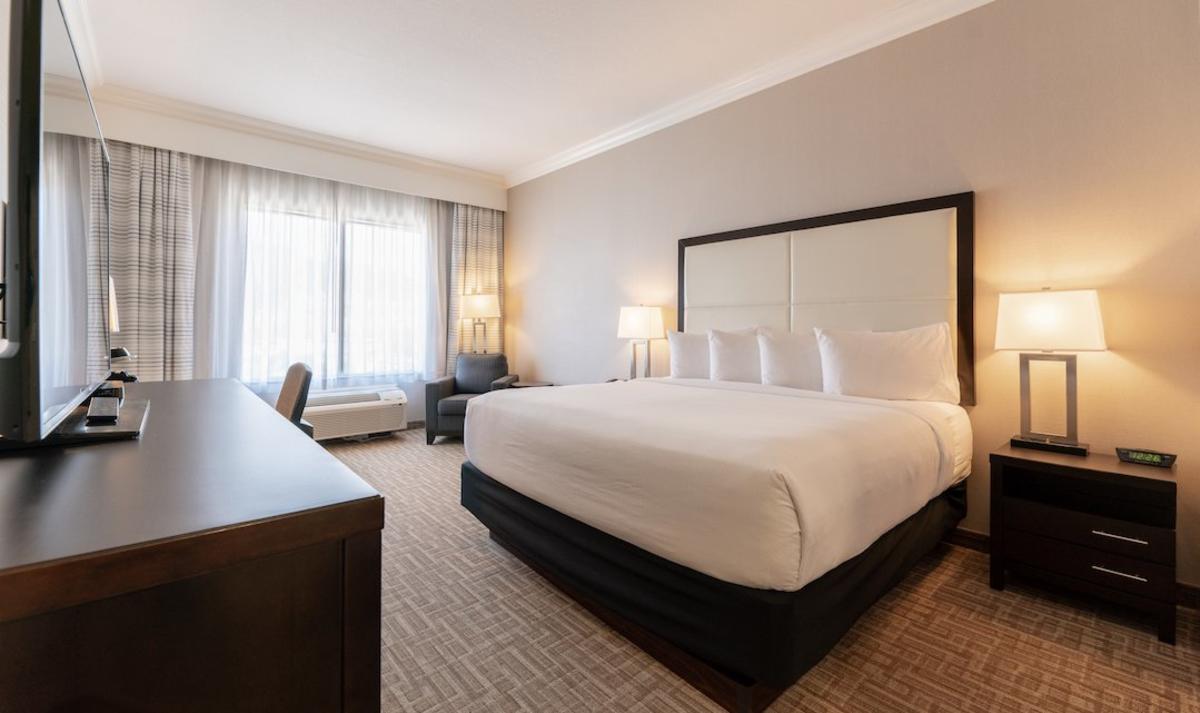 Kanata Kelowna Hotel & Conference Centre
When you are looking for great accommodation to wrap up your golf retreat, there are several hotels that offer packages or special value-added incentives for golf groups. "Kelowna truly is an ideal location for group golf retreats with a diverse range of courses and accommodation to suit any skill level and budget", says Kelowna Hotel & Motel President, Dale Sivucha. "Our hotels work collaboratively with the courses in the area to ensure that golfers have a memorable experience from their first hit off the tee, to their nightcap in our lounges." An avid golfer himself, it's not unusual to find Sivucha on the course after work nurturing the love of the sport in his young children.    
Both the Four Points by Sheraton and the University of BC Okanagan are conveniently located by the Kelowna International Airport enabling you to check in to the hotel and get to your tee time in under an hour once your flight lands. Not only does the Four Points by Sheraton provide an airport shuttle for your delegates, but they also have a luxury suite that is perfect for one-on-one meetings or private hospitality guest room for your golfers. With the expansive UBCO campus, groups will have no shortage of spaces for meetings or presentations, including a variety of lecture theatres, coffee shops, classrooms, and green space all within a short walk. 
If being in the heart of Kelowna is important, there are several properties that provide great proximity to golf courses while being close to dining, nightlife and shopping. The Fairfield Inn & Suites Kelowna knows how to treat their golf groups right with complimentary breakfast and hotel shuttle. Across the highway is the Kanata Kelowna Hotel & Conference Centre, where all guest rooms feature an in-room microwave, Keurig coffee maker and fridge, allowing easy access to those 19-hole beverages or morning cup of joe. Adjacent properties Sandman Hotel & Suites Kelowna and the Kelowna Ramada Hotel & Conference Centre include a fantastic selection of on-property dining options and the convenience of Orchard Park Shopping Centre located immediately across the street. At the Sandman Hotel, their atrium pool allows attendees to gather around the pool's edge to decompress or take advantage of one of the many suites in the executive tower. The Kelowna Ramada offers over 6,500 sq. ft. of meeting space for taking care of business and the Short Stop Liquor, Cold Beer & Wine store for everything else. 

Everything In-between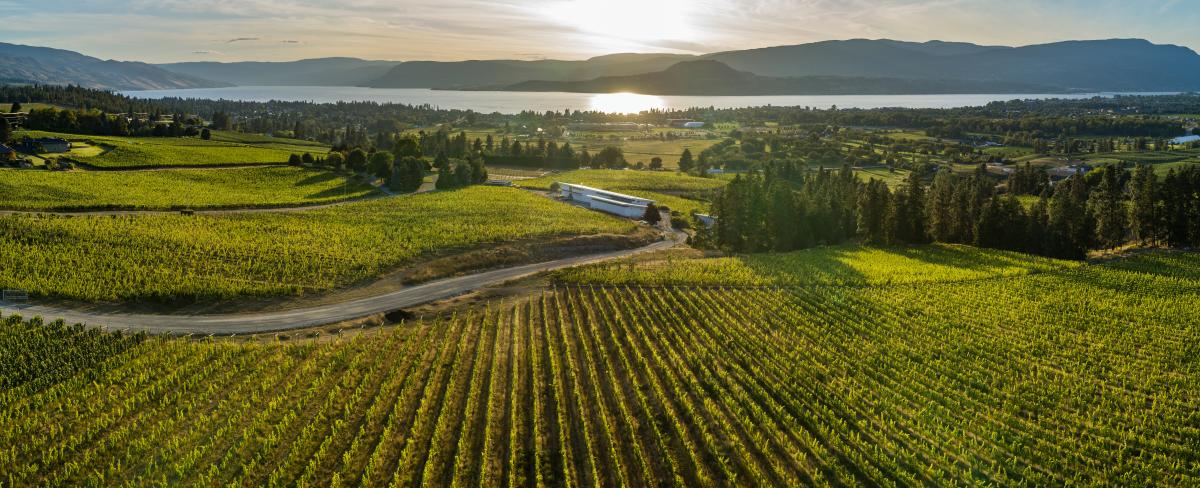 Tantalus Vineyards, Photo by: Shawn Talbot Photography
What makes golf in Kelowna unique – well it's not only the fantastic meeting and guest rooms, and the spectacular golf courses; it's also everything in-between. It's the convenience of location, the short drive times between your hotel and golf courses, it's the abundance breweries, wineries, patio restaurants, and the opportunities to explore, whether that's boating on Okanagan Lake, cycling and hiking our mountainside trails, organizing private group tours and tastings, and more. Inspired? We can't wait to welcome you when it's safe to do so for your next golf retreat in Kelowna.